How to Bet on the English Premier League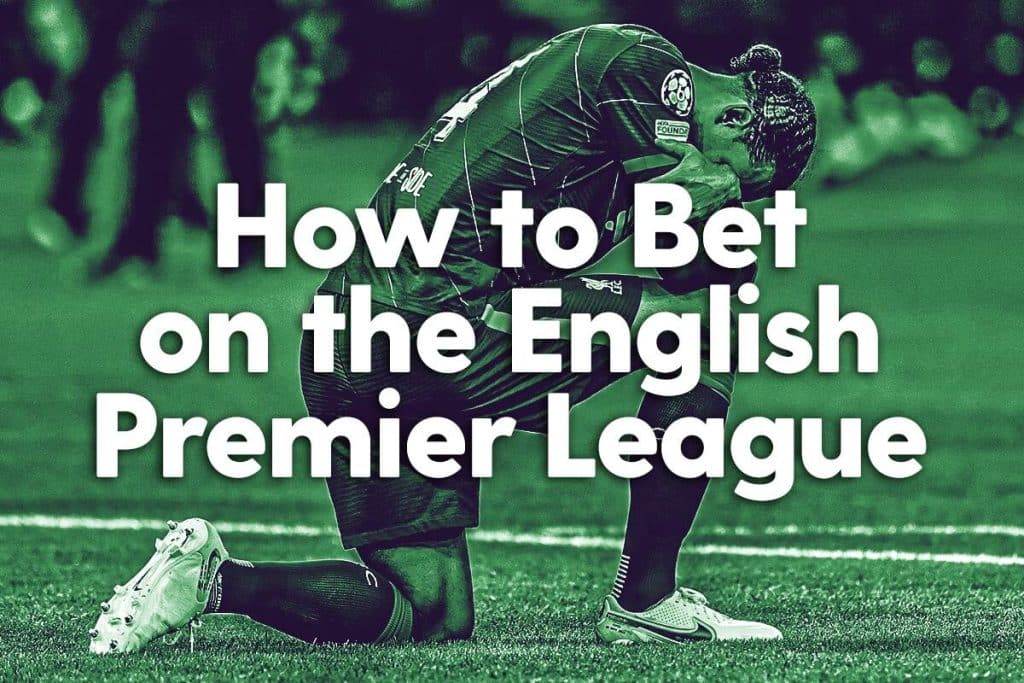 What is the English Premier League?
The English Premier League (EPL) is the top-level English football league. Made up of 20 teams, each playing 38 matches, the Premier League is watched and adored by sports fans across the planet! It takes place between August and May each year, with a win landing 3 points, a draw landing 1 point, and no points for losers.
How does the Premier League work?
EU qualifications
The English Premier League sits above the English Football League (EFL) in division tiers. At the end of each season, the top two EFL teams are automatically promoted to the Premier League. Three teams in total are promoted each season, so EFL teams that end in positions 3 – 6 hold playoffs for the last Premier League spot.
Relegation
At the end of each season, the bottom three Premier League teams are relegated down to the English Football League.
The history of the English Premier League
The EPL was founded in 1992, and has kept soccer fanatics on the edges of their seats for over three decades already. Manchester United hold bragging rights for most Premier League titles with 13. The English Premier League came about after the Founder Members Agreement was signed on 17 July 1991 by English First Division clubs.
Premier League betting odds
Who will take home the cup at the end of the season? What will go down when bitter rivals face each other home and away? Who is going to be relegated, and who has the golden boot to score the most goals? Punters betting in these markets form Premier League betting odds.
Title odds
These Premier League betting odds are for punters wanting to bet on who they think will win the Premier League at the end of a given season.
Individual matches
Once making predictions on who will take the cup home, Bet on Premier League matches as they happen over the season. Individual match odds are the odds given for each match-up between two teams.
Relegation odds
English Premier League betting relegation odds are predictions made based on who punters think will be relegated to the EFL come to the end of the season.
Handicap odds
Handicap betting in football, also called Asian handicap betting, involves handicapping teams based on form so that stronger teams must win by more goals for bets to pay out.
Goalscorer odds
These English Premier League odds are based on predictions around which EPL footballer will score the most goals at the end of a season.
How to Bet on the Premier League
Research
Our soccer betting markets explained article is a great place to start researching the best Premier League betting markets to win big on. You can also learn more about live soccer betting and how this adds excitement to the betting on soccer experience! Research before betting on Premier League fixtures should include looking at each team's past performances, the team makeup for the season, and individual player form.
Stay on top of predictions and trends
Follow the world's largest sports prediction and sports betting experts, listening to what they mention around the Premier League teams you want to bet on. Player injuries and other unforeseeable hurdles impact predictions, so staying on top of all EPL happenings is a good idea.
Keep an eye on streaks and analysis
You probably can't watch every single Premier League match, but you can keep updated regarding team winning streaks by following sources like Bet.co.za's in-house blog, Bet Central, where you'll find current Premier League analysis and betting advice as the season unfolds.
How to begin betting on soccer online
Want to start betting on soccer online? Bet.co.za offers you a simple process to get the ball rolling and begin placing winning online soccer bets:
Visit Bet.co.za and click on the green 'join now' button
Complete a short online profile setup
Confirm your email address
Once you've set up your free bet.co.za account, you can visit our soccer betting page to find all the current fixtures to bet on. Stay updated with the breaking news around Premier League fixtures by following what our in-house experts put out on Bet Central!
Keep an eye on the latest soccer news here: Soccer – Bet Central
Dive deep into English Premier League betting statistics with our Lab Stats Centre, providing the information you need to place winning bets every season.
The Lab Stats Centre is our advanced soccer betting stats tool that helps you analyse all upcoming soccer matches from the major leagues around the world: