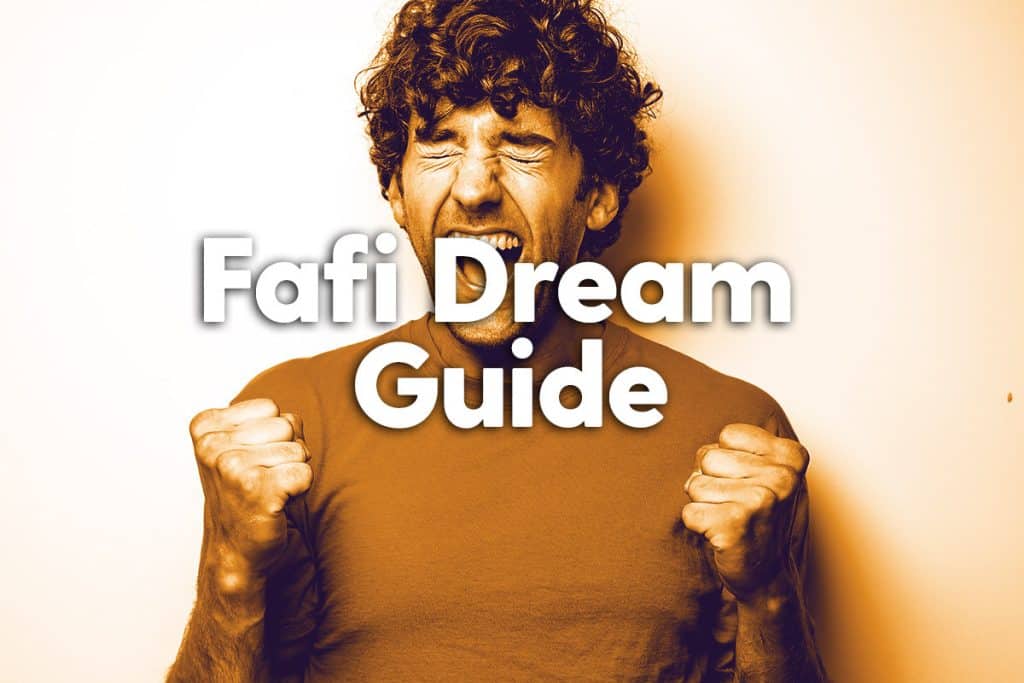 Turn your dreams into reality with our Fafi Dream Guide. With it's roots in the ancient Chinese culture, lucky numbers playing have found their interpretation of our dream useful when creating their winning bets.
FAFI or MoChina is a form of betting done by some South Africans, it is believed to have originated from the Chinese community in the country.
Next time you wake up and wonder what your last dream means for your lucky numbers, make use of our Fafi Dream Guide. Translate each part of your dream, the things you see and what you experience. All the popular things from your dreams have a number attached to them.
These numbers could turn your dreams into real winnings. Play your lucky numbers at Bet.co.za, and it might just be you.
PLAY YOUR NUMBERS AT BET.CO.ZA

& GET 100% DEPOSIT MATCH UP TO R1000
Get easy access to daily draws from around the world.
Offer exclusive to BET.co.za customers.
Fafi Dream Guide
Fafi Numbers 1-10
1. King; Human blood; White man; Left eye
2. Monkey; Native; A Spirit; Chief; Copper; Money; Jockey
3. Sea Water; Accident; Frog; Sailor; Sex
4. Dead man; Turkey; Small Fortune; Bed
5. Tiger; Fight; Strong Man
6. Ox Blood; Gentleman; Milk
7. Lion; Thief; Big stick; Chickens
8. Pig; Drunken man; Loafer; Fat man; Chinese king
9. Moon; Baby; Hole; Owl; Devil; Pumpkin; Anything round
10. Eggs; Train; Boat; Grave; Anything Oval
Fafi Numbers 11-20
11. Carriage; Wood; Tree; Furniture; Bicycle; Flowers
12. Dead woman; Ducks; Small fire; Chinese Queen
13. Big fish; Ghosts; Spirits
14. Old woman; Fox; Detective; Nurse; Native woman
15. Bad woman; Prostitute; Canary; White horse; Small knife
16. Small house; Coffin; Pigeon; Young woman; Paper money; Letter
17. Diamond woman; Queen; Pearls, Diamond; Stars; White woman
18. Silver money; Servant girl; Right eye; Butterfly; Hook; Rain
19. Little girl; Smoke; Bread; Big bird; Left hand
20. Cat; Sky; Handkerchief; Body; Music; Minister; Naked woman
Fafi Numbers 21-30
21. Old man; Stranger; Fisherman; Elephant; Knife; Nose; Teeth
22. Rats; Motor car; Big ship; Left foot; Shoes
23. Horse; Doctor; Head; Hair; Crown
24. Mouth; Wild cat; Vixen; Lioness; Hole; Purse
25. Big house; Church; Boxer; Hospital
26. Bees; Crown; Bad man; Bush; General; Funeral; Madman
27. Dog; Policeman; Newborn baby; Medicine; Sad news
28. Sardines; Small fish; Thief; Right foot; Suprise; Small child
29. Small water; Coffin; Rain; Tears; Big knife; Right hand
30. Fowl; Graveyard; Sun; Throat; Indian; Forest

Fafi Numbers 31-40
31. Big fire; Bishop; Big spirit; Feathers; Fight; Woman
32. Gold money; Dirty woman; Snake
33. Little boy; Spider
34. Meat; Human dung; Anything dirty; Cripple; Tramp
35. Clothes; Sheep; Big hole; Big grave
36. Shrimp; Stick; Admiral; Cigars; Gum
37. Arrow; Lawyer; Treasure; Cooking; Stream
38. Crocodile; Balloons; Sjhambok; Fireworks; Stadium
39. Sangoma; Soccer team; Tattoos; Bloodshed; Teacher
40. Birth; Clock; Snail; Dwarf; River; Traditional healer

Fafi Numbers 41-50
41. Cattle; Planets; Cave; Desert; Monster
42. Tornado; Spear; Umbrella; Camel; Door
43. Army; Thunder; Astronaut; Rabbit; Turtle
44. Shark; Stud farm; Body builder; Injury; Mud
45. Football; Computers; Jewelry; Wrestler; Storm
46. Ambulance; Beard; Sea and Scissors; Key
47. Stallion; Kite; TV; Lightening; Carnival; Hut
48. Clown; Rainbow; Nightmare; Whale; Wealth
49. Shebeen; Circus; Chocolate; Space ship
50. Bathroom; Magic; Revolution; Trap; Wheat

Fafi Numbers 51-52
51. Car; Carrot; Orange; Vulture; Wasp
52. Brush; Eagle; Salon; Shower; Trumpet
PLAY YOUR NUMBERS AT BET.CO.ZA

& GET 100% DEPOSIT MATCH UP TO R1000
Get easy access to daily draws from around the world.
Offer exclusive to BET.co.za customers.