1 November 2019, by: Leonard Solms
John Dobson: Critics Don't Understand Kolisi's Value
Stormers Coach John Dobson shared his thoughts on the upcoming Rugby World Cup final with 
BET Central
 all the way from London on Thursday, giving an in-depth analysis of Saturday's big clash between South Africa and England in Yokohama.
The interview came in the wake of a column for 
The Times
 penned by former England flyhalf Stuart Barnes, which claimed that Stormers icon Siya Kolisi should not be in the Springboks' XV. Although he was not pushed to comment on this, Dobson offered a scathing rebuttal.
In addition, Dobson warned of the dangers posed by the England attack, which he expects to come at South Africa from all angles. He believes that Rassie Erasmus' men stand a chance of a victory earned through passion and brute force, but warned that the Boks cannot afford to fall too far behind.
Below is John Dobson's interview with BET Central writer Leonard Solms.
Firstly, we have Stormers stalwart Siya Kolisi leading the Springboks into the Rugby World Cup final. How do you think he will help his team-mates handle the pressure?
He's got an amazing head on his shoulders. He could easily have been caught up in the hype and everything of his elevation to Springbok captaincy over the last year and a bit, but he's remained down-to-earth, incredibly professional, incredibly focused on his detail. In that way, he's the sort of captain who leads by example. He does talk a lot, but he leads by example in terms of his behaviour and his professionalism. I think we've seen amazing physical commitment from him on the field. I thought he played well last week.
I think anybody who suggested he shouldn't have played, like was suggested overseas here in London, shows a complete failure to understand our society and Siya's role in the team, where he is highly, highly respected and liked. I think he is one of the most popular players I have ever coached among his own team-mates.
Leadership on the rugby field nowadays is not one captain giving massive braveheart talks under the poles or things like that. It's very much shared across a group of someone looking after attack, someone speaking on defence. Duane [Vermeulen] might be the guy putting pressure on the ref or whatever the story is, but Siya is the captain and deserves to be and will do a good job. He'll be inspirational on Saturday.
What do you think of widespread public criticism of Faf de Klerk and Willie Le Roux? Do you think it's been justified at all?
They're probably a little bit different. Faf is obviously playing to a very strict plan. I know that going out for box kicks is irritating, but being a coach, it's all part of the plan. When he played for the Lions, he played a very dynamic game with breaks and offloads — a very attacking scrumhalf. Defensively, he's been superb. You've got a guy of his experience who is really, really highly respected — I think one of the players of the season in the English Premiership.
Herschel [Jantjies] is still a breakthrough player. He's been nominated [for the World Rugby Breakthrough Player of the Year award], which is really good.
I don't think there was much alternative [to de Klerk]. I think he's playing to plan. We could say some of the kicks were poor, but you've got to look at the pressure he was under and the quality of that ball.
Willie is definitely having a slump with completely uncharacteristic errors. Where he is really good that people might not appreciate is covering of kick space, covering of ground and the organisation of the back three.
There are going to be questions asked of that on Saturday by George Ford and [Owen] Farrell — even [Henry] Slade when he comes on… The covering of that grass at the back is so important. Willie works fast, he covers a lot of ground, his GPS stats are very high for ground coverage. I think that's where his real value is. He's dropped a ball or two now and we may not have seen that attacking spark we can see from him, but I think it's much more nuanced than that.
Damian de Allende is one player who has silenced his critics. Do you think the general public failed to understand his role in the team prior to this tournament?
I've worked with him since U19 level. I think we've never used him properly in South African rugby. It's because he's so big but he's been confined to a certain role. He's done a certain job for various teams he's played for, but there's a lot more to him than meets the eye. I think it's nice that he's been given a bit of space. What's nice is he's not taking the ball standing still. Him and Pollard seem to have a better understanding. If you hit Damian in motion, he's a very hard person to stop.
What do you think of the team Rassie Erasmus has chosen for the final?
I don't think they would have had to spend too long about that team. The selection meeting would have been quite quick. There was never going to be anything different, nor necessarily should have been. What he has done which people may not be appreciating is: there is a bit of Eddie Jones tactics there about the finishers.
You've got guys like Malcolm [Marx] and Francois Louw coming on who can really steal ball. Then, the game opens up, which is important. To get a turnover later in the game is more beneficial than earlier in the game because the defence is a bit more tired. I think that's quite a clever plan.
He's got a really strong scrumming unit, but then again, England will put on [Joe] Marler and [Dan] Cole, so we won't get much return there. That pack of England will take a lot out, so I think there is a good argument for 6-2 [between the forwards and backs among the substitutes] given Frans Steyn's versatility. I don't think there's any debate about the team.
This is Rassie's last game in charge of the Springboks. What do you think the next coach will have to do in order to take an already impressive team to the next level?
I think what the situation is is that he's had to almost do the classic ambulance job. That, by definition, requires a bit of conservatism. You're not going to turn instant results around by trying to upskill players to play a New Zealand or Japanese style of rugby that everybody wants to see. The most important thing was a pragmatic approach of getting us to win confidence and respect back in South African rugby. After that, we can look at how we play. That's what he's gone for.
The tactics were spot on for Japan. They took their legs away towards the end with those mauls. I think there were nine lineouts and nine mauls. Then, against the Welsh, they're a big kicking team — kick a lot of distance. Again, it was tactically right, because at the end, the Welsh were also suffering. Their pack had the life taken out of them. It was a very tight game, but they're a team that was born out of not knowing how to lose.
The problem is that you can't really switch the tactics overnight. There might be one or two nice new moves or a shift drive at a maul or a slightly different starter, but we're not going to change, dynamically, how we play. You asked about the next coach — the next coach will hopefully have a four-year cycle where he can start upskilling the players to a slightly more dynamic game and hopefully have space for it in terms of the fixture list. There might be a fixture where he can try develop things a little bit.
Rassie had to come in and try get us to a World Cup final, which is what he's done. I think any South African fan would say: 'Would you like us to be finished the tournament already and back in South Africa playing basketball rugby or would you like us in the final against England?' The answer is self-explanatory.
He's done whatever it takes to get there, but there will have to be evolution in our style because of the way laws are going and the approach to rugby. We're going to have to expand a little bit; it doesn't mean we should to change the Springbok DNA.
I suppose there might be one or two glimpses of it this weekend to surprise Eddie Jones, but I think the new coach is going to have to make sure — that's our big thing: where Japan and New Zealand, for example, and some of the English players, are superior, with the catch-pass skills. We're not known in South Africa for teaching skills; we're known for teaching patterns and physicality. That's part of the challenge for the next coach with the help of the various franchise and provincial coaches.
What do you think will be the key battle areas against England?
Definitely us defending the English attack. Their attack is the most nuanced and one of the most developed in world rugby. We saw last week, New Zealand with their flat line, relying on catch-pass and stepping and offloading skills versus an English attack that's almost got three lines of attack… They get off the ground and get reorganised and then they attack both sides of the breakdown very quickly.
I think they're a very impressive attacking team. With us, with our high line defence, the wings up so high and tight, you take away time and space. You know, Farrell and Ford, the two guys who can find the kick-space behind [Makazole] Mapimpi and Cheslin [Kolbe], which is going to make Willie le Roux work very hard and make those wings turn back and work hard. Also, I do think they've got the ability to get the ball out the back and round our wings. We saw Wales get round us twice, I think, in two phases. That defence is fantastic… but against that English attack, that worries me the most in the whole game.
Our defence is magic, set pieces could be a bit of a battle, but we should edge that. Sinckler is a great tighthead. I'm not sure he's the best scrumming tighthead in the world. He certainly wasn't last year; he hasn't proved a hell of a lot. Cole and them should hold it when they come on, but we're very good at scrum time.
What worries me is: our attack is not very nuanced at all. I would expect it to be round the corner with the forwards trying to get a forward to run onto one of their backs. But then again, their backs defend reasonably well. To me, it's all about — they have the ability to get outside our rush, whether it's through attacking kicks or through clever dummy-runners to get out the back. That is my biggest source of concern, that we're quite tight on defence. That, to me, is where the battleground will be.
Having said that, we'll try and close the game down. If we have to chase, I'm not sure we've got the skills, but if we're in it, I think there's enough passion and physicality to take away the English legs. It could see us across the line.
How do you think the Springboks' gameplan will differ to the strategy utilised against Wales?
don't think the gameplan will change that much. The key is that they're not going to want too much rugby to be played. We're going to try and keep it to a tight set-piece battle. Hopefully, the score is close for a few minutes going into the last quarter. Then, you hope for a moment of magic, or put them under pressure, then get a penalty or whatever the story is, get field position.
The key thing is to get entry points into that game over via penalties or turnovers. If they get the penalties, we're going to have to go into them physically. You're not going to get penalties off only kicking — we are going to have to run at them a little bit in their half. Pretty conservative, but that's how I see it going.
Looking ahead to the final
So, on Saturday, 2 November 2019 at the International Stadium Yokohama, Jerome Garces will be taking the whistle for the biggest game of his life, and the biggest game played on the planet in the last four years.
Despite what you may have thought based on basic, unanalyzed statistics, he is not biased against the Boks. He will miss the odd call and probably make a mistake or two, because a referee can't go 80 minutes without doing so. But he is a top referee, the best available for the final, and will certainly be doing the best job he can on the biggest stage of all (I really hope I am not jinxing his performance!).
I really hope (and firmly believe) that after Saturday, our stats with Garces will read: Played 16, Won 6. But if not, let's afford Garces his graces, accept defeat with honour and, for once, not blame the referee for a loss.
Go Bokke!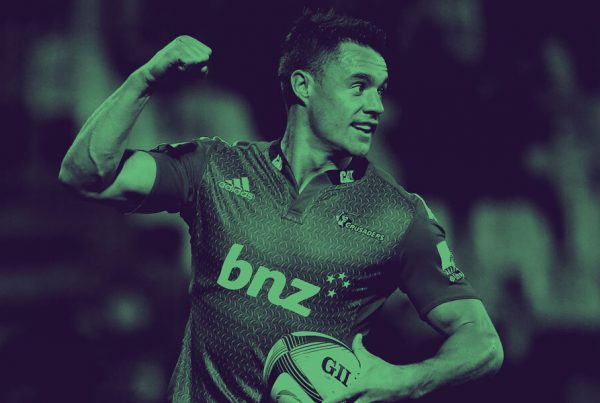 Super Rugby XV - Pick one player from each franchise to make a Super Rugby XV, using any player from the 25 years of Super Rugby.