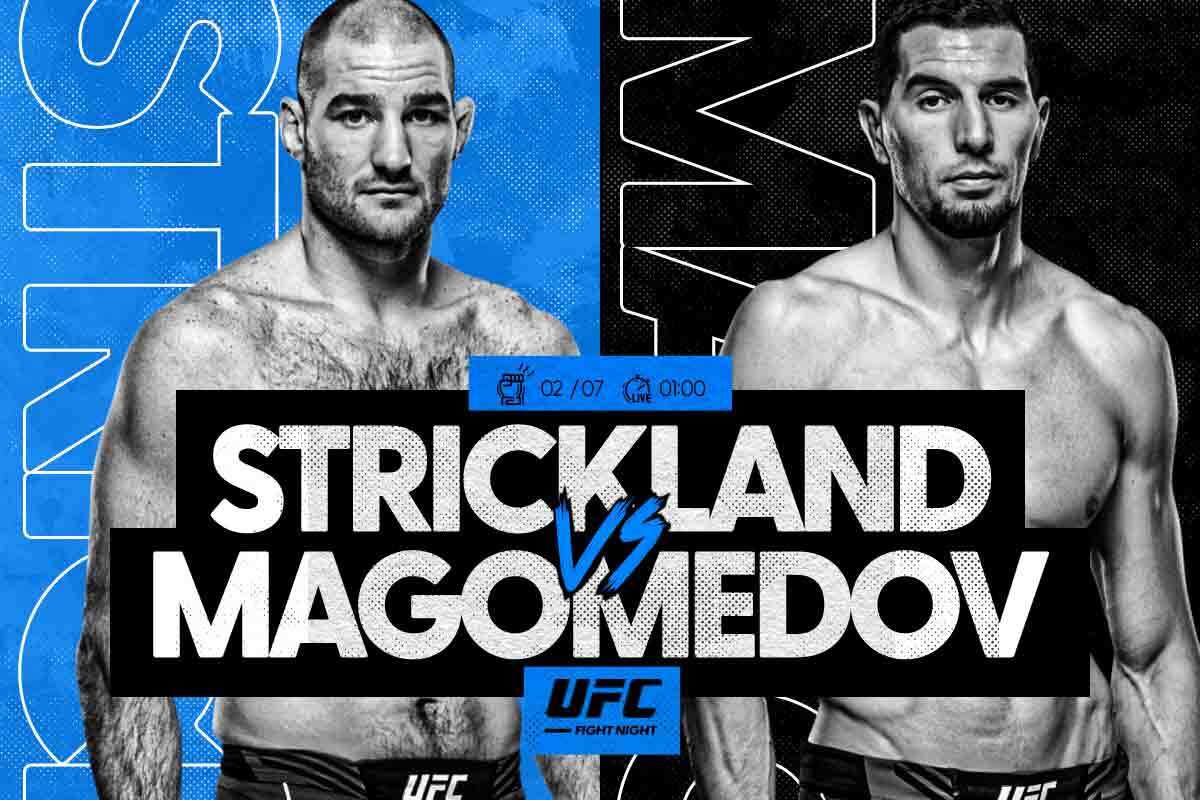 Established top contender Sean Strickland squares off against new threat Abus Magomedov in an intriguing middleweight main event match-up at UFC Vegas 76 on Saturday night (Sunday morning SA time), writes Quintin van Jaarsveld.
Going toe-to-toe in the co-headliner at the UFC APEX in Las Vegas are top-15 lightweights Damir Ismagulov and Grant Dawson, while welterweights Max Griffin and Michael Morales meet in the featured bout.
Plus, Ariane Lipski goes up against Melissa Gatto at flyweight, Ismael Bonfim takes on Benoit Saint-Denis at lightweight and unbeaten Brunno Ferreira battles debutant Nursultan Ruziboev at middleweight.
MAIN CARD (from 1 AM Sunday SA time):
Sean Strickland (1.66) v Abus Magomedov (2.30) (Middleweight)
Leave it to Strickland (26-5) to give fight fans one of the most curious yet intriguing main events of the year. A truly eccentric character, the American is outspoken, controversial and crude, a one-of-a-kind cat who, for as unhinged as he is, is one of the best middleweights on the planet.
Ranked seventh, Strickland struggled to get a top-10 opponent after his latest win over Nassourdine Imavov in January and was unwilling to wait for a high-profile opponent. Instead, he's gifted Magomedov (25-4-1), a talented but relatively unknown newcomer to the UFC, an opportunity of a lifetime.
The Russian-born fighter had a dream debut in September, scoring the fourth-fastest knockout ever by a debutant as he starched Dustin Stoltzfus in just 19 seconds, and will headline a card in just his second fight in the promotion with a chance to catapult straight into the top 10.
Well-rounded, Strickland has 14 finishes (10 knockouts and four submissions), nine of which came in the first round, but the last came against Brendan Allen in 2020. As wild as he is outside of the Octagon, "Tarzan" is tactical and disciplined inside of it. 
He's become adept at playing the long game, settling in with a striking-based style. Incredibly calm, his approach is to stay in his opponent's face and outpoint him with tireless and technical striking. He went the full five rounds in all four of his previous main events and won three of them, which speaks to his tactical acumen and top-notch conditioning.
Conversely, this will be Magomedov's first five-round fight. Thirty fights into his career, he's only gone three rounds five times, which on one hand is a testament to his finishing ability, but on the other leaves a serious question mark when it comes to his gas tank, especially in a fight that's destined to go long given Strickland's defensive chops and solid chin.
Fighting out of Germany, Magomedov has 14 knockouts to his name, along with six submissions. He has a background in wrestling and sambo and has developed into a skilled switch hitter. He won't mind going tit-for-tat on the feet but will most likely look to score takedowns and wear on Strickland on the ground.
While untested at the highest level, I don't expect Magomedov to be blown away, but I can't see him stun the savvy and durable Strickland either. Instead, bank on Strickland to shift gears as he's so proficient at and lead the dance from start to finish to pick up another decision victory.
Prediction: Strickland by decision.
Best Bet: Strickland by decision at 2.65.
Alternative Bet: Strickland at 1.66.
Damir Ismagulov (1.90) v Grant Dawson (1.90) (Lightweight)
We have ourselves a pick 'em in the co-main event and rightfully so as these two top-15 lightweights are very evenly matched.
Twelfth-ranked Ismagulov (24-2) is an excellent striker. He has a dozen knockouts to his name but is yet to register a finish inside the Octagon.
Still, "Qazaq" extended his win streak to 16 with five straight victories in the UFC before succumbing to top contender Arman Tsarukyan last December.
The former three-time M-1 champion has decent wrestling as well and will have a two-inch reach advantage.
Fifteenth-ranked Dawson (19-1-1) is undefeated in the UFC with seven wins and a draw. He's a strong wrestler and submission specialist, the Brazilian jiu-jitsu black belt boasting 13 wins by tap out including his last two over Jared Gordon and Olympic wrestler Mark Madsen, handing the latter the first loss of his career.
On top of having momentum on his side, "KGD" is seemingly in a better headspace as well. He's all in whereas Ismagulov briefly retired last year. Wanting it more, Dawson should grind out a win with his superior grappling.
Prediction: Dawson by decision.
Alternative Bet: Dawson by decision at 3.40.
Max Griffin (3.20) v Michael Morales (1.38) (Welterweight)
Unbeaten at 14-0 with 11 knockouts, Morales is a dangerous and exciting prospect. The Ecuadorian rising star is a tall and rangy striker and passed his first two UFC tests with flying colours, finishing Trevin Giles and Adam Fugitt.
Griffin (19-9) represents a veteran challenge to determine how the 24-year-old stacks up against a seasoned UFC campaigner.
Wily and well-rounded, "Pain" is chugging along impressively well for a 37-year-old, winning four of his last five, and is coming off a split-decision victory over Tim Means.
As the younger and significantly faster fighter, Morales' movement will be a problem for Griffon, plus, he has a three-inch reach advantage.
Griffon has only been stopped once, by perennial title challenger Colby Covington back in 2016, so Morales will most likely have to be satisfied with a decision victory.
Prediction: Morales by decision.
Best Bet: Morales by decision at 2.65.
Alternative Bet: Morales by KO/TKO/DQ at 2.75.
Ariane Lipski (2.85) v Melissa Gatto (1.46) (Flyweight)
A battle of Brazilians in the flyweight division.
Lipski (15-8) is a crisp Muay Thai striker who, despite her model good looks, is a fearless fighter who welcomes bloody wars, which has earned her the nickname "Queen of Violence."
Experience is a key edge she has in this contest and while she's been inconsistent in the UFC, she's faced vastly superior competition than her countrywoman.
Gatto (8-1-2) is looking to rebound from her first loss and it'll be interesting to see if she's tentative, having waited over a year to get back inside the Octagon.
Though she was outgrappled by Tracy Cortez, she'll have the advantage in this department and will look to tie up and ground Lipski, who, in turn, will seek to chip away on the feet.
Lipski's win over JJ Aldrich in March was the best performance of her career and in a close fight that could go either way, she's a value underdog.
Prediction: Lipski by decision. 
Alternative Bet: Lipski by decision at 3.75.
Ismael Bonfim (1.32) v Benoit Saint-Denis (3.55) (Lightweight)
Don't miss this one as it promises to be a thriller.
Bonfim (19-3) burst onto the UFC scene in January, knocking out Terrance McKinney with a picture-perfect flying knee to extend his win streak to 13. It was his ninth KO, while he also has four submissions. "Marreta" has fast hands and feet and fires off good combinations.
Known as "The God of War", Saint-Denis (10-1) is a gamer with a 100% finish rate. The Frenchman's a black belt in judo and uses his throws to take opponents to his domain on the ground, where he's forced eight of them to tap. He'll flirt with danger on the feet but will mainly look to employ his grappling.
Yet to be taken down inside the Octagon, Bonfim should be able to stuff Saint-Denis' takedowns and spark him.
Prediction: Bonfim by knockout.
Best Bet: Bonfim by KO/TKO/DQ at 2.75. 
Alternative Bet: Under 2.5 rounds at 1.74.
Brunno Ferreira (1.50) v Nursultan Ruziboev (2.70) (Middleweight)
The main card's set to start with a bang courtesy of these killers.
Ferreira, who's flawless in 10 professional fights, has never gone to a third round let alone a decision, while Ruziboev (34-8-2) has 32 finishes, 20 of those coming by submission.
Ferreira proved he's the real deal in a dazzling UFC debut that saw him starch the ultra-tough Gregory Rodrigues, his seventh win by knockout and fourth consecutive first-round finish.
Ruziboev (34-8-2) enters his UFC debut as a late replacement for Abdul Razak Alhassan and on an eight-fight win streak. That sure sounds impressive, but his last opponent went into their clash with a record of 12-16.
To say the newcomer's untested at UFC level is an understatement and I expect "The Hulk" to smash him.
Prediction: Ferreira by knockout.
Best Bet: Ferreira by KO/TKO/DQ at 1.80. 
Alternative Bet: Ferreira by first-round finish at 2.00.
SIGN UP TO OUR

BET CENTRAL PLAYBOOK
Get weekly emails packed with the best tips and sports content.
Get ahead of the game now - fill in the contact form below.