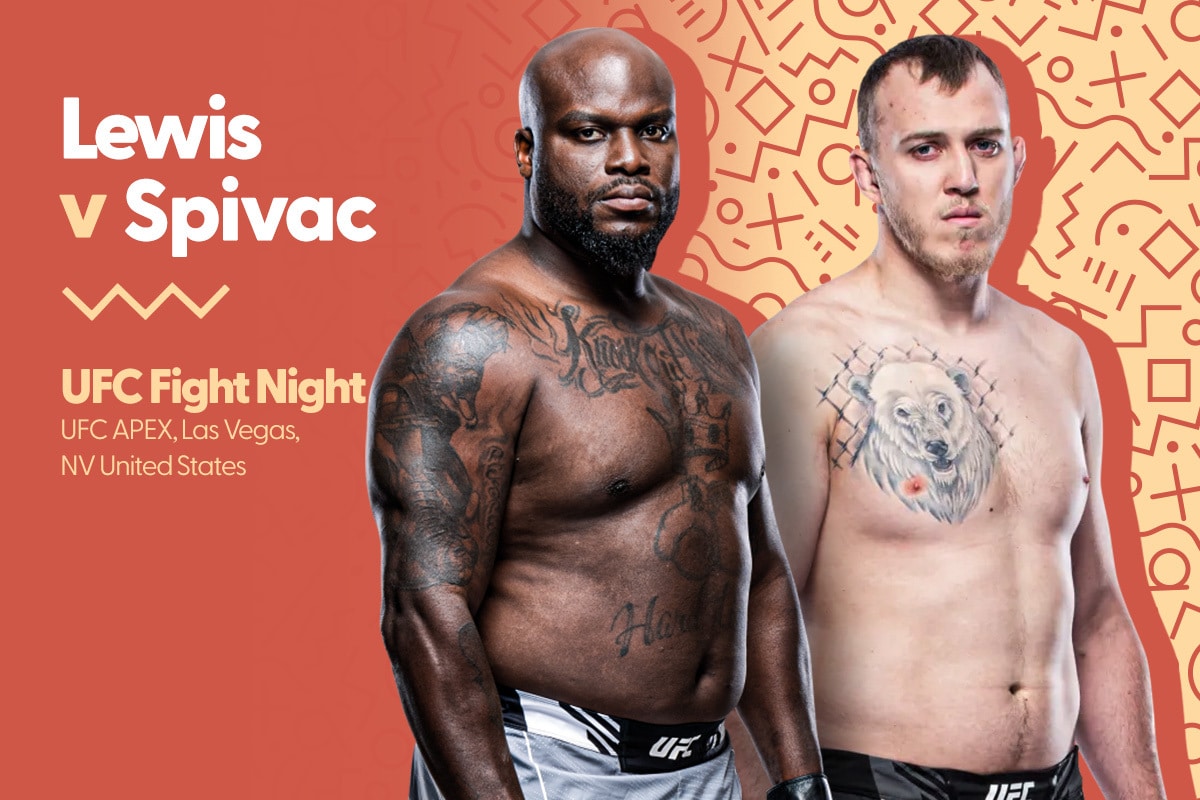 Heavyweight finishers Derrick Lewis and Sergey Spivak square off in an explosive headliner at UFC Vegas 65 on Saturday night, writes Quintin van Jaarsveld.
It's likely to be a violent, finish-heavy night at the UFC APEX in Las Vegas, which brings underdogs and prop bets into prominence.
One of Africa's top prospects Kennedy Nzechukwu commands the spotlight in the co-main event as he clashes with Ion Cutelaba in what's set to be a light heavyweight fire-fight, while unbeaten heavyweight prospect Waldo Cortes-Acosta jumps straight back into the Octagon against Chase Sherman in the featured bout.
Also on tap is two welterweight scraps with knockout artists Andre Fialho and Muslim Salikhov set to trade leather and Jack Della Maddalena and Danny Roberts raring to go in the main card opener.
MAIN CARD (from 11 PM Saturday SA time):
Derrick Lewis (2.65) v Sergey Spivak (1.51) (Heavyweight)
The judges will be mere spectators in this heavyweight slugfest as it's all but guaranteed to end well inside the five-round distance.
It's a mash-up of monsters who've had contrasting fortunes of late and a battle of old warrior versus young warrior. Lewis (26-10) is the veteran who's just about done it all but fallen into a slump whereas Spivak (15-3) has steadily climbed the ladder to earn this career-changing opportunity.
A fan-favourite brawler, Lewis is the UFC's all-time knockout king. "The Black Beast" has blasted 13 foes into oblivion inside the Octagon and boasts 21 knockouts in all. He's not the fastest or most skillful fighter but the frightening dynamic he has in his hands has made him a mainstay in the heavyweight elite for years. 
He's a former two-time title challenger, holds a win over reigning king Francis Ngannou and has slept top-five contenders such as Curtis Blaydes and Alexander Volkov.
He's deceptively athletic for a behemoth who cuts weight to make the 265-pound limit, throwing out a jumping knee or switch kick every now and then, and has the patience to stalk his prey and wait for an opening to close the show.
His elite-level experience is a key advantage as this marks his 10th main event, a milestone very few fighters have reached, whereas it's Spivak's first time headlining a card.
Winning five of his last six has brought Spivak to this point and elevated him to 12th in the rankings, five places behind Lewis, who's coming off back-to-back knockout losses. It's important to note Lewis faced far stiffer competition and represents a serious step up for Spivak.
Like most of Lewis' opponents, "The Polar Bear" is more well-rounded with seven of his wins coming by knockout and six by submission. The Moldovan will certainly look to mix it up and is 10 years younger than his record-setting rival at 27.
Lewis is used to being the underdog. It's a tag he carries like one of his tattoos, mainly because he's such a one-dimensional slugger. With his knack for landing fight-finishing haymakers, he's 6-4 as a dog and a great value bet.
The big question here is how motivated is he? He's never lost to an up-and-comer outside of the top 10 like Spivak and he'll know that if he does, it'll signal the end of his time among the elite and could even lead to him retiring.
Therefore, I believe he will be motivated, which along with his track record will see him defy the odds again with another knockout inside the first three rounds.
Prediction: Lewis via knockout.
Best Bet: Lewis by KO/TKO/DQ at 3.15.
Alternative Bet: Lewis by 2.65.
Ion Cutelaba (2.50) v Kennedy Nzechukwu (1.57) (Light Heavyweight)
Like the main event, it's safe to say the co-headliner will end via stoppage. These are two light heavyweight savages who come to kill and clock out early and do so more often than not.
Nigeria's Nzechukwu (10-3) is a high-level, hard-hitting striker with a 70% knockout ratio. Three of his four UFC wins are by KO and only one of his last five went the distance.
Cutelaba (16-8-1) is more experienced and versatile. One of the most intense fighters out there, he's primarily a striker (12 knockouts) but has decent grappling, which has earned him two submission wins.
With his kill-or-be-killed mentality, "The Hulk" spends even less time inside the Octagon than Nzechukwu with his fights averaging 7:38; in other words, a shade over 1.5 rounds.
Having won just one of his last six and being finished in four of them, his best days are behind him whereas Nzechukwu is on the up.
On top of that, "The African Savage" is a huge light heavyweight; at 6'5″, he's the second-tallest man in the weight class and will have an unheard-of eight-inch reach advantage, leaving him primed to KO Cutelaba.
Prediction: Nzechukwu via knockout.
Best Bet: Nzechukwu by KO/TKO/DQ at 2.10.
Alternative Bet: Under 1.5 rounds at 1.95.
Chase Sherman (2.80) v Waldo Cortes-Acosta (1.47) (Heavyweight)
Fresh off a successful UFC debut against Jared Vanderaa last month, Cortes-Acosta makes a quick turnaround to face a similar, slightly tougher test.
Sherman (16-10), who knocked out Vanderaa in July to stop a four-fight losing skid, had prepared to face Josh Parisian two weeks ago but Parisian was forced to pull out at the last minute due to a medical emergency. Not one to waste a training camp, Sherman sought a new opponent and welcomed Cortes-Acosta answering the call.
"The Vanilla Gorilla" has faith in his hands and boasts a 94% knockout rate. The flip side is he's not a sophisticated striker and a hittable target, a combination that's only seen him win two of his six fights in his second stint in the UFC.
Undefeated at 8-0, Cortes-Acosta played it a bit safe to make sure he started his UFC career on a winning note and the 15 minutes he banked in his decision win will stand him in great stead going into this fight.
As a former boxer, "Salsa Boy" has crisper striking and better footwork than Sherman. As a result, the big man from the Dominican Republic will most likely chip away with his good jab and wait for the finish to come to him, which should materialise in the second half of the fight.
Prediction: Cortes-Acosta via knockout.
Best Bet Cortes-Acosta by KO/TKO/DQ at 1.95.
Alternative Bet: Over 1.5 rounds at 1.74.
Andre Fialho (1.95) v Muslim Salikhov (1.86) (Welterweight)
Excellent matchmaking sees two evenly-matched knockout artists coming off losses looking to bounce back in what promises to be an all-action stand-up battle.
Fialho (16-5) has 13 knockouts to his name, shading Salikhov (18-3) by one. The duo have different approaches to fighting, which offer a solid indication of who'll be successful come Saturday night.
Ten years his opponent's junior, Fialho flies into everything. He made his promotional debut in January and has already competed four times this year (three is considered optimal). He fights with the same exuberance, which makes him entertaining but inconsistent, as the 2-2 start to his UFC career underscores.
Salikhov's much more calculated inside and outside of the cage and sports a 5-2 UFC record as a result. His loss to ranked contender Li Jingliang in July was his first since 2017, snapping a five-fight win streak.
That consistency, rooted in combat wisdom, points to a win for "The King of Kung Fu", probably by knockout, but I'm happy to take the money line.
Prediction: Salikhov via knockout.
Alternative Bet: Salikhov by KO/TKO/DQ at 3.75.
Jack Della Maddalena (1.19) v Danny Roberts (5.20) (Welterweight)
Della Maddalena (12-2) is the biggest favourite on the card, so much so that a prop bet is the only way to go to get a decent return.
The Australian dynamo is a finisher extraordinaire with 10 knockouts and a submission among his dozen wins. He's on a tear as well, having won 12 on the trot including his first two assignments in the UFC, both by KO.
Roberts (18-6) is a decade older and unlike Salikhov has had limited success in this late stage of his career. "Hot Chocolate" has cooled down in recent years, winning just two of his last five and is coming off a decision loss to Francisco Trinaldo, who's 44.
Therefore, back the fast and ferocious 25-year-old Della Maddalena to batter the Brit.
Prediction: Della Maddalena via knockout.
Best Bet: Della Maddalena by KO/TKO/DQ at 1.57.
Alternative Bet: Under 1.5 rounds at 1.76.
SIGN UP TO OUR

BET CENTRAL PLAYBOOK
Get weekly emails packed with the best tips and sports content.
Get ahead of the game now - fill in the contact form below.