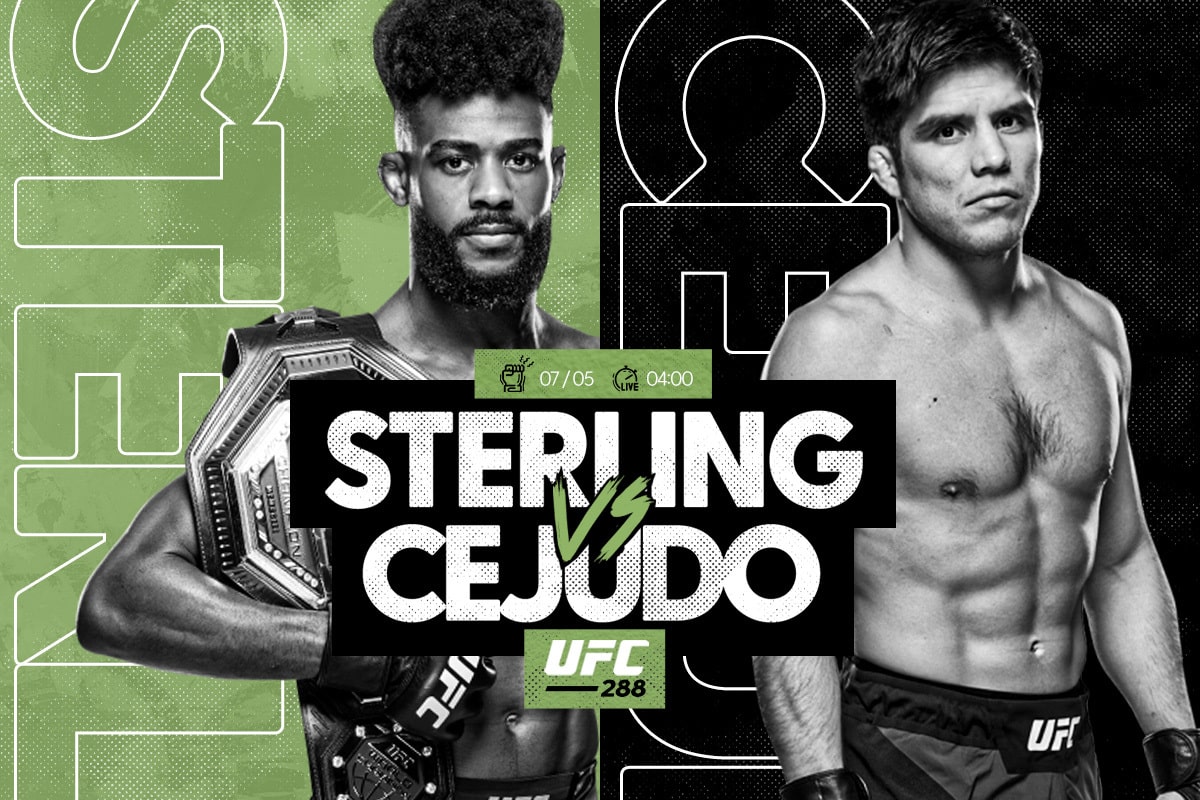 Former champion Henry Cejudo comes out of retirement hell-bent on reclaiming the title he never lost when he faces reigning bantamweight king Aljamain Sterling at UFC 288 in Newark on Saturday night (Sunday morning SA time), writes Quintin van Jaarsveld.
Top-five welterweights Belal Muhammad and Gilbert Burns will look to cement a title shot when they collide in the co-main event at the Prudential Center, as will leading strawweight contenders Jessica Andrade and Yan Xiaonan.
Plus, two featherweight fights will see the undefeated Movsar Evloev battle Diego Lopes and Kron Gracie make his much-anticipated return against Charles Jourdain.
MAIN CARD (from 4 AM Sunday SA time):
Aljamain Sterling (1.95) v Henry Cejudo (1.86) (Bantamweight Championship)
On May 9, 2020, Cejudo (16-2) went out on top. He had just knocked out Dominick Cruz in the second round to retain the bantamweight championship and announced that the bout would be his last.
He had done it all and retired as the most decorated combat athlete of all time, a distinction he earned by becoming an Olympic gold medallist in freestyle wrestling and one of just five fighters in UFC history to hold two titles simultaneously.
He'd achieved Olympic glory in 2008, ended Demetrious Johnson's legendary reign to become UFC flyweight champion a decade later and attained double champ status with a TKO win over Marlon Moraes to add the bantamweight belt to his collection in 2019.
The self-same 135-pound belt has belonged to Sterling (22-3) since 2021 but despite legitimately being one of the division's elite, his reign has lacked the respect usually reserved for champions. That's because he 'won' the belt by disqualification after being struck by an illegal knee by Petr Yan.
"The Funkmaster" proved some of his doubters wrong when he beat the Russian by split decision in the rematch and sought to put a stamp on his reign by taking out former two-time champion TJ Dillashaw last August. Again, victory proved bittersweet as Dillashaw's shoulder popped out and Sterling quickly picked the bones to score a second-round TKO.
Dillashaw's revelation after the fight that it had been a pre-existing injury left a sour taste and robbed Sterling of the statement win he needs to cement himself as the best in the world. He gets that opportunity this weekend, a golden chance to take down an icon.
Cejudo is a born winner. He not only has the heart of a champion but also the mind and drive that separates the good from the great and the great from the iconic. He's a bona fide legend, a one-of-a-kind super athlete whose legacy as an all-time great is already secured.
Yet, the hunger for competing at the highest level remains. True to his nature, he jumps right back into the deep end. No tune-up fight. No. He wants the toughest possible challenge, the champion, and prove that, after three years away, he's been the true gold standard all along.
Rust won't be an issue. A lifelong athlete and student of the game, Cejudo's stayed sharp physically and mentally, lending his mind to some of the best fighters around in a consultant coaching capacity. At 36, he's far from over the hill and just three years Sterling's senior.
Aside from his unrivalled wrestling, "Triple C" is an absolute combat genius. His fight IQ, ability to execute a game plan or make mid-fight adjustments are second to none. Sterling's an intelligent fighter from a great camp in Serra-Longo, but Cejudo's one of the most cerebral fighters in mixed martial arts history.
Much of Sterling's success is also down to wrestling. The former Division I wrestler uses unorthodox striking to set up takedowns and either controls or finishes fights from there. A world-class grappler, he has eight submissions to his name and boasts arguably the best rear-naked choke in the business. He's not known as a human backpack for nothing.
He has a big size advantage over 5'4″ Cejudo – three inches in height and seven inches in reach. Cejudo, though, is used to being the smaller man and uses speed and perpetual motion to get off on opponents and/or take them down.
There's an obvious gulf between Olympic and Division I wrestling and I'd be surprised if Sterling scores a traditional takedown. He'll have to chain wrestle and mix in guillotine attempts to try to trip up Cejudo.
For his part, Cejudo should be able to put the champion on his back, where he has the nous to stay safe from submissions and rack up control time while on the feet, he's adept at closing distance and landing solid punches (eight knockouts) in the pocket and the clinch.
I expect a clinical and cerebral Cejudo to reclaim the crown after 25 minutes of elite-level action, although, I won't be shocked if he signalled his return with a TKO.
Prediction: Cejudo by decision.
Alternative Bet: Cejudo by decision at 3.00.
Belal Muhammad (2.05) v Gilbert Burns (1.80) (Welterweight)
No organisation rolls with the punches like the UFC. Two weeks out from the event, the UFC had to book a new co-headliner after injury forced Charles Oliveira out of his clash with Beneil Dariush.
Muhammad and Burns stepped up on short notice and stand to be rewarded as theirs is no ordinary co-main event. Instead of the usual three rounds, their featured fight is scheduled for five and it's believed the winner will earn a future title shot.
Ranked fourth and fifth, both are on a roll and as evenly matched as it gets.
Higher-ranked Muhammad, who's 22-3, is a powerful wrestler on a nine-fight win streak dating back to 2019. Constantly overlooked because of his methodical, grinding style, "Remember the Name" has picked off one contender after the other, including former title challenger Stephen Thompson and Vicente Luque, in pursuit of a maiden championship opportunity.
His latest win, a TKO victory over previously unbeaten Sean Brady, was just his sixth finish. He's renowned for being a high-pressure tactician and economical striker who's heavy on wrestling and usually outpoints opponents.
Burns isn't necessarily a finisher but he's the more dangerous fighter both on the feet and the ground. His record reflects this with the Brazilian being 22-5 with six knockouts and nine submissions.
"Durinho" has heavy hands and solid striking, which even saw him drop Kamaru Usman in his first title shot in 2021, but it's his next-level grappling that's his greatest strength. A multi-time jiu-jitsu world champion, he's an expert at grounding, controlling and/or submitting foes.
In a fight so evenly matched, the short-notice nature of the bout holds the key. Burns is battle-ready, having already won two fights this year, submitting Neil Magny in a flawless performance in January and retiring ex-title challenger Jorge Masvidal less than a month ago.
Muhammad, on the other hand, last fought in October and only ended his Ramadan fasting on 22 April. As a result, as of two weeks ago when the fight was announced, he was 13 pounds heavier than usual and needed to cut 19 pounds to make the 170-pound limit.
This week will be a struggle for him weight-cutting-wise and the extremes he puts his body through give Burns the advantage. A submission win is possible, but it's more likely that Burns will win a decision.
Prediction: Burns by decision.
Alternative Bet: Burns by decision at 3.50.
Jessica Andrade (1.51) v Yan Xiaonan (2.65) (Strawweight)
Cue the fireworks in this high-stakes strawweight scrap in which the victor could set up a clash with champion Zhang Weili later this year.
Despite standing at just 5'1″, Andrade (24-10) is one of the most frightening female fighters in MMA history. The diminutive dynamo is a Mike Tyson-like striker who walks opponents down and drops bombs.
Fuelled by bad intentions, she boasts nine knockouts and if that wasn't enough, she's a powerful, highly-skilled grappler as well with eight submissions to her name.
Few have the guts to engage with the former strawweight queen, who drops back down to her best weight class, which is what makes this such an anticipated showdown.
Yan (16-3) is an ultra-aggressive striker who'll take the fight to "Bate Estaca." The first female Chinese fighter signed to the UFC, she's well-versed on the feet and is a volume striker as opposed to a power-punching berserker like Andrade. As a result, all seven of her wins inside the Octagon have come by decision.
While Yan's naturally aggressive style will make for an exciting fight, it'll also likely lead to her downfall as she'll walk into heavy blows and open herself up to takedowns. I'm leaning towards Andrade winning via finish instead of by decision, but I'm happy to take the money line.
Alternative Bet: Andrade by KO/TKO/DQ at 3.25.
Movsar Evloev (1.16) v Diego Lopes (5.50) (Featherweight)
After stepping in on short notice for Jonathan Pierce to face fellow emerging featherweight talent Bryce Mitchell, Evloev now finds himself with a new opponent with Mitchell forced to pull out due to injury on Tuesday.
A Russian wrestling machine, Evloev scored a decision win over Dan Ige last time out to move to a perfect 16-0 (6-0 in the UFC) and 10th in the rankings. A relentless pursuer, no one has been able to thwart his high-pressure grappling offence.
Subbing in for Mitchell is ambitious finisher Lopes (21-5), who couldn't let an opportunity to make his UFC debut pass by. A Dana White's Contender Series alum, Lopes boasts a 95% stoppage rate (eight knockouts and 11 submissions).
Evloev is levels above the debutant and should be able to get the finish.
Prediction: Evloev by stoppage.
Best Bet: Evloev by KO/TKO/Submission/DQ.
Alternative Bet: Evloev by KO/TKO/DQ.
Kron Gracie (2.55) v Charles Jourdain (1.55) (Featherweight)
A member of the legendary Gracie family, Kron (5-1) carries on their legacy as a former Brazilian jiu-jitsu world champion and next-level submission artist who's secured all of his wins by tap out. He's been missing in action for over three years, so it remains to be seen what condition he's in and whether he's added layers to his game.
Jourdain (13-6-1) is well-rounded and a violent assassin with all but one of his wins coming by finish (eight knockouts and four submissions). He's a high-level switch hitter, loves bloody brawls and is tough as nails.
Any bet on Gracie is a gamble rather than an educated pick given he's been in the wilderness for so long. Jourdain would've trained takedown defence to no end and should be able to keep the fight standing where he'll find the finish to spoil Gracie's comeback.
Prediction: Jourdain by knockout.
Best Bet: Jourdain by KO/TKO/DQ at 2.30.
Alternative Bet: Jourdain at 1.55.
SIGN UP TO OUR

BET CENTRAL PLAYBOOK
Get weekly emails packed with the best tips and sports content.
Get ahead of the game now - fill in the contact form below.