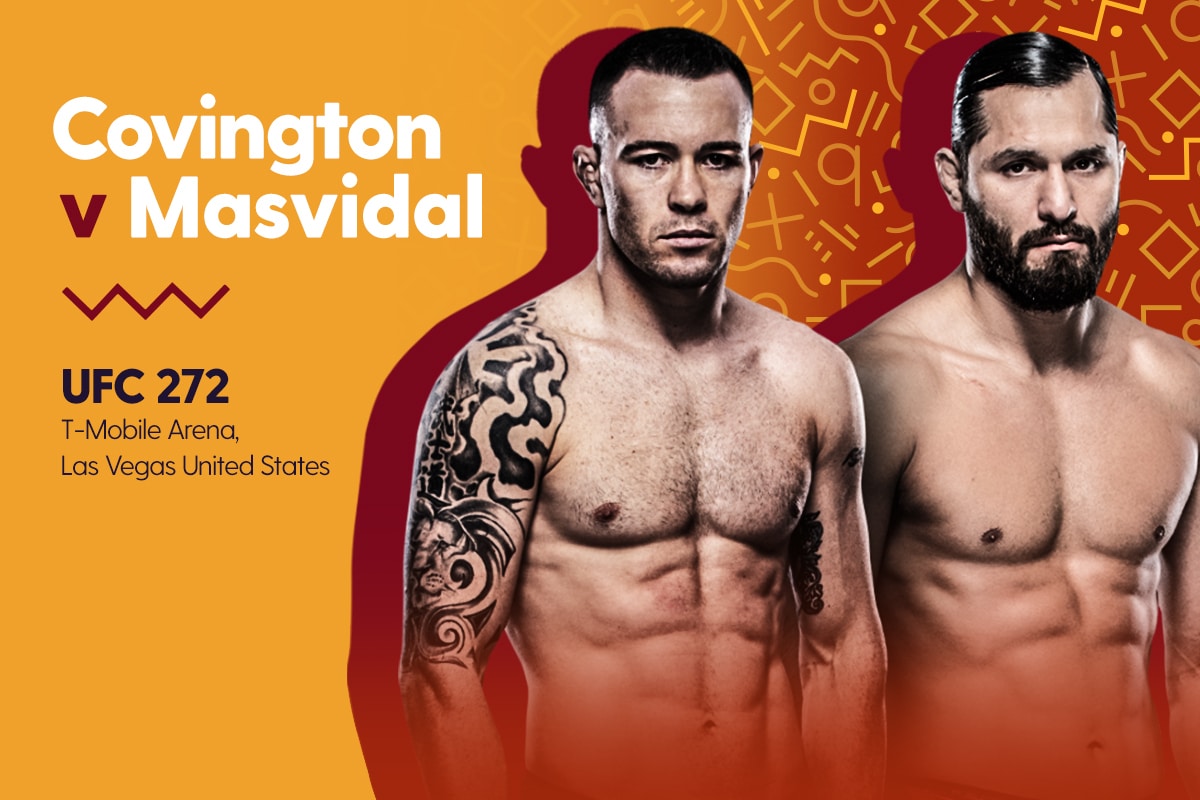 Former friends turned bitter enemies will settle their beef when Colby Covington and Jorge Masvidal collide in a blockbuster grudge match at UFC 272 at the T-Mobile Arena in Las Vegas on Saturday night (Sunday morning SA time), writes Quintin van Jaarsveld.
In the co-main event, Renato Moicano will look to make a major splash as he steps up on just four days' notice to take on former lightweight champion Rafael dos Anjos in a catchweight clash, while the undefeated Bryce Mitchell faces the biggest test of his career against UFC veteran and human highlight-reel Edson Barboza in a top-15 featherweight tilt.
Plus, the ever-entertaining Kevin Holland makes his welterweight debut against divisional stalwart Alex Oliveira and heavyweights Sergey Spivak and Greg Hardy slug it out.
MAIN CARD (from 5 AM Sunday SA time):
Colby Covington (1.28) v Jorge Masvidal (3.60) (Welterweight)
A must-see showdown years in the making, the talented duo rose up the ranks together to become two of the best welterweights in the world. They were thick as thieves, not only long-time teammates but roommates and cornermen as well. 
However, the pursuit of gold poisoned their brotherhood and that venom will turn into violence on one of the biggest stages of the year.
The crack came when Covington (16-3), seeking the spotlight to match his skills and win streak, adopted a WWEesque persona in 2017. He went from respectful and hard-working wrestler to trash-talking villain, fully embracing his "Chaos" moniker.
As cheesy as some of his "promos" were, his no-holds-barred button-pushing worked. From bashing the whole of Brazil to launching scathing verbal attacks on popular athletes like LeBron James and bringing his staunch support of Donald Trump into the limelight, Covington garnered the attention he'd craved, the notoriety that separated him from the rest of the pack at 170 pounds (77kg).
The shtick may be contrived, but no one can deny Covington walks the walk. Maximising his newfound heat, he made a statement when he beat ex-lightweight champion Dos Anjos to capture the interim 170-pound title in 2018 and hammered home that message – that he's the undeniable real deal – with a masterclass against Robbie Lawler.
That performance was a showcase of what makes Covington great. He pummelled Lawler, a former welterweight champion and future Hall of Famer, at a relentless pace that had never been seen before, setting the then-UFC record for most strikes thrown in a fight – a mind-blowing 541 over five rounds.
Since then, he decimated another former titleholder in Tyron Woodley and pushed reigning king Kamaru Usman to the limit in two championship wars.
Their instant classic in 2019 was all-square going into the fifth and final round when Usman sealed the deal by TKO, and their rematch last November was closely contested as well, with the champion retaining by decision.
Along the way, though, he'd alienated himself to the point of being kicked out of the famed American Top Team, turning close friends and training partners into enemies, with Masvidal at the top of that list.
Still, the battles against "The Nigerian Nightmare" solidified Covington as the next-best welterweight in the world, with his gutsy performance in the rematch, in particular, earning him the respect of many rubbed the wrong way by his out-of-the-Octagon antics and coming seven months after Usman had slept Masvidal with a right hand from hell in their rematch.
It was the first time since 2008 that Masvidal, known for his toughness forged in street fights as part of Kimbo Slice's infamous crew, had been knocked out. A combat veteran, "Gamebred" reached superstar status with his record-setting five-second knockout of Ben Askren in 2019.
He'll look to land a similar knee as Covington, a world-class wrestler with cyborg-like conditioning inevitably shoots for a takedown. The one ingredient Covington lacks happens to be Masvidal's greatest strength, which is one-punch knockout power.
Covington only has four knockouts to his credit, all of which came after he'd drowned opponents with his suffocating pressure, which has also earned him four wins by submission.
Masvidal, meanwhile, boasts 16 knockouts. After his stunning annihilation of Askren, he bludgeoned Nate Diaz for three rounds to win the BMF belt by doctor stoppage before his back-to-back losses to Usman, the pound-for-pound king.
The very real back story and bad blood make this grudge match must-see and every round starts on the feet makes it even more fascinating. That said, I expect it to play out much like the first Usman-Masvidal fight when the champion ground out a decision with a wrestling-heavy game plan.
Masvidal has good timing, reflexes and solid takedown defence, but Covington and Usman are in a class of their own as far as wrestling is concerned, with Covington even becoming the first man to take Usman down in their last meeting.
In a fight that comes down to who imposes their will – to either keep the fight standing or make it a grappling match – that wrestling pedigree and tireless pressure should carry Covington to a decision victory.
Prediction: Covington via decision.
Best Bet: Covington by decision at 1.86.
Alternative Bet: There are only two clear outcomes, the other being Masvidal catching Covington and switching his lights off. With his proven power and history of starching favoured foes, "Gamebred" by knockout at 5.50 is super enticing.
Rafael dos Anjos (1.57) v Renato Moicano (2.40) (Catchweight)
Dos Anjos (30-13) has been thrown one curveball after the other over the last few weeks. First, his much-anticipated clash with Rafael Fiziev, which was meant to headline UFC Vegas 48, had to be postponed due to visa issues and then on Tuesday, news broke that Fiziev has been forced to withdraw due to testing positive for Covid.
Dos Anjos has been there and done it all, including capturing the lightweight championship with a dominant win over Anthony Pettis back in 2015. The opportunity to face an opponent of his stature, in a pay-per-view co-main event, is career-changing and one Moicano (16-4-1) jumped at.
That said, it takes serious stones and belief to sign up to battle a legend on four days' notice, especially since it'll be a five-round fight instead of the usual three. The longer the fight goes, the more it'll favour Dos Anjos, who's been in an intense and dedicated fight camp for weeks.
Given the circumstances, the two Brazilians will collide at a catchweight of 160 pounds, five pounds north of the lightweight limit. Moicano represents an easier match-up for Dos Anjos than the surging Fiziev, but it won't be easy by any stretch of the imagination.
Moicano is a grappling wizard. All nine of his stoppage wins are submissions, including the latest against Alexander Hernandez last month. He's capable in the stand-up department without being a major danger.
RDA is every bit the grappler his new opponent is, the Brazilian jiu-jitsu black belt has secured 10 wins by submission. On top of that, he's a top-class wrestler and packs more power on the feet, which has earned him five knockouts.
He's past his prime, having won just one of his last three and two of his last six, and last fought in November 2020 when he eked out a split decision win over Paul Felder. However, he's still one of the best in the world, sitting sixth in the rankings.
His overall class and superior conditioning will drive Dos Anjos to a win on the scorecards.
Prediction: Dos Anjos via decision.
Alternative Bet: Dos Anjos via decision at 3.00.
Edson Barboza (2.40) v Bryce Mitchell (1.57) (Featherweight)
This fascinating featherweight fight is both a striker versus grappler and an experience versus youth match-up.
Tenth-ranked Barboza (22-10) has fought the best of the best since joining the UFC back in 2010, first at lightweight and then at featherweight.
A taekwondo black belt, "Junior" is one of the greatest strikers to grace the Octagon and arguably the most lethal kicker ever. Fast, explosive and unpredictable, he's put together a jaw-dropping highlight reel unlike any other and looks to make one of the best up-and-comers knockout victim number 14.
The 36-year-old's coming off a knockout loss to Giga Chikadze last August, which saw him drop to 2-2 since joining the featherweight ranks in 2020.
Eleventh-ranked Mitchell, meanwhile, is a perfect 14-0, which includes five wins inside the Octagon. The 22-year-old's a strange cat, in a good way, and more importantly, a world-class grappler.
"Thug Nasty" boasts nine tap out victories, including pulling off only the second twister in UFC history against Matt Sayles in 2019. His top game is impeccable, so if he grounds opponents, they generally stay there for most of the round.
Entry is everything in this one. With Barboza having a five-inch reach advantage, Mitchell has no choice but to jump into the fire. However, he has to do so cerebrally. One bad takedown attempt will see him get put to sleep by the Brazilian buzzsaw.
Barboza is a big step up for the division's rising star and has an underrated ground game, but Mitchell should be able to manoeuvre his way onto the inside and neutralise Barboza on the ground to grind out the biggest win of his career.
Prediction: Mitchell via decision.
Alternative Bets: Mitchell by decision at 3.25. Like with Masvidal, there's a very real possibility that Barboza lands a one-hitter quitter, which would land you a pretty penny at 3.75.
Kevin Holland (1.29) v Alex Oliveira (3.50) (Welterweight)
A key clash as neither man has won a fight since 2020. That year belonged to Holland (21-7-1NC), who won five on the trot to soar into the middleweight top 10, but the rough patch that followed sees him drop to welterweight for the first time.
At 6'3″, he's big for the 170-pound division and will have a four-and-a-half-inch reach advantage over Oliveira (22-11-1-2NC), who stands 5'11". A welterweight veteran, "Cowboy" always brings the fight but has never broken into the elite like Holland did at 185 pounds.
For fighters who are very similar as their records reflect (both have 12 knockouts and five submissions), Holland's physical advantages should prove decisive, with his power and reach likely to see the always-talking and ever-entertaining "Trailblazer" deliver a knockout.
Prediction: Holland via knockout.
Best Bet: Holland by KO/TKO/DQ at 2.10.
Alternative Bet: Under 2.5 rounds at 1.68.
Sergey Spivak (1.50) v Greg Hardy (2.60)
That both behemoths are coming off knockout defeats won't deter them from trading leather. Hardy (7-4), in particular, will come out all guns blazing. The former NFL star is always aggressively chasing the finish and will be in peak kill mode as another loss will likely see him vanquished from the UFC.
"The Prince of War" is a super heavyweight; he cuts weight to make the 265-pound (120kg) limit, hits like a truck – with all but one of his wins coming by knockout – and is as fast and explosive as a top 205-pounder.
Spivak (13-3) is a more nuanced striker and a well-rounded mixed martial artist with five knockouts and six submission wins. The best path to victory for "The Polar Bear" is to get the fight to the ground, where Hardy still struggles to work his way up. Hardy has solid takedown defence, though, so it'll take some trickery to take him off his feet.
As one of the more laboured heavyweights, Spivak's set to face the full brunt of Hardy's bum-rush, which is why I'm backing the vastly more athletic 33-year-old as my underdog pick of the main card.
Prediction: Hardy via knockout.
Best Bet: Hardy by KO/TKO/DQ at 4.00.
Alternative Bet: Hardy by 2.60.
SIGN UP TO OUR

BET CENTRAL PLAYBOOK
Get weekly emails packed with the best tips and sports content.
Get ahead of the game now - fill in the contact form below.