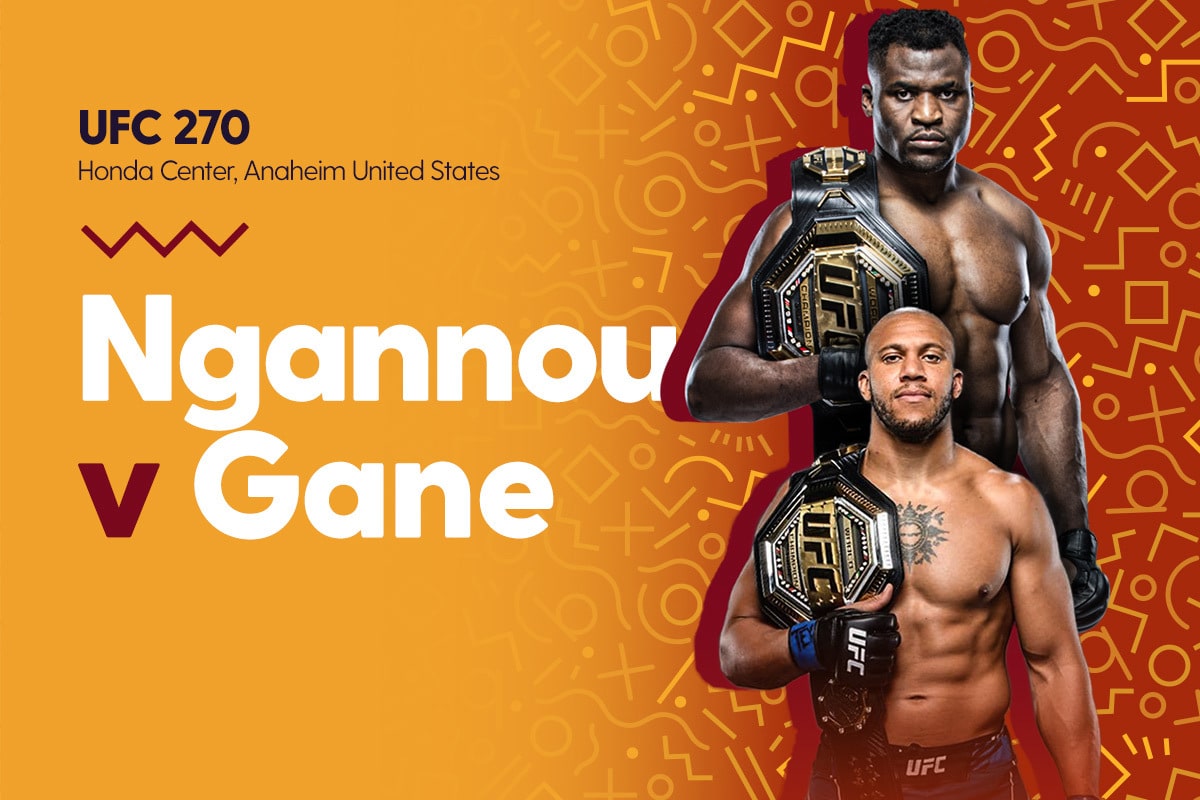 The UFC goes big with two much-anticipated title bouts topping their first pay-per-view of 2022 at the Honda Center in Anaheim on Saturday night (Sunday morning SA time), writes Quintin van Jaarsveld.
Two of the biggest and baddest men on the planet with personal history will make history in the main event of UFC 270 as titleholder Francis Ngannou and undefeated interim champion Ciryl Gane collide in a heavyweight championship unification clash.
In a riveting role reversal, Brandon Moreno and Deiveson Figueiredo conclude their rollercoaster rivalry in the co-headliner, the former now holding the flyweight gold and the latter looking to regain the crown in their trilogy bout.
Michel Pereira, one of the craziest and creative fighters to ever grace the Octagon, faces fellow finisher Andre Fialho in what's set to be a welterweight war. Plus, Cody Stamann squares off against Said Nurmagomedov at bantamweight and Ilia Topuria takes on Charles Jourdain in a featherweight clash.
MAIN CARD (from 5 AM Sunday SA time):
Francis Ngannou (2.35) v Ciryl Gane (1.64) (Heavyweight Championship)
The heavyweight headliner ticks every box office box. It features super athletes, whose sheer size gives the scrap mainstream appeal. It has a personal element to it, as the titans were former training partners. It's a styles clash of epic proportions, in which the unparalleled power of Ngannou (17-3) is pitted against the unrivalled technique of undefeated Gane.
It's destroyer versus anomaly and above all, it's a champion versus champion showdown, the significance of which will shape the future of the heavyweight division. Ngannou slept Stipe Miocic in brutal fashion last March to seize the 265-pound (120kg) gold. Four months later, Gane outclassed and stopped Derrick Lewis to win the interim belt and set up this blockbuster unification bout.
Standing 1.93m tall, weighing 117kg and seemingly chiselled out of stone, Ngannou is a freak of nature. "The Predator" possesses superhuman power. Hyperbole? Think again! He holds the world record for the hardest punch ever thrown. The force of his haymaker is equal to getting hit by a Ford Escort going as fast as it can and more powerful than being hit with a 12-pound sledgehammer wielded overhead.
He demonstrated that ungodly power in his devastating second-round knockout of Miocic, adding the consensus greatest heavyweight in UFC history to his highlight-reel of finishes (12 KOs) that has to make for harrowing viewing for his foes.
More significantly, he showed the improvements he'd made since coming up short against Miocic in their first title tilt in 2018. The newfound patience and takedown defence he displayed will be as worrying to the rest of the division as having to deal with his power.
One man that isn't afraid is Gane, and for good reason. A 1.93m, 112kg muscle-bound specimen in his own right, the Frenchman is a phenomenon. An ex-elite kickboxer, there's never been a heavyweight that moves with the speed and grace of "Bon Gamin."
He's as fast as a welterweight; light on his feet, constantly bouncing and never getting tired. His fight IQ – the mastering of distance that allows him to lead the dance – freakish footwork to both rack up points and capitalise on the traps he sets, discipline to remain patient and supreme technical striking makes him one-of-a-kind.
Dabbling in a bit of mind games, newly-released footage by his camp shows Gane seemingly getting the better of Ngannou in an old sparing session, which Ngannou's dismissed as being doctored. The heavyweight king was groomed by the same France-based team before he opted to move to America and his relationship with former coach Fernand Lopez, who's now plotting his downfall as Gane's mentor, has become toxic.
Regardless of the accuracy of the sparring footage, Gane's a puzzle no-one has been able to solve, his perfect 10-0 record including four knockouts and three submissions, and while his stoppages haven't been as spectacular as Ngannou's, his intelligence, technique and crucially, conditioning, is why he's the favourite.
This will be a striking battle for however long it lasts, with the two most likely outcomes being either a knockout win for Ngannou or a decision victory for Gane. Don't rule out a stoppage win for the latter though. With his ultimate one-punch knockout power, Ngannou is always a good bet. He only needs one clean shot to close the show, but it'll have to come early – inside the first three rounds – against cardio machine Gane.
A shaky relationship between his management team and the UFC means this could be the last time we see Ngannou inside the Octagon if he loses. It would also kill his hopes of possibly brokering a money-spinning boxing bout against Tyson Fury.
For Gane, it's a life-changing opportunity, one that's threatening to snap his unbeaten record, so this is as big as it gets. Gane's the one guy with the strength, size, speed, skill, smarts and endurance to avoid disaster against this, the scariest version of Ngannou, and outpoint him en route to being crowned the undisputed champion.
Prediction: Gane via decision.
Alternative Bet: Gane by decision at 3.75.
Brandon Moreno (1.55) v Deiveson Figueiredo (2.55) (Flyweight Championship)
Moreno (19-5-1) is at the opposite end of the herculean Ngannou as the least intimidating UFC champion. He's a lean 1.7m, 56kg Lego lover, but the two battles he had with Figueiredo (20-2-1) showed what a savage he is inside the Octagon. The pair put on an instant classic when they first collided in December 2020, a five-round banger that ended in a majority draw, which meant Figueiredo held onto the gold.
Given little chance against the feared champion with the heaviest hands in the division, Moreno surprised everyone by taking everything Figueiredo threw at him and giving it right back, making the monster look mortal. Still, the big, powerful Brazilian brutaliser with his nine knockouts and eight submissions remained the favourite going into the rematch.
Unbeknownst to all, it was the spitfire challenger who was just getting started and followed up his brave-heart effort by breaking the will of Figueiredo with his lightning-quick offence. His speed advantage the second time around was remarkable and the pace he forced his rival to fight at took its toll as early as the midway point of the third round when Moreno sunk in a rear-naked choke to become the first-ever Mexican-born UFC champion.
Moreno, who has 11 submissions and just three knockouts to his name, has truly turned the tables as he enters the trilogy fight as the favourite. Figueiredo insists he had a flat night and vows to regain the title. His power makes him super dangerous, but Moreno has shown he can take his best shot.
"Deus Da Guerra" would've made cardio the main focus of his camp, but his bigger, muscular frame still demands more oxygen than the "everyman" body of Moreno. One thing that can't be ramped up in camp is overall speed and that is set to be his downfall again.
Moreno, the younger man by six years at 28, is so much faster and elusive on the feet that I can't see Figueiredo keeping up. I'm expecting "The Assassin Baby" to play it smart, push the pace and finish a fatigued Figueiredo a second time to capstone a career-changing rise during this legendary rivalry.
Prediction: Moreno via stoppage.
Alternative Bets: Moreno by submission at 3.25 or by KO/submission/DQ at 2.50.
Michel Pereira (1.35) v Andre Fialho (3.25) (Welterweight)
With original opponent Muslim Salikhov forced out of the fight, Pereira (26-11-2NC) will welcome dangerous newcomer Fialho (14-3-1NC) to the Octagon in a must-watch welterweight showdown. Wild man. Human highlight-reel. Mad scientist. Pereira personifies all of these in pugilistic terms.
There's no one else like "Demolidor." His unique style of perpetual motion is a type of menacing mambo, which extends into lightning-fast leaping attacks, using the Octagon fence as a springboard for flying punches, kicks and knees and craziness like standing backflips into mount.
The only predictable thing about Pereira, who's amassed 10 knockouts and seven submissions, is that he puts on a show every time!
Fialho, who comes in on less than two weeks' notice, is unknown to most UFC fans, but make no mistake, he's no regional scrub. This chance encounter is a long time coming for the punisher from Portugal, who has 11 knockouts, four of which came in 2021 including the most recent one against UFC veteran James Vick.
Pereira was upset once before by a late replacement in Tristan Connelly, gassing out after hamming it up way too much. He learned from that and has racked up three consecutive wins since, all three by decision. It's a coin toss whether it'll end by knockout or decision, but it's Pereira who'll get his hand raised.
Prediction: Pereira via knockout.
Best Bet: Pereira by KO/TKO/DQ at 2.65.
Alternative Bet: Pereira by decision at 3.00.
Cody Stamann (2.70) v Said Nurmagomedov (1.50) (Bantamweight)
A two-fight skid has 15th-ranked Stamann (19-4-1) entering as the dog against the rising star from Russia. Nurmagomedov (14-2) has won three of four inside the Octagon and seven of his last eight, including knocking out Mark Striegl in his last fight in October.
No relation to former lightweight champion Khabib, Nurmagomedov bucks the trend of wrestlers coming out of Dagestan. He has solid grappling (three submissions), but striking is the tip of his spear. He's skilled and creative, a combination that's earned him four knockouts.
Stamann is strong in all areas (six knockouts and two submissions) as well but leans the other way, towards wrestling. Short and stocky, he'll have no choice but to try to close the distance.
Nurmagomedov will pose plenty of questions and constant danger with his unpredictability and with a massive five-and-a-half-inch reach advantage, I see him outstriking "The Spartan."
Prediction: Nurmagomedov via decision.
Best Bet: Nurmagomedov at 1.50.
Alternative Bets: Nurmagomedov by decision at 2.10 or by KO/TKO/DQ/decision at 1.62.
Ilia Topuria (1.18) v Charles Jourdain (5.00) (Featherweight)
Jourdain (12-4-1) deserves major credit for stepping in for Covid-hit Movsar Evloev on little more than a week's notice to face a killer like Topuria. His game mentality translates into fireworks inside the Octagon with all of his wins coming by stoppage, including eight knockouts.
That said, he's won just one of his last four, while Topuria holds a perfect record of 11-0 with 10 finishes (seven by submission). As a result, Topuria's the biggest favourite on the card. His last two wins were by knockout, most recently starching Ryan Hall last July, but Jourdain's weakness is his grappling.
He has shoddy takedown defence (48%) and was submitted in his last fight by Julian Erosa, so I'm expecting Topuria to take him down and tap him out.
Prediction: Topuria via submission.
Best Bet: Topuria by submission at 2.40.
Alternative Bet: Under 1.5 rounds at 2.05.
SIGN UP TO OUR

BET CENTRAL PLAYBOOK
Get weekly emails packed with the best tips and sports content.
Get ahead of the game now - fill in the contact form below.