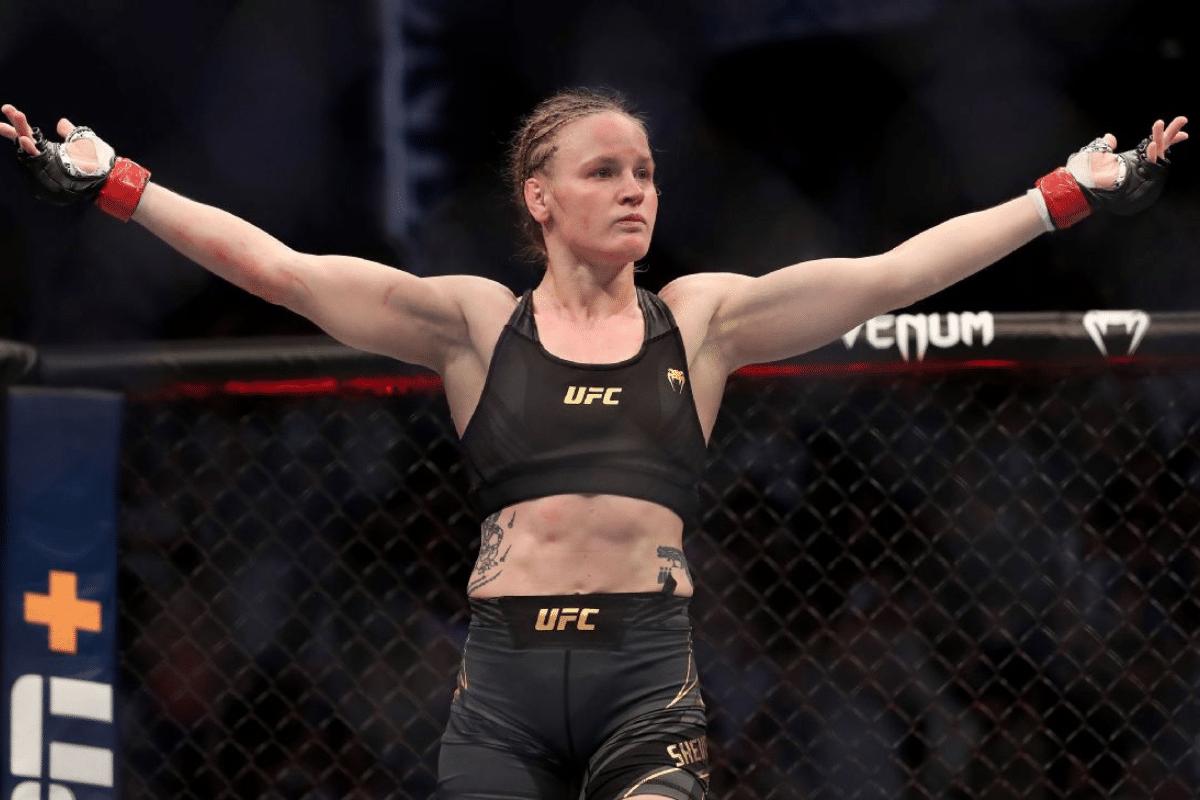 When Alexa Grasso caused one of the biggest upsets in UFC history by submitting Valentina Shevchenko at UFC 285 earlier this year, the consensus thought was that "Bullet", because of her general dominance as the queen of the flyweights, deserved an immediate rematch. That comes to fruition when the two square off at Noche UFC at the T-Mobile Arena in Las Vegas on Sunday morning (SA time). We look at the history of former UFC champions getting immediate rematches after losing their titles.
In the Modern Era, just four have reclaimed their belt in an immediate rematch: Randy Couture, Amanda Nunes, Deiveson Figueiredo and Israel Adesanya.
Vitor Belfort v Randy Couture 3
UFC 49 – August 21, 2006
Following a glove-induced cut that resulted in the belt being taken away from Couture and awarded to Vitor Belfort, "The Natural" reclaimed his glory in their rubber match. Couture put on a dominant performance against Belfort for three rounds before securing a poetic stoppage victory.
Frankie Edgar v BJ Penn 2
UFC 118 – August 28, 2010
After Frankie Edgar became the second lightweight fighter to defeat BJ Penn, doubts lingered about whether he had truly earned the belt. However, in his second bout against "The Prodigy," Edgar lived up to his nickname and decisively silenced all those uncertainties. He displayed dominance in the fight, leaving no room for doubt, and solidified his well-deserved status as the lightweight world champion.
Benson Henderson v Frankie Edgar 2
UFC 150 – October 11, 2012
During his time as the lightweight champion, Edgar often found himself in intense battles. After Benson Henderson took the belt from "The Answer," Edgar, hailing from New Jersey, made a determined comeback and engaged in an incredibly competitive contest. Despite the fight being closely contested, the judges ultimately awarded Henderson the victory, deeming his efforts more impactful and effective.
Chris Weidman v Anderson Silva 2
UFC 168 – December 28, 2013
Following Chris Weidman's stunning victory that ended Anderson Silva's legendary winning streak, the two fighters had a rematch. Many anticipated that Silva would tone down the showboating that had caused him trouble in their initial bout. Weidman, still fighting with confidence after earning the championship belt, performed admirably. However, the fight took a tragic turn in the second round when Silva suffered a gruesome leg injury, prematurely ending the contest before it could truly intensify.
Max Holloway v Jose Aldo 2
UFC 218 – December 2, 2017
This rematch came about somewhat accidentally. After Max Holloway unified the featherweight title with a third-round TKO victory over José Aldo, he was scheduled to defend the belt against former lightweight champion Frankie Edgar. However, a month before the fight, Edgar had to withdraw due to injury, leading to a second showdown between Holloway and Aldo. The second fight unfolded in a manner similar to the first, with Aldo finding success early. Still, Holloway's relentless pace, pressure, and continuous assault ultimately overwhelmed the Brazilian fighter midway through the contest.
Rose Namajunas v Joanna Jedrzejczyk 2
UFC 223 – April 7, 2018
After Rose Namajunas dethroned Joanna Jedrzejczyk as the long-reigning strawweight champion in a dominant fashion, the two fighters met again for a rematch, showcasing their skills over a gruelling 25 minutes. The fight reaffirmed that Namajunas' victory was no fluke, and Jedrzejczyk, at the very least, proved that losing her belt wouldn't diminish her standing as an elite fighter.
TJ Dillashaw v Cody Garbrandt 2
UFC 227 – August 4, 2018
In a rivalry fueled by intense animosity, the second encounter between TJ Dillashaw and Cody Garbrandt unfolded in a manner quite similar to their first fight. After a measured yet intense beginning, the bout erupted into fireworks, with Dillashaw displaying slightly more precision in their exchanges. He once again secured the finishing shot early in the second round, mirroring the outcome of their initial clash.
Alexander Volkanovski v Max Holloway 2
UFC 251 – July 12, 2020
People will continue to debate this fight indefinitely, but when Max Holloway faced off against Alexander Volkanovski for the featherweight title on Fight Island, "Blessed" came out with tremendous intensity. He was determined not to be outworked, as some argue he was in their first encounter. Holloway scored two knockdowns in the opening rounds, putting "The Great" on the defensive. Despite a championship-level adjustment that brought Volkanovski back into the fight, the bout remained close enough to warrant a trilogy bout two years after their second encounter.
Daniel Cormier v Stipe Miocic 3
UFC 253 – August 15, 2020
A heavyweight title trilogy often carries the weight of legacy and legend, and the story of Stipe Miocic and Daniel Cormier is no exception. Between 2018 and 2020, "DC" and Miocic crafted their narrative, with each securing a finish over the other in their previous two encounters. The rubber match held as much significance as any recent title fight. The only downside was that it took place inside an empty UFC APEX arena due to the COVID-19 pandemic. Nevertheless, this fight remains a captivating watch, as both fighters applied the lessons they had learned over the course of five intense, high-level rounds.
Brandon Moreno v Deiveson Figueiredo 3
UFC 270 – January 22, 2022
Whenever Brandon Moreno and Deiveson Figueiredo faced each other, it felt like fate had brought them together in the Octagon. Their third fight had an especially intriguing buildup, as Moreno arrived in Anaheim that week exuding the confidence of a newly crowned champion, bolstered by his submission victory over Figueiredo in their rematch. Figueiredo, who had shifted his training camp to Fight Ready MMA to work with Henry Cejudo and his team, showcased a rejuvenated and finely tuned version of himself, setting the stage for an unprecedented fourth encounter between these two fighters.
Julianna Peña v Amanda Nunes 2
UFC 277 – July 30, 2022
Apart from Holly Holm's shocking upset of Ronda Rousey, Julianna Peña's submission win over Amanda Nunes may have been one of the most significant upsets in women's UFC history. In their matchup in Dallas, "The Lioness" not only regained her rhythm but also reclaimed her championship belt with a commanding performance over five rounds. Credit is due to Peña for absorbing punishment and pressing forward, but Nunes served as a reminder to everyone why she's regarded as the Greatest of All Time (GOAT) in women's MMA.
Leon Edwards v Kamaru Usman 3
UFC 286 – March 18, 2023
After Leon Edwards shocked the world with his head kick knockout of Kamaru Usman at UFC 278, he defended his title against the former pound-for-pound king in London. With the entire O2 Arena rallying behind "Rocky," England's second-ever champion successfully retained his belt with an even more impressive performance than his initial title-winning bout, ultimately securing a hard-fought decision victory.
Alex Pereira v Israel adesanya 2
UFC 287 – April 8, 2023
The most recent entry on the list is the aftermath of yet another upset. Israel Adesanya's long-time kickboxing rival had followed him to the UFC, and after a few fights into his UFC career, Alex Pereira defeated Adesanya via TKO at UFC 281. A few months later, a wounded Adesanya was looking to reclaim his throne and get his first win over Pereira (2 losses in kickboxing, 1 in MMA). And so he did, with a brutal knockout of "Poatan" to become a two-time UFC middleweight champion at UFC 287 in Miami earlier this year.