Horse Racing Betting Glossary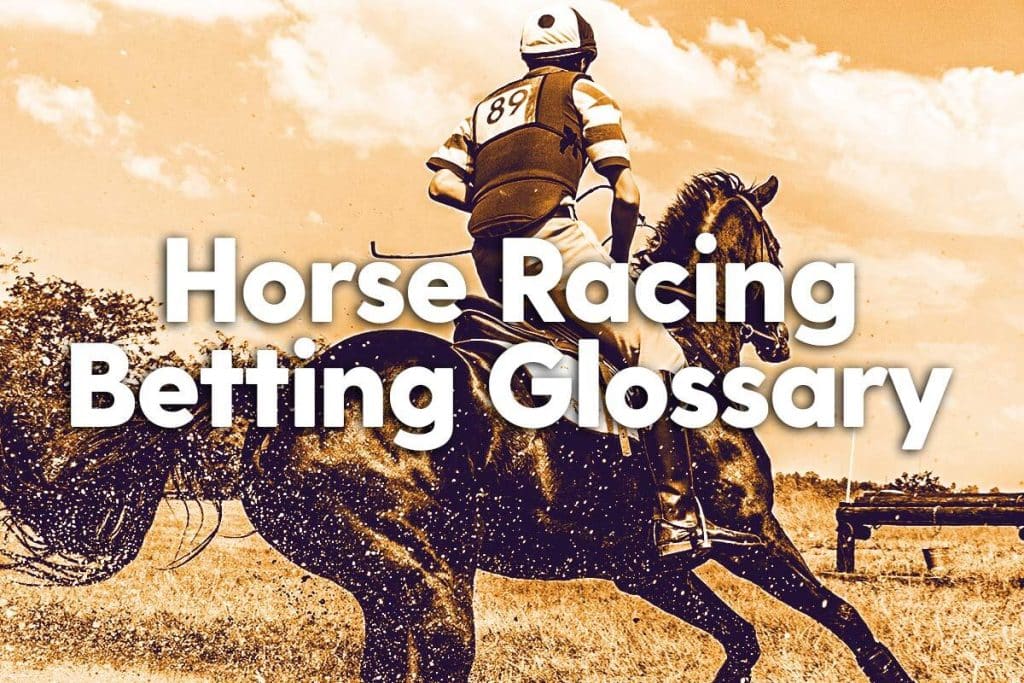 If you're new to horse racing, one of the biggest challenges, even before you've started placing any wagers, is getting your head around the different terminologies. There's a great number of horse betting terms, which are specific to betting on the sport, as well as several more general terms that aren't necessarily associated with betting, but are nonetheless important for understanding the sport. To make sure that we cover all the bases, we've gone ahead and compiled this glossary page where you'll find all the most important horse racing betting terms explained, along with some more horse betting jargon and general colloquial terms.
A B C D E F G H I J K L M N O P Q R S T U V X Y Z
A
Accumulator: A 'rolling bet' that requires all selections to win or place (depending on your bet) in order for you to be awarded the winnings.
All Weather: A type of racecourse that can be run on in any weather. It's an artificial surface, so that's worth bearing in mind when looking at a horse's form. Do they know that type of ground?
Also-Ran: A horse that took part in the race but didn't finish within the places so won't earn anyone any money.
Amateur Jockey: Referred to on the race card as Mr., Miss or so on, an amateur jockey is one that is not yet qualified. Different to an apprentice jockey.
Ante post: Bets placed well in advance of the race. This is normally any bet placed before 10am on the day of the race, though it's common to bet months in advance on major events such as the Cheltenham Gold Cup. The odds are normally higher, but you will usually lose your stake if the horse is a non-runner.
Apprentice: A jockey in training, normally seconded to a licensed trainer until they earn their stripes.
B
Backed In: When you place a bet on a horse you are said to be 'backing' it. If lots of people bet on the same horse then its odds will shorten and this is known as being 'backed in'.
Banker: As close to a dead-cert to win as you're likely to find in the horse racing business.
Best Odds Guarantee: A promise by a bookmaker that you'll get paid out at the higher odds if the Starting Price on a horse is longer than when you backed it earlier in the day.
Betting In-Play: A bet placed whilst the horse race is taking place. Not all bookmakers offer these, though.
Boxed-In: During the race a horse can become surrounded by other horses and therefore can't break free from the pack.
Bumper: This is another name for a National Hunt flat race.
C
Classics: There are five major horse races that take place in the UK every year and are known as the Classics; the 2,000 Guineas, the 1,000 Guineas, the Oaks, the Derby and the St Leger.
Colours: The 'kit' worn by the jockey that helps you recognise him during the race.
Colt: A male horse under five years of age.
Conditions Race: A race that's only open to horses that have met certain conditions.
Course Specialist: As you'd expect, this is a horse that has run and won at a course before.
D
Dam: A horse's mother.
Dead Heat: When two horses finish the race at exactly the same time.
Dead Weight: The weight a horse carries.
Distance: Fairly self-explanatory phrase that declares how long the race is, normally in miles and furlongs.
Draw Bias: A 'draw' refers to where in the stalls a horse has been put, so draw bias indicates that one position is better than another.
Drifter: A horse whose odds grow larger because few people are backing it.
E
Each-Way: This is when you bet on a horse to finish within the places, normally 1 to 3 but can be longer.
Evens: This is a bet that will pay 1/1, so a £10 bet would return £10 winnings.
Exchange: This is a type of betting offered by certain bookmakers, wherein you can bet against individual horses and essentially 'become the bookie'.
F
Favourite: The horse that the bookmakers believe is most likely to win, meaning they'll normally offer short odds on the chance of it doing so. If there's more than one horse with the same chance of winning then it will be called a Joint-Favourite.
Filly: A female horse, typically under the age of four – also called Fillie.
First Past The Post: FPTP betting means that bookies will pay out on the result of the race before the Weighed-in announcement as well as after, should they be different.
Fixed Odds: A type of bet that means the odds are 'fixed' to when you place it.
Flat Racing: A race that takes place without jumps, fences or obstacles of any kind.
Fold: A term for how many bets there are in an accumulator, so an acca with five legs would be called a five-fold.
Forecast: A type of bet that asks the bettor to predict the winner and runner-up in a single race.
Form: How well the horse is doing heading into the race.
Front-Runner: The horse that is out in front of the chasing pack.
Full-Cover: A type of bet that offers the punter as much coverage as possible on the bet, essentially guaranteeing a win.
Furlong: A measurement of distant peculiar to horse racing, with a mile containing eight furlongs.
G
Gelding: A male horse that has been castrated and will therefore be unable to sire any horses in the future.
Going: The state of the surface that the race is taking place on. Is it soft? Hard? Good? These things matter when looking at the horse's past performances on a similar surface.
Grade: The type of National Hunt race that it is, with Grade 1 being the best.
Guineas: The original currency that horses were bought and sold in. Even to this day some companies still trade in guineas and two of the Classics are named after this way of trading.
H
Hand: A unit of measurement for a horse's height, meaning four inches.
Handicap: This is a type of race whereby each horse is given extra weight to carry according to its ability. Theoretically all horses should be evenly matched in a handicap race and the handicappers dream would be all participants crossing the finishing line at the same time, meaning they've got the weighting right.
Hedging: Placing a bet in order to cover another bet and mitigate potential losses.
Hurdles: A National Hunt race where horses jump over obstacles. Normally these are less experience horses than you'd find in a Steeplechase, mainly because the obstacles are less difficult to get over.
I
In The Money: A term meaning that a horse looks set to finish in the top few positions, meaning that it will earn money for those that placed an Each-Way bet on it.
J
Jackpot: A Tote-style bet that requires the bettor to correctly pick the winners of all listed races in order to be victorious.
Jockey: The person riding the horse. Their experience can be invaluable, especially in the big races.
Juvenile: A race for horses under two years of age in flat racing and three-year-olds and under in National Hunt races.
K
Key Race: A crucial race of the day, normally featuring most of the best horses.
L
Lay: A betting term from the Exchange, meaning a bet placed on a horse to lose.
Left-Handed: A racecourse that runs anti-clockwise, meaning that the rails will be on the jockey's lefthand side.
Length: Literally the length of a horse from its nose to where its tail starts. You'll often hear commentators say a horse has 'lost by a length', essentially meaning a full horse.
Level Weights: A race wherein all horses carry the same amount of weight.
Liability: Another Exchange term, this one meaning the amount of money you stand to lose if the horse you decided to Lay wins the race.
Listed Race: Racing that comes underneath Grades 1, 2 and 3 but that's still considered to be better than a handicap race or a conditions race.
Long-Shot: A horse without much chance of winnings and therefore very long odds.
M
Maiden: A horse that hasn't won a race yet in its career.
Mare: A female horse over the age of five.
N
Nap: Similar to a banker, a Nap is the most tipped horse of the racing day and one that most people believe will win its race.
National Hunt: The opposite of Flat Racing, the National Hunt takes place over obstacles, jumps and fences.
Non-Runner: A horse that ends up not participating in a race, despite being listed to do so at a previous stage. As long as your bet was not an ante-post one you should find that Non-Runner, No Bet rules apply, wherein you'll get you stake refunded to you.
Novice: A horse that is still young but has already won at least one race.
O
Objection: This is a term used to indicate that a jockey or trainer is not happy with the behaviour of a fellow competitor and an investigation will normally follow.
Odds: Simply the price offered on a competitor to win its race. If a horse is believed to stand such a good chance that the odds are less than evens then it will be 'odds-on'.
Official Result: This is the result declared after the 'Weighed-in' declaration has been made and after which point bets will be paid out on, regardless of whether there is then a steward's inquiry or a change to the result.
On The Nose: This is another way of saying that you'd like to place a Win bet.
Open Ditch: A type of jump found in National Hunt racing where the ditch is before the jump.
Outsider: A horse that is unlikely to win, similar to a Long-Shot. Generally a runner over 15/1.
Owner: The person, people or organisation that owns a horse.
P
Pacesetter: A horse that is owned or trained by the same people that own another horse in the race and has been put forward with the intention of setting the pace of the more favoured horse.
Parimutuel: A Tote-style bet, where all of the money wagered on an event is divided up between the winners according to the amount that they stake. The term comes from the French 'Parier Mutuel', which means 'Mutual Stake.
Penalty: Extra weight that a horse may have to carry if it has previously won a handicap race.
Photo-Finish: Quite literally when a photo is taken of two horses crossing the line in order to determine which one won the race.
Place: Finishing within the top few horses. How many horses are declared to have 'placed' typically depends on how many entered the race in the first place. Some bookmakers attempt to entire punters by offering to pay out on more Places than their competitors.
Placepot: Like the Jackpot mentioned earlier, this is a Tote-style bet but the punter only has to predict horses to place rather than win a set number of races.
Postponed: When a race is cancelled for some reason and it is agreed that it will take place at another time instead.
Price: Another way of saying Odds.
Pulled Up: Sometimes a horse will not pay attention to what the jockey is asking it to do or something else may go wrong that requires it to stop racing. This is normally referred to as the horse being 'Pulled Up' and if it happens consistently then you may want to think twice before betting on it.
Punter: You! Someone who places a bet on a race.
R
Race Card: Information about that day's racing is contained within a Race Card, including which horses are participating in which races, the horse's form and the jockey that will be riding it.
Rating: This is a score given to a horse based on certain criteria, including its past performances. The better a horse's rating the more likely it is to win a race.
Return: How much money you'll get back if your bet wins.
Reverse Forecast: Similar to a straight Forecast, with the exception being that the horses can come first or second in either order.
Right-Handed: A racecourse that runs clockwise, meaning that the rails will be on the jockey's righthand side.
Rule 4: The rule that declares the amount of money that will be knocked off a winning bet in order to allow for a non-runner.
S
Seller: A race where the winner is put up for auction afterwards.
Short Head: A term that reflects how close the runner-up in the race came to winning it. It lost by little more than the length of a horse's head.
Short-Price: When a horse has low odds it is sometimes declared to have a short price.
Single: A one-off bet, settled according to the odds offered when it was placed (unless something like a Best Odds Guarantee kicks in).
Sire: A horse's father.
Special: A particular type of bet offered by a bookie in order to try and attract customers to use its services over those of a competitor.
Springer: A horse whose odds shorten quickly and dramatically, said to 'spring the market'.
Stable Jockey: As the name suggests, this is a jockey that is signed up to ride for a particular trainer from a specific stable.
Sprint Race: A race that is quite short and is run at a quick pace.
Stake: The amount of money placed on a bet.
Stall: A box that horses are put into for specific races and released from when the race gets underway.
Starting Price: The odds offered on a horse at the moment the race begins. You'll normally see this referred to as SP.
Steeplechase: A Type of National Hunt race that is typically participated in by the best and most experienced horses. The obstacles on such a course are normally much harder to jump than in a Hurdle, including water jumps and open ditches.
Stud Farm: Where horses mate with each other.
System: If you are following a 'system' then you believe that you've found a way to beat the bookies. Betting on all horses who have won a race before and never been Pulled Up would be following a system.
T
Tailed Off: If a horse drops away from the front runners so much that it is unlikely to catch them then it can be said to have Tailed Off.
Tic-Tac: A secret language of sign language and signals used by bookmakers to communicate with each other.
Tote: The Tote is a pool-type betting system that was originally under the control of the government.
Trainer: The person who has, quite literally, trained the horse.
Tricast: An attempt to predict the first three horses to finish a race and the order that they'll finish said race in.
Triple Crown: A horse than wins all three of the 2,000 Guineas, the Derby and the St Leger Classic races is said to have completed the Triple Crown.
U
Under Orders: At the beginning of the race the Starter will give the horses instructions before the race gets underway. At this point the horses are said to be 'Under Orders'.
Underdog: A horse that is unlikely to win but is still favoured by some members of the crowd.
Unfancied: Another way of saying a Long Shot or an Outsider, an unfenced horse is one that is unlikely to win the race.
V
Value: If you get the bets odds possible on a bet then you are said to be getting Value.
Void: This is when a bet is declared to be invalid and your stake is returned to you.
W
Walkover: A race that only consists of one horse competing in it. Sufficed to say you're unlikely to get good odds on it winning!
Weighed-In: When all jockeys have been successfully weighed after the race the racecourse announcer will make a declaration that they have been 'Weighed-in'. At this point the result of the race is official and cannot be changed as far as betting results are concerned.
Weight Allowance: If the jockey is inexperienced then they are given a certain weight allowance to account for that fact. If a horse is supposed to carry eleven stone seven pounds, for example, and a jockey is being 'given' seven pounds in weight allowance then the horse will only carry eleven stone. Sometimes horses will be given an allowance in a race depending on their sex or age.
Weight Cloth: The fabric that weights are put inside of when a horse is having to carry weight either because of a penalty or handicap.
Weight For Age: These races are non-handicap affairs and the amount of weight a horse has to carry is decided by the weight-for-age scale. If a horse has previously won a race then it may be required to carry a penalty weight in addition to the weight-for-age amount assigned to it.
Win: This is a type of bet that means you believe the horse you're betting on will finish first in the race.
Winnings: The amount of money you're paid on a victorious bet, minus any stake you have placed.
Withdrawn: If a horse is removed from the race before it actually gets underway then it is declared to have been 'Withdrawn'.
X, Y, Z
Yearling: A term assigned to a horse between the 1st of January to 31st of December after the year it was born.