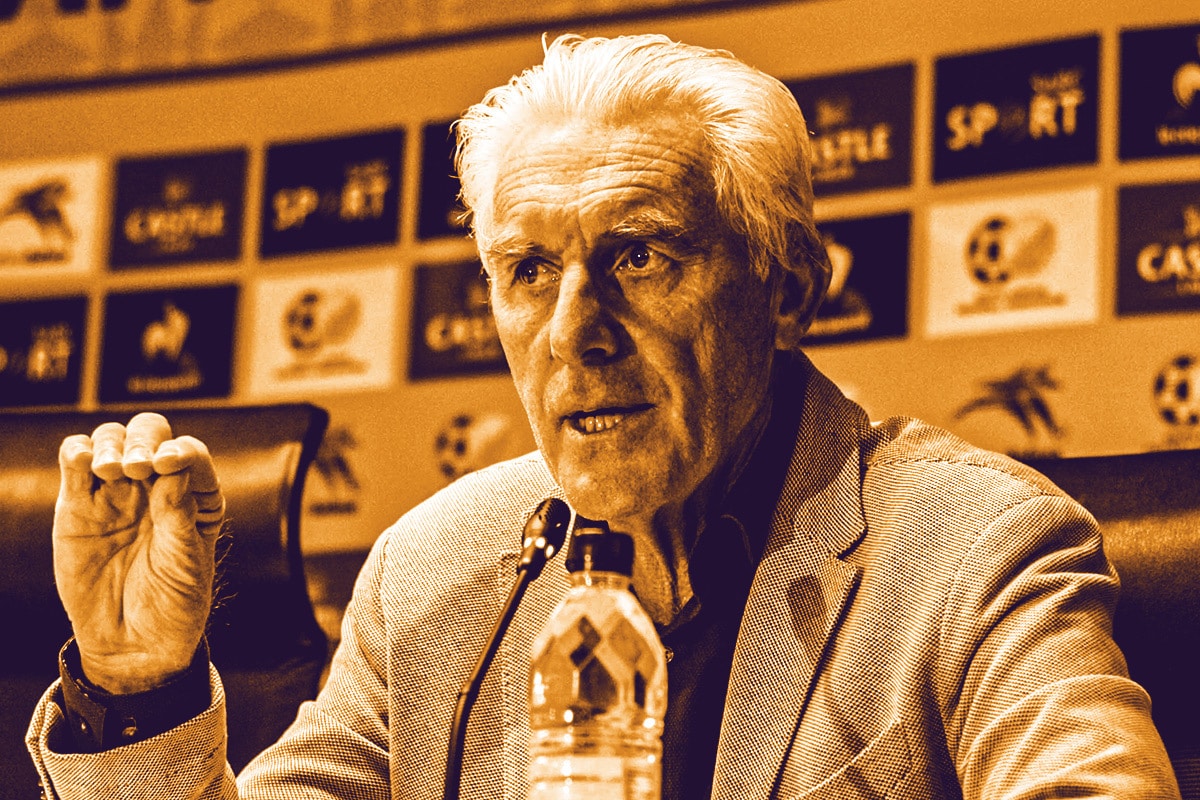 Hugo Broos is undoubtedly correct that the standard of play in the Premier Soccer League (PSL) is not strong enough to carry a national team by itself, but if he intends to keep picking a squad predominantly made up of PSL players, then this is not his battle to fight.
Jose Mourinho, Sir Alex Ferguson and other top managers have used press conferences to influence results in their favour with mind games. However, it is unclear who Broos hoped would hear his comments about the PSL.
"We can look at the fantastic race that Mamelodi Sundowns and Orlando Pirates did on the continent but Sundowns lost in the quarterfinal stage of the Champions League and Pirates lost in the final of the Confederation Cup," Broos said in a press conference on Tuesday.
"Two Moroccan teams in Wydad and RS Berkane won those competitions and in the Moroccan team there was no player from those teams in the national team except the goalkeeper. Let's face it, the problem of SA is that the level of the PSL is not high enough."
If this message was addressed to his bosses within SAFA, he is not telling them anything new. This, remember, is the same administration that planned Vision 2022, which was supposed to see Bafana Bafana become one of the top three teams in Africa and top 20 in the world. Clearly, they know that where they are is not good enough, but do not have answers to the problem.
Perhaps Broos was not speaking to SAFA, but to his players through the media. If this is the case, then the evidence suggests that his words did not have the desired effect.
Kermit Erasmus made his displeasure clear in a tweet, writing: "Why do we have a coach that doesn't believe in our talent and League (sic). Sorry for thinking out loud!"
It is unclear whether or not Broos' regular players feel the same way as the Mamelodi Sundowns striker, but given that Broos tends to select squads predominantly made up of players in the same league as Erasmus, it is not unreasonable to speculate that the Belgian's words probably did not inspire confidence.
After all, they likely did not learn anything new from what Broos said other than that he wishes he had different players available.
Broos is undoubtedly correct about the quality of the PSL, but part of his job is to motivate players and he might have compromised his ability to do so.
Measuring the success of a football coach within a specific job is difficult given that most of the public is not qualified to coach the national team themselves. With that said, in my humble opinion, there are three criteria on which the nation should judge Broos: bringing through new players, implementing a philosophy and getting results.
Broos has brought through several exciting new players, with Bongokuhle Hlongwane his biggest success story. Minnesota United said they consulted with Broos before signing the forward/winger from Maritzburg United.
He has, to a certain extent, improved results, but only to a small degree, as he has yet to fully succeed in qualifying Bafana for a major tournament, so judgement is reserved on that.
He has not made any clear progress in implementing a philosophy from the top down, so overall, he gets one and a half out of three on key criteria — the bare minimum.
There is a platform to build on, but Broos can only go up or down from here and whether he sinks or swims might depend on whether or not he is able to narrow his focus to the job at hand.
Fighting with coaches and administrators outside the Bafana Bafana setup is not part of his job, regardless of whether he is right or wrong. Helping to steer the team in a new direction is what he should be most concerned about. The public is well aware of the challenges he faces — he does not need to tell us — and will stand by him as long as he channels his frustrations more constructively.
South Africa should give Broos the benefit of the doubt for now and allow him to continue learning the ropes based on the potential we saw in his first few matches, but he in turn needs to realise that as South African national team coach, he cannot be careless with his words. A new type of leadership is required focusing on solutions rather than problems, and he will only succeed in this job if he adapts.
SIGN UP TO OUR

BET CENTRAL PLAYBOOK
Get weekly emails packed with the best tips and sports content.
Get ahead of the game now - fill in the contact form below.