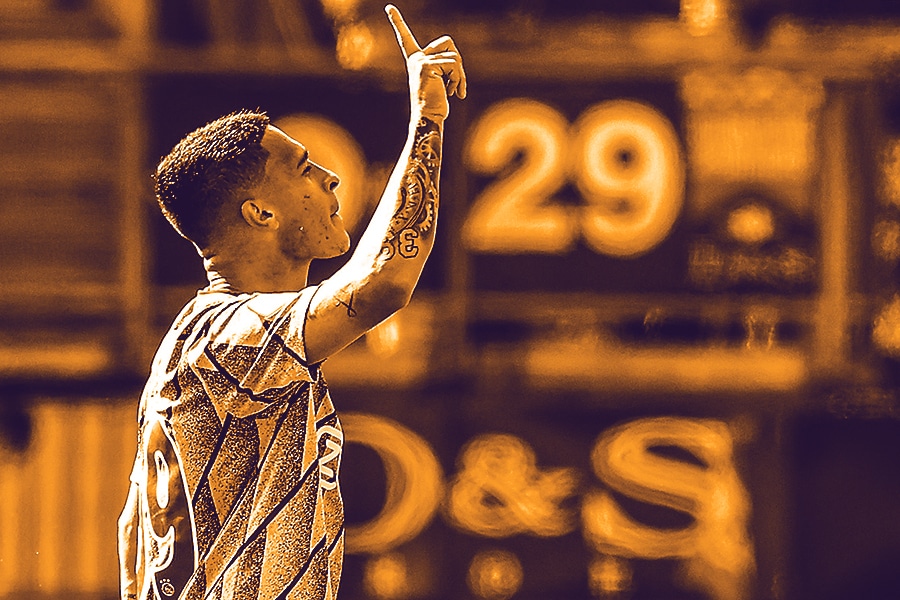 As Jay-Z said in his song "A star is born", "Everyday a star is born clap for em, clap for em". Football is no different; thousands of scouts are working every day to find that special talent that can bring long-term success to their respective sides. There are many wonderkids in Europe's top five leagues, names such as Erling Haaland, Jadon Sancho, Phil Foden, Ansu Fati and many more. What about the more obscure wonderkids outside the top 5 leagues?
Antony – Ajax Amsterdam
Antony is an exciting right-winger that plays for Ajax. The 20-year-old recently signed from Sao Paulo for an initial fee of €16million. Antony made his name at Copa Sao Paulo de Futebol Junior: A huge national tournament that kick-started many Brazilian legends careers such as Kaka, Robinho, Neymar and many more. His biggest attribute that comes to mind is his 'Kasi Flava' but instead of doing showmanship for the sake of it, his dribbles are highly effective and mostly used to get himself out of tight situations.
The Brazilian is very one-footed but makes up for it with his pinpoint passes and crosses. Ajax are halfway through the season and the right-winger has contributed nine goals and nine assists. It's very early in his career but he seems to have found the perfect balance of being an effective player that also contributes without scoring or assisting.
Nuno Mendes – Sporting Lisbon
Nuno Mendes is an up and coming left-back that plays for Sporting Lisbon. The 18-year-old has been widely tipped by those inside the club to be a superstar. You might be thinking what makes him so special? The Portuguese sensation is a left-back with the dribbling ability of a winger, the defensive solidity of a centre-back and the finishing of a striker.
Marco Kana – Anderlecht
Marco Kana is a central defensive midfielder for Anderlecht. You rarely find a defensive midfielder that is equally talented in defending as well as his ability on the ball. Marco Kana is and that's what makes him such an exciting prospect. The Belgian is not just comfortable with the ball at his feet under pressure but is also an excellent ball carrier as well using his speed to accelerate past players.
His coach Vincent Kompany even gave the 18-year-old the captaincy in pre-season which says a lot about his personality. The midfielder is yet to stake a consistent starting role in the Anderlecht team but has been playing for Belgium youth teams consistently for the last three years. Kana is also versatile and plays both centre-back and central midfield for his club and country.
Karim Adeyemi – RB Salzburg
Karim Adeyemi is a striker/ winger that plays for RB Salzburg. What separates Adeyemi from the rest is the versatility in his toolbox. Due to his blistering pace, he can be put as a lone striker and make runs in behind the defence. He is equally adept at dropping a bit deeper and linking up play to bring others into the game. Defenders just don't know what to do with him.
There are still a lot of aspects the 19-year-old needs to improve on such as his finishing. The statistics suggest that he is doing okay. With four starts and few small cameos, he has one goal and four assists. He's averaging 4.4 dribbles a game which tells you a lot about his effectiveness outside of the goals and assists spectrum. The big worry for Karim is that the striker ahead of him, Patson Daka, is in scintillating form but he is nonetheless tipped to be a very good player.
Maarten Vandevoordt – KRC Genk
Vandevoordt is a young goalkeeper that plays for KRC Genk. When goalkeepers are young, they usually have obvious weaknesses or they are quiet. This is what separates the 18-year-old from the rest. Vandevoordt is comfortable on the ball, makes excellent reflex saves and is a very commanding for a young player.
The Belgian broke the record for being the youngest goalkeeper to start in a UEFA Champions League game. Soon after that, he suffered a long term injury and lost his first choice spot. His one weakness and it's not really a weakness but more just a part of being young: he makes the odd unforced error but with some experience that should be fixed. He is tipped by journalists, Belgian pundits and football games such as FIFA and Football Manager to go straight to the very top.
SIGN UP TO OUR

BET CENTRAL PLAYBOOK
Get weekly emails packed with the best tips and sports content.
Get ahead of the game now - fill in the contact form below.