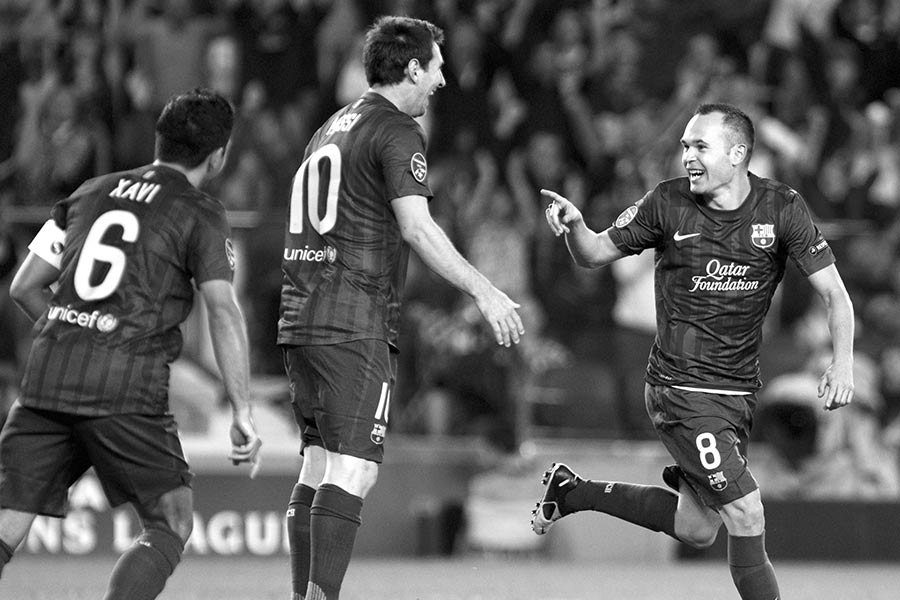 07 August 2019, by: Leonard Solms
THE BEST LA LIGA TEAMS OF THE LAST 20 YEARS
Barcelona and Real Madrid have generally been Spain's two dominant sides throughout history. Since the turn of the millennium, both have continued to enjoy success.
However, since Pep Guardiola's arrival at Barcelona, there have been a few teams in La Liga which have really left their mark on the league. Not necessarily the ones with the highest points totals, here are our five favourites from seasons past.
With the new season kicking off on Friday, these are the teams which the likes of Barcelona, Real Madrid and Atlético Madrid will be looking to emulate.
GET ACCESS TO

THE BEST CASH OUT IN SA
Extensive pre-match & live in-play cash out across more leagues and tournaments than anywhere else.
Be in total control with more cash out opportunities than anywhere else!
Exclusive to BET.co.za customers.
Under Luis Enrique, Barcelona not only clinched the treble (La Liga, UEFA Champions League and Copa del Rey), but beat a very strong Real Madrid to the league title. A front three of Lionel Messi, Luis Suárez (newly signed from Liverpool) and Neymar tore teams across Europe to shreds.
What made Barca's feat more impressive was their recovery from a perilous position halfway through the season. On their way to Champions League success, they knocked out Manchester City, Paris Saint-Germain, Bayern Munich and Juventus — all domestic champions at the time.
In between all this, Barcelona still managed to pick up 94 La Liga points, a total bettered by few.
Barcelona picked up their first treble in 2008/09 under Pep Guardiola, paving the way for the era of dominance which has followed. Like Enrique, Guardiola had to rescue the team from an underwhelming start to the season.
Once they got into gear, however, Barca were near unstoppable. Samuel Eto'o, Thierry Henry and Lionel Messi starred for the Catalan club and they beat Real Madrid to the title by nine points.
Despite a scare suffered against Chelsea in the semi-finals, Barcelona ultimately claimed Champions League glory with a convincing 2-0 final win over Manchester United.
It took one of José Mourinho's finest campaigns to topple the Pep Guardiola juggernaut, albeit for merely a single season. Amid all the memories of Guardiola's great side, it is easy to forget just what it took to dethrone them.
Real Madrid picked up 100 points, a total matched only by Barcelona the following season. However, Los Blancos boast the superior goal difference out of those two sides (+89).
Imagine scoring 50 goals for your team in one season and still being in a team which finishes nine points off the top of the league. That is what Lionel Messi endured during the 2011/12 campaign.
This Real Madrid team would arguably have gone down as La Liga's most memorable ever had they not lost their UEFA Champions League semi-final tie against Bayern Munich on penalties.
Barcelona's second UEFA Champions League triumph under Pep Guardiola came in a season which saw them fend off Mourinho's Real Madrid in the league title race.
It was a defining campaign for Guardiola as Barca had been knocked out of the previous Champions League season by Inter Milan under Mourinho. If you're looking to assert dominance over your arch-rival, one way to do so is with a 5-0 drubbing.
Barca decimated Real Madrid in November 2010 at Camp Nou in a match that would set the tone for the rest of the season. They also once again dominated Manchester United in the Champions League final, emerging as 3-1 victors.
Following Guardiola's departure in 2012, Barcelona regrouped and regained their prize under the guidance of the late Tito Vilanova. The Blaugrana dominated the season from start to finish and Lionel Messi scored an immense 46 goals.
Like Real Madrid the previous season, Barca picked up 100 points. However, they too were beaten by Bayern Munich in the Champions League semi-finals — a 7-0 aggregate drubbing.
It hasn't all been plain sailing for Barcelona and Real Madrid in La Liga. Valencia (twice) and Deportivo La Coruña have won La Liga titles over the last two decades. However, Diego Simeone's Atlético Madrid had a season in 2013/14 which surpassed anyone's wildest dreams.
The Diego Costa-inspired Colchoneros picked up 90 points to win the title on the final day of the season. In addition, they progressed all the way to the UEFA Champions League final, losing 4-1 to Real Madrid after extra time.
Atléti have continuously pushed the traditional top two in recent seasons, the one perennial thorn in Barcelona and Real Madrid's side.
JOIN BET.CO.ZA NOW AND
GET 100% DEPOSIT MATCH UP TO R1000
Open your BET.co.za account here
Deposit using your preferred method
Your bonus gets added immediately!
MORE SOCCER