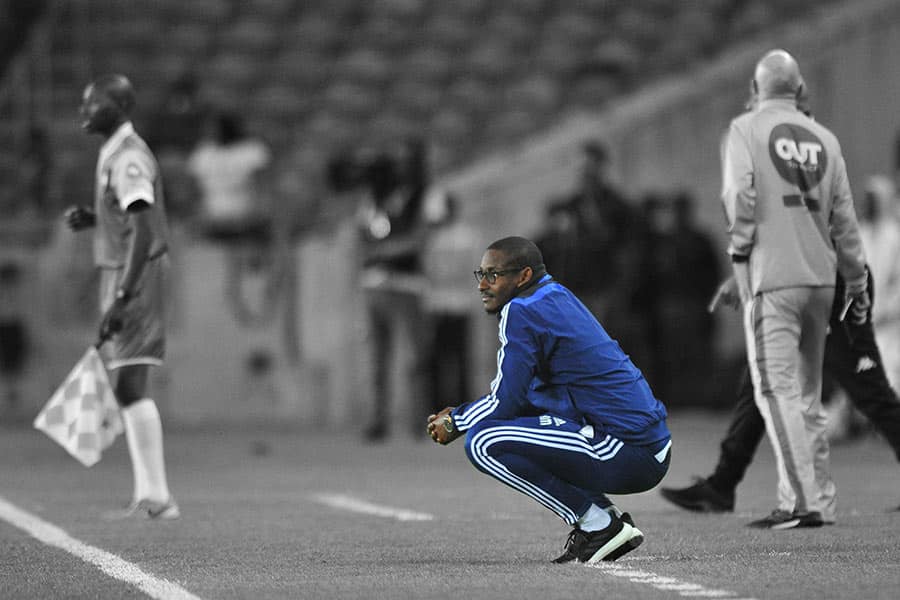 21 August 2019, by: Thathe Msimango
RHULANI MOKWENA WAS DESTINED FOR PIRATES JOB
The South African game is not very fortunate to have young successful coaches to draw your attention to amidst the cacophony of modern football, but Rhulani Mokwena is already making football fanatics speak volumes of his tactical genius.
GET ACCESS TO

THE BEST CASH OUT IN SA
Extensive pre-match & live in-play cash out across more leagues and tournaments than anywhere else.
Be in total control with more cash out opportunities than anywhere else!
Exclusive to BET.co.za customers.
At the age of 34, Mokwena has received heaps of praises from highly decorated coaches like Pitso Mosimane and Micho (Milutin Sredejovic – which shows that he is a thinker, innovator and is shaping the way people look at the modern game.
Mokwena is a constant reminder and one of living proof that in our country, there is growth in coaching pedigree and progression. Following the shocking resignation of Micho, as Sredojevic is commonly known, as Orlando Pirates coach on the eve of a crucial home MTN8 cup quarter-final clash against Highlands Park, Mokwena stepped up as Pirates interim coach.
It was like a soldier heading to World War II without Schwerer Gustav, and as such, he suffered a 1-0 loss to Highlands at the Orlando Stadium.
Three days later, Pirates travelled to Amazulu in Durban seeking to end their three matches winless streaks in all competitions against a home side in search of their first points of the 2019/20 Absa Premiership season. But fans at King Zwelithini Stadium would witness history that evening: the first-ever match in which Mokwena and Cavin Johnson would share a football pitch touchline as head coaches in an official match.
Their relationship stretches back to a decade ago when the young Pirates stand-in coach arrived as a student at Silver Stars, while Johnson was already a philosopher of the game. Despite both teams playing a pulsating brand of football neither of them managed to convert created opportunities, as a result, they drew goalless at the end of 90 minutes.
The former Manchester United manager Jose Mourinho once said: "Seventeen years and the kid is now a man. The intelligent student is now a football expert, ready for a successful career as a manager."
And speaking to the media after the match, Johnson said he was pleased with Mokwena's accomplishment after he gave him a chance all those years back as a young man during his tenure at Silver Stars.
"It shows I got lucky in my hands," the AmaZulu boss stated when quizzed about their relationship after the game. "Only thing I haven't got any luck is to win a trophy.
"When you talk about players then there's a quite few that have come out of my hands, nine or 10?. If you talking about coaches – he's probably the one of the few that stood next to me when we at Platinum Stars gave him the opportunity. I gave him the opportunity to travel the world. He picked up everything that he was capable of picking up and improved on his own. I'm happy for him and wish him luck and he can only go strength to strength".
Most South African football enthusiasts don't believe in young coaches, but Johnson is happy that quite a few coaches are coming up. In his eyes, it is going to benefit local football in the future. But he also hopes that Pirates management would be patient with the visionary Mokwena.
"Yeah, it's good for the game," he added. "The old horses have changed. We have to change sometimes in our lives."
"With Rhulani coming in, it gives you more excitement as well because he has a young coach like Fadlu Davids next to him. Two heads are better than one. Hopefully, they're able to get better. The only problem, you know how difficult it is to be in the big team. Too many expectations and hopefully the powers at Orlando Pirates are able to give him the opportunity to test himself up until the end."
The last few of days, Mokwena has been all over the news dominating the headlines on almost every news platform. Many have tipped him as the next big coach and the man to revolutionize our football going forward. The new era has not been off to a great start for the Sowetan, but he was excited to eventually be in charge of a club that lives inside his blood – and grateful to the man that has allowed him to sit where he is – Pirates chairman Irvin Khoza.
"The last couple of days for me have been exciting," Mokwena revealed. "I'm just excited and enjoying the responsibility of leading the club that I sleep, eat and breath. Leading the club I was born into. If you cut my blood then you will see I'm bleeding black and white. When I left Mamelodi Sundowns, people said I made a wrong decision.
"But today I sit in a situation where I lead my grandfather's club, my uncle's club, my father's club and I'm honoured and privileged to be given such responsibility by a most humble and loyal chairman of Orlando Pirates."
Ask any coach today what their toughest coaching challenge is and they will most likely not respond with questions about false nines or gegenpressing. Instead, they will probably tell you that engaging and attempting to get the best out of today's generation is the biggest challenge in the coaching game. Armed with more tactical, training, and sports science information than ever before, coaching should be getting easier – but it is seemingly becoming increasingly more difficult.
Mokwena is no different. He thinks the biggest challenge ahead is to change and deploy a positive mindset towards people like himself from the general masses. He seeks the belief that he can excel in any given position not only in sport alone and hopes to inspire an upcoming generation.
He thinks South Africa has been late in terms of change and it is time they start to believe in themselves just like how Germany has assisted the 32-year-old Redbull Leipzig FC mentor Julian Nagelsmann, who now holds five years of coaching experience in the Bundesliga.
Mokwena's story is one throng of sacrifice, application, perseverance and forever learning the new modern game tactically.
JOIN BET.CO.ZA NOW AND
GET 100% DEPOSIT MATCH UP TO R1000
Open your BET.co.za account here
Deposit using your preferred method
Your bonus gets added immediately!
MORE SOCCER