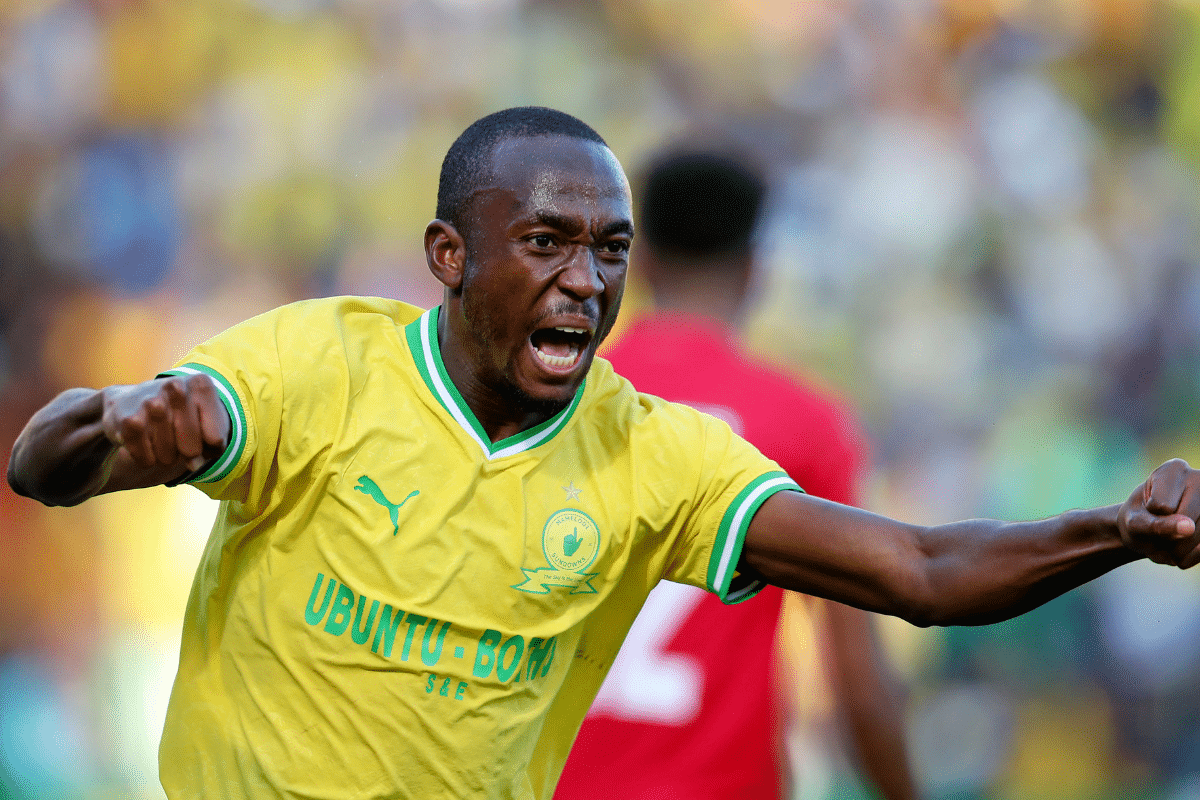 This week, we're reviewing the stand out statistics for each team in the PSL now that the league season has come to an end. Diving into the trends behind the data is one way to shine a light on what actually happened in the 27th PSL season. So, we looked at each and every team in the division in detail, hoping to find the unusual stats on each team from A to Z. Today, Part 3 of our series focuses on Teams R to S.
Richards Bay
Last season: First Division
This season: 13th
Points swing from last season: n/a
Top scorer (all comps): Sanele Barns, Somila Ntsundwana (4 goals)
Richards Bay started their top-flight life on fire. They kept seven clean sheets in their first 10 games, the most ever recorded by a newly-promoted side at that stage of a PSL season. Just before the World Cup break, keeper Salim Magoola had 9 clean sheets in 12 matches, the joint-most by any keeper at that stage of a season, joining legends like 2003/04 Wayne Roberts & 2020/21 Denis Onyango. After 14 games, he had 10 clean sheets, a new record for a keeper that many games into a season in PSL history. In fact, the Rich Boyz started so well, they topped the table for a good 8 nights (only Sundowns spent more nights at the top all season) and Magoola was awarded the Player of the Month for September/October. Except, he only received his award in March, when their season had started to spiral. One can't help but wonder how much of a difference it would have made if the PSL had given him his dues on time.
But the second half of the season was abysmal, and negative records started tumbling on a weekly basis. There were personal circumstances that would have affected any team, but two clean sheets in 11 games was a massive contrast on their early season form. By picking up a measly seven points in the final 15 games (W1 D4 L10), the Rich Boys narrowly avoided Bay United's PSL record for lowest points total by a team in the second half of a 30-game season (the other Bay had 6 points in 15 games). However, a clean sheet on the final day of the season ensured their season at least ended on a high note.
12 – Richards Bay ended up with 12 clean sheets for the season, equalling the PSL record for clean sheets by a newly promoted side (also 98/99 Seven Stars, 2000/01 Ria Stars and 2021/22 Sekhukhune)
Royal AM
Last season: 3rd
This season: 11th
Points swing from last season: -12
Top scorer (all comps): Ruzaigh Gamildien (7 goals)
A drab 0-0 draw in the final game of the season was fitting for Royal AM's unsatisfactory campaign. It's easy to forget how well the season started for them. Not only did they beat Kaizer Chiefs in the opening game of the season, they also topped the table for 6 days and even represented South Africa in CAF competition. But one win in six on the continent should have been ample warning for what was about to come. The hard work of reaching CAF the previous season was undone in quick fashion.
If there was an award for least improved team in the division, they would certainly scoop it. From 47 points last season to 35, the 12 point swing was the worst of all teams in the division. In addition, the drop from 3rd to 11th was the biggest of all sides. There are many reasons for Thwihli Thwahla's struggles, but two are fairly obvious – their away form and their lack of focus late in games. They conceded more second half-goals than any other side (26), with half of those coming in the final 15-minutes (also the most in the league). In addition, they conceded more goals away from home than any other side (29).
0 – Royal AM did not keep a clean sheet away from home until the final game of the season, an "away" game to Richards Bay.
Sekhukhune United
Last season: 11th
This season: 7th
Points swing from last season: +7
Top scorer (all comps): Chibuiku Ohizu (7 goals)
A first ever Cup final and a first Top 8 place would mean any team's management are happy with their progression in the top-flight. Ironically, the reward for both achievements is back-to-back meetings with Orlando Pirates – firstly this weekend in the Nedbank Cup final, and then at the start of next season in the MTN8. Their inaugural top-flight season was characterised by a solid defence (12 clean sheets equalling a record for a new side).
This season, they have kept the clean sheet count intact (12 again), but added to that some solid home form. Only Royal AM and Cape Town City left Sekhukhune with three points all season, and the team even collected 7 points in home games against Chiefs, Pirates and Sundowns. No team won a higher proportion of points at home than Sekhukhune (72%), and they scored in 13 of their 15 home games – no team scored in more home games all season. Victory in the Cup final would be the perfect end to their season, from which they emerge with a unique record.
10-10-10 – Sekhukhune won 10, drew 10 and lost 10 of their games this season, the 10th side in the 30-game era to complete a season with a 10-10-10 record.
Mamelodi Sundowns
Last season: 1st
This season: 1st
Points swing from last season: +5
Top scorer (all comps): Peter Shalulile (23 goals)
A lot has been written and a lot has been said, but these five records probably tell the story in full:
15 – Between 7 September and 4 February, Sundowns won 15 straight league games, setting a new record for consecutive league wins by a PSL top-flight team (15).
15 – Sundowns beat all the opposing teams at least once this season, equalling a PSL 100% record set by Kaizer Chiefs in 2013/14 & 2014/15.
7 – Sundowns won the title with seven games still left to play, the earliest title victory in terms of remaining matches in PSL history.
16 – Sundowns' winning margin at the end of the 2022/23 season was 16 points, the joint-biggest gap between first and second in PSL top-flight history (16 also last season).
+39 – Sundowns set a new record for goal difference in a 30-game PSL season (+39), eclipsing the +36 they set last season. Across all PSL seasons (30 and 34-game), only 1998/99 Sundowns (+44) have ended a campaign with a better difference.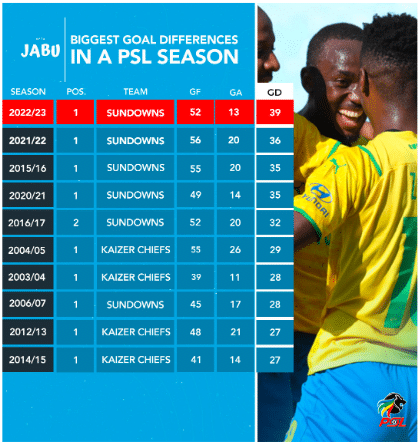 SIGN UP TO OUR

BET CENTRAL PLAYBOOK
Get weekly emails packed with the best tips and sports content.
Get ahead of the game now - fill in the contact form below.