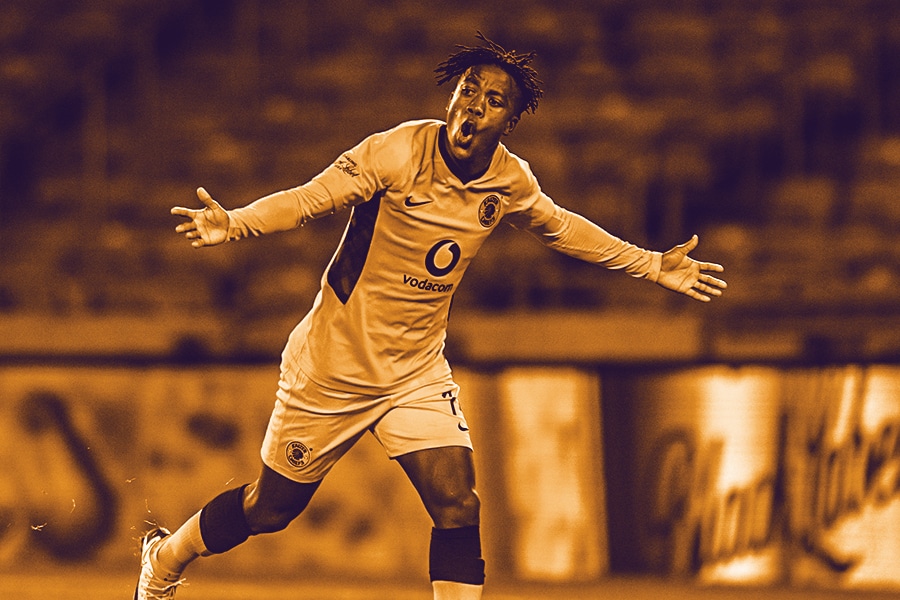 As the DSTV Premiership began over the weekend, fans were introduced to some new faces who had recently been brought in before the new league campaign began. It gave them a sense of what they could expect going forward and how these new players would be integrated into their respective teams. Picking a handful of players below from the first week, Laduma Analytics examined how the players performed in their first league outing for their new teams.
Keagan Buchanan
Buchanan had a shock exit at Maritzburg back in February along with Pogiso Sanoka. He completed 31 passes with an accuracy of 74% with one shot just wide of the target in the league encounter with Mamelodi Sundowns before being substituted for youngster Tshepang Moremi. The map below shows his ability to distribute the ball from midfield in various directions and distances. Whilst most of his activity in distribution came from the left-hand side, he does have that ability to switch play diagonally across the field. With his ability and vision, we can see the line-breaking passes he attempted to play along the channels, of which some were accurate and others not.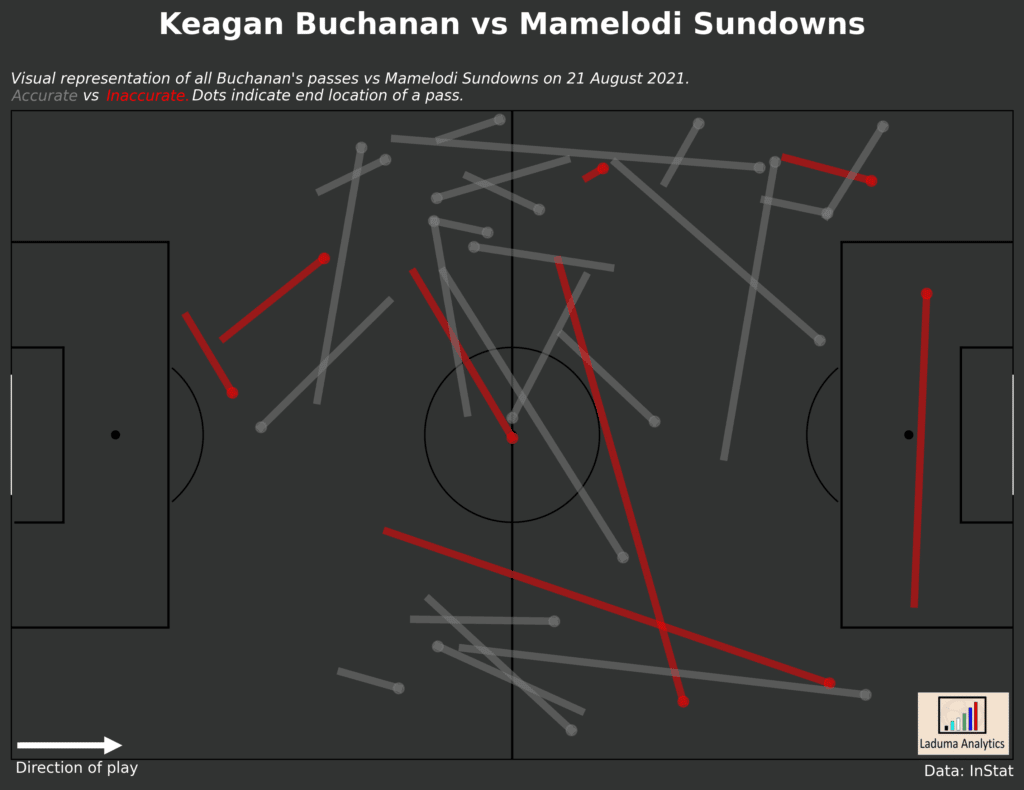 Judas Moseamedi – Stellenbosch
The swap deal which happened mid-week between Leletu Skelem for Judas Moseamedi seemed to have worked in both teams favour on Match Day 1 as both players scored on their league debut. The tall forward came back to the Western Cape and has already scored on his debut for Stellenbosch FC in their 2-2 draw with Orlando Pirates. Whilst he came on as a substitute for fellow striker Waseem Isaacs, who also found the net, Steve Barker might finally have the ingredients to build a thriving attacking partnership that could ease Stellies relegation worries from last season.
Goodman Mosele – Orlando Pirates
The big acquisition of the off-season, Goodman Mosele made a strong impact on his league debut for Orlando Pirates against the visiting Stellenbosch, playing 90 minutes and scoring a goal. Despite the Bucs going down to 10 men after only 41 minutes, Mosele showed fans why exactly he belongs at the heart of the midfield.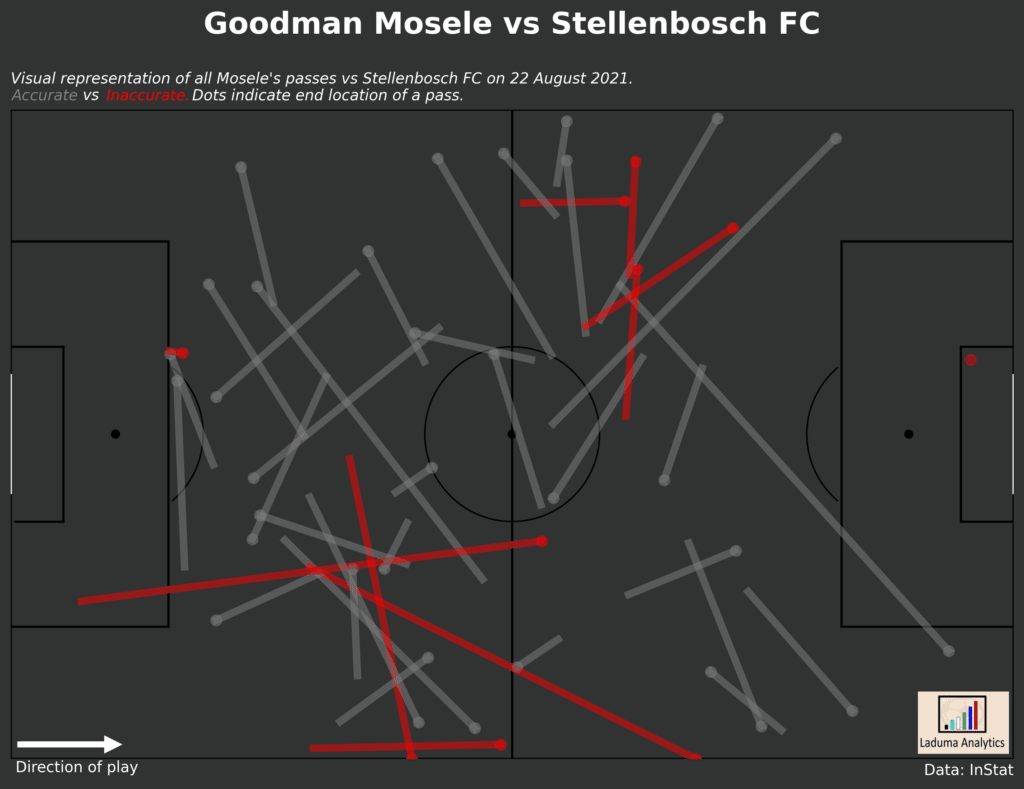 Mosele's pass map above shows his activity across the centre of the field and his movement to pass the ball out wide to create space on the wings. His most completions were with Jele & Hlatshwayo and with Shandu on the right-hand side of midfield as the Buccs tried to find a way into the Stellenbosch final third.
Kgaogelo Sekgota – Kaizer Chiefs
Sekgota's first league appearance for Amakhosi was not much to write about. He did not provide much threat going forward, yet interlinked well (as the graph below shows) with the 29 passes that saw him combine across the board with his new teammates. It would be early to expect miracles so that he combined well should be the main aspect Stuart Baxter was looking for from the winger at this stage of the season.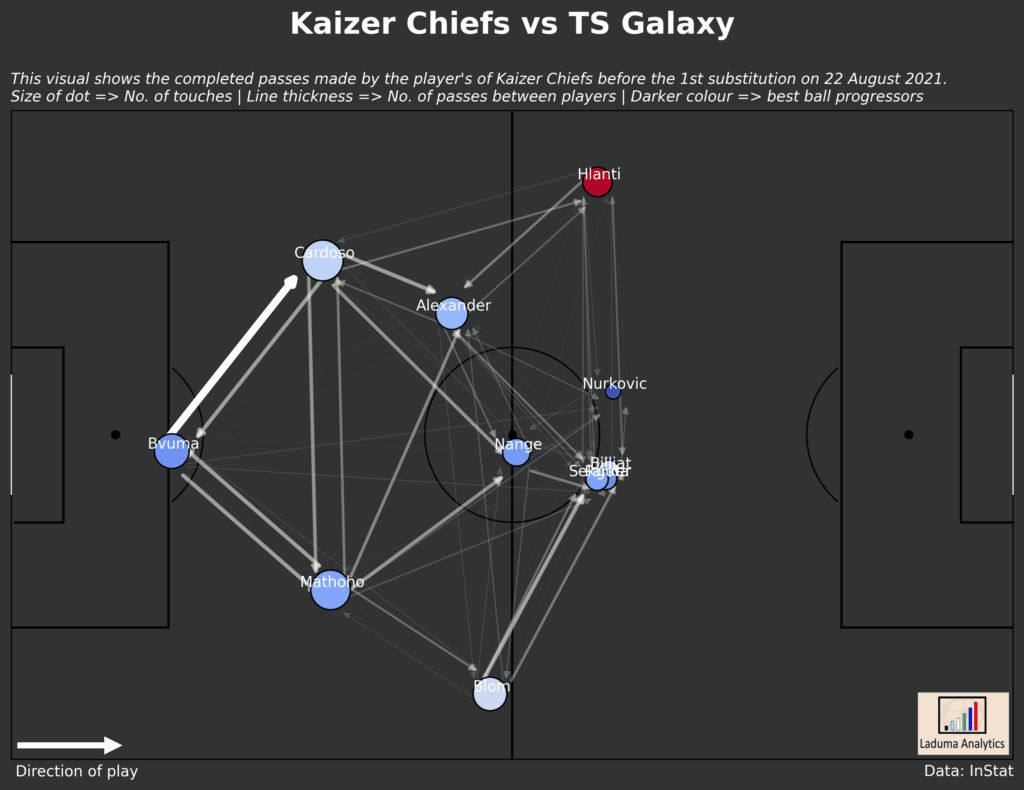 Keagan Dolly – Kaizer Chiefs
Dolly made a substitute appearance against TS Galaxy when he replaced Chiefs forward Samir Nurkovic in the 54th minute. In nearly a full half of play, Dolly could not have much influence on the game for Chiefs and was unable to create any opportunities for the team or himself.https://soundcloud.com/bet-central-audio/kazier-chiefs-202122-season-preview
Igor Makitan & Vasilije Kolak – TS Galaxy
The two Bosnian-Herzegovinian and TS Galaxy players Igor Makitan (defender) and goalkeeper Vasilije Kolak kept their first clean sheet over the weekend in the 0 – 0 draw with Kaizer Chiefs. Makitan had the second highest number of interceptions (11) to team-mate and also new signee, fellow central defender Pogiso Sanoka's (13) interceptions.
Richard Zumah – Maritzburg United
The Team of Choice had a busy off-season bringing in at least nine new recruits but unfortunately still narrowly lost their first league encounter against Lamontville Golden Arrows 2-1 on Saturday. Coach Ernst Middendorp decided to start Ghanian youngster and new acquisition Richard Zumah who played a total of 46 minutes before being substituted with another new acquisition, that of Brandon Theron.
It may be worth noting that it can always take a little bit of time for some players to adjust to their new surroundings. Once that happens and they feel comfortable with the new environment, fans of their team can expect them to flourish and provide the best service they can to the team.
SIGN UP TO OUR

BET CENTRAL PLAYBOOK
Get weekly emails packed with the best tips and sports content.
Get ahead of the game now - fill in the contact form below.