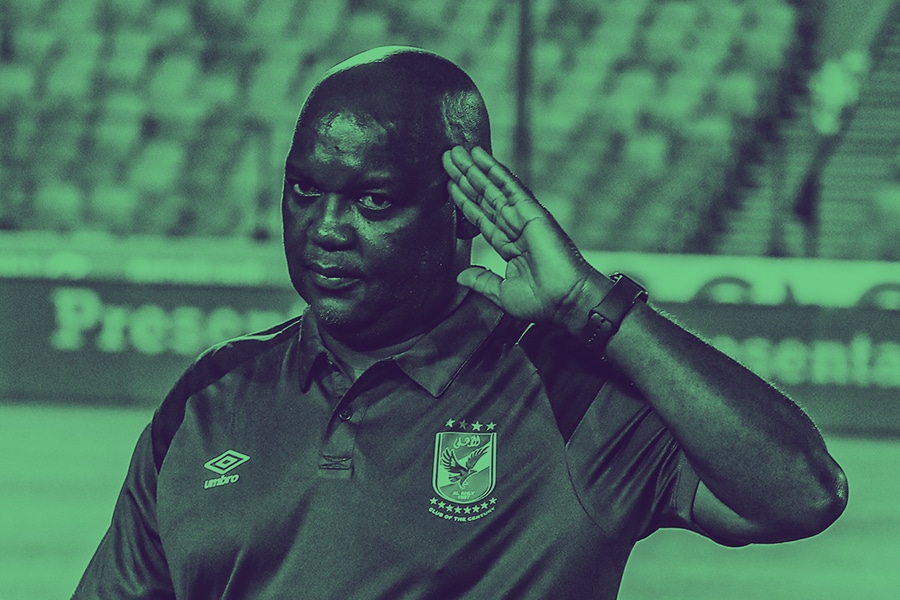 All hail Pitso Mosimane. Come on, even you haters. The Al Ahly coach has achieved something that not many can lay claim too, having led two clubs to CAF Champions League titles.
When the final whistle blew on Friday the 27th of November, and Al Ahly had beaten Zamalek 2-1 in the final, I breathed a sigh of relief, and as a South African, and football lover, I felt immensely proud of Pitso.
Pitso Mosimane is a winner. He is an astute thinker, a dreamer, and he imagines big things. And given time, he will conjure those dreams into a reality.
Mosimane Wants More
Some questioned his decision to leave Mamelodi Sundowns just over two months ago when it was announced that he would be leaving to join the Egyptian giants.
But Mosimane was on a mission. He did not hide his ambitions and was heading to Egypt to lift the trophy that he won on Friday night. It was mission success. He put it out there and achieved his goal.
It was just a few months ago that Mosimane led Sundowns to a treble after winning the Absa Premiership, Telkom Knockout and Nedbank Cup.
He would actually be the last coach to win two of those three tournaments in that form, with both Absa's and Telkom's sponsorship deals coming to an end. It was the latest booty of silverware that Mosimane had won for the club since he replaced Johan Neeskens in 2012. He won 5 league titles, 2 Nedbank Cups, and 2 Telkom Knockouts. And of course, he won the CAF Champions League and CAF Super Cup in 2016. That's eleven trophies, not a bad haul?
But to be honest it wasn't enough for Pitso. Before adding two more trophies to his tally, Mosimane told Kaya FM earlier this year that he thought he hadn't won enough, and his haul of 9 (at the time) was disappointing.
What Could Have Been With Bafana
I have to admit that I have had a bit of a man-crush on Mosimane for many years, and have found myself defending him many times. I was a big supporter of him as the national team coach, and if it was up to me, he wouldn't have won any trophies at Sundowns or Al Ahly, and he would still be Bafana Bafana coach.
He took over the Bafana role after the 2010 World Cup, having served as an assistant for four years. Before that, he spent seven years as head coach of SuperSport United, after having initially been Bruce Grobbelaar's assistant, and Mosimane was responsible for creating a lot of the foundation for that club's success and current stature. He finished second twice, had a third place and a fourth place, and won the Nedbank Cup, not a bad haul for a then-rookie.
Mosimane's coaching career has eclipsed his history as a player, and he wasn't a bad player! Having been discovered by Jomo Sono and given his big break at Jomo Cosmos, he also played for Sundowns and had a brief spell at Orlando Pirates before heading off to Europe. He spent most of that time in Greece at Ionikos but also had a short spell in Belgium, and in Qatar.
He won four caps for Bafana and scored on debut against Mauritius.
I always found him an interesting character. Clearly obsessed with football, he had that mad genius trait, and I can't deny I have a soft spot for football crazies. Whenever I saw him talk, it looked like he knew something I didn't, and a lot of the time this was true. Anyone who has spoken football with the man will know that his obsession goes beyond the scope you would expect, and he is always clued up about other teams, their players, and tactics.
"He Only Lost Two Games!"
I always believed that Mosimane was the ideal coach for Bafana, but his tenure only lasted two years.
"He only lost two games!"
I cannot tell you how many times I said the above statement after Mosimane was relieved of his Bafana duties in 2012. Because it's true. In Mosimane's tenure as Bafana coach, he only lost two bloody games! Yes, his last year was all draws, and he missed out on Afcon qualification because of the head-to-head rule, but there had also been a lot of interference in his job over that year.
"What was not nice is the way it happened when they fired me, it was not nice. I don't believe a coach who is there for two years and loses two games should be fired," Mosimane told the media a few years ago, reflecting on his time at Bafana.
"And it was sad to be fired by a taxi owner, it was sad to be fired by a priest, and it was sad to be fired by a traditional chief. So, do I want to face that again? My hands, my fate is in those people's hands? Really it's not good for football."
"I work hard and put a lot of energy in football and I have my careers in the hands of those people? I even begged them when they fired me, I said 'don't fire me, I've got a lot to offer, I know what I'm doing'."
"Those people are responding to hire and fire. Do they understand? They don't understand. I mean what do they do Monday to Friday, to decide on a football matter? They don't have the ability."
"I've got my Champions League, which is my Cup of Nations. I've got the Club World Cup, which is my World Cup. "
And Pitso was right to be honest. Some of the loudest opinions I hear about football are from those who may not be involved in the day-to-day business. Looking in from the outside is always easy. We even do it as fans, or media, when criticising selections, but in fairness, we don't always know what happens at training, or a players' attitude. Yet we get upset when a coach doesn't select a player or plays a certain tactic.
Media Influence
And I must admit that a lot of the negativity about Pitso as Bafana coach started because of my industry. Journalists hammered him a lot of the times, and some sectors found Mosimane's confidence bordering on arrogance.
When Mosimane dared to say that Katlego Mphela was the only reliable striker South Africa had, he was torn apart. But he was right When he picked Teko Modise, who at the time was inactive at club level, the criticisms flew in. In the end, one of the most talented players of his generation had his international career ended prematurely. When he ignored the media's pushing to select May Mahangu, who at the time was making waves in Sweden, he was hammered. And then Pitso relented. He picked other strikers, he dropped Modise and called up Mahlangu. And his second year as head coach was inconsistent.
It all started with that unfortunate draw against Sierra Leone. Most people don't remember the actual game, but they certainly remember the dancing celebrations of a Bafana team that thought they had qualified for Afcon, only to discover they had actually lost out to Niger on the head-to-head rule. I remember watching at home and thinking we'd qualified too. In fact, it was the broadcasters who made me believe that we had, and I remember my first doubts came when Mosimane was asked how he felt about qualifying, and his reply was, "Have we?"
It was an embarrassing moment in South African football history. I can only imagine how it affected the players and the confidence of the team. They became a meme, long before memes were fashionable.
Mosimane would be in charge for four more official games (3 friendlies and a World Cup qualifier), they all ended in draws, and after the 1-1 qualifier draw against Ethiopia, Mosimane was relieved of his duties.
But a year later Mosimane was back in the South African game when he took over at Sundowns, and the rest is history.
SIGN UP TO OUR

BET CENTRAL PLAYBOOK
Get weekly emails packed with the best tips and sports content.
Get ahead of the game now - fill in the contact form below.