Three times Middendorp's subs made the difference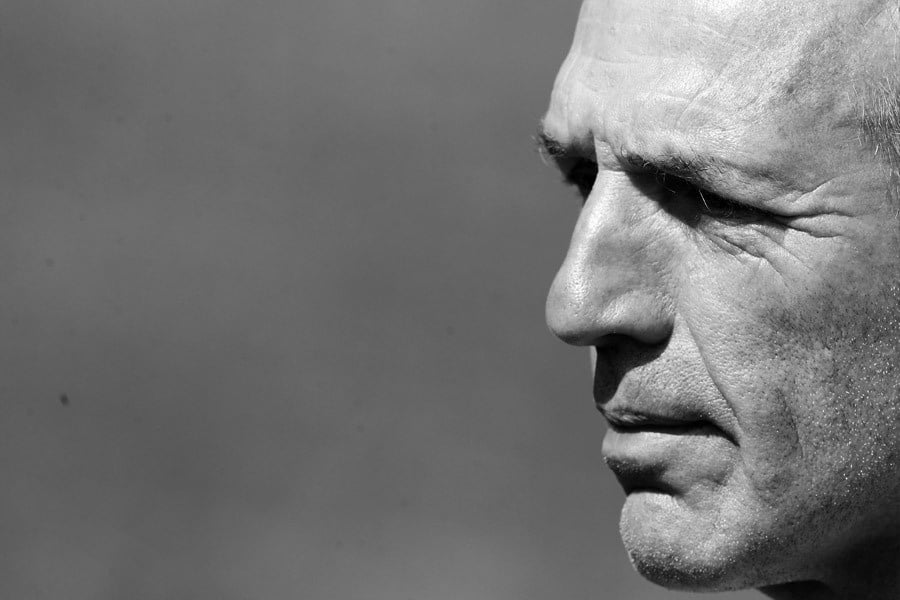 As Kaizer Chiefs sit atop the PSL table with around a quarter of the season to go, one of the key factors amongst many for their dramatic and unpredictable turnaround in results this season is the tactical adaptability of coach, Ernst Middendorp. We look at some of his key tactical decisions within games this season.
In Amakhosi's first game back, the German coach got some criticism post-match for his substitutions (even though they were enforced by having three players go off with cramps) as disruption to the backline and central midfield area led to a late Bidvest Wits equaliser.
However, the outspoken coach has regularly been decisive in his reading of matches to change shape within games to solve problems the opposition were causing his side, or to expose a perceived weakness in the opponents.
In the age of opposition analysis, most coaches can tailor a specific pre-match plan for their upcoming opposition, but not many coaches are able to come up with a plan B or plan C once the opposition coach adjusts to their shape and tactics during the game. In that department, Middendorp is one of the PSL's leading coaches. He regularly not only makes changes at half-time to change the formation of his side in and out of possession to fix issues, but he even pre-empts how the opposition may adjust at the break and thinks one step ahead.
Coach Middendorp is awkward. He plays very awkward football. It's highly tactical. It's unbelievable' the tactics. He plays his own way. He's brave. He can put anybody on the bench. – Pitso Mosimane
Below are just three of the vast number of occasions that Middendorp has changed the dynamic and momentum of a match this season with personnel and positional changes.
Cape Town City 1-2 Kaizer Chiefs
In this game, Ernst Middendorp went with a 4-3-3 formation with Bernard Parker and Lebogang Manyama either side of George Maluleka in midfield. In the wide areas, he selected Khama Billiat and Lazarous Kambole. For a good 30 minutes, City were outstanding and should have lead by at least two goals, if not more.
With Chiefs struggling to stop Edmilson Dove from playing out from the back, and both Parker and Manyama having difficulties in getting close to Thato Mokeke and Abbubaker Mobara in midfield, it allowed City to get the ball into the final third with ease. From there, they could use wide overloads as Billiat and certainly Kambole were having a tough time with their defensive duties.
Mokeke was often free to receive and use his passing range to find his fullbacks galloping forward or driven passes towards Kermit Erasmus, who was pushing Reeve Frosler back from a surprise left-sided forward role for the day – a clever selection by Benni McCarthy.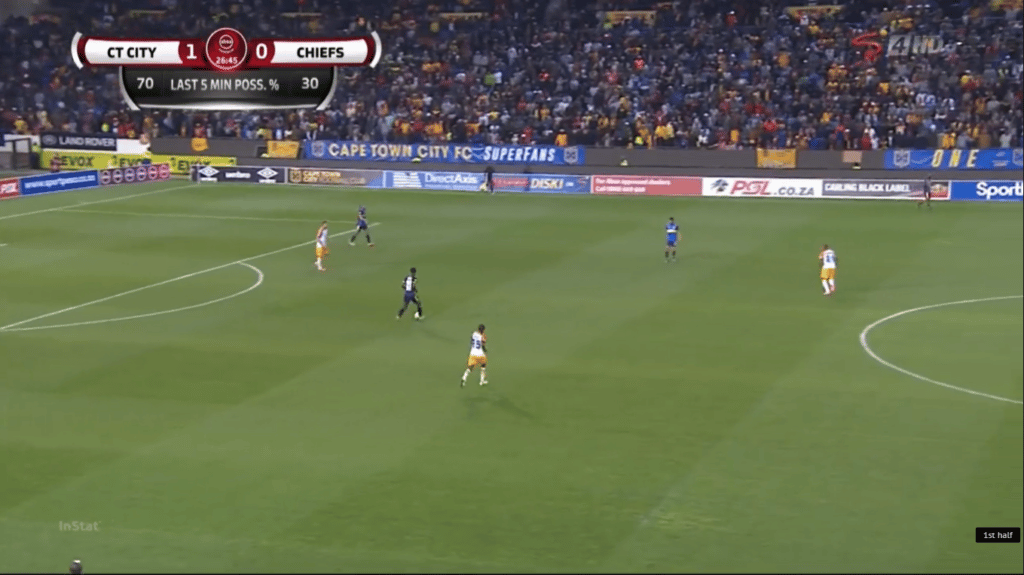 At half-time, Middendorp desperately need to do some firefighting and get his side back into the match. His immediate change was to withdraw Kambole for Kearyn Baccus and switch to a midfield diamond. This gave Frosler more cover with the Australian youth international now in-front of him.
More importantly, it pushed Billiat up front and handed the duty of tracking Thami Mkhize to Parker. That change gave Chiefs much more control and stopped the bleeding, but it was the change after 66 minutes which turned a 1-0 deficit into a 2-1 win. Off went Siphosakhe Ntiya-Ntiya at fullback and on came Dumisani Zuma at the top of the diamond. This saw Parker drop to left back to give more threat up that flank. City were tiring and the game was there for the taking.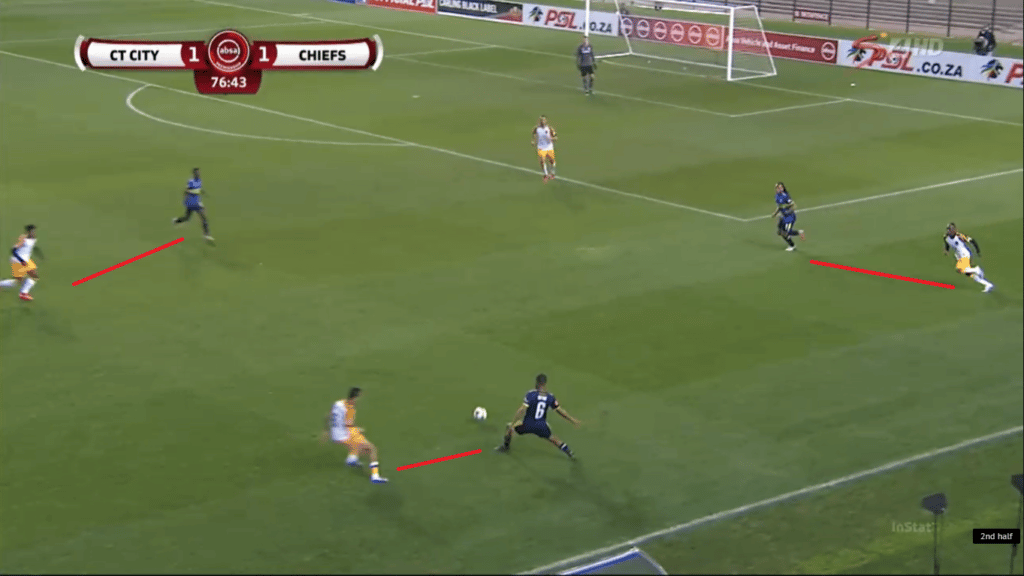 With the formation change, Chiefs had a spare man in midfield against City's triangle and now had a front two to press. The Parker move to fullback (for the first time ever in his Chiefs career at the stage) brought the winner as his high and wide position and subsequent cross saw Baccus finish off for the winning goal. Benni McCarthy had undoubtedly forged an excellent plan for the game but was not constantly able to adjust to Chiefs' alterations and saw the game wrestled away from him (admittedly, Chiefs also had the benefit of Erasmus going off injured).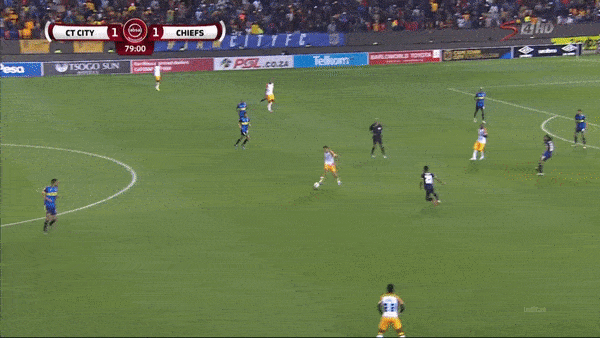 Kaizer Chiefs 3-2 Orlando Pirates
In November's Soweto derby, Chiefs got a crucial 3-2 victory late on against Pirates in a pulsating game tactically. By the 28 minute mark, Ernst Middendorp's men had forced an own goal and scored from a corner to lead 2-0 in a very aggressive start. Using a midfield diamond, Reeve Frosler was key with his forward runs on the right flank.
However, after that, Rhulani Mokwena made some adjustments. Paseka Mako played higher and narrower from left back, giving Bucs a fourth central midfielder to take greater control of the engine room (with no direct winger to face, Mako was able to do this). Secondly, that change meant Gabadinho Mhango, playing as a very advanced left winger, was constantly able to isolate Reeve Frosler. With George Maluleka being nullified by tight marking, Chiefs lost all control of the match.
By the hour mark, Mhango had cut inside onto his stronger right foot and rifled Pirates level at 2-2. Having been forced to use one of his key game changers in Dumisani Zuma at half-time due to injury, and needing to act before Pirates scored what looked like an inevitable winner, Middendorp turned to other bench options. It was a late alteration after a long spell of being dominated, but just in time.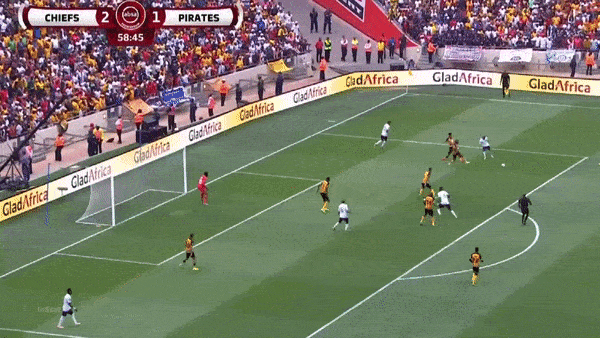 The German coach decided to withdraw the nullified Maluleka and bring on Siphosakhe Ntiya-Ntiya at right back. Being left-footed, the latter was ideal to defend against Mhango when he cut inside. It is a very rare sight to see a left-footed player at right back (despite often seeing a right footer at left back) and it was a sign of the inventiveness often displayed by Middendorp after analysing what is happening on the pitch.
That move kept Mhango quiet and allowed Frosler to move into midfield to cover Mako. When the former had to go off injured, Parker came into the action and he was extremely diligent in following Mako or doubling up on Mhango.
With some speed in the other direction too, Parker eventually won a hotly disputed penalty by running off the back of Mako and luring the previously inverted fullback into a spot kick-conceding challenge. Those two additions from the bench, in the very specific roles in which they were used, proved key to going from 2-2 and totally under the cosh to winning 3-2, even looking quite solid with ten men (and Parker now at left back!) after Erick Mathoho was sent off.
Kaizer Chiefs 5-3 Bloemfontein Celtic
In December's 5-3 win against Bloemfontein Celtic, Chiefs found themselves 3-2 down at half time after being given something of a chastening in the first period. Ernst Middendorp had selected a 3-5-2 system to start the game, using Bernard Parker as the left wingback (a position the veteran has been used in during games on several occasions this term, often to good effect). Hloni Seema surprised Amakhosi though by playing a narrow 4-3-3 with speed merchant Tebogo Potsane staying high up the pitch with Ndumiso Mabena vacating the number nine area and Harris Tchilimbou coming in off the left.
This left Chiefs with constant 3-versus-3 situations to defend and meant Erick Mathoho had to defend the channel behind Reeve Frosler, a very unsuitable task for him. Time and time again, Celtic could get straight at the Chiefs defence, with Siphelele Luthuli also breaking forward by running off the back of Willard Katsande, or making in-to-out runs behind Yagan Sasman when he was drawn wide behind Parker.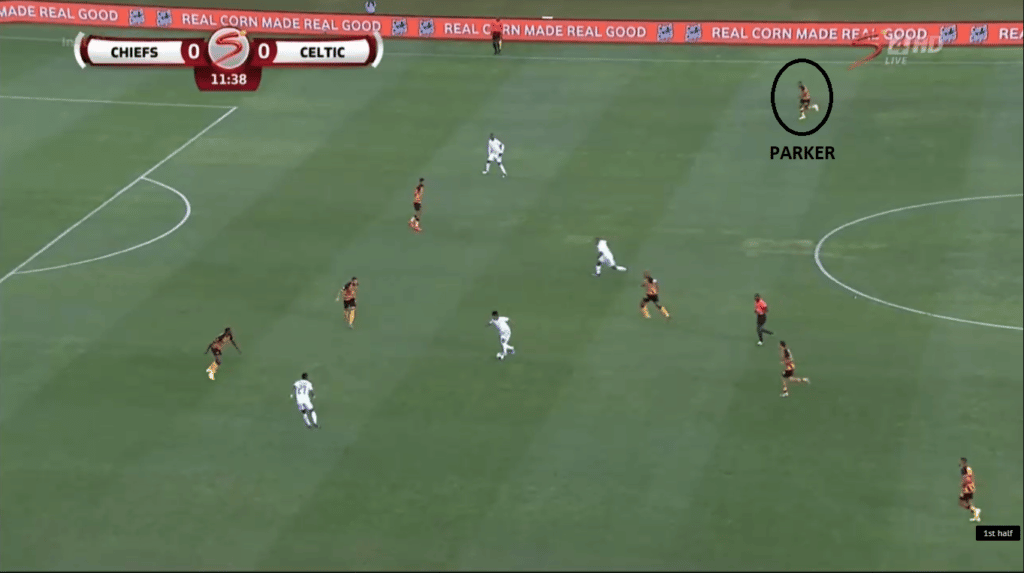 At half-time, Middendorp took Parker off and brought on Dumisani Zuma to play in a narrow role on the left flank, turning Chiefs into a 4-2-2-2 in possession. Effectively, this change was an attacking player replacing a wingback, yet was done to better cover the channels with genuine fullbacks and a back four against a front three.
Chiefs turned the game around by winning the second half 3-0 to turn a 2-3 scoreline into 5-3 thanks largely to an aerial barrage of crosses and set plays (with the two number tens able to collect second balls behind the target man duo). Samir Nurkovic bagged a hattrick whilst Leonardo Castro scored two. Lebohang Manyama provided three assists, all from dead-ball situations.
A top coach. A good tactician. His teams are always posing a lot of tactical and technical scenarios during the 90 minutes. – Rhulani Mokwena
As Chiefs look to lift the league title, they are sure to need their coach's innovative tactical changes within games to turn draws into wins, and losses into draws. What Ernst Middendorp needs to avoid is playing it safe and not taking these risky decisions because of the league position his side is in. With five substitutions to use, he should have the room to manoeuvre cleverly and give his side the best chance possible of beating Sundowns to the crown.