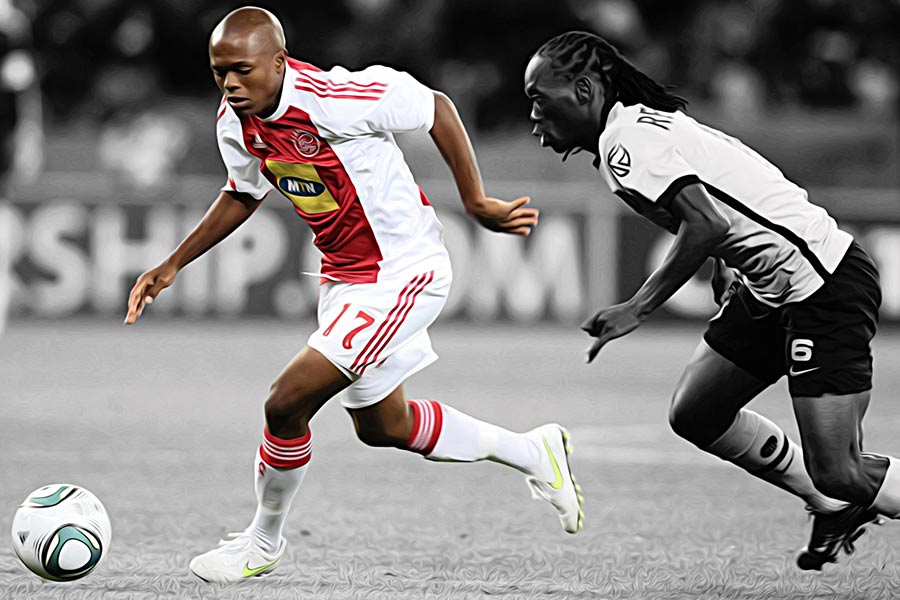 As Ajax Cape Town work their way towards a return to the PSL after several poor seasons, we look back on the club's 2010-11 campaign in which they finished in second place for the third time in the PSL era. The campaign may have ended in heartbreak, but many of the clubs' supporters and local football fans still look back on that team with affection.After Muhsin Ertugral's sudden resignation to join Sivasspor in Turkey, Ajax Cape Town moved to appoint 66-year-old Dutchman, Foppe de Haan. He had made his name at Heerenveen and was often credited with overseeing the development of Ruud Van Nistelrooy into a potent goalscorer. Having been in charge of the Netherlands team at the 2008 Olympics and having taken their under-21 national side to European glory in 2006 and 2007, he looked a very shrewd appointment at a club so focused on their academy and boasting the "No Youth, No Future" mantra.Foppe's first season was very challenging and the process to change the mentality of the playing staff and getting the technical team to understand what he wanted – albeit in his calm and kind manner – was undertaken.
For example, De Haan found it baffling how many chances his players missed, saying years later:
"The shooting, that was fantastic. I hung a bicycle tire up in the goal, purely for learning to aim. They had no idea how big the goal was. I'm talking about adult footballers, right?"
The key factor was that De Haan was looking to change lots of things but took his time in doing so and never used an iron fist. He maintained the same technical staff and using his "very soft, positive and happy" demeanour, as was described by PSL Conditioning Trainer at the time, Craig von Wielligh, he began to change the thinking of the players.
"I spoke to Hans Vonk he was playing for Heerenveen and I stayed with him and his wife. The Heerenveen coach was Foppe de Haan and he was a guru, highly-rated across Europe. Foppe was the best ever. I learnt so much."- Pitso Mosimane

— Ramasedi (@I_amRamz) January 30, 2020
Having had two strict disciplinarians before De Haan in Craig Rosslee and Muhsin Ertugral, many of the players had developed to be extrinsically motivated – they were used to being shouted at on the training ground in order to work hard.
Foppe began to implement intrinsic motivation. Players had to be motivated to improve themselves every single day and much of that came with the sharp rise in training intensity. There was a lot of basic work done on technique and the Dutch coach had a very clear way he wanted to play. Over time, the coach's demands for intensity and deliberate focus on every exercise transmitted to the players who began to demand the same of themselves and teammates.
Von Wielligh was effusive in his praise, saying: "He trusted the technical staff with our roles and he brought everybody together. He just kept plugging away for everyone to improve and he was a genius in how he created a culture in the club."
That first season at Ikamva was nothing special in terms of results. The club ended up finishing in seventh spot and scoring just 27 goals. The last 15 games of that campaign saw just three victories, with seven losses and five draws. There was very little to suggest that the club could challenge for the title in the following season.Some shrewd new signings came into the fold, like Khama Billiat, Lebogang Manyama and especially the focal point upfront, Thembinkosi "Terror" Fanteni. The latter had flopped in a loan spell at Orlando Pirates but was brought back to the Urban Warriors from Maccabi Haifa. His previous stint at Ikamva had seen 32 goals scored in 74 starts. He brought movement and single-mindedness to stay in central positions as De Haan demanded, whilst his link-play with those around him was excellent.
Aside from those additions, a huge factor in the side's improvement was the Dutch coaching moving players into new positions and roles. Granwald Scott had been a squad player who was often used as a right midfielder by Muhsin Ertugral. Under Foppe, he was moved to be a tenacious "number six" at the base of midfield, with a crucial role in the build-up phase and in quickly passing forwards on transitions. His speed from being a wide player also helped to cover big spaces on counter-attacks. He delivered a splendid season and was extremely unfortunate not to be rewarded with regular Bafana Bafana call-ups.
Mr top class, Foppe de Haan with new signing Brent "Auto Correct" Carelse. @brentcarelse ? https://t.co/NA3EIPDNE3 pic.twitter.com/ZtTsH4qOe3

— Ajax Cape Town (@ajaxcapetown) February 21, 2019
Nazeer Allie had been a right-back but was moved into the centre of the defence despite his relative lack of height. His reading of the game was excellent in that role, as was his calm ball-playing ability from the back. He was a leader both on the field and in the example he set off the pitch with his professionalism.
Thulani Serero had been a relatively average young player who was often used as a winger in his early outings under Ertugral. With Foppe, he became a genuine old-school Dutch number ten with essentially a free role to find space between the lines. The team was built around getting him on the ball as often as possible so that he could play killer passes or run with the ball. What followed was a sublime campaign and PSL Footballer of the Season award, and then a move to Ajax Amsterdam.Foppe brought in a typical Dutch style of play – the side played out from the back (with Clayton Daniels improving in this area under De Haan), and to progress the ball through the thirds. They usually had genuine wingers on both flanks and had a pure number ten who looked to make the difference. The football was very pleasing aesthetically and the old cliché of being "everyone's second favourite team" has a ring of truth to it.
This team was untouchable 2011 in terms of style of play pic.twitter.com/wSl72mytmP

— Laudino (@KagisoLaudino) February 4, 2019
Off the ball, the side looked to press high up the pitch at a time when many local sides did not have technical players in defensive positions. This suffocated many sides and led to errors for Ajax to capitalise on. However, this open style of play also led to vast gaps for opponents to exploit on the counter-attack.Ajax made a good start to the season, winning three and drawing two of their opening five matches. Only Sundowns took more points from those opening five rounds, placing De Haan's men in second place. Fanteni had made a huge difference, netting four times during that run and giving the side a finisher to their flowing moves.
In the following seven matches though, the side lost both 3-0 away at Pirates and 1-0 at home to Sundowns, showing how far they still had to go. By the 12 game mark, they found themselves in fourth spot and a full six points behind Sundowns, with both Kaizer Chiefs and Orlando Pirates above them in the table. They were outsiders to challenge for the title.
This team ?

Who's your favourite player in this group?

1. Hans Vonk
2. Nazier Alie
3. Brett Evans
4. Thulani Hlatswayo
5. Clayton Daniels
6. Granwald Scott
7. George Maluleka
8. Lebo Manyama
9. Terror Fanteni
10. Thulani Serero
11. Shameeg Doutie https pic.twitter.com/AidvyO1hwj

— Ajax Cape Town (@ajaxcapetown) October 17, 2019
What followed was an amazing run of results over the next 13 matches, including a 1-0 win against Kaizer Chiefs and a statement 3-0 win against Pirates thanks to a brace from Khama Billiat and a strike by George Maluleka. Serero was unplayable during that run, whilst Billiat's six goals, often from Serero assists, was a major factor. The club had also signed Brent Carelse on loan from SuperSport United in January for some added experience, know-how in title races and aerial strength in both boxes.
That run of 31 points from 13 games was eight more than Sundowns managed and put the Urban Warriors top of the log by two points – with Downs next on the fixture list. However, lurking ominously just below that on goal difference were Orlando Pirates, themselves on a run of 28 points in 13 games.
#MondayMotivation ??@iamkhamabilliat was simply irresistible in a 3-0 win over @orlandopirates at Newlands Stadium on 16 March 2011. #WeAreAjaxCT ? pic.twitter.com/CnRjE5a9zN

— Ajax Cape Town (@ajaxcapetown) January 29, 2018
What followed was a 4-4 thriller against Sundowns, a game in which Ajax led 4-1 with just over 30 minutes left on the clock. However, with Hans Vonk having an error-strewn game in goal and Ajax's weakness when defending set-pieces, Sundowns eventually came back to draw the game 4-4. Pirates beat Moroka Swallows on the same evening.
That game summed up De Haan's Ajax with some virtuoso attacking play, a sublime solo goal by Serero… and some poor defending when the pressure on the team was cranked up. Ajax regained their composure to win the next two games and sit two points clear of Bucs with two games to play.
What followed was a 4-0 humbling against Kaizer Chiefs in a game which could have finished 7-0 or 8-0, such were the chances missed by Amakhosi against an Ajax defence lacking organisation and looking slow with Frenchman, Derek Decamps covering for injuries at the back.
On the final day, Ajax still simply needed to win their match to take the title as local rivals, Santos held Pirates to a 1-1 draw in round 29. Sadly, an error by the veteran, Hans Vonk cost his side dearly in a 2-2 draw with Maritzburg and Isaac Chansa's winner for Pirates saw them crowned champions on goal difference instead. Foppe de Haan described the post-game atmosphere as being like a funeral with several players in tears.
Foppe de Haan's @ajaxcapetown side of 2010 ???? https://t.co/eYkOcb1PrO

— Tsutsindinski (@kabo_kloppite) February 9, 2018
The Season Percy Tau is having ,one looks back and think of Thulani Serero under Foppe De Haan ,"cream" was immense in that team??✊?

— Cbu87_Bucs (@sbuj87) April 14, 2018
Before Ajax's final league match, where a home victory against Maritzburg United would secure the title, De Haan decided to announce his departure. He said:
"It's my last game here. I like it here, we worked very hard, we did very well I think. What I think and hope is that I'm not the best in the world, but I'm one of the best – that's a joke, I hope you understood. What I tried to do is to change a little bit about football – how you train, how you work, how to play together, how to play in a certain system. I hope that things are changing a little bit in South Africa, about the way they train, the way they play football, the development of youth players, and what I hope is that I set an example of how you can do it."
It's not clear if this destabilised the players for such a crucial game, but it seemed unwise to make this announcement before the game and not afterwards.
So many of that side are still excelling in the PSL – like Billiat, Maluleka, Daniels, Allie, Scott and Doutie – whilst Thulani Hlatshwayo is the captain of Bafana Bafana. The longevity and professionalism of that team is no doubt partly down to the change in mentality instilled by Foppe de Haan.
That is part of his legacy in local football, but the style of play is what he will most fondly be remembered for.
MORE SOCCER