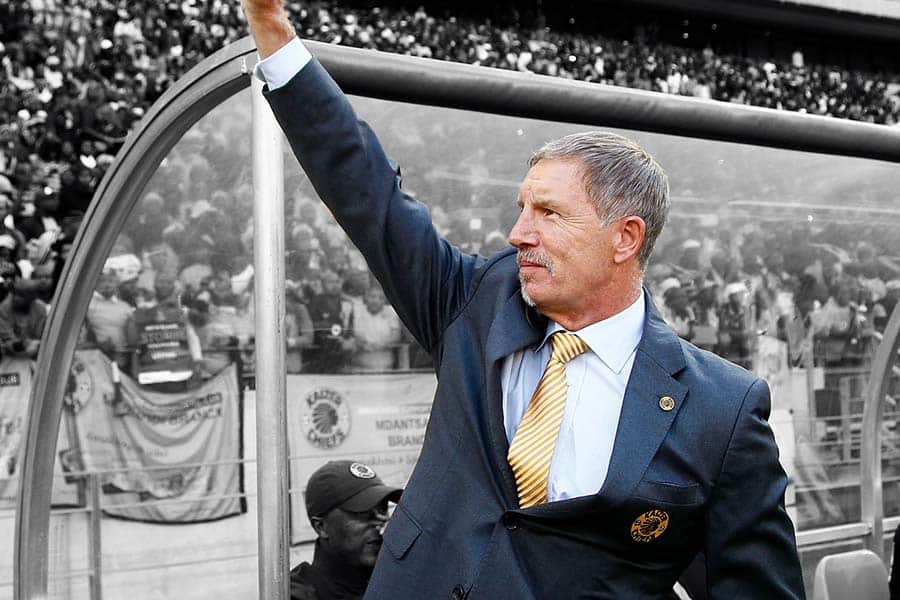 With Kaizer Chiefs' 50th birthday just a couple of months away, we look at their record-breaking 2014-15 season and how their British coach masterminded their success on the way to record 69 points.
GET ACCESS TO

THE BEST CASH OUT IN SA
Extensive pre-match & live in-play cash out across more leagues and tournaments than anywhere else.
Be in total control with more cash out opportunities than anywhere else!
Exclusive to BET.co.za customers.
Having gone trophy-less in his second season at Kaizer Chiefs – blowing a six-point lead over Mamelodi Sundowns with nine games to go – Stuart Baxter had a point to prove. His first season in charge (2012-13) had brought a league and cup double despite just 57 points in total.
However, Pitso Mosimane's first full season in charge at Downs in 2013-14 saw him wrest the league title away from Chiefs with 65 points. Despite actually getting six points more than in his first season, Baxter had ended as the runner-up. Sundowns had raised the bar in the PSL and Chiefs would need to hit new heights to regain their crown.
Chiefs did not do any major transfer business, though. For the 2014-15 season, they added uninspiring signings like David Zulu from the NFD (in January) as well as the likes of Ovidy Karuru and Siphelele Mthembu.
The major outgoing transfer was Knowledge Musona, who has scored 16 times in all competitions in the previous campaign during a loan spell from Bundesliga side, Hoffenheim.
Baxter had a very clear preferred style of play at Chiefs. He liked his sides to drop off, drawing the opposition onto them then exploiting transitions to attack opponents whilst disorganised. Many supporters did not approve of Chiefs allowing opponents to dominate possession or the defence-first approach when leading games, but it was extremely effective.
Large numbers of other supporters did not care as the side were winning every week and that gave them bragging rights over the Sundowns and Pirates faithful.
Baxter described the evolution of his side from very much based on transitions in his first season to a slightly more proactive side in 2014-15, saying:
"The first year, my thoughts were that in SA everyone's over-playing. If we worked hard on transitions, we could get a good payback. That led to teams holding back against us. This year we had to be better on set plays, and build more momentum in pressing, to get our noses in front and force people to come at us – then use transitions again."
Chiefs were a very dangerous side on set-plays, both from the excellent delivery of Tshabalala and Parker (with both feet!) and from their direct freekick threat. Amakhosi scored only 41 goals in their 30 matches, with 14 of those from set-plays, 12 from build-up play and 15 from transitions – eight on the counter-attack and seven from winning the ball in the opposition half.
Critical to their style of play was Reneilwe Letsholonyane. He would so often play the first pass forward after Chiefs won the ball, and he was equally adept at receiving off the back four to build attacks or bursting into the box to finish off moves.
An idea of how quickly and progressively he moved the ball is seen in his average of just 1.96 touches per occasion he got possession. He would often play one-touch or two-touch at most to eliminate opponents and more than 50% of his passes went forwards.
Before the PSL had the famous CBD combination at Sundowns, there was MA-LE-MA at Kaizer Chiefs comprising George MAluleka, George LEbese and Mandla MAsango. Because of injuries to Siphiwe Tshabalala and Bernard Parker at the start of the season, Baxter fielded that trio behind a focal point in Kingston Nkhatha.
They linked up brilliantly in the early weeks, offering arguably greater dynamism that when "Shabba" or "Die Hond" were playing. Chiefs won their opening eight matches, keeping seven clean sheets. Masango scored four times whilst Lebese scored twice during that run. In his first 10 league appearances that season, Lebese netted five times and was a big reason for Chiefs flying out of the traps.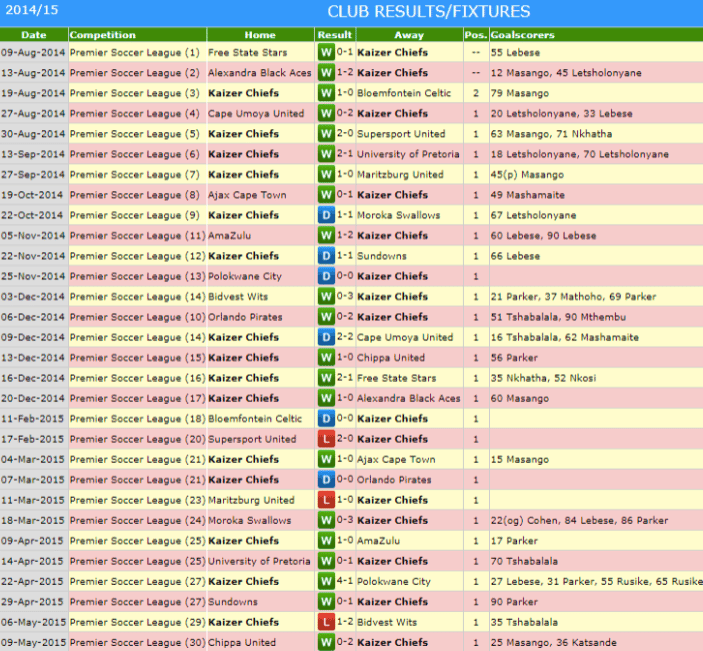 After that sequence, the injured duo both began playing matches at the same time and MALEMA only made one more start together for the rest of the season. That is a pity and with more time, perhaps something special could have developed.
Chiefs' outstanding start to the season came with the same XI in the opening five matches and all season, Baxter used a very small core of players regularly with only fleeting appearances from the fringe options and very little rotation or tinkering to the side.
This built real understanding and chemistry between the squad and much credit had to go to conditioning trainer, Josh Smith, who kept a relatively old team down to minimal injuries.
Throughout his time at Chiefs, Baxter had players who he felt were key to the side, but who the fans did not always rate. The man who exemplified that was Kingston Nkhatha, who was often booed by the supporters but was crucial to Amakhosi.
With Baxter favouring a counter-attacking style of play, it was key to have a forward who could give an out-ball to teammates, run the channels and make decoy movements to vacate space for runners. Nkhatha did those things to perfection, but rarely got the goals or finished off straightforward chances. His defending from the front was also key and Chiefs' defensive record owed a lot to the work done by Nkhatha.
Such was the lack of trust by Baxter in his other number nines, that when Chiefs went to face Ajax Cape Town in round 8, it was Tshabalala as a false nine to replace the missing Zimbabwean forward – Siphelele Mthembu was only on the bench.
In January though, Nkhatha left to join SuperSport United, who were offering the player more money than Chiefs as his contract ran down. Having signed a pre-contract with Matsatsantsa, Chiefs released him early and left Baxter without his first-choice striker.

After his departure, Chiefs' win percentage dropped, as did their number of goals scored per game. When Chiefs eventually lost their first PSL game after going 19 matches unbeaten, it came against a SuperSport side featuring their former player.
Baxter bizarrely switched shape to a back three for that match with Masango at right wingback and Siboniso Gaxa at left wingback. In the first four games after Nkhatha left, Chiefs scored just one goal in total.
Even after winning the title some three months after Nkhatha ceased to be a Chiefs player, Baxter praised the forward during his post-title interviews, saying:
"I have no problem acknowledging the contribution of a player who has left the club if they were part of our plans from the beginning. Yes, he scored only two goals, but we all know that Kingston was more than just a goal scorer because of his work-rate and unselfish nature."
That season, Bernard Parker was a big part of Chiefs' success. He netted seven goals and picked up six assists in 20 starts, but there was a huge contrast in his performances based on which position he was deployed in.
As a front-line number nine, both after Nkhatha departed and when the latter missed games in the first half of the season, Parker struggled. In his five starts in that role, he did not score, assisted just once and hit the target with only 9% of his shots.
However, when used in a deeper role as a number ten, as a second striker or on the flanks, he got seven goals and five assists in 15 starts, hitting the target with 58% of his shots. The extra freedom and space when playing behind Nkhatha or another striker, saw him revel.
Without doubt, Chiefs' success was most built on their formidable backline and defensive ability as a team. Gaxa, Eric Mathoho, Tefu Mashamaite and Tsepo Masilela formed a reliable, calm backline, whilst tackling-machine Willard Katsande and the outstanding Letsholonyane protected the defence.
Katsande left the penetrative passing to "Yeye" but did a supreme job of breaking up play and dropping into the box to help defend crosses.
Mathoho and Mashamaite earned the nickname "The Twin Towers" as they dominated opponents by defending deep and being very difficult to beat in the air. In their 22 starts together in a back four, they conceded just eight goals and kept 15 clean sheets. With Itumeleng Khune often out injured, Mashamaite captained the side and lifted the trophy in May.
When he won Chiefs' Player of the Season and Fans' Player of the Season, Mashamaite gave R100, 000 of his prize money to Mathoho, saying:
"I acknowledge the role that my teammates played in contributing to this individual success. I am grateful I got all the awards that I got. I just thought it would be better to give to Tower because he has really worked hard. I could have easily given it to anyone in the team because no one is better than the other, but I chose Tower because he has been my partner, he is the guy that I play next to."
Mashamaite also scooped three PSL awards: Footballer of the Season, Players' Player of the Season, and Defender of the Season.
That record-breaking season, Khune suffered a grade three stress fracture of his foot. This limited his game time significantly, though his performances when fit were outstanding. In his ten PSL starts, he kept eight clean sheets and conceded just two goals. The side won 80% of those matches.
In his absence though, both of Chiefs' younger backup goalkeepers stood up to be counted – Brilliant Khuzwayo in particular. The now-retired shot-stopper started 16 matches, keeping nine clean sheets and being on the winning side 63% of the time. There were a couple of errors – a Teko Modise shot going over his head and penalty conceded against AmaTuks – but he was otherwise impressive.
Reyaad Pieterse also started four times as he kept two clean sheets and was on the winning side 75% of the time. The emergence of these two goalkeepers and the captain's salary demands actually saw Khune leave the club when his contract expired in June, but both the club and the player made a U-turn and he re-joined Chiefs for 2015-16.
This was an incredible season for Chiefs, regardless of any digs at their style of play. Stuart Baxter provided a clear framework for how he wanted the side to play and he rarely deviated from that strategy or his favoured personnel.
When the coach lost Khune to injury for long periods and saw Chiefs going against his wishes in failing to hold onto an integral player in Nkhatha, he found solutions internally and never let it derail their season.
Several individuals had superb campaigns and have never really hit those heights again, partly due to their advancing years, but also due to a less-defined style of play at either new clubs or at Chiefs. At the end of that season, Baxter left Chiefs to take a job in Turkey.
There were murmurs that the coach was unhappy with how little say he had in transfers and with the club failing to keep Nkhatha and then dallying over new contracts for Mashamaite, Khune and Masango.
All three players saw their deals end with Bobby Motaung saying: "We cannot be held ransom by anyone, it does not take one or two players to make a team". A year later, Letsholonyane departed in the same circumstances.
Steve Komphela took over the side and found Baxter to be a tough act to follow whilst also finding a squad who had perhaps had every last drop eked from it. The new coach would have a tough job to try to continue Chiefs' dominance whilst facing a rising Mamelodi Sundowns force and also phasing out, or replacing crucial older players. Since Baxter left Kaizer Chiefs in 2015, they have not won a single trophy.
JOIN BET.CO.ZA NOW AND
GET 100% DEPOSIT MATCH UP TO R1000
Open your BET.co.za account here
Deposit using your preferred method
Your bonus gets added immediately!
MORE SOCCER