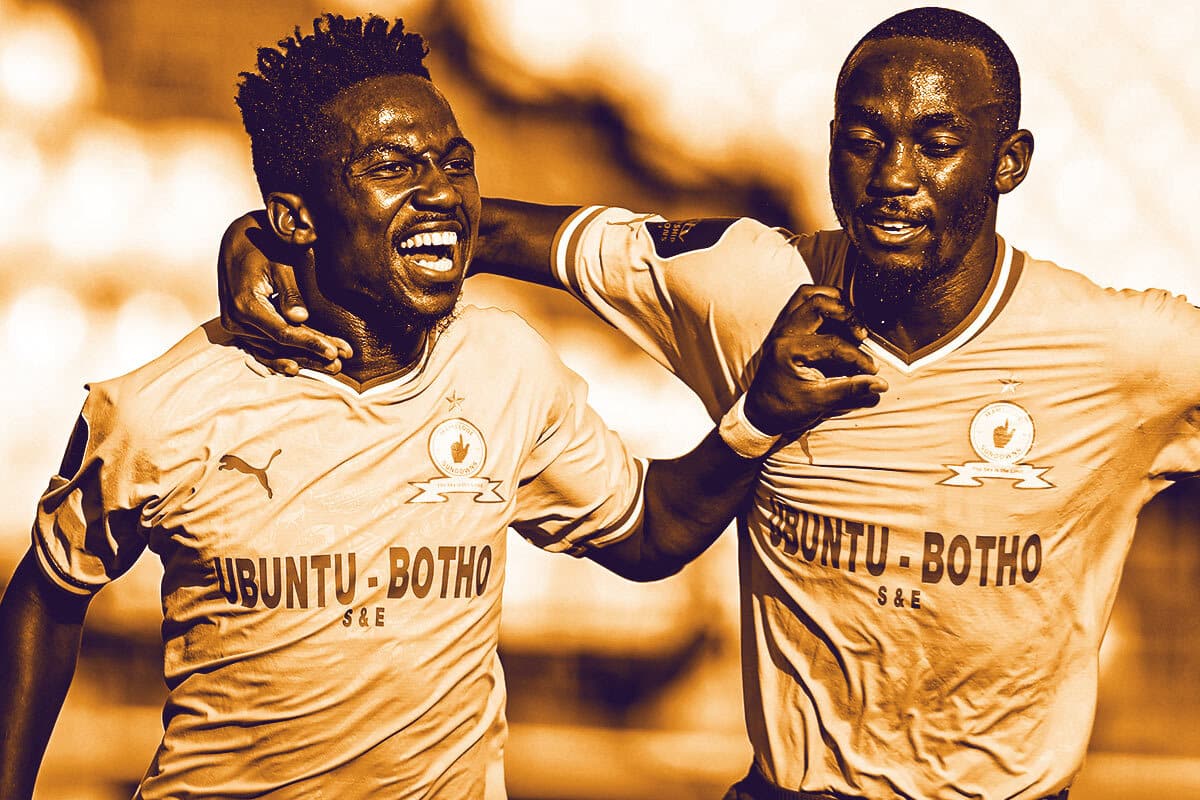 Sundowns scored 56 league goals in 2021/22, a new record for a 16-team PSL season. Leading the line was Peter Shalulile, the first player to score 20+ goals in the same PSL top-flight season since Siyabonga Nomvete in 2011/12, and the first to score 20 non-penalty goals since Collins Mbesuma in 2004/05 (23). The report to Tlhophi Motsepe could have suggested that in 2022/23, another high-scoring player was not needed.
Sundowns had the firepower they needed to mount yet another challenge for top honours. After all, 23 different players scored for them last season, a club record. But Shalulile got injured for large parts of this season, and it turns out they actually needed some backup on the goals.
On the calendar, the gap between his last game pre-injury and his return is closer to 4 months. But thanks to the World Cup break, Shalulile only missed 6 league games this season. One wonders how Sundowns' records would stack up if football continued non-stop in that period.
But Cassius Mailula has been hot for a while now, and there is no need to wonder what may or may not have been. In fact, Sundowns will be more than happy for both, because while their goal contributions are similar (both have 19), they all come under different circumstances and the players are from different spaces on the pitch.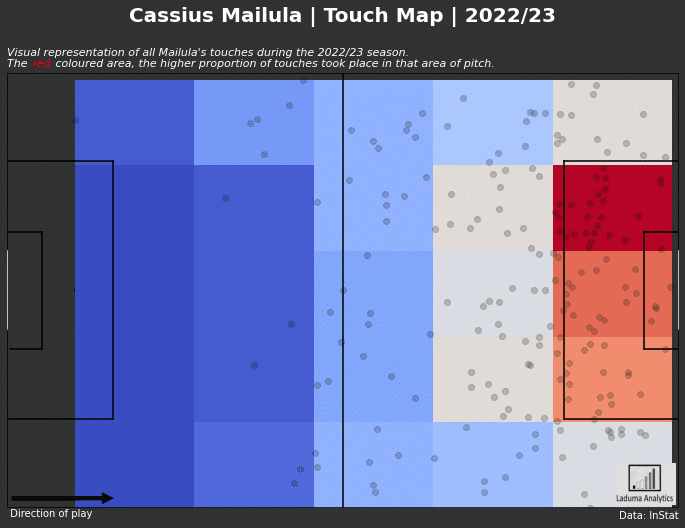 Mailula is a roaming attacker who can be versatile and take up any position across the attacking line. His touch map shows a propensity for arriving in the box in all three central channels (with a slight bias to the left). That aside rich with talent like Sundowns also gets to add such a rare type of attacker is both a credit to their development programmes, and a stroke of misfortune for the rest of the league.  His goal contributions are split more evenly between League and Cup (11-8), than they are between goals and assists (13 to 6). Our evaluation will focus on his goals, drawing conclusions from his league visuals (the actual datasets are a bit different).
When it comes to goals, Sundowns lead by a distance, with their 40 strikes at least 12 more than the nearest best sides. By xG, they have also had the most potent attack, although their overall xG (37) is just above Chiefs (36), with City (32) lurking right behind.
The gap between the sides when it comes to the quality of chances created is not that massive. It's in the conversion of these chances where Sundowns start to dominate, and show a gulf in talent, of which Cassius Mailula is a key part.

As the season progresses, one main assumption about xG is that all teams will level up (or down) to their Expected Levels. We've seen that gap narrow with Sundowns and many other teams. But, we're just not seeing that with some sides, particularly the teams that create the second and third-best chances in the league. Cape Town City & Kaizer Chiefs are at the bottom of the table for xG minus goals, meaning they are the most wasteful teams in the league.

To be fair, City are starting to climb up the table so there is some reversion to the mean (13th before the World Cup, 9th at the end of January & 5th now), Chiefs haven't (4th for the World Cup, 5th in Jan and 4th now). Chiefs' biggest problem is their lack of consistent goalscorers – no player has more than 3 non-penalty goals for them this season. The seven missed/saved penalties tell their own story. On the other hand, Sundowns have been sharper.
Mailula is turning out not just to be the icing on the cake. Neither is he those funny little metal balls that threaten to break your teeth. He is a key part of the whole process.
In the league, he has 8 goals from 5.4xG, an overperformance of 2.6xG, placing him first in the league for all players. An overperformance of xG can mean many things, two of which are:
He is the luckiest player in the division, or
He is the most clinical
Access to post-shot xG would help us in this regard, plus a larger sample size. He's only completed 90 minutes once all season. A sneak peeks at his shot map may move the needle either way.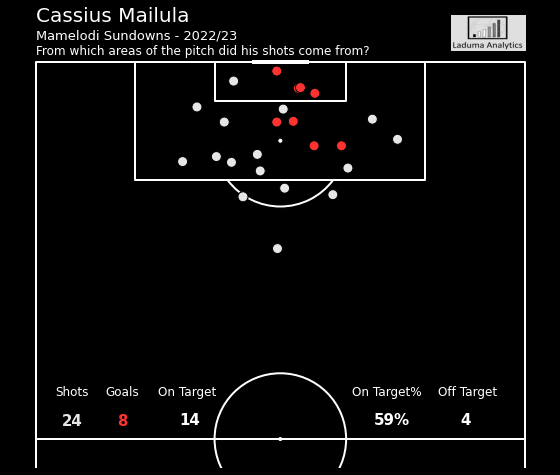 His touch position across the three central channels is reflected by his shot locations
His selection of shots shows a high volume of attempts from close range positions.
All his eight goals have come from inside the box (all but one of Sundowns' goals has)
All his goals come from high value locations, including a few deep into the 6-yard box.
*His league goals come from both left (3) and right (5) feet (no headers)
Without even looking at any other aspects of his play, this is the type of finisher other challengers would wish for. ​​Even if he doesn't score from his shooting, he is not wasteful. Of players with 20+ shots, he is second most accurate in the league (59%) behind only Ranga Chivaviro (60%) and level with Caleb Bimenyimana (59%). The difference in this is minuscule.
We've only looked at one aspect of his game here (finishing), although it is a crucial one, but we could always evaluate him further. Four assists from 8xA points the finger of blame towards his finishers rather than him. He is joint third for xA in the team, along with Zwane, Maema & Allende. Like his shots, his assists come from all across the front line, but most of his successful passes originate in the inside right channel.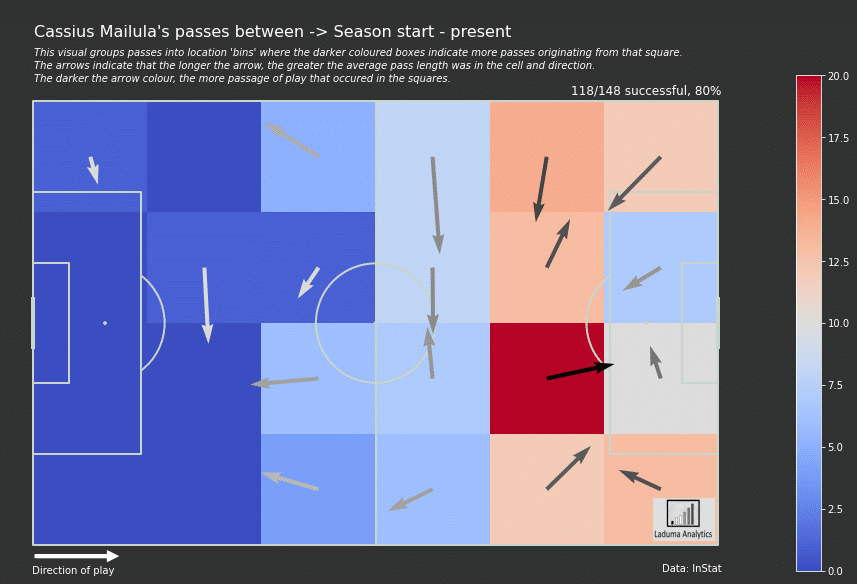 Conclusion
This type of roaming profile already marks him as a relatively scarce type of player, and the Player of the Year whispers have duly started. Anyone that listens to his post-match press conferences knows Rulani Mokwena is quick to highlight the team effort. But if there is anyone symbolic of Downs' step to the next level, it's Cassius Mailula. In him, Downs have a player that is proving to be more than just back up for Peter Shalulile. The partnership between the two may not be needed to continue Downs' dominance locally, but it could be what they need to take domestic dominance and make it count on the continent.
SIGN UP TO OUR

BET CENTRAL PLAYBOOK
Get weekly emails packed with the best tips and sports content.
Get ahead of the game now - fill in the contact form below.