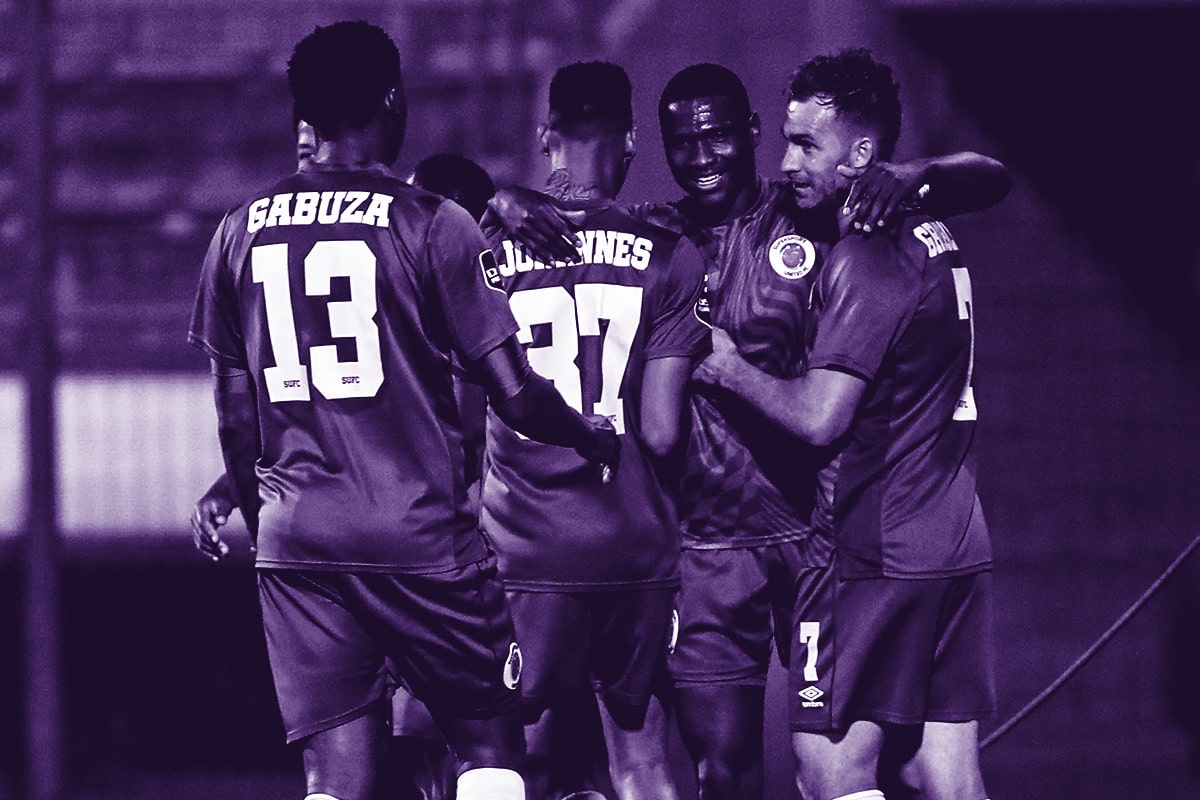 The latest round of PSL action was a mix. We saw two thrillers (3-1 results on Friday and Sunday) on either side of two 0-0 draws. Gavin Hunt was the toast of the country on Friday night, only to be overshadowed by the PSL's first hat-trick, as Caleb Bimenyimana put three penalties past Sage Stephens in Cape Town. By The Numbers is a weekly look at some of the underlying numbers from the weekend games.
Are SuperSport Starting To Find Attacking Balance?
It's been more than five years since SuperSport scored three goals in back-to-back games (under Stuart Baxter in May 2017), and it's five since they led 3-0 before the hour-mark (under Eric Tinkler in October 2017). Many imagined Hunt would look to shore up a defence that shipped 32 goals last season, but maybe we didn't realise how their attack may also turn out. They're having a good attacking season:
14 – goals scored by SuperSport this season (2nd most in the league)
1 – Only once before in five seasons have they scored more at this stage (19 in 2020/21)
But how did that manifest over the weekend?
18 – shots by SuperSport v Sekhukhune (their most in game this season)
7 – shots on target by SuperSport (their 2nd most in a game this season, after the recent Royal AM tie).
The first three games of the season saw Hunt's team rack up their highest xG numbers, averaging 2.6 xG per game, but they never won any game. The next five games saw them decrease output up front (averaging 0.83xG), yet they could only edge out narrow wins. Hunt seems to be finding a balance now.
20 – box entries v Sekhukhune (their 2nd most in a game this season)
2.2 – xG per 90 in the last two games
Pirates' Bluntness Exposed
Another game, another lack of goals for Pirates. This one is made worse by the fact that they spent the entire 2nd half with a man advantage. But anyone with a connection to the internet would have known that didn't mean much for this side.
11 – Longest run of matches with no 2nd-half goal from the start of a PSL season (Santos 97/98)
10 – Pirates current run of matches without a 2nd-half goal from the start of the season.
Pirates last scored a goal a month ago. In that time, they played three games and created 3.6 xG. This is not because they are not trying.
1.8 – xG vs Richards Bay (Full Tme 0-0)
0.89 – xG vs Sekhukhune (Full Tme 0-2)
0.91 – xG vs Sundowns (MTN 8)  (Full Tme 0-0)
Against Richards Bay, Pirates were a man up for half the game and understandably had more of the ball. But the visitors were happy to do that because Pirates' final third has been pretty inefficient this season.
69% – Pirates ball possession in this game (their highest in a game this season)
28 – entries into the box for Pirates (their most in a game this season).
28 – entries into the box for Pirates (their 2nd most since the pandemic, 110 games on record)
But it's what you do with the possession and entries that matter. The 14 shots for Pirates is their second most in a game this season, but once again, they were let down by a lack of accuracy. In growing desperation to score, poor shot choice may also have been a factor. The images below highlight a series of long-range shots that may not have been the optimum choice (yellow arrows are our recommended actions).
Their failure to create much in the 2nd half summarizes their issues well:
5 – shots on target this match
1 – shot on target in this match from open-play
3 – shots on target after the red card
1 – shot on target in the 30-minute period between 45 and 75 minutes
0 – shot on target from open play after the red
They may be turning to set pieces as a way to find goals (half their chances came from set plays here), and that may be what works best for this team. But open-play goal threat is always the first prize.
Penalties Notwithstanding, Is Chiefs' Attack Taking Shape?
Chiefs are beginning to build some momentum, and while the penalties will take most of the attention, it's worth mentioning that this was a solid attacking display. Caleb Bimenyimana became the first player to score a penalty hat-trick in PSL history, and his shot map was pretty straightforward.
Yet, it was not always rosy on Sunday, as Chiefs found themselves 1-0 down just before the break. Chiefs' backline has been notorious for errors this season, and it was little surprise that another goal came from one. As we watched this game at the stadium, it was clear early on that Stellenbosch had no problem letting Chiefs keep the ball. Perhaps they were waiting to pounce on the inevitable mistake, but this seems to be a pattern in this fixture:
63% – Chiefs possession in this game; their most in a game this season
⅗ – Three of the five highest possession instances for Chiefs post-pandemic have come in games against Stellies (August 2020, April this year and this past weekend).
10 – Stellenbosch entries into the box (their 2nd lowest in a game this season)
Stellies got four points in the last two games, but the strategy did not work out this time, although it's hard to gauge with all the penalties and the red. After a rocky start to the season, Arthur Zwane's attack is starting to produce a better level of output.
50 – shots taken in the last three games by Chiefs (49 in the previous 5)
7 – shots on target per 90 in the last three games
2.9 – shots per 90 in the seven games before this
It's not just quantity, but the quality is looking better too. We've used non-penalty xG here to take away the impact of spot-kicks won.
2.1 – non-penalty xG per 90 in the last three games
0.9 – non-penalty xG per 90 in the seven games before
Defensive shakiness may still exist, but something may be starting to take shape attacking-wise.
SIGN UP TO OUR

BET CENTRAL PLAYBOOK
Get weekly emails packed with the best tips and sports content.
Get ahead of the game now - fill in the contact form below.