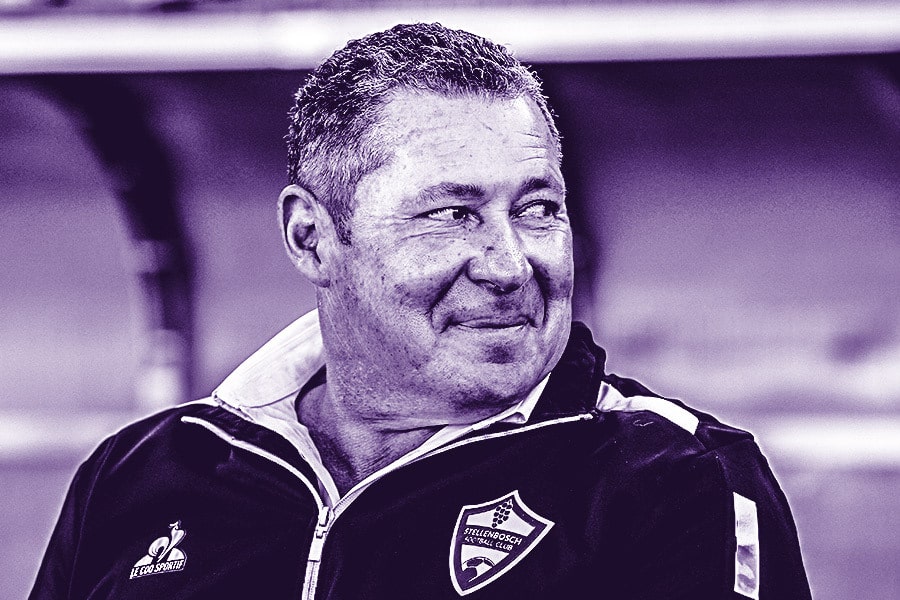 Check out our winners and losers from the DSTV Premiership by OptaJabu.
Steve Barker – Winner
When looking at the league fixtures at the start of 2022, Stellenbosch may have been
forgiven for thinking that the match against Kaizer Chiefs would be the most difficult in the
New Year. Instead, they came into this game (their 8th of the calendar year) with just one
league win in 2022. They had also struggled defensively, with a single clean sheet this year.
Having said that, they knew they were safe from relegation and couldn't catch Sundowns on
the other side of the table. The assumption would be that they didn't have much to play for.
Tell that to Steve Barker. Stellies are now level on points with Pirates and Chiefs and one
point behind Cape Town City who are in 3rd place. The Cape sides meet on the final day of
the season, so a CAF spot can't be discounted just yet for Barker and his young men.
39 – Stellenbosch have won 39 points this season, their most in a single campaign since
they became a top-flight club.
Swallows – Winner
At 2-0 down with half an hour to go, Swallows were bottom of the league table. Not only did
they overcome that deficit and change their fate 30 minutes later, but they also dealt Baroka a
near-fatal blow. It's only their fourth win of the season, and it could not be better timed.
The Dube Birds now have their fate in their own hands, and will be safe if they (at minimum)
match Baroka and TS Galaxy's results between now and the end of the season.
1 – This is the first time since they joined the top-flight that Swallows have come from a half-
time deficit to win a league game.
Swallow's Experience – Winner
The former Golden Boot winner netted a brace when his side needed him most. Four goals
in seven games now, and his experience could prove vital in the battle to avoid the drop.
Musa Nyatama also provided two assists and was the late winner.
Orlando Pirates In CAF – Winner
The penalty shootout was nerve-wracking, but Pirates (and Ofori in particular) got there in
the end.
6 – Pirates reached their sixth semi-final in African club competitions, the most of all in South
African sides. No other side has more than three.
Our Low Scoring League – Loser
​​It may be going on unnoticed, but we're well on the way to the lowest scoring campaign in
PSL history. The 200th game was played last weekend (204 now), and we still have just 410
goals – the lowest ever at this stage of a PSL season. So, the number of 0-0 draws should
be seen as a feature, not a bug.
36 – 36 matches have ended 0-0 this season, the most ever recorded in a 16-team PSL
season, and three fewer than the all-time record.
PSL Top-Flight Football In Limpopo – Loser
In 2019/20, Polokwane were relegated.
In 2020/21, Black Leopard were relegated.
In 2021/22, Baroka looks like favourites for relegation
Add the status sale of Tshakuma Tsha Madzivhandila in there, and the province of Limpopo
is at risk of losing access to top-flight football in the space of three years. We've known that
Baroka are coasting towards nothingness for a while now, but the nature of their defeat on
the weekend had an eerie feel about it. Leading 2-0 with half an hour to go against the side
just above them, Baroka would have leapfrogged Swallows into 15th had they held on.
Instead, they somehow contrived to let that advantage slip.
When they needed solidity and composure, no one was able to provide it. This is the 2nd
time in the space of a month that they lead at half-time and yet lose the game. Against a club
like City, that may be forgivable. But against your nearest 'rivals' it is unacceptable. The
club's survival from relegation depends upon them holding onto any type of lead, but the
writing now seems to be on the wall.
1 – This was the first time ever that Baroka lost a top-flight league game having taken a 2-0
lead.
Kaizer Chiefs – Loser
With a change in management during the week, Chiefs can be forgiven for adjusting to life
without Baxter. However, they feature here because they've failed to score in three
consecutive games, something that hasn't happened since October/November 2017 – when
Steve Komphela was still at the club.
2 – Stellenbosch are the second team to complete a league double over Kaizer Chiefs this
season (after Royal AM). This is only the 3rd time in PSL history that more than one club
does a double over Amakhosi in the same season.
Sundowns – Loser
They'll soon be crowned PSL champions, but Sundowns will be disappointed in how they
were eliminated from the Champions League. The missed penalty from Themba Zwane is
the perfect snapshot of a team that did not take its chances. And with that, they can say
Goodbye to their chances of a quadruple.
SIGN UP TO OUR

BET CENTRAL PLAYBOOK
Get weekly emails packed with the best tips and sports content.
Get ahead of the game now - fill in the contact form below.