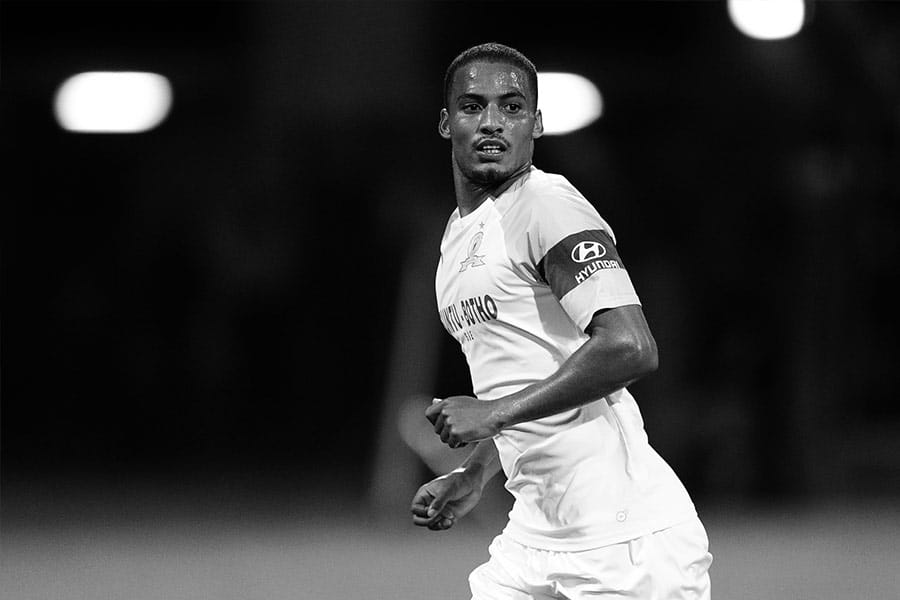 20 August 2019, by: Carl Lewis
COMING OF AGE – PSL YOUNG STARS UNDER 23
With the PSL 2019/2020 season having just kicked off, journalist Rob Delport (who is also the South African Head Researcher for the acclaimed Football Manager video game series) picks out players, 23 and under, who should be standing out this season.
Fit-again and playing in a defensive midfield role, the former Ajax Cape Town wonder-kid, should be one of the stars of the league. It will be Rivaldo's second coming of age. If his injury woes are really over, he should be heading into Europe next season surely?
Last season both of these Cape Town City youngsters were given a decent amount of first-team football, and if they get another dose like that, I'm expecting both to be players to watch.
Links is an exciting winger, who has grown from strength to strength each season. First capturing attention at Platinum Stars, the Northern Cape-born youngster, had a brief spell in Egypt, before joining City. Barely out of his teens, Links has shown growth each year and I expect another jump in his football this season. Definitely, one to watch.
Cupido's rookie season in the PSL showed promise, and while he made a few mistakes, he also had a few match-winning moments. He is a very promising young defender, who has shown grit, determination, and remarkable progress over the past 12 months.
The Port Elizabeth-born fullback moved from Bidvest Wits to Kaizer Chiefs at the beginning of the year, and will now need to grab his first-team place. Having already proved at Wits that he is a quality young footballer before being frozen out last season, Frosler has the opportunity to develop his game at a high profile team.
This is not something the 'big three' have done recently, with only a handful of younger players getting regular opportunities at Chiefs, Orlando Pirates or Mamelodi Sundowns. But playing at a high pressure big team at a young age can make or break you. I have a great deal of faith in Frosler's footballing ability. I feel he is the type of player, who could shine in those conditions.
I am not certain how much game time the young defender-cum-defensive midfielder will get at Chiefs, but he was one of those players I hope to see get a fair share. He has the potential to blossom into a top player but needs exposure to senior football.
Should the young fullback get game-time at Orlando Pirates, he could be one to keep an eye on. First of all, he would be usurping the talented Innocent Maela, and that would already be something. But he would need to keep performing to keep Maela out the team.
He is also very talented, and the former Bloemfontein Celtic player looked to be the real deal last season. With the right trajectory, he could become a club legend.
The Amajita forward looks to have impressed the first-team coaching staff at Orlando Pirates during the pre-season and this could be his breakout season at the club. While naturally a striker-cum-winger, Monyane looks to be played a little deeper at Pirates, where he played the first game of the season as a right wingback. Monyane's confidence will grow playing alongside and ahead of some of his more high profile team-mates.
Malepe is the national under-23 team's captain. He was also Amajita captain before that. While he came to the fore as an Orlando Pirates youth player, he got his first taste of senior football with loan spells at Moroka Swallows and Ajax Cape Town. Last season he was loaned to Chippa United and already showed signs of maturing into a good solid player.
Now, with the Olympics just around the corner, Malepe, who is a very determined young man, has the opportunity to take his game up a level. The only problem he has is he does not seem to be in Pirates' plans, and will have to make that impression at Chippa once more, after being loaned out again.
While Mokoena to be fair has already made his mark, this could be the season his former Harmony Academy teammate Sipho Mbule steps up and becomes as well known as Mokoena.
The two midfield youngsters have an abundance of potential and Mokoena has already been linked with a number of European clubs, and could have left during this window. Mbule has had a few cameo appearances already for the SuperSport first team, but will now look to play more regularly.
Mahlatsi is a bit of a throwback to stars of yesteryear. He had a bit of a cameo season last year with SuperSport United, and if this exciting young flair player is to graduate to being a PSL star, he will need to be a little more consistent. Now that may be harder than it sounds because Mahlatsi's strength is really his unpredictability. A genuine flair player, Mahlatsi came to the fore at the Bayhill tournament three years ago.
A loan spell at Ubuntu Cape Town in the NFD, saw him gain confidence, and then last season he was promoted to the first team. While he may technically still be a rookie, I think if he's given a fair opportunity, he could be the surprise package of the season.
Another one at SuperSport who I expect to step up this season. The Ubuntu Academy graduate moved to Tshwane last season already and after a year of settling in and finding his feet, the youngster looks to be ready to claim his spot in the first time. A highly talented young defender, Fleurs (like his fellow Ubuntu graduates) is a mature young man with his head screwed on right.
He may be young still but two years ago he played almost a full season with Ubuntu in a relegation battle in the NFD. He and Jesse Donn (who also joined SuperSport from Ubuntu) gained valuable experience at such a tender age, and that early exposure has prepared them well for top-flight football.
SuperSport actually have another trio of talented youngsters waiting in the wings, and while I think 2020/21 might be their season, keep an eye out on former Ajax Cape Town midfielder Oswin Appollis, former Stellenbosch player Luke Le Roux and former Ubuntu Cape Town youngster Jesse Donn.
Keep an eye on this young Maritzburg United teenager who burst onto the scenes at the end of last season. The talented forward scored an important goal during last season's playoffs in a key win against TTM that secured Maritzburg's top-flight status, and 2019/20 could just be his breakout season.
He was unfortunate to miss out on the U20 World Cup, after being included in the provisional squad, but if he lives up to his potential the 19-year-old from Nxamalala has a bright international future too.
The former Amajita left-back may only be 20 years old, but he's already played over 40 PSL games for Amazulu. He is already a key member of the Durban team and if he has a good season, he is at the perfect age for a move to Europe. He certainly has the talent and potential to make it, and impressed scouts in his one appearance at the U20 World Cup in the 1-1 draw with Portugal.
The Baroka teenager is now entering his third season in the first team and has already shown signs of being a future star. He recently had trials overseas and will hopefully make the move abroad soon. But until then he has a chance to shine in the PSL once more in a Baroka team that may surprise a few teams this season.
Mosele probably should have more international recognition but like may teenagers who do get first-team football at SA clubs, they often miss out on national junior team selection because of unavailability. It is an unfortunate scenario.
The 21-year-old played 75 matches for Real Kings in the NFD before getting his top-flight chance with Golden Arrows this season. He was a standout player in the second tier and now has the opportunity on a bigger stage to use all that experience and show his potential. He was once signed by Orlando Pirates but never played for the Soweto giants, who sent him back on loan to Kings.
The Stellenbosch trio of 23-year-olds will all get a chance to show their worth in the top flight after shining in the NFD for a few seasons.
Rayners was top scorer last season and the former Santos player has been scintillating since joining Stellenbosch two season ago, scoring 30 goals in 55 NFD appearances.
Mathabela, a former Witbank Spurs player, joined Stellies last season, and played every minute of their NFD-winning season. The former Amajita fullback is a personal favourite, a decisive and natural footballer.
Zungu, the former Amazulu prospect, bossed the midfield last season, and showed real star quality for Steve Barker's team.
MORE SOCCER