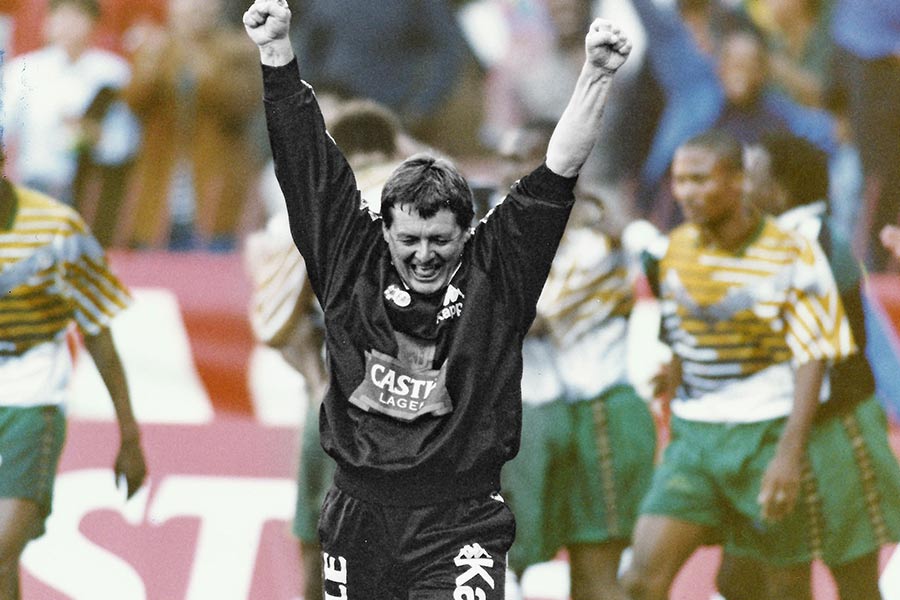 10 October 2019, by: Thathe Msimango
Celebrating Clive Barker: A South Africa Legend
Each year, sports fanatics across the world tend to wrap up things by drawing a close focus to incredible, magnificent and standout sporting moments that made them fall in love with the beautiful game again, and which later go down into history books for the next generations.
Sports has a way of uniting people unimaginably and in an unexpected fashion. People spend time and stay glued to their screens, in anticipation of what's to come. They are brought together by passion and love for the precious game.
These are the moments we all cherish forever. And while for the most part, we have a sense of anticipation of what to come, ever so often we all get a chance to witness history unfold and records tumble in front of our eyes. These are moments we wait for.
Some of these moments become transcendent, simply due to their near-impossible nature. Let's rewind to 23 years ago, the date is 3 February 1996 and the venue is FNB Stadium in Soweto, Johannesburg. a total of 80 000 spectators would gather around the grand arena hoping to witness one of the potentially great South African sports moment.
This was a huge moment for the country that had been slapped with a sanction by world football governing the body, Fédération Internationale de Football Association (FIFA), four years before the tournament. One of the jubilant people inside the Arena was Bafana Bafana head coach Clive Barker.
Born 23 June 1944 in Durban – Barker was a visionary and an intelligent midfielder during his playing days for Durban City and Durban United in the 1960s. His talent caught the eye of English club Leicester City and it's manager Matt Gillies during the team's tour to South Africa in 1962.
Gillies's side was at the peak of its powers after they came just short of claiming infamous cup double, only to be stopped 3-1 by Manchester United in the FA Cup final in 1962.
The team was famously known as "Ice Kings" at that time and had wonderfully talented players including the late English goalkeeper Gordon Banks, who won the FIFA World Cup trophy in 1966, Dave Gibson and Frank McLintock MBE to name a few.
Barker travelled for over 8 000 miles away from home to undergo trials at Filbert Street. The persistent career-ending knee injury proved to be a major stumbling block for a move and later forced him to retire from football at 25 years of age.
But the drive and passion he had for football never stopped him from contributing from the touchlines and it is where he gained major recognition and it not surprising that – he is ranked as one of the best football coaches this country has ever produced. The Afcon gold medal he achieved in 1996 during his tenure as Bafana Bafana mentor makes him the only coach to ever claim a major trophy for the country.
Since the injury, which hurt his playing career, Barker was forced to weigh out other options and that's how coaching became the priority in the list to get some sustainable income and be able to support his family. Even though his wife, Yvonne, who was a teacher by profession was able to, Barker opted to continue to be the main provider.
"I played as a midfielder but then I picked up an injury which was unfortunate since I was going to have trials with Leicester City then I decided to enter coaching," describes Barker.
"I was very good with the ball- very accurate with the passes. I didn't score too many goals but I managed to create a lot. It was a different period in South African football at that time because whites played with whites, Indians with Indians, etc. It was a crazy world in South Africa. But we go through it all and now we have the biggest league in Africa."
The 75-year-old former Maritzburg United coach believes Durban City gave him the platform to excel as he was makings strides in his coaching career.
"The journey (as a coach) started well as the means to be able to support my family. I was very fortunate to go out to coach Durban City as a team. There were other team's I coached but it in Durban City where I made much impact until I moved to the famous Amazulu side," he added
Barker rose to fame as a coach after his Amazulu side shocked Kaizer Chiefs 3-1 to be crowned inauguration Coca Cola Cup champions at the FNB Stadium in 1992. This was sweet revenge to him as he had lost twice in major cup finals to Chiefs, the Mainstay Cup and Iwisa Charity Cup in 1987.
Thereafter, teams came knocking for his signature and the opportunity to coach Bafana Bafana presented itself and he took it without hesitation.
"I was shocked when Kaizer Motaung phoned me the other day and said he would like to see me," explains Barker on how the Bafana Bafana appointment came about.
"At first, I thought he was after George Dearnaley (His former striker at Amazulu). I went to see him and then he offered me a job at Bafana Bafana. I didn't take the offer from the word go as I flew to Durban in order to consult my family before deciding to accept the position."
'It was a great journey. Great people involved. The late Solomon Stix Morewa was a good chairman. I was delighted to be involved with the winning team. It's wasn't easy since I took over as the national team coach with the team ranked 93rd in the world before taking it inside the top 20. It was a wonderful experience, the late Nelson Mandela played a huge role in bringing Afcon 1996. All the people involved really wanted the national team to succeed."
He thinks Doctor Khumalo is the best player he has ever coached during his career. As much as of late John Mosheau was gifted but Barker believes Khumalo had rare vision and could win games for Bafana.
"Shoes Moshoeu is no longer alive so it's very hard to say good things about him. He was fantastic, skilful and makes players play around him but like I've said before, Doctor Khumalo was magnificent, good with the balls and had an ability to see things. Great visualization. As much as I would say Shoes but Doctor remains the best. The way people really loved him would even ask me, is Doctor really a doctor?"
"The Dog" as he was commonly known came to regret his decision to resign as Bafana coach after the national team failed to progress past group stages during the 1997 Confederation cup in Saudi Arabia. He feels he let the players down in that case and was a coward to abandon them without even alerting the team of his decision.
He thinks our country is blessed with great talent but the style of play has changed and that's why our national team has been battling to produce results. Later in his career, Barker further took jobs in the club like Manning Ranger, Amazulu, Bidvest Wits, and Mpumalanga Black Aces before deciding to quit coaching after suffering the back pain that nearly took his life.
His two sons (John & Gavin) never followed their father in terms of playing or coaching football. John, 50, carved out a career in the entertainment industry and directs movies. Gavin, 47, opted to write about football.
In many countries across the world, living sports legend are granted respect with a statue or streets being named after them, but none have been done in honour of Barker in South Africa.
Even at the age of 75, Barker continues to contribute to local football when he recently opened an Academy named and will work closely with the local primary school in unearthing the new talent. But he wants to be remembered as an unselfish person as he gave his 1996 Afcon gold medal to the late Nelson Mandela.
MORE SOCCER