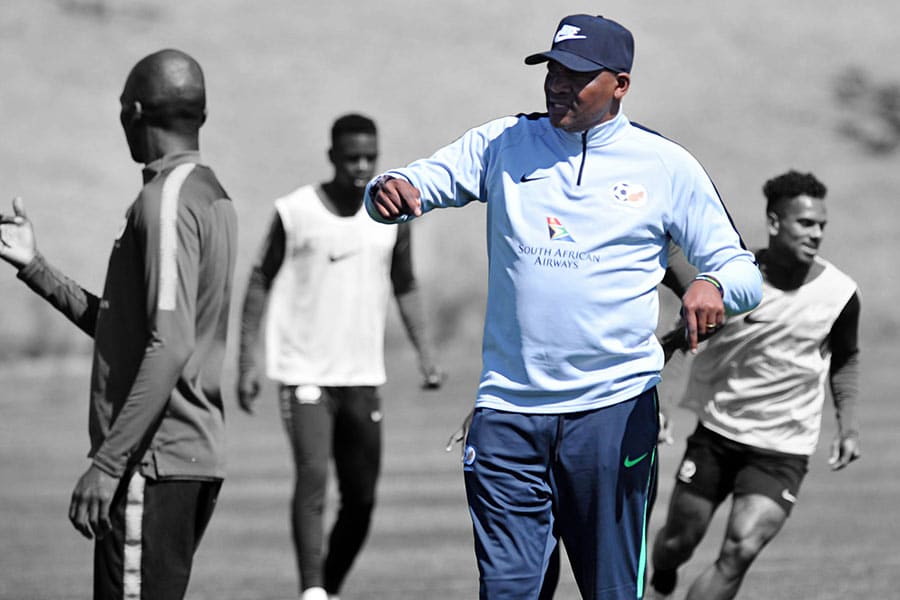 08 October 2019, by: Leonard Solms
Bafana coach Molefi Ntseki Receives Backing from Former Players
The appointment of Molefi Ntseki as Bafana Bafana coach has received mixed reviews. What is beyond dispute, however, is his track record with youngsters.
Keanu Cupido and Khulekani Kubheka, two South African youth internationals who honed their talents under him, have come out in support of the new senior national team boss.
Ntseki was appointed as Stuart Baxter's permanent successor after AFCON 2019. He is still awaiting his first competitive match after both Zambia and Madagascar called off scheduled friendlies.
He will be raring to go as he looks to prove that he is the right man for the job. Much has been made of Ntseki never having been a head coach at a top-flight club, but he has extensive experience in SAFA's youth structures.
GET ACCESS TO

THE BEST CASH OUT IN SA
Extensive pre-match & live in-play cash out across more leagues and tournaments than anywhere else.
Be in total control with more cash out opportunities than anywhere else!
Exclusive to BET.co.za customers.
Keanu Cupido is one player Ntseki helped develop who has become an established top-level professional. The Cape Town City defender was in his Amajimbos squad for the 2015 U17 World Cup. Although injury ruined his tournament, Cupido had only positive words to say about Ntseki.
"He's a coach for me who is a very great guy, someone that you can speak to and feel comfortable around. He looks after every player. Any problems that I had, I could speak to him," Cupido told
BET Central
.
"As a coach, he was very good. He knows how to play with his players individually and their strengths. He works with their strengths and he also fixed all our weaknesses.
"He wants to see you smile. He doesn't want to see you being angry. On the field, he wants the job to be done. He will give you everything on the field. Afterwards, he's a very good guy who makes jokes."
"There's not actually a difference. Both of them do their job on the field and they're very demanding. Afterwards, you can speak to them with your problems," he said.
For the current South Africa U23 player, a standout memory of Ntseki was the trust he placed in him despite his struggles with injury.
Kubheka, who captained Amajita at this year's FIFA U20 World Cup, offered a similar verdict on his former U17 coach.
"I think that he managed different players. He knows that this player is like this and this player needs to be treated like this. His player management is very good and I think that he knows how to push players as well," said the goalkeeper, who was also in Ntseki's 2015 U17 World Cup squad.
"For me, I think he was one of the coaches that really made me realise my potential and really pushed me to the limit. At training, he was hard on me. He always knew I could give more, so he really took that and sucked it out of me.
"We were once talking one-on-one and he told me that I was scared to let loose. He just told me that I should let loose and let my true self take over because I was holding back. Once I did that, all the doors just opened and I also enjoyed football a lot more.
"I started talking to guys more and I started being my true self. That's when they saw: 'Ok, maybe there is a leader in this boy.'
" was something I was expecting. I think he's a top coach and I think he deserves all he is getting and all he will still get in the future."
Despite his close relationship with Ntseki, Kubheka is not expecting any favours in terms of team selection. Nevertheless, he thinks the coach's experience with South Africa's youth teams will help him in the job.
"Football is all about performances. Whether you know the coach or not, your performances on the day are what speak for you," he said.
"It's more or less the same thing , but I think he knows a broader pool of players and he knows all the ranks of South African football."
Ntseki's first assignments are to lead Bafana Bafana to the 2021 Africa Cup of Nations and 2022 FIFA World Cup. He will hope to last long enough to see the youngsters he coached flourish in his senior team.
JOIN BET.CO.ZA NOW AND
GET 100% DEPOSIT MATCH UP TO R1000
Open your BET.co.za account here
Deposit using your preferred method
Your bonus gets added immediately!
MORE SOCCER