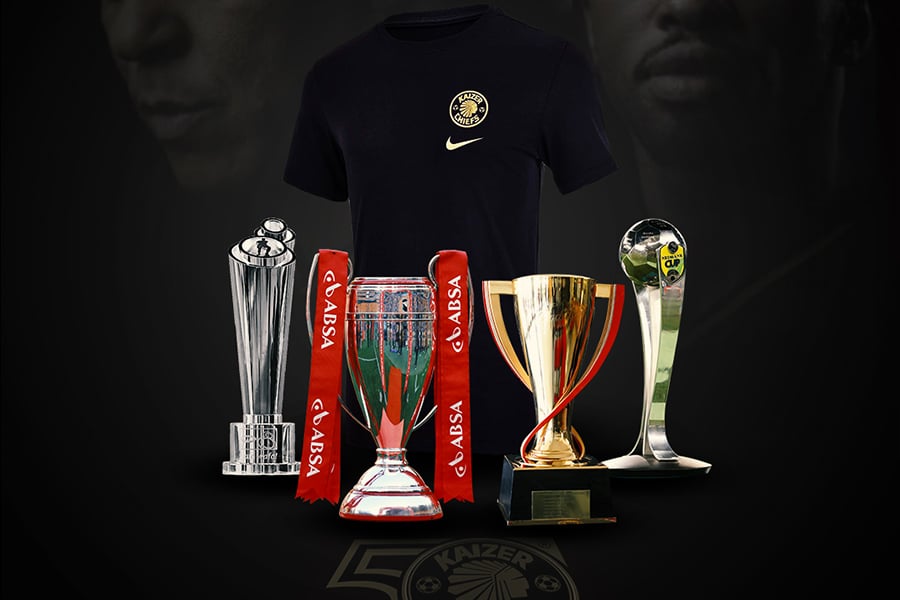 07 January 2019, by: Ben Dlamini
The Kaizer Chiefs – celebrating 50 years 
It's been half a century of greatness for South Africa's biggest club, Kaizer Chiefs, who celebrate its 50th anniversary on Tuesday 7 January. In commemoration, Amakhosi have granted supporters free entry into the FNB Stadium for Wednesday night's Absa Premiership clash with Highlands Park.
Kaizer Motaung has done a remarkable job in building one of the biggest institutions Mzansi has ever seen, with Chiefs boasting over 16 million supporters across the globe, while winning over 50 club trophies since the start of their existence.
Being one of the all-time greats as a footballer both locally and abroad, Kaizer Motaung returned from his playing duties in the USA, starting a new side named the Kaizer XI. It started small and with just a couple of friendlies, but little did Motaung know that he was onto something big.
The skill and flair from the likes of Motaung, Thomas 'Zero' Johnson, Ratha Mogoathleng, Edward 'Msomi' Khoza, Vincent 'Tantie' Julius, Jackie Masike, Herman 'Pelé' Blaschke and midfield genius, Patrick 'Ace' Ntsoelengoe, brought an ever-growing crowd of spectators to watch them ply their trade.
The unexpected support perhaps pushed Motaung into making a life-changing decision to take his team to the next level and just like that, on the 7th of January 1970, Kaizer Chiefs was born.
With the help of various business partners, Chiefs were well-funded, paying their players on time, and during a difficult time in the country, Motaung helped to bring the nation together through football.
It took Chiefs just a year to win their first trophy, claiming the Life Challenge Cup in 1971, with their first league title coming in 1974. Two years later, Motaung decided to hang up his boots and focus more on the administrative responsibilities of the club.
Kaizer Chiefs evolved into one of the biggest and most successful clubs, continuing their cup dominance in the eighties, where they were given the label of being South Africa's "Cup Kings".
However, despite their cup success and memorable moments, one of the club's biggest highlights of their early existence was becoming the first black team to beat a white one.
It wasn't until the eighties and nineties where Kaizer Chiefs went up a gear, appointing the late Ted Dumitru in 1985, who went on to win a lot of silverware in his first spell with the club, claiming no less than eight trophies.
Chiefs always produced top-class footballers, but this era presented the likes of Fani Madida, Marks Maponyane, Shane McGregor and the breakthrough of Doctor Khumalo. Amakhosi set the tone for South African football and in the early nineties, claimed back-to-back league titles for the first time in the club's history. Chiefs also participated in a CAF competition for the first time in 1993.
Getting better seemed impossible. How could a team so good find ways to improve? Well, they did. As time went on, Chiefs associated themselves with trophies as the club lived by Motaung's famous words, seeing "failure as an enemy".
By the early 2000s, Kaizer Chiefs had won the lot domestically, but arguably the club's biggest moment in their history came after their first-ever continental trophy, winning the African Cup Winners' Cup, now named the CAF Confederations Cup back in 2001.
That incredible feat saw the Glamour Boys named as the African Team of the Year the same season with plenty of the club's players dominating the South African national team at the time. Later in the 2000s, Chiefs claimed back-to-back league titles in 2003/04 and 2004/05, staying in touch with the club's values.
Through many generations, to remain successful, you need to have the best players at your club. In their 50-year existence, very seldom did Chiefs field a weakened team, which makes picking an all-time best XI that much harder.
As usual, many big-name players will miss out, but when you look at the line-up chosen, dropping one of those players will be a difficult task.
In goals, Itumeleng Khune throughout his career has been the standout goalkeeper. The back four in front of him, for me, would consist of the late Sizwe Motaung, Lucas Radebe, Neil Tovey and David Nyathi.
Nelson "Teenage" Dladla, John "Shoes" Moshoeu, Doctor Khumalo and the late Pule "Ace" Ntsoelengoe make up the midfield four. The striking partnership none other than Fani Madida and Shane McGregor terrorized defences as a pair when the club signed them in 1987.
Khune
Motaung, Radebe, Tovey, Nyathi
Dladla, Moshoeu, Khumalo, Ntsoelengoe
Madida, McGregor
"The ambition was to create something we could be proud of. We strove to be recognized as an institution of excellence and I think we have achieved that. But never in our wildest dreams did we think we would be here where we are today, a powerful brand loved and supported by millions of people in every corner of the country and across the African continent."
As we wish Kaizer Chiefs well on their 50th anniversary, we can only hope, as football lovers, for more of the same passion, flair and trophies coming from the Soweto-based giant. With over 80 000 fans expected at the FNB Stadium tomorrow in their encounter against Highlands Park, perhaps Chiefs can celebrate in the best way possible, getting a crucial win as the Glamour Boys push for yet another league title.
MORE SOCCER