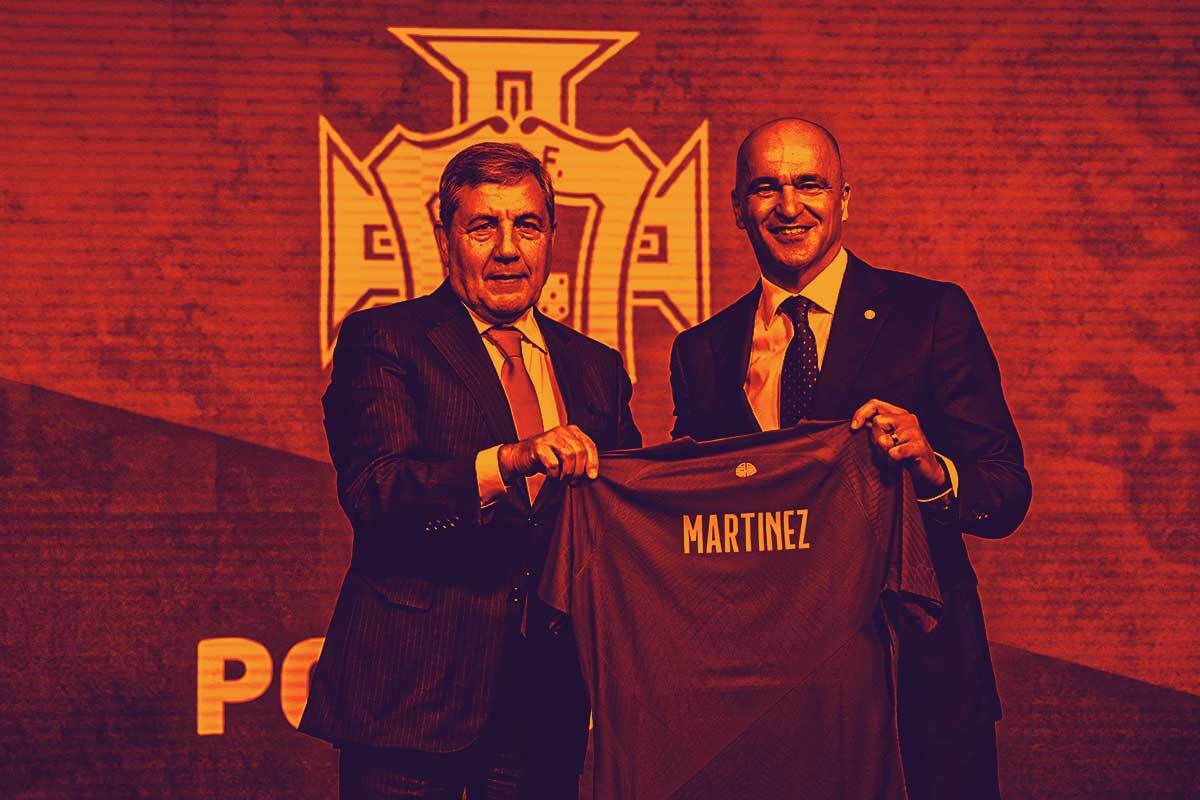 It has been one month since Argentina defeated France on penalties in the 2022 World Cup Final to secure their third star and first title in 36 years. Whilst their respective managers Lionel Scaloni and Didier Deschamps have earned contract renewals until 2026 over the past few months, there have been plenty of managers who have left their posts since competing in Qatar for football's ultimate triumph.
Portugal
Portugal began their World Cup campaign with back-to-back victories against Ghana and Uruguay, before losing to South Korea and topping their group, with the Seleção taking on Switzerland in the Round of 16 in a match that would see Fernando Santos drop Cristiano Ronaldo and João Cancelo from the team. His decision reaped immediate rewards: Gonçalo Ramos, who started ahead of Ronaldo having only made his Portugal debut three weeks earlier, scored a hat-trick as Portugal thrashed Switzerland 6-1, but their historic victory was followed by a 1-0 defeat to Morocco, with Santos stepping down after eight years at the helm and being replaced by Roberto Martinez.
The Spaniard recently cut short a six-year spell as Belgium manager where he led the Red Devils to a third-place finish in the 2018 World Cup, and he has already been busy scouting for talent in the domestic league, appearing at various Primeira Liga matches such as Estoril-Casa Pia, Braga-Boavista and Benfica-Sporting, and he'll be looking to take advantage of a promising young crop of talent including the likes of João Félix, Rafael Leão, Vitinha, Nuno Mendes and more.
Belgium
2022 was a year to forget for the Belgian national team. Having occupied FIFA's first-place position since September 2018, Belgium lost their spot to Brazil in March and fell to a 4-1 and a 1-0 defeat to the Netherlands as well as a 1-1 draw to Wales in the Nations League, finishing six points behind the Dutch, who will host Italy, Spain and Croatia in the Nations League Finals from June 14 to June 18. They opened their World Cup with a 1-0 victory against Canada only to follow that up with a 2-0 defeat to Morocco, with Les Diables Rouges in need of a victory in their final group stage match against Croatia. After finding themselves level 0-0 at the break, Roberto Martinez brought on Romelu Lukaku for Dries Mertens, with the Inter striker missing four big chances and failing to score the go-ahead goal as Croatia advanced to the knockout round and proceeded to finish third.
It was a far cry from their display in 2018 when they finished third after beating Japan and Brazi before losing to France in the semifinals, and it has struck a cord throughout Belgian football with Eden Hazard stepping down from international football at the age of 31 and Martinez leaving his position after six years. It remains to be seen who replaces Martinez at the helm or whether other veterans like captain Jan Vertonghen (35), defensive partner Toby Alderweireld (33) or Mertens (35) will follow in the footsteps of Hazard, but one thing's for sure: from Zeno Debast (19) to Amadou Onana (21), from Roméo Lavia (19) to Loïs Openda (22), there is plenty of young talent on the horizon for Belgium.
Netherlands
After missing the past tournament in Russia, the Netherlands made their return by winning three out of three in their group and beating the United States 3-1 in the Round of 16, before finding themselves 2-0 down within 73 minutes to Argentina and drawing level via a brace from substitute Wout Weghorst to force extra time, with the two sides once again duelling it out in penalties a mere eight years after the Albiceleste beat them on spot-kicks to advance to the final. Emiliano Martínez saved the first two penalties from Virgil van Dijk and Steven Berghuis as Argentina prevailed to the semifinals, where they would defeat Croatia before beating France in Lusail.
Louis van Gaal's third spell as Netherlands manager drew to a close after the tournament, with the 71-year-old returning to management after a five-year hiatus and taking charge of the Oranje in August 2021 and replaced Frank de Boer, who stepped down following the team's Round of 16 elimination to the Czech Republic in the Euros. De Boer had taken charge in September 2020, a month after Ronald Koeman stepped down in order to take on his dream job – managing FC Barcelona. He would last just 14 months at the Camp Nou before getting the ax, and he has returned for a second spell at the helm and will be looking to kick off his reign with a strong showing in the Nations League Finals.
Brazil
On June 30, 2002, Brazil played in their third straight World Cup Final, beating Germany 2-0 in Yokohama via a second-half brace from Ronaldo and winning a record fifth World Cup and second triumph in the last three attempts. Since then, they've been eliminated in the quarterfinals at every single tournament apart from in 2014, when they edged Colombia 2-1 in the quarters only to lose 7-1 to Germany in the semifinals.
Having taken charge in August 2016, Tite's Brazil fell to a quarterfinals defeat to Belgium in 2018 before bouncing back the following year, beating Peru in the Copa América Final, and once again hosting the following edition, only to lose to Argentina in the 2021 Final in Rio de Janeiro. After a strong start that saw them seal qualification to the knockout round after two games, the Seleção would defeat South Korea 4-1 in the Round of 16 before drawing 1-1 to Croatia, with Bruno Petković equalizing in the 117th minute to force penalties, where the Vatreni would prevail and book their ticket to a second straight semifinals berth. It remains to be seen who Brazil replace Tite with, but they are keen to recruit one of the game's top managers with José Mourinho, Pep Guardiola, Carlo Ancelotti and Zinedine Zidane all turning down approaches. Brazil have not appointed a foreign manager for over fifty years, but change appears to be on the horizon.
Poland
Despite losing manager Paulo Sousa to Flamengo in December 2021, Poland enjoyed a successful 2022 that would see them advance to the World Cup qualifier finale after their prospective opponent Russia was banned from competition, with Poland grabbing a 2-0 win under new manager Czesław Michniewicz to book their ticket to Qatar. After drawing 0-0 to Mexico, Poland would beat Saudi Arabia 2-0 before losing 0-2 to Argentina, qualifying for the Round of 16 for the first time in 36 years and falling to a 3-1 defeat to defending champions France. It was not enough for Michniewicz to keep his job, with the 52-year-old ex-goalkeeper – who has spent the entirety of his 20 years in management in Poland – receiving the ax, with Vladimir Petković, Paulo Bento and Fernando Santos being named as potential options to replace him. I spoke to Canal+ Poland journalist Rafał Majchrzak to get some insight behind Poland's managerial change:
"After beating Wales twice and drawing to the Netherlands and losing the other three to the Netherlands and Belgium in the Nations League, the first signs of criticism showed up. The team had no other way of playing apart from counter-attacks. Fans saw a team that was fearful of defeat and had enough, they want a team that fights. In Poland, we have a tendency to glorify managers from abroad, because none of ours made a name for themselves in Europe except for Maciej Skorza and Henryk Kasperczak, and amongst the options available, Petković is the most logical one – he can set the standard for change. We have to choose a manager that will set a new style of play and usher out a few veterans who are past their prime like Kamil Glik, Grzegorz Krychowiak and Kamil Grosicki."
Spain
Spain kicked off their World Cup by thrashing Costa Rica 7-0, taking the lead within 11 minutes via Dani Olmo and doubling it 10 minutes later via Marco Asensio, with a brace from Ferran Torres and goals from Gavi, Carlos Soler and Alvaro Morata giving them the most lop-sided World Cup result since 2010 when Portugal hammered North Korea 7-0. Few, if any, would have imagined that this historic victory would also be their only win in Qatar.
After settling for a 1-1 draw against Germany, Spain would take the lead within 11 minutes via Morata only to concede two goals after the restart as Japan pulled off a 2-1 victory and became the first Asian team to top their group since 2002. They were unable to find a way past a stubborn Moroccan defense, completing 1,019 passes and registering 13 shots – albeit just 1 on target – before heading to penalties. Yassine Bounou saved two penalties after Pablo Sarabia's opening spot-kick careened off the post, with Achraf Hakimi – a player born and raised in Madrid – scoring the decisive penalty to secure victory for Morocco. This prompted the dismissal of Luis Enrique as manager, with Luis de la Fuente taking charge after spending the past decade working with Spain's youth teams. A hardened left back in his playing days, De la Fuente rose up Athletic Bilbao's academy and played a key role in winning the 1982/83 La Liga title – their first in 27 years – before winning the league and Copa del Rey the following year – they have yet to win either competition since then. Can he restore glory to a Spain side that is entering its 11th year without a major title?
USA
Five years after losing to Trinidad & Tobago and missing out on a spot in the 2018 World Cup, the United States headed to Qatar with high expectations after an impressive 2021 that saw them win the Gold Cup and the CONCACAF Nations League. The Stars and Stripes took the lead within 36 minutes of their opening match as Timothy Weah broke the deadlock, but Kieffer Moore's halftime entrance saw Wales take the momentum and grind out a 1-1 draw with Gareth Bale drawing level from the spot. A 0-0 draw against England followed, setting up a do-or-die clash against Iran that would see Christian Pulisic put his body on the line and open the scoring whilst suffering a nasty collision with goalkeeper Alireza Beiranvand, forcing him to be withdrawn at the break as the US prevailed with a 1-0 victory. They returned to the knockout round but found themselves behind within 10 minutes as Memphis Depay opened the scoring for the Netherlands, with Daley Blind doubling the lead before halftime as the Dutch secured a comfortable 3-1 win. For the third straight time, the USMNT's World Cup journey would come to an end in the Round of 16.
Having taken charge in December 2018, Gregg Berhalter's contract expired following the 2022 World Cup and it is unclear if he will return to the helm. Anthony Hudson has taken charge on an interim basis, whilst Berhalter's future remains muddled for off-the-pitch reasons. After informing Borussia Dortmund's Giovanni Reyna that he would have a limited role in Qatar, Reyna reportedly slouched in training and was almost sent home for a lack of effort. The Reyna family responded by notifying the United States Soccer Federation that Berhalter had drunkenly kicked his now-wife Rosalind in 1991, which Berhalter admitted to. Rosalind and Danielle Reyna – Giovanni's mother – were teammates at the University of South Carolina, whilst Claudio Reyna – Giovanni's father – had played with Gregg as adolescents in New Jersey, played with Gregg in numerous World Cups, and had even been the best man at Gregg's wedding.
South Korea
South Korea entered the World Cup as the overwhelming underdogs in their group of Ghana, Uruguay and Portugal, with talisman Heung-min Son struggling for form at Tottenham Hotspur and being forced to wear a face mask after suffering an orbital fracture in his left eye. After grinding out a 0-0 draw against Uruguay, the Taeguk Warriors fell to a 3-2 defeat to Ghana and found themselves down within five minutes against Portugal, only to draw level after a half-hour and grab the go-ahead goal in the 91st minute with Son setting up substitute Hwang Hee-chan to convert a counter-attacking goal. As such, they qualified for the knockout round for the third time, with Brazil going ahead four goals to the good within 36 minutes to set up a comfortable 4-1 victory. Four years after taking charge, Paulo Bento left his position with South Korea following the tournament, and it seems the Portuguese manager is set for a third international job with Poland keen on his services. Speaking to Tavern of the Taegeuk Warriors, a website dedicated to Korean football, I got the lowdown on the situation.
"It sounded like he had decided on leaving the national team in September 2022. The Korean FA had offered him a contract extension of 1 year + an option for 3 further years up to the 2026 World Cup. He turned that down and decided to leave, having wanted to secure a 4-year extension up until the 2026 World Cup.
The decision probably was a win-win for both parties. Korea did very well to advance from their group for the first time in 12 years at the World Cup, but a lot of fans were unsure about Bento's 4 years in charge of the team. He had definitely improved the play of the team, but he was pretty rigid in the group of players he selected. Could this team have been even better if he selected more players from the pool and didn't remain so committed to a specific core group of players?"
Qatar
Prior to last year, only one host nation had failed to progress past the World Cup group stage – South Africa 2010, having drawn to Mexico, lost to Uruguay and beaten France in their three matches. Qatar's showing in the 2022 World Cup proved to be the worst showing of any host country, falling to a 2-0 defeat to Ecuador in the tournament opener before losing 3-1 to Senegal and 2-0 to the Netherlands. Only Qatar and Canada exited the tournament without a single point, and their embarrassing tournament debut has prompted the dismissal of Spanish manager Felix Sanchez, who took charge in July 2017 and proceeded to lead them to the 2019 AFC Asian Cup. Portuguese manager Bruno Pinheiro has taken charge on an interim basis, but his compatriot Carlos Queiroz has been linked to the permanent job and could be set to replace Sánchez. I spoke to Qatari football expert Qatar Football Live to understand the managerial situation for the Maroon.
"Sanchez was afforded seemingly unlimited resources, in addition to being given almost complete control over the players – in the sense that so many rules were designed to ensure that Sanchez's favourite players were kept at two clubs – Al-Sadd and Al-Duhail – and this severely impacted the game at club level. It was as if everything was ignored, with one singular objective in mind – to prepare the team for the World Cup, and now the question is: was it all worth it? Sanchez said after their exit that the team should not be branded a failure. Maybe, he's right about that but the public reaction has been vicious, and from what I've heard the team morale has been very low, especially after the World Cup disappointment came on the back of a six-month camp, in which they have been kept away from their families for extended periods. Fan interest dropped significantly from what was already a very low level because of how only two clubs were seemingly supported by the Qatari FA. Whilst he won the Asian Cup, he failed to build on that triumph, by strengthening the squad, instead holding on to what was essentially the same team and same core, four years later at the World Cup."
Iran
Whilst Japan manager Hajime Moriyasu has extended his contract until 2026, and whilst Australia manager Graham Arnold looks set to return to the helm after an impressive showing in Qatar, the other three Asian teams that competed in the World Cup are entering a period of instability at the managerial position. It remains to be seen who replaces Paulo Bento, but it appears all but guaranteed that Carlos Queiroz will step down from his position as Iran manager and take charge of Qatar.
Having previously managed Iran from 2011 to 2019, Queiroz enjoyed brief spells with Colombia and Egypt before returning to Iran in September, with Team Melli beginning their campaign with a 6-2 demolition at the hands of England before bouncing back with a 2-0 win against Iran, only to miss out on a spot in the Round of 16 after losing 1-0 to the U.S. Speaking to Iranian football expert Gol Bezan, I got the lowdown on Iran's situation.
"The federation have said a new coach won't be appointed until late May/early June, and an Iranian coach is likely at this stage, Amir Ghalenoei and Farhad Majidi being the frontrunners. I didn't want Queiroz to remain, simply because I want us to hit the reset button. This generation of players were his, and most of them are now coming to the ends of their careers, at least with the national team, so a wholesale change is needed. But the issue is, I don't think there is anybody who would take the job firstly, and then have the impact Queiroz did on a new generation of talent. I want him out for a change, but I don't think anyone can provide that change. The biggest questions going forward – Are we going to create a real grassroots system in Iran? Are the top clubs in Iran actually going to invest in their youth systems, and create woman/girls teams? What is our footballing identity going forward? How are we going to improve upon our 2022 World Cup performance in 2026?"
Ghana
2022 was nothing short of a roller-coaster year for Ghanaian football. After finishing bottom of their AFCON group with one point from three matches, Ghana sacked Milovan Rajevac and hired Otto Addo, who had spent all but one year of his life in Germany but had nevertheless racked up 15 appearances for Ghana between 1999 and 2006. Addo took charge on an interim basis and guided them past Nigeria on away goals as the Black Stars booked their ticket for Qatar. They entered the tournament with several new faces including Mohammed Salisu and dual nationals Inaki Williams, Tariq Lamptey, Antoine Semenyo and more, kicking off proceedings with a 3-2 defeat to Portugal and a 3-2 win against South Korea, only to concede a first-half brace to Giorgan de Arrascaeta and lose 2-0 to Uruguay, thus missing out on a spot in the knockout round.
Despite being the lowest-ranking side in the tournament, Ghana made waves in Qatar thanks to a promising spine of young players such as Lamptey (22), Kamaldeen Sulemana (20) and Mohammed Kudus (22), and after parting ways with Addo, they must get their next managerial choice right. The Black Stars are reportedly considering a wide-ranging of options from Steve McClaren to Chris Hughton, from Hector Cuper to Kwesi Appiah, and they will be hoping to strike gold with their appointment as they look to end a 42-year trophy drought in next year's African Cup of Nations.
Ecuador
Ecuador kicked off the 2022 World Cup by demolishing hosts Qatar 2-0 via an early brace from Enner Valencia, following it up with a 1-1 draw to the Netherlands, only to lose 2-1 to Senegal and miss out on a knockout round spot by a razor's edge. Having managed the team since August 2020, Gustavo Alfaro received his marching orders after the tournament, and he looks set to be replaced by his compatriot Ricardo Gareca. This would mean that, with the exception of Peru, Uruguay and Brazil (vacant), every single South American national team would have an Argentine manager in charge.
La Tri have only had one Ecuadorian manager – Sixto Vizuete (who served on two occasions) – since the start of the 21st century, and it doesn't seem that's going to change. Gareca has racked up an impressive CV at 64 years of age, having previously served as Peru's manager from February 2015 to June 2022, leading them to a third-place finish in the 2015 Copa América, a runners-up finish in the 2019 Copa América, as well as a trip to the 2018 FIFA World Cup – their first World Cup berth in 36 years. He has helped Los Incas punch above their weight in his seven years in charge, and he looks to be the perfect choice to get the most out of a crop of promising young players such as Piero Hincapié (21), Moisés Caicedo (21) and Pervis Estupiñán (24).
Uruguay
With two World Cup medals and an assortment of players ranging from Luis Suárez to Diego Forlán, Uruguay have solidified their status as footballing giants for a nation of just 3 million people. And yet, they look set for a difficult transitional period with the likes of Suárez (35), Edinson Cavani (35), and captain Diego Godín (36) approaching the final years of their career. Óscar Tabárez's second spell in charge of Uruguay would see him coach nearly 200 matches between 2006 and 2021, before receiving the ax after a sluggish start to World Cup qualifying, with Diego Alonso taking the reins and leading them to the promised land.
La Celeste would kick off their campaign with a 0-0 draw to South Korea and a 0-2 defeat to Portugal, with Alonso being criticized for a heavily defensive approach. The third match would see Giorgian De Arrascaeta – a substitute in the first two games – start and score a brace to lead Uruguay to a 2-0 win against Ghana, but a late goal from South Korea in the other match would see them fail to reach the World Cup knockout round for the first time since 2002. It remains to be seen whether Alonso – whose contract expired after the tournament – will have his contract renewed, so I chatted to Uruguayan journalist 'Warriors of Uruguay' to get the lowdown on the situation.
"Alonso bottled it at the World Cup. He set up not to lose in the first two games and kept playing Matías Vecino, while a blind man could see he does not deserve to play for Uruguay anymore as well as Godín. It's a shame because he really did well in the qualifiers, in which we did play on the front foot and with a more attacking style of play. At the World Cup, he, unfortunately, proved that the job is perhaps too big for him. The Uruguayan FA will decide what happens after the presidential elections, which are held at the end of February. I wouldn't be surprised to see Alonso continue, however, which would be disgraceful."
Mexico
Apart from European heavyweights Germany, Belgium and Denmark and Uruguay, you'd be hard-pressed to find a bigger disappointment in Qatar than the Mexican national team. After securing a 0-0 draw against Poland and losing 2-0 to Argentina, Mexico found themselves 2-0 up after two quickfire goals after halftime and continued to push for the decisive third goal, only to concede in the 95th minute to Saudi Arabia's Salem Aldawsari. Having lost in the Round of 16 in every single edition since 1994, Mexico would crash out at the group stage for the first time in 44 years, prompting the dismissal of Tata Martino after nearly three years in charge.
El Tri will co-host the 2026 World Cup alongside the United States and Canada, and they are in need of a fresh new start as they look for a new manager and attempt to arrest their decline. I spoke to Mexican journalist Rob Testas to understand the decadence and decay we are seeing in Mexican football.
"I think it is an accumulation of several situations that are reflected in the very low level of Liga MX in the last 3 tournaments. The elimination of promotion and relegation in 2020 has turned out badly, and removing the limit on foreign players means that the best teams have 10 foreigners or more. Most of them have overpaid contracts and that has limited the minutes for many young Mexican talents. The large salaries paid here have caused European clubs not to bet on young Mexicans, who are expensive and overpaid. Tata Martino's project had been adrift for some time and now it is too late for the 2026 process, where the World Cup will be held here in Mexico. We did not qualify for the Paris Olympics (2024) or the U-20 World Cup this year. A disaster, in my opinion. Martino seemed to give a lot of opportunities to young players in the friendlies, but when it came down to it, he left them all out. He did not take a single U-23 player to the World Cup, and Mexico was one of the most veteran countries in the tournament."
Australia
Last but certainly not least, we go to Down Under. Graham Arnold replaced Bert van Marwijk at the helm of the Australian national team following the 2018 FIFA World Cup, guiding them to a fifth-straight qualification after beating UAE and Peru in the playoffs. Few could have predicted after their narrow 5-4 penalty shootout win against Peru that just six months later, they'd be making history.
They would take the lead within nine minutes of their opening match only to succumb to a 4-1 defeat to France, before bouncing back with a 1-0 victory against Tunisia as Mitchell Duke broke the deadlock early on. The Socceroos defeated Denmark 1-0 with Matthew Leckie opening the scoring at the hour-mark, as Australia progressed to the knockout round for the second time ever and the first time since 2006, where they would narrowly lose 2-1 to eventual champions Argentina.
Whilst his contract expired after the tournament, it seems likely that Australia will renew the contract of the 59-year-old Sydney native. He was ranked as the best manager of the World Cup by L'Èquipe, he engineered a stalwart defensive set-up that landed him two clean sheets in three group stage matches, and he enabled Australia to punch above their weight and reach the Round of 16 for the first time since switching over from Oceania to Asia.
SIGN UP TO OUR

BET CENTRAL PLAYBOOK
Get weekly emails packed with the best tips and sports content.
Get ahead of the game now - fill in the contact form below.