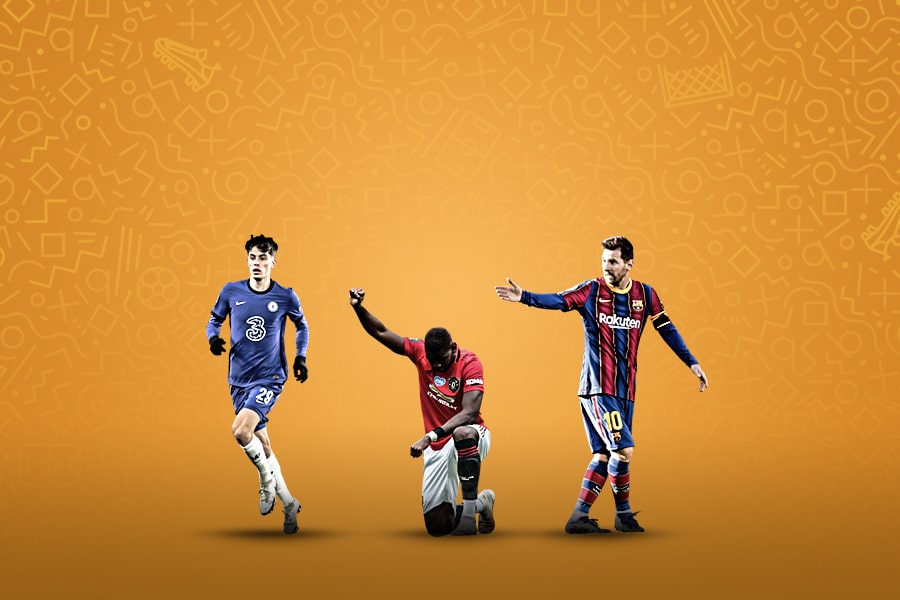 The year 2020 was a bizarre one for everyone and the football community was no different.
Not only were many games played behind closed doors, but there were some unexpected results on the pitch for some of football's greatest teams. The sport experienced its fair share of shock off-field movement from players too.
For some of world football's most decorated and talented players, 2021 could have a major impact on how we view their legacies in years to come.
Lionel Messi
Regardless of what happens this year, Lionel Messi will go into the history books as one of the greatest players of all time. However, whether or not he is remembered as number one in his generation may depend largely on what happens this year.
Messi has six Ballon d'Or prizes, one more than Cristiano Ronaldo. However, Ronaldo is two years older and enjoying a prolific season with Juventus. At the time of writing, he has scored 12 goals in 10 Serie A appearances in 2020/21.
By contrast, Messi has not quite been his usual ruthlessly consistent self despite scoring seven La Liga goals in 14 appearances.
It is difficult to blame him for this, as 2020 has been a particularly difficult year for him. Not too long ago, it would have been unimaginable for Messi to publicly declare that he wanted to leave Barcelona but the club had all but forced him to stay.
He has deferred questions about his future with the club until the end of this season, but whether in the colours of Barcelona or another club, it is vital for Messi's legacy that he does not allow a downturn in form to become a permanent slump.
This could be the year he puts to bed doubts over whether or not he can shine in the colours of a club other than Barcelona, but it could just as easily be the end of his era of dominance.
Paul Pogba
While Messi's contract is set to expire this year, Paul Pogba's current deal with Manchester United will last until the end of June 2022. However, it is difficult to picture him being remembered as the world-class midfielder he could and should be unless he puts his head down and delivers in 2021.
In fairness to Pogba, his situation at United is complicated. He has put in some solid performances since re-joining the club in 2016, but found himself under constant scrutiny for his shortcomings — some of it unjustified.
The 2018 World Cup winner did not cover himself in glory during his feud with José Mourinho. However, rather than showing Pogba the door as they might have during the Sir Alex Ferguson era, United have opted to keep him at all costs — even when his agent, Mino Raiola, has consistently stated that Pogba would like to leave.
It is, perhaps, a tad unfair to expect consistent 10/10 performances from a player who is not fully content at his club. Judging by Raiola's comments, Pogba has faced this predicament for some time.
However, the fact of the matter is that he has yet to fully justify the hype around his transfer back to Old Trafford from Juventus. Judging by his performances on his best days, it is difficult to believe that he does not have the potential to do so.
At 27 years old heading into 2021, Pogba will not have time on his side for much longer. Whatever has been troubling him off the pitch, it is time for him to put it aside and consistently show his best self on it.
Timo Werner
There was tremendous fanfare surrounding Timo Werner's transfer from RB Leipzig to Chelsea for a reported £47.5 million. However, if Werner wants to emulate Didier Drogba and Diego Costa rather than Andriy Shevchenko, Fernando Torres and Álvaro Morata, he needs to shape up in 2021.
All of the above players compared with Werner were strikers and he was expected to lead the line for Chelsea in 2020/21. However, he has so far been utilised mostly on the wing.
Werner has so far failed to consistently put his best self on show for Chelsea. He has put himself into good shooting positions but often missed gilt-edged chances to score. There have been flashes of creative brilliance every now and then, but little to justify his hype. Werner has four goals and five assists in 16 Premier League appearances so far.
Adjusting to a new country is not always a simple task. Morata got off to a good start at Chelsea, but by his own admission, was unhappy in London and never felt quite at home at the Blues. Looking at his performances as the weeks dragged on, one could tell as much.
While Morata had already enjoyed stints at Juventus and Real Madrid prior to joining Chelsea, the Blues are the biggest club Werner has played for. It is vital for his career trajectory that he does not allow Frank Lampard to run out of patience with him and that he seizes every opportunity presented to him in 2021.
Kai Havertz
Havertz finds himself in a similar predicament to Werner at Chelsea, but his price tag was even higher at a reported £70 million.
Lampard has struggled to fit Havertz into his team. As versatile as the Germany international is, his best football has been played in a no10 role. With so many quality attacking players to consider, it has not been easy for Lampard to utilise him here.
Havertz has shown a commitment to the cause through a difficult first few months at Chelsea (including a spell on the sidelines with COVID-19). However, an inevitable consequence of his transfer fee is that he will be under pressure in 2021 to produce more spectacular performances.
Leroy Sané
Sané cost Bayern Munich a reported fee of approximately €50 million ahead of the 2020/21 season as they lured him from Manchester City. However, he has endured a largely frustrating start to life at the Allianz Arena.
A winger with blistering pace and an eye for goal, Sané surely did not expect when he left the Etihad Stadium that mere months later, he would be hauled off in a crucial match against Bayer Leverkusen barely half an hour after coming on.
Unfortunately for Sané, that is precisely what happened to him in Bayern's last match at the time of writing, a 2-1 win over their closest title challengers.
The form of Kingsley Coman has relegated Sané to a bit-part role. In 2021, he needs to stand up and be counted, using the humiliation he suffered against Bayer Leverkusen to spur him on.
If he can prove to Hans-Dieter Flick that he has the desire and hunger to become a Bayern Munich icon, then at 24 years old, the door is not shut just yet.
SIGN UP TO OUR

BET CENTRAL PLAYBOOK
Get weekly emails packed with the best tips and sports content.
Get ahead of the game now - fill in the contact form below.