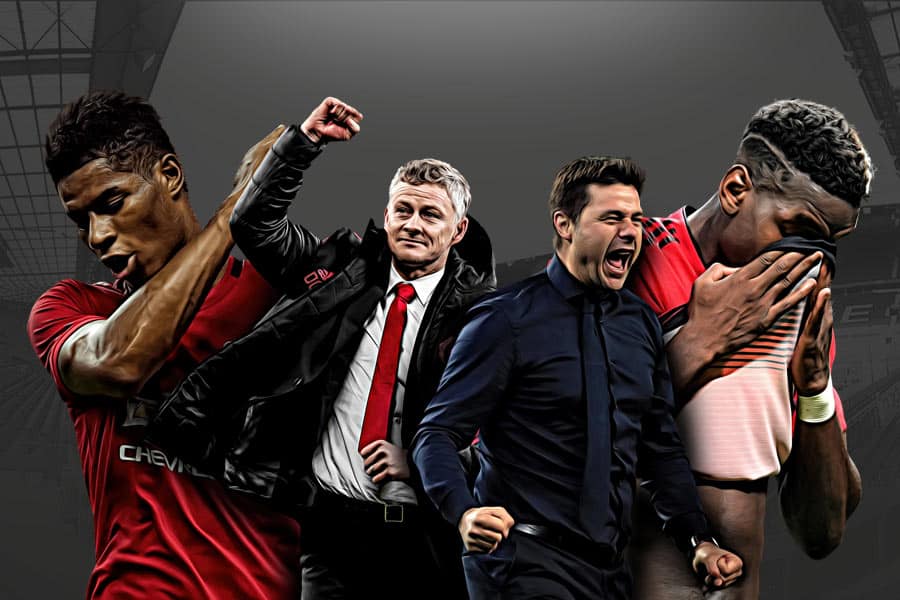 27 January 2019, by: Zach Lowy
How to Rebuild Manchester United for 2020/21
With just a week left in the January transfer window, Manchester United's record in the Premier League currently stands as follows: nine wins, seven draws, eight losses. A mid-season performance that might sound accurate for a club such as Villarreal or Schalke, but certainly not the wealthiest club in England.
Marcus Rashford, the club's top scorer with 19 goals, looks set to be sidelined until April at the earliest due to a double stress fracture in his back. Yet despite their talisman's injury and the rest of the squad's undeniable flaws, United have done nothing this window except allow Ashley Young to join Inter for a minimal fee.
The club are paying the price for sticking in their comfort zone and not being ruthlessly efficient during last summer's transfer window. A club of United's stature cannot allow this rut to continue. It's time to turn United around; it's time for a long, expensive rebuild that must begin in the summer transfer window. Here are five things United must do to get back to the top.
"This man was a bonafide scrub. He can't play! No disrespect whatsoever, but…the man cannot play the game of basketball." Those words from American sports pundit Stephen A. Smith describing the 2008 trade of Kwame Brown to the Memphis Grizzlies, but replace "play" with "coach" and "basketball" with "football," and they just as easily could be attributed to Manchester United manager Ole Gunnar Solskjaer.
There isn't a single team in the Premier League that would swap their manager for Solskjaer. The Norwegian failed at Cardiff City despite being backed in the transfer market and was fired two weeks after a summer window that saw the likes of Bruno Ecuele Manga and Adam le Fondre join the Bluebirds. And despite a transfer window that saw Daniel James, Harry Maguire and Aaron Wan-Bissaka arrive at the club, he's still failing to get the job done at Old Trafford. United are fooling themselves if they think keeping patience in him will yield any long-term benefits.
It's time to take off the rose-tinted glasses, cut the cord, and face the music. Solskjaer isn't anywhere near the required level for the United job. They'd be better off handing the job to a proven manager who, in five years, took a club that was reeling outside the top six, and took them all the way to the Champions League Final. Manchester United need to give Mauricio Pochettino the keys to manage this new, expensive project.
United have devolved into an ineffective, bloated squad under Ed Woodward, a club whose attractive salary offerings have made it increasingly difficult to sell underperforming players. Still, they've got to do their best to trim the fat and offload the deadweight.
Sergio Romero has served admirably as a backup goalkeeper since arriving in 2014, but with the Argentine turning 33 next month, United would do well to cut their ties and bring back Dean Henderson from his loan at Sheffield United. The 22-year-old has been a saviour between the sticks at Bramall Lane, playing an essential role in the Blades' successful promotion campaign and their unexpected Cinderella story this season.
David de Gea only just signed a contract with a bumper wage increase that will likely see him earn £375,000 a week until he's 35, but the Spaniard has been struggling this season, and Henderson would provide him with far more competition than Romero. If the two keep up their current form, there's every chance that Henderson could end up benching the highest-paid goalkeeper in football.
Aaron Wan-Bissaka and Harry Maguire both joined the club last summer and have so far shown enough to both merit starting spots in the defence. However, United's manager next season (whether that will be Solskjaer or someone else remains to be seen) will need to be backed to repair the defence and challenge for Champions League football next season.
First, the club must free up space in the wage bill by selling Eric Bailly, Phil Jones, and Marcos Rojo, all of whom have seen their stock decline over the past few years.
They should also pull out all the tricks in the book to sell Luke Shaw, who has been overshadowed by academy graduate Brandon Williams this season.
It's been six years since Louis van Gaal's side broke the bank for the then teenager, but at 24 years old and still no signs of being United quality, it's time to cut ties. If they manage to offload Shaw and his £195,000 a week salary, they should replace him with Benfica's Álex Grimaldo.
Ethan Laird is talented enough to compete with Wan-Bissaka for the starting right-back position. On the other hand, they should loan out Diogo Dalot, who has struggled for playing time since arriving in the summer of 2018, and see if he can stay fit for a season before making a decision on whether or not to sell him.
Despite breaking the transfer record for a defender with the signing of Maguire, United still need a leader who can revolutionize their back four like Virgil van Dijk has done for Liverpool. They should smash Maguire's record to sign Kalidou Koulibaly from Napoli.
The Partenopei rejected a £91 million offer from United for the Senegalese defender last season, but they might just have better luck this summer. Following the player mutiny and the dismissal of Carlo Ancelotti from his managerial position, owner Aurelio De Laurentiis looks set to dismantle the squad that unsuccessfully challenged Juventus for the Scudetto under Maurizio Sarri.
This rebuild will see De Laurentiis eager to dispose of the top earners at the club, like Dries Mertens, Allan, and possibly even Koulibaly. United should step in and sign one of the best central defenders in Europe, who at 28, still has plenty of years left in his prime.
Paul Labile Pogba is still, by a country mile, the best midfielder employed at Manchester United. But after a failed move to Real Madrid last summer and injury struggles that have kept him out of Solskjaer's starting line-up since September, it's time to part ways.
With the medical staff rushing him back from injury and risking his short-term and long-term health for matches against Watford and Newcastle last month, and the pathetic scapegoating that has seen him take the blame for United's woes despite not even playing, it's time to end this experiment once and for all. United should sell Pogba this summer and rebuild the rest of their midfield.
Along with Pogba, United should also offload Nemanja Matić, and look to get rid of Juan Mata, Andreas Pereira and Jesse Lingard too. For the holding midfield spot, they should complete a Benfica double swoop by signing Florentino Luís. The 20-year-old midfielder has struggled with playing time this season, but he has the defensive skill-set to make the holding midfield role at the Theatre of Dreams his own.
Whether or not Dean Smith's Villains stay up this season, United should also attempt a double raid at Villa Park. John McGinn and Jack Grealish, the latter of whom has a £45 million release clause in his contract according to The Times's Matt Hughes, would both take United's midfield up a notch, and with both players entering their prime, they'll have far more longevity at the club than Matić or Bastian Schweinsteiger could manage.
To secure Champions League football, United need to beef up their attack. They have paid the price for failing to replace Romelu Lukaku and Alexis Sánchez, with Rashford being run ragged to the point where he was playing through immense pain every single match before being sidelined for 2-3 months.
Both Pochettino and Woodward know the danger of overusing a young English forward all too well. Harry Kane has suffered several bouts with injuries over the past year, and when he did play, he looked to have lost a yard of pace compared to previous seasons. Wayne Rooney, England's captain before Kane, said goodbye to his prime far too early thanks to physical decline from playing too much football.
To not run Rashford into the ground, United must sign a striker to take the load off his shoulders and allow the manager to rest him more frequently. They could do a lot worse than Lille's Victor Osimhen, who has scored 10 goals in Ligue 1 since joining Les Dogues in the summer.
Osimhen can also fill in for or even partner Anthony Martial, Solskjaer's primary option up top. The Frenchman has had his fair share of injury trouble over the past few years, but Osimhen could fill in for Rashford or Martial, or play alongside them, with the latter two operating from wide positions.
Daniel James and Mason Greenwood are both talented prospects, but United could do with a nimble wide playmaker to take their creativity up a notch. Enter: Jadon Sancho. The insanely gifted winger won't be sticking around Dortmund much longer, but if United can beat out the likes of Chelsea and Real Madrid for him, they'll have one of the best teenagers in football at their fingertips.
Will United sign all of their players and get rid of all of that dead weight in just one summer? Almost certainly not. Will they finally part ways with Solskjaer and replace him with a more esteemed coach? Who's to say. But for a club with the financial resources of Manchester United, they should be aspiring for so much more. It is an indictment of Woodward's disastrous time in charge that after so many record-breaking transfers and so many bloated salary increases, that United are closer to the relegation zone than they are to Leicester City.
MORE SOCCER