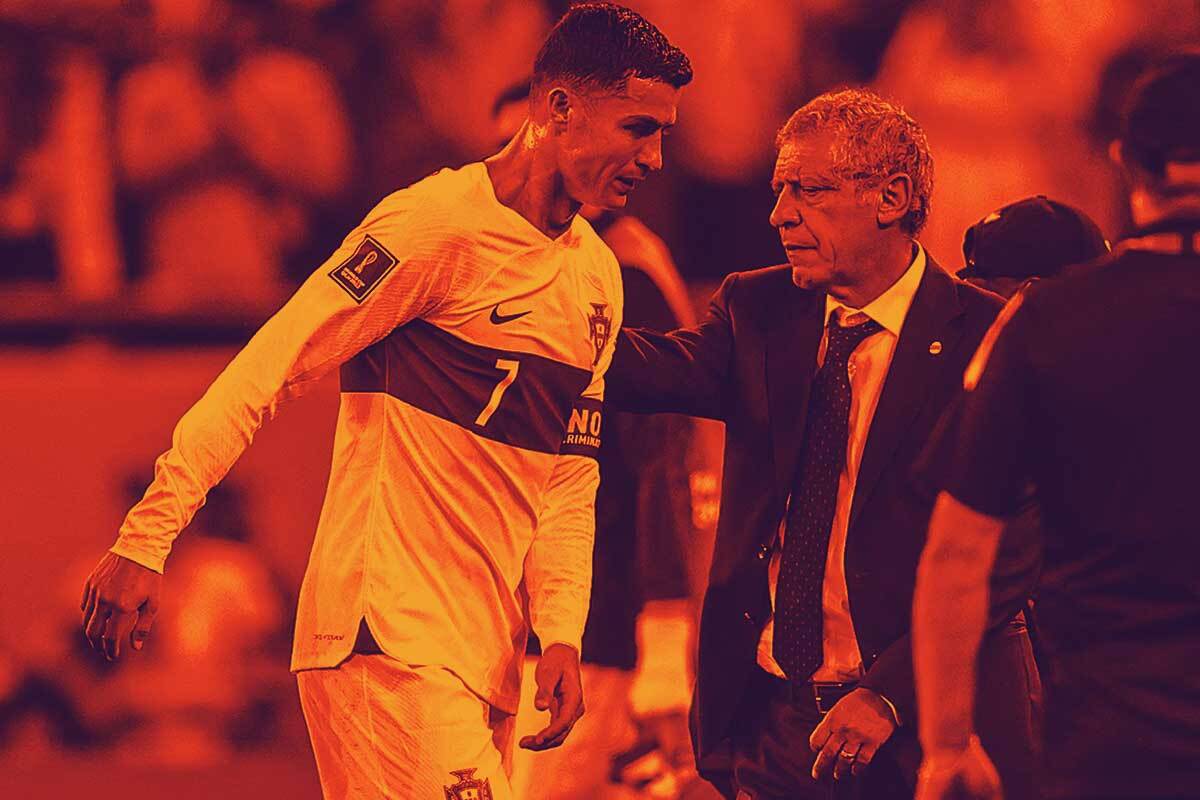 Portugal's maiden World Cup journey would see them finish third, beating Hungary, Bulgaria, and Brazil – sending the reigning back-to-back champions packing in the group stage and causing Pelé to temporarily put his Brazil career on hold – before defeating North Korea 5-3 in a comeback victory that would see them go three goals down after 25 minutes, only to turn around the deficit via four goals from Eusébio, who finished as the tournament's top scorer with 9 goals. The 'Pantera Negra' would score from the penalty spot in the following match to halve England's lead but was unable to find another in the final minutes as the Three Lions progressed to the final via a brace from Bobby Charlton, where they would beat West Germany 4-2 in London – Portugal, meanwhile, defeated the Soviet Union 2-1 in the third-place match.
The Seleção would have to wait 20 years before their next appearance in the world's biggest competition, which would see them avenge their '66 defeat by snatching a 1-0 win against England via a late goal from Carlos Manuel, before falling to a 1-0 defeat against Poland. Their next opponent was Morocco, who were playing in their second tournament after finishing bottom of their group in 1970 – also held in Mexico – and who began their tournament with goalless draws against England and Poland, setting up a do-or-die match-up in Zapopan. Abderrazak Khairi would open the scoring within 19 minutes and added another shortly after, with Abdelkrim Merry tripling their lead at the hour mark and Diamantino Miranda grabbing a consolation goal in the 80th minute for Portugal. The Atlas Lions topped their group with 4 points, 1 above England and Poland and two above Portugal, who failed to progress to the knockout stages. Morocco became the second team from outside of Europe and the Americas to reach the second round of the competition after North Korea's 1966 debut, where they would lose 1-0 to eventual finalists West Germany via an 88th-minute goal from Lothar Matthäus. The Atlas Lions would return eight years later, but their fortunes worsened on the other side of the border as they lost to the Netherlands, Saudi Arabia and Belgium by a combined scoreline of 2 to 5. They began their 1998 campaign by drawing 2-2 to Norway, losing 3-0 to Brazil before thrashing Scotland 3-0, and they would have been headed to the knockout round if Norway didn't beat Brazil 2-1 in their final group stage match — and their last group stage match in the World Cup to date.
It would take Portugal another 16 years to return to the world's biggest stage, with the Seleção opening their campaign with a 3-2 loss to the United States and a 4-0 win against Poland, before losing 1-0 to co-hosts South Korea in a match that would see Portugal concede a late goal to Park Ji-sung shortly after being reduced to 9 men. Whilst Portugal were condemned to a second straight group-stage elimination, South Korea would go on to beat Italy and Spain before losing to Germany in the semifinals.
After suffering a heartbreaking 1-0 defeat on home soil to Greece in the 2004 Euros Final, Portugal won each of their three group stage matches and defeated the Netherlands and England before losing 1-0 to France in the 2006 World Cup semifinals, with Zinedine Zidane opening the scoring within 33 minutes of the penultimate match of his career. It would be the final World Cup for several veteran players like Ricardo, Luís Figo, Pauleta and Nuno Gomes, a crushing moment for various players including Cristiano Ronaldo. The 21-year-old winger was coming off an impressive third season at Manchester United that would see him chip in 12 goals and 8 assists across 47 appearances — he surely could not have predicted the meteoric ascent that would see him emerge as one of the deadliest players in world football, playing a key role in attack as Manchester United achieved three straight league titles after a three-year drought as well as reach two Champions League Finals and a first Champions League trophy in 9 years. Nor could he have predicted that this heartbreaking defeat to Les Bleus in Munich would be the final trip to the semifinals in his illustrious career.
He would depart Old Trafford in 2009 after suffering a 2-0 defeat to FC Barcelona in the Champions League Final, joining Real Madrid for a world-record €94 million and quickly impressing for Los Blancos with 33 goals and 10 assists in 35 games in a season that would see Los Blancos exit the Copa del Rey at the Round of 32 to lower-tier Alcorcón, lose to Lyon in the Champions League Round of 16, and miss out on the league title to FC Barcelona by three points, resulting in the dismissal of Manuel Pellegrini after one trophyless season in charge and the arrival of Portuguese manager José Mourinho. Ronaldo would head off to South Africa for his second World Cup, beginning his campaign with a goalless draw against the Ivory Coast before scoring the final goal in Portugal's 7-0 thrashing of North Korea, but he was unable to find the back of the net in their following two matches, a 0-0 draw to Brazil and a 1-0 defeat to Spain in the Round of 16.
Four years later, Ronaldo arrived in Brazil on the back of a campaign that would see him end a 13-year Champions League drought and deliver La Décima – the 10th European Cup – for Real Madrid. It would also see him play through the pain barrier amid a persistent battle with tendinosis in his knee and adductor injuries, a struggle for fitness that would take its toll. Portugal lost 4-0 to Germany in their opening match and drew 2-2 to the United States before beating Ghana 2-1 in a match that would see Ronaldo snatch a late winner – it was effectively irrelevant, though, as Germany and the US went through to the knockout round. The next four years would see Ronaldo win three more Champions Leagues and a league title for Real Madrid, as well as the first-ever major title for Portugal in the 2016 Euros, with Ronaldo finishing as the top scorer in the 2017/18 Champions League with 15 goals and hinting at a potential departure in his post-match interview following Los Blancos' victory in the final. He headed off for Russia with the knowledge that he had likely played his final game for Real Madrid, with Ronaldo opening the World Cup with a hat-trick in a 3-3 draw against Spain and an early goal in a 1-0 victory against Morocco – who were playing their first World Cup in 20 years – but he failed to score in the following two – a 1-1 draw and a 2-1 defeat to Uruguay – as Portugal suffered another early elimination. Portugal had reached more World Cups in the past 12 years with Ronaldo in the team than they had in the previous 40 years since making their debut, but what did he truly have to show for it? A penalty goal against Iran in 2006, a goal in a blowout victory against North Korea in 2010, a goal against Ghana in 2014, a hat-trick against Spain and a goal against Morocco…all coming in the group stage. 2022 would be his last chance to truly make an impact and leave a lasting legacy in the game's biggest competition.
Unlike in 2018, when he was in the process of leaving one club for the other, Ronaldo entered the 2022 FIFA World Cup as a free agent for the first time in his career, with Manchester United rescinding his contract after a viral interview with Piers Morgan that saw the Portuguese superstar criticize his club: "At United, the progress was zero, in my opinion, A club with this dimension should be the top of the tree in my opinion and they are not, unfortunately. They are not in that level. I don't know what's going on but since Sir Alex Ferguson left I saw no evolution in the club, the progress was zero." Little did Ronaldo know that this incendiary interview would be the most memorable thing from his final World Cup.
At first, it seemed as though this rescission would be a weight off his shoulders and allow him to reach the levels we have become accustomed to. Whilst he botched an early chance vs. Ghana, he generally looked in his element in Portugal's first match, opening the scoring after a half-hour only to have it annulled due to a foul, drawing a penalty and breaking the deadlock at the hour-mark to become the first male footballer to score in five World Cups and picking up the Man of the Match award following a 3-2 victory. Whilst he found little joy against Uruguay's deep block, he nevertheless showed signs of the old Ronaldo, soaring above opponents to win aerial duels and completing an audacious shoulder-pass to set up a chance. Once again, though, he found himself out shadowed by his former club teammate Bruno Fernandes – having assisted two goals in quick succession vs. Ghana, Bruno scored a brace to lead Portugal to a 2-0 win vs. Uruguay.
As a result, Portugal were the only team to secure progression to the knockout round alongside Brazil and France, and with first place all but guaranteed, Santos took the opportunity to rotate with Diogo Costa, Pepe, João Cancelo, Rúben Neves and Ronaldo the only players to retain their spots in the line-up for the final match. Ricardo Horta broke the deadlock after five minutes only for Kim Young-Gwon to equalize shortly after a corner kick that saw Ronaldo inexplicably turn his back and duck out of the way, allowing the ball to bounce off his back and fall to the path of the South Korean defender. Santos elected to make a triple substitution in the 65th minute and brought on João Palhinha, Rafael Leão and André Silva for Neves, Matheus Nunes and Ronaldo. Whilst Ronaldo sauntered off, South Korean striker Cho Gue-sung motioned for him to speed his exit, to which Ronaldo put his index finger to his mouth and got into a spat with the opponent: "I told him to shut up, he has no authority, he doesn't have to say anything."
This reaction left Santos deeply unimpressed, with the manager remarking after the game: "Have I seen the images? Yes, I didn't like it, not at all. I didn't like it. I really didn't like it. But from that moment onwards everything is finished regarding that issue. These matters are resolved behind closed doors. It's resolved. Full stop on this matter and now everyone is focused on tomorrow's match." He also refused to confirm that Ronaldo would be wearing the captain's armband for Portugal's Round of 16 match after they fell to a 2-1 defeat to South Korea that saw Hwang Hee-chan fire in a late winner and secure their place in the knockout round.
As it happens, when there's smoke, there's fire. Santos kept just three starters in the line-up from the South Korea match – Diogo Costa, Diogo Dalot, and Pepe – and dropped Ronaldo from the team. Gonçalo Ramos, who had made his Portugal debut three weeks earlier in a friendly against Nigeria and scored a goal and an assist off the bench, before coming off the bench against Ghana and Uruguay, would be starting at centre forward. The 21-year-old Benfica striker quickly justified Santos' trust by launching a rocket past Yann Sommer into the top corner, adding two more goals and an assist as Portugal thrashed Switzerland 6-1. In doing so, he became the first Portuguese player to score a hat-trick in a World Cup knockout round since Eusébio against North Korea in 1966.
Santos made just one change to the line-up in the following match, with Neves – who had started each of the first three games – getting the start in the holding midfielder position ahead of William Carvalho. They faced off against a resilient Morocco side that had conceded just once in their first four matches and that had defeated Belgium, and Canada, drawn to Croatia and eliminated Spain on penalties. The Atlas Lions set up in their disciplined 4-1-4-1 mid-block, closing down space in central areas and preventing Portugal from having success on the wings with Hakim Ziyech and Sofiane Boufal constantly tracking back to prevent wide overloads. Portugal never looked close to breaking the deadlock apart from an early free kick that saw Bono palm away João Félix's header and a deflected shot from Félix that soared above the goal and went out for a corner, and whilst Portugal had the bulk of possession, Morocco had the bulk of clear-cut chances. They went forward with purpose and cut through a Portugal defense that had more holes than Swiss cheese, with Azzedine Ounahi and Sofyan Amrabat bossing the center of the pitch and finding attackers in dangerous positions with carefully crafted switch passes. It paid off; in the 42nd minute, Yahia Attiyat Allah – starting at left back in the place of the injured Noussair Mazraoui – launched a cross towards Youssef En-Nesyri, who soared above Rúben Dias and headed home past Costa in goal, who was late to come off his line and react. Shortly after the restart, Santos brought on Cancelo and Ronaldo for Guerreiro and Neves, but it was to little avail. Even with their captain Romain Saïss coming off in the 57th minute with an injury, resulting in a back four composed solely of backups apart from Achraf Hakimi, Morocco bent, but they didn't break.
Apart from a one-touch layoff pass for Félix that would see the Atleti forward fire a scorching effort that was tipped over by Bono, Ronaldo struggled to get into the game, making 10 touches, losing possession five times, and winning a foul. As the clock stretched into injury time, Bruno played an inch-perfect through ball to Ronaldo who dashed towards the edge of the box and fired in a shot with his first touch, but his tepid effort was comfortably saved by Bono. Substitute Walid Cheddira picked up two yellows in quick succession and received his marching orders in the 93rd minute, but it was too little too late; Morocco held on and became the first African team to reach the World Cup semifinals.
There are plenty of what-ifs and questions that have left Portuguese supporters scratching their heads over the past week. Neves' reintroduction in midfield made little sense from the offset, and the Wolves captain failed to justify his starting spot with a dismal performance that saw him unable to find players in tight areas with incisive passing and unable to shut down counters and protect his backline. Why bench William after a strong display against Switzerland? Why did João Palhinha – Portugal's best-equipped midfielder when it comes to breaking up transitions and winning physical duels – not play a single minute? Why did Rafael Leão, arguably the best Portuguese attacker of the past 12 months, not start a single game for the Seleção?
Three of Portugal's eight trips to the World Cup have seen them get eliminated in the group stage, whilst two of them have seen them lose in the Round of 16. To call Portugal's tournament a disappointment would be hyperbole – they topped their group, thrashed Switzerland, and generally played far more progressive football than the drab, conservative tactics that had defined the past few years. Ultimately, though, it wasn't good enough, and it has seen Fernando Santos' time in charge come to an abrupt end after eight years. It remains to be seen who replaces Santos at the helm, but there are several pressing concerns that Portugal must sort out before the 2024 Euros kick-off. Pepe is still going strong and remains the Seleção's best central defender, but with his 40th birthday just weeks away, finding a long-term successor is imperative – whether that's Tiago Djaló, Diogo Leite, António Silva (who, like his Benfica teammate Ramos, made his debut for Portugal against Nigeria), Gonçalo Inácio or someone else – only time will tell. Apart from Bruno Fernandes, João Félix was arguably Portugal's strongest performer this tournament, and it is imperative that he leaves Atlético Madrid with the utmost prudence and joins a club that suits his unique skillset. Whoever the new manager is, he must find a formation and a line-up that gets the most out of his players – the constant chopping and changing of tactics and line-ups by Santos clearly did not help matters – and that allows dynamic wide players like Leão the freedom to get forward and wreak havoc in the final third.
As for Ronaldo, his biggest priority right now will be finding a new club. Having failed to attract a single Champions League club after an entire summer of begging for a move, it seems that Ronaldo will now be forced to choose between taking a pay cut and playing for a slightly smaller European club, or cash in and accept a reported £173 million-a-year offer to play for Saudi club Al-Nassr. He currently finds himself 11 above Lionel Messi as the all-time Champions League goalscorer with 140 goals – with no team holding him back from a potential transfer and demanding a fee for him, can he find his way back into Europe's elite club competition? He has gone level with Kuwait's Bader Al-Mutawa (also an active player) as the most-capped player in international football with 196 appearances, and he currently finds himself 9 goals above retired Iranian forward Ali Daei and 20 above Lionel Messi as the top international scorer with 118 goals. It is unclear whether or not a move to Saudi Arabia would see his involvement with the national team reduced even more, but one thing is for sure: his individual performances in Qatar did little to convince Europe's top sides that he's still the same lethal world-beater that we've grown accustomed to.
Following the elimination, Ronaldo stated on his Instagram account: "Winning a World Cup for Portugal was the biggest and most ambitious dream of my career. Fortunately, I won many titles of international dimension, including for Portugal, but putting the name of our country on the highest level in the world was my biggest dream…Unfortunately, yesterday the dream ended."
Cristiano Ronaldo will be 41 when the 2026 FIFA World Cup begins; Lionel Messi will be 38. If there's anything that these two have taught us over the past two decades, it's that impossible is just another word for them, but it seems more and more likely that Ronaldo will end his career without a single trip to the World Cup Final or a single World Cup knockout round goal. Whilst Messi's final tournament will be remembered for the individual masterclasses, the goals, and the epic performance to clinch Argentina's first World Cup since 1986, Ronaldo's will be remembered most for an ill-advised interview that resulted in his dismissal from Manchester United. It will also be remembered for his somber walk down the tunnel at Al Thumama Stadium following the Morocco defeat, and the tears of a man who has realized that Father Time has finally caught up with him.
SIGN UP TO OUR

BET CENTRAL PLAYBOOK
Get weekly emails packed with the best tips and sports content.
Get ahead of the game now - fill in the contact form below.