€223m Spent so Far, What to Expect From Lampard and Chelsea?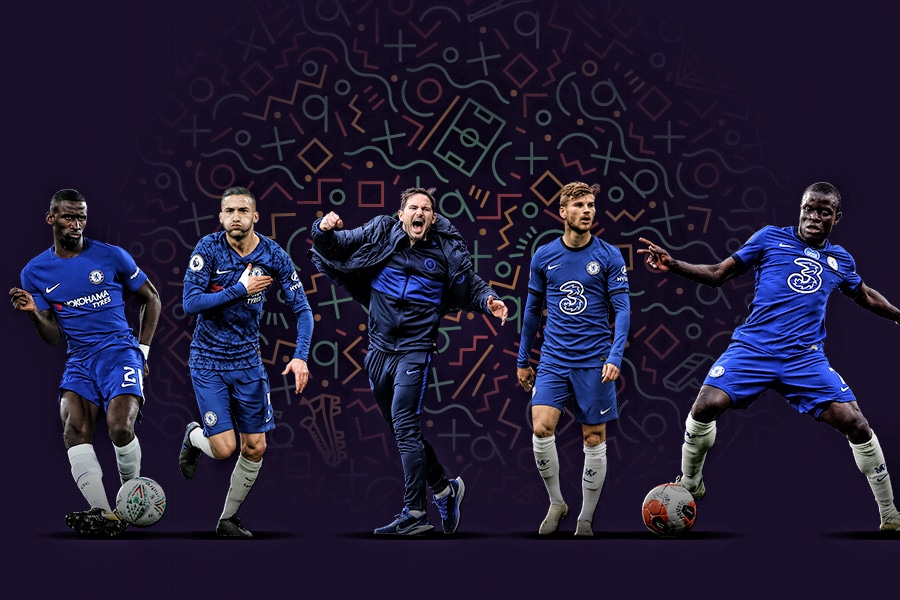 Ahead of the 2020/21 Premier League season, Frank Lampard's Chelsea ™ have added four big-money signings to their squad with over €223m spent, as well as two defenders from Ligue 1 on free transfers. With several weeks left of the transfer window, the club's spending is not likely to be complete. With such an outlay, what are the expectations of Lampard and Chelsea this season? Can they realistically be expected to win the title?
The Deals so Far
At this stage, in addition to the free transfer signings of Thiago Silva from Paris Saint-Germain and Malang Sarr from OGN Nice, Chelsea have signed Hakim Ziyech (€40m), Timo Werner (€53m), Ben Chilwell (€50m) and Kai Havertz (€80). The club clearly targeted young and dynamic players who are in, or entering their peaks years, like Ziyech (27) and Werner (24) or who are a little younger and can develop in coming seasons, like Sarr (21, and set to go out on loan), Havertz (21) and Chilwell (23). Four of the signings are left-footed players who can bring greater balance to the squad.
Also arriving is soon-to-be 36 year old Thiago Silva on a one-year contract, with a club option to renew for a second season. The veteran still looked to be playing at a high level in PSG's run to the Champions League final and brings leadership both on and off the pitch, something needed after the departure of experienced players like Willian and Pedro. With a place in the Brazil squad for 2022 FIFA World Cup in Qatar a real aim for Silva, he has plenty of drive and motivation left in him. His signing is undoubtedly a stop-gap ahead of the Chelsea targeting a big-money, top centre back next summer, such as RB Leipzig's Dayot Upamecano.
At 29, someone like Kalidou Koulibaly may be considered too expensive for his age. Whether Silva can adapt to such a physical league is a big question mark but it's a low-risk addition for Lampard and his pedigree will come in handy, at the very least, in the Champions League. Having played in Italy and France and speaking those languages, he can communicate well with Antonio Rudiger (who speaks Italian from his time at AS Roma) and Kurt Zouma.
With the transfer window only closing on the 5th of October, some three weeks after the Premier League season starts, Chelsea are still expected to sign a new goalkeeper with Edouard Mendy of Rennes the most likely addition. The Senegalese 'keeper may be 28 but he would come at a reasonable price and is significantly better at dealing with aerial balls than Kepa, who was nothing short of a disaster last season with every possible metric ranking him near the bottom compared to other Premier League goalkeepers.
Mendy would arrive from Petr Cech's former club and the "technical and performance advisor" would hopefully have done extensive research and due diligence, whilst Christophe Lollichon, one of Chelsea's goalkeeper coaches, worked with Cech at Rennes and will have connections at the club. He is also French and would have carefully followed Ligue 1 and has spoken glowingly about Mendy.
One other possible late addition could be Declan Rice from West Ham. A Chelsea academy player until the age of 14, he would provide competition as a defensive midfielder or in what many consider his rightful and long-term position at centre back. That deal may have to wait a year though unless Chelsea decide to take the big decision to sell Kurt Zouma to balance the books or manage to find a buyer for Jorginho.
Was Lampard Forced to Use Youth?
With a transfer ban in place when Lampard was appointed and no additions being made to the squad except for the arrival of Christian Pulisic and turning Mateo Kovacic's loan from Real Madrid into a permanent deal, numerous academy players got their chance at the club. Many have given Lampard a lot of credit for this after years of frustration within the club and the academy at the lack of a clear pathway to meaningful first-team minutes.
Wasn't this just forced on Lampard though because he couldn't sign players? Why did he get credit for something he had no choice but to do? Probably because at every turn, he chose the academy option to be part of the squad instead of more experienced international players. Had Maurizio Sarri stayed in charge, he would likely have pushed hard to turn Gonzalo Higuain's loan into a permanent deal as this would have been allowed under FIFA rules even during a transfer ban (like with Kovacic). Chelsea had an already-agreed option to buy the Argentine striker which had been negotiated at the time of his January loan signing. That addition would likely have meant another loan for Tammy Abraham or even a sale to Aston Villa after their promotion. Lampard could simply have used Olivier Giroud and Michy Batshuayi from the start and not used Abraham.
In defence, Sarri was a big fan of David Luiz and would certainly not have sanctioned a sale to Arsenal. That would have meant no space for Fikayo Tomori and probably none for Kurt Zouma either, who had not done enough to impress the Italian coach in preseason a year earlier and was loaned out. At right-back, Chelsea had Davide Zappacosta, who Sarri had trusted in both the Europa League semi-final and the final and who started the final league game in preference to Gary Cahill, with Cesar Azpilicueta in central defence. There is every chance that he would have stayed under his countryman and Reece James would have had a loan spell in the Premier League, with Crystal Palace very keen on his signature.
In midfield, Sarri would likely have stuck with his preferred trio from his first season with Ross Barkley as first backup and Ruben Loftus-Cheek as next in line upon his return from injury. It's possible that someone like Mason Mount could have been kept at the club as a squad player, but that is optimistic. Lampard had both Tiémoué Bakayoko and Danny Drinkwater as experienced options, but went with Mount and offloaded the former duo to create opportunities for the teenager, Billy Gilmour too.
On the flank, with Willian, Pedro and Pulisic, there is no guarantee that Callum Hudson-Odoi would have played any more than he did under Lampard but that is a moot point as the youngster most likely would not have renewed his contract under Sarri and could have been sold to Bayern Munich, who had made a £35m bid and were not said to have been put off by his ruptured Achilles injury. The fact is, Lampard had plenty of choices in his squad but he chose to select youngsters ahead of experienced internationals – on merit, it should be said – and he deserves all the praise that came his way for those calls.
Where Everyone Fits
Of course, with three new and versatile attacking players, the question is where everyone fits in tactically. Whereas Thiago Silva and Ben Chilwell simply go into the back four, it is more of a question mark where Ziyech, Havertz and Werner will play. The most simple solution is to simply play the three of them in their most usual and natural roles: Ziyech on the right flank (replacing the outgoing Willian), Havertz as the number ten and Werner up front. Without doubt, a 4-2-3-1 with those three additions playing in those roles will often be the selection. That would leave Pulisic on the left wing (once over his hamstring injury) with Mount either on the bench or challenging for that left flank role. Abraham and Giroud would offer more physical options off the bench and Hudson-Odoi would be a pure winger option to change games or battle Pulisic to play wide.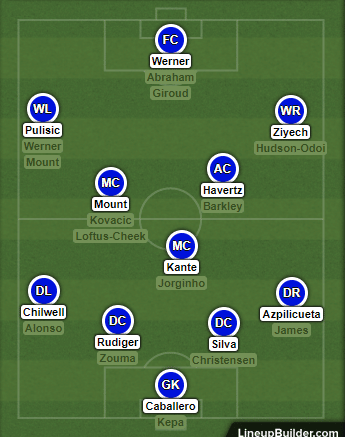 However, with the extremely congested schedule, there is a huge amount of game time to go around and everyone is going to get their share of minutes. Anyone thinking Mount's place at Chelsea may be in danger is mistaken. He brings an energy and counter-pressing ability which exemplifies what Lampard wants from his team and that's why the long term plan may be to use a 4-3-3 shape… with one holding player and two number eights/number tens in Mount and Havertz. The latter may not be quite ready for that role on a weekly basis just yet, but expect to see that setup for a lot of games this season, especially at home.
Werner is also able to play a wider role for matches where an aerial box presence is required so Abraham will have minutes to compete for (and rotation is a thing), whilst Giroud looks ideally suited for all of these attacking midfielders to play off. There is a reason why Eden Hazard said he loved playing with the French striker and why his presence brings out the best in Antoine Griezmann and Kylian Mbappé at international level.
The one area with question marks over depth and quality which is often ignored is central midfield. Chelsea have just three genuine options to play in a double pivot in Kovacic, Jorginho and N'Golo Kanté. The latter only played 20 of Chelsea's 38 league games last season and his absence was felt desperately. In the FA Cup final, he was an unused substitute after a hamstring injury and was sorely missed.
For Chelsea to effectively play a 4-3-3 with just one holding player, Kanté has to stay fit as a midfield of Jorginho, Mount and Havertz could be far too open. Lampard used that shape in the two games before lockdown (with Billy Gilmour – out with a medium-term knee injury – as the holding player) and the first five matches after the restart with Kanté in that position on four occasions. However, he also used that shape for home wins against Brighton, Newcastle and Burnley several months earlier (with a Jorginho-Mount-Barkley midfield) and it does appear to be something he wants to use more often next season. With nine wins in ten games using that system, it has already borne fruit.
The other area where there is not actually much depth is the winger department. With just Ziyech, Pulisic and Hudson-Odoi (if we look at Werner as predominantly a central striker) then that it just three players for two positions. Therefore, in games where a 4-2-3-1 is used and Kanté has a genuine partner in Jorginho, Kovacic or Declan Rice, should he arrive, then players like Mount and Barkley could get minutes coming in off the wing. That still doesn't give a clear place for Loftus-Cheek and it is a worry that his injury is still affecting him and that he may need to find minutes out on loan from January, or even until January. If he were to miss out on matchday squads in the early weeks of the season, he could be a left-field loanee close to transfer deadline day.
Defensive Disaster
There is no doubt that Chelsea conceded a disastrous number of goals last season. The side had issues at defending crosses especially when Zouma didn't play, they were exposed constantly on set plays and had Kepa Arrizabalaga being beaten by a disproportionate percentage of the shots he faced. If Chelsea are to significantly improve this season, the backline has to be less porous. Thiago Silva will hopefully help with that as a calm head alongside the club's physically gifted plethora of options in that area.
However, there remains a feeling that Lampard does not fully trust Zouma and he is the one centre back who could command a large transfer fee if sold. This is despite him being the best aerially by a distance and having a strong 2019-20 season overall. Andreas Christensen remains an enigma and with just three clean sheets in 27 starts last season, his elegance and "potential" (at 24 years old) is what is leading to continued faith in him. Antonio Rudiger has a mixed season last year having missed several months with injury and then he only really started looking himself when alongside Zouma as the duo kept four consecutive clean sheets at one stage. However, his game was riddled with errors and unnecessary fouls (and therefore set plays to defend and concede goals from).
It's hoped that with Silva alongside him and two German international teammates arriving for him to take under his wing in something of a leadership role, that he can find his best level again. Under Sarri, he delivered a fine season despite being in a pretty exposed setup and under Antonio Conte, he put together seven consecutive clean sheets in seven starts in December and January in a decent first year at Chelsea.
Fikayo Tomori showed massive potential last season but curiously fell out of favour after January despite the team achieving some outstanding away results with him in the lineup. His outings at home to shackle Mohammed Salah and in keeping clean sheets away at Ajax and Tottenham were particularly impressive. He looks set for a year out on loan, though.
The hope is that with a competent goalkeeper, greater speed at left-back with Chilwell and the organizational abilities of Thiago Silva, that the defensive record will improve greatly.
What Does Success Look Like?
After Lampard's first season in charge where he took the side to fourth place and an FA Cup final – a successful season in the context of a transfer ban in the summer window and with the integration of many academy players. Repeating that this season would likely be seen as a disappointment, even though some pundits, including Gary Neville, have predicted Chelsea to drop out of the top four. Whilst Chelsea always harbour ambitions of winning the league, a realistic expectation for this season is to finish in third place but also to get significantly more points than the 66 achieved last season. Around 75 points, third place, a deep run in the Champions League (hopefully a quarter-final) and trying to win a domestic cup would be fair for this coming season.
Chelsea may have spent big money and signed half a dozen players who could start the majority of matches, but they also did so in the summer with zero preseason to properly integrate the players and ahead of the campaign with the busiest schedule and the least time to work on the training ground. To compare, Chelsea are probably at the stage that Liverpool were at ahead of the 2017-18 season… certainly going in the right direction but probably at least one year and a top goalkeeper and central defender away from a genuine title challenge.
One thing is for certain: it will be fascinating to see how Lampard sets the side up tactically, how he gets the best out of the three new attacking players, how he uses the youth players now that there is greater depth and competition, and whether he can improve the team's defensive issues. It's likely to make for exciting viewing and few teams' opening match will have as many interested eyes on it. The first game is next Monday night, away at Brighton.