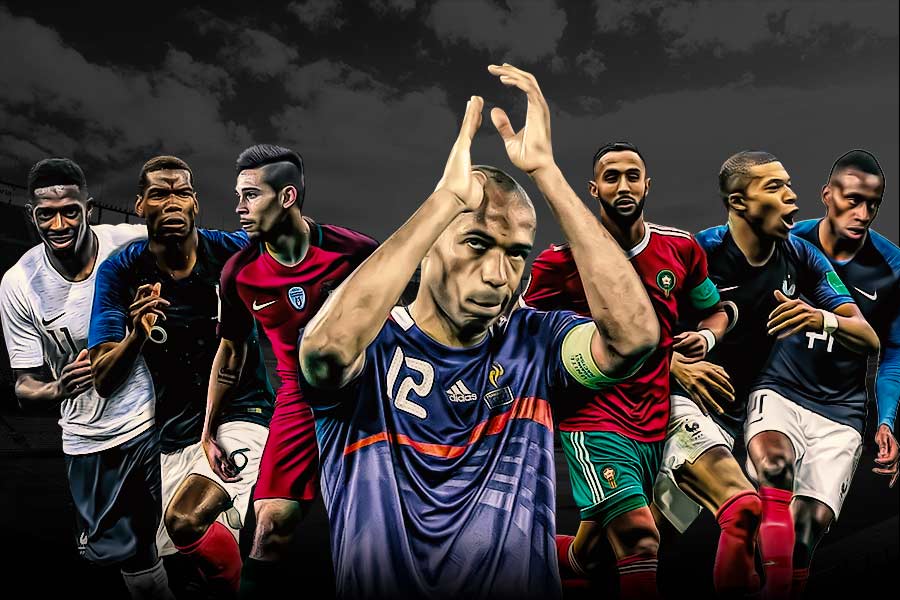 07 October 2019, by: ZACH LOWY
Clairefontaine: The French Football Talent Factory
This past (European) summer, 552 players from 24 African countries flew to Egypt to compete for glory in the Africa Cup of Nations. Out of those 552, Marcel Tisserand shepherded the Democratic Republic of the Congo's backline en route to the Round of 16.
Mehdi Benatia captained the Moroccan side just as he had done the year prior in the World Cup, but the Atlas Lions fell short in the Round of 16 with a shock defeat to Benin. Yacine Brahimi, despite barely playing throughout the tournament, reached a career milestone by winning it all with Algeria.
GET ACCESS TO

THE BEST CASH OUT IN SA
Extensive pre-match & live in-play cash out across more leagues and tournaments than anywhere else.
Be in total control with more cash out opportunities than anywhere else!
Exclusive to BET.co.za customers.
While these players play for different clubs and countries, they do have two things in common: they all grew up in France, and they all developed at the Institut national du football de Clairefontaine, France's national football centre.
Brahimi certainly isn't the first Clairefontaine graduate to taste international success. Raphaël Guerreiro developed at the academy between 2005 and 2008 before lifting the European Championships with Portugal a decade later. Kylian Mbappé and Blaise Matuidi both played roles in France's World Cup triumph of 2018, following in the footsteps of fellow Clairefontaine graduate Thierry Henry, who won it in 1998.
Today, France are the reigning world champions, but even that title doesn't quite give their talent production credit. Look at every heavyweight in Europe, and nearly everyone has a French youngster they splurged a record fee for.
Barcelona broke their transfer record in 2017 by spending €105 million plus add-ons on then 20-year-old Ousmane Dembélé (a fee that was surpassed five months later with the signing of Philippe Coutinho).
Bayern Munich smashed the Bundesliga's transfer record by spending €80 million on 23-year-old Lucas Hernandez, a fee that nearly doubled the amount they spent on their previous record transfer–fellow Frenchman Corentin Tolisso.
Manchester United smashed the Premier League transfer record when they signed Paul Pogba (then 23) three years prior, and Tottenham broke their transfer record with the signing of Tanguy Ndombele.
Perhaps one of the reasons for France's unparalleled talent production is the fact that, unlike many Premier League teams, Ligue 1 clubs regularly give chances to their teenage prospects.
Just this week, six players born in the 21st century (2001 and on) started in Ligue 1's midweek fixtures, whilst several teenagers born in 2000, like Nice's Yacine Adli and Strasbourg's Mohamed Simakan, also enjoyed starting spots.
It's a perfect storm of club academies churning out top-tier prospects and managers rewarding their growth with first-team opportunities.
This past June, I headed to the south of France for the annual Toulon Tournament, which saw twelve international sides compete for glory in one of the most prestigious youth tournaments in Europe.
France's team, largely made up of 18-year-olds and 17-year-olds, impressed, but they failed to progress to the semifinals due to a goal-differential that was skewed by a 4-0 defeat against the eventual champions, Brazil.
But given the fact that Brazil's star-studded team was mostly composed of players in their early '20s, Les Bleuets did not fail to live up to their expectations.
In fact, several of those players, like Han-Noah Massengo (18, Bristol City), Bafodé Diakité (18, Toulouse), and Rayan Aït-Nouri (18, Angers) are currently starting for their clubs despite being three years away from being able to order a beer in the States.
An official of the Brazil team substantiated my optimism. To paraphrase, he said, "If the 18-year-olds of France played against the 18-year-olds of Brazil, the French team would destroy them."
When even citizens of the País do futebol are confirming France's status on the football food chain, one can safely say that France have achieved a paramountcy like never before. And Clairefontaine has played a leading role in carving out Les Bleus' path to the top.
The academy, located in the outskirts of Paris, was established in January 1988 to develop the best youngsters from the Île-de-France region. The seeds, however, were sown 12 years prior, when the French Football Federation (FFF) president Fernand Sastre spoke of the need to create a national football centre.
He was inspired by ex-France manager Ștefan Kovács, who himself was inspired by the communist training centres in his home country of Romania. A statue of Kovács was erected at Clairefontaine in 2000.
All applicants must be between the ages of 13 and 15, must be living in the region Île-de-France (though exceptions are made for residents of the Seine-Maritime and Eure regions), and must have French citizenship.
After each district in the Île-de-France region conducts a trial, a select group of players from each locale are chosen to attend tryouts at Clairefontaine during the Easter holidays. After the weekend, a maximum of 22 players are selected to train at Clairefontaine.
Players spend the entire week at the academy but are given the weekends and school holidays off to spend with their family and play with their parent clubs. They must fulfil the academic requirements at the nearby Collège Catherine de Vivonne de Rambouillet, and after completing their studies, they enrol at the Lycée Louis Bascan de Rambouillet in pursuit of earning their Baccalauréat.
The FFF are aware that not all players will make it at the top level; some may suffer a devastating injury, some may decide on a different career path, some may fall off after initial hype. Whatever the reason, the federation takes care of all educational costs, with the desire to form not just well-rounded footballers, but well-rounded men.
Within the enormous training centre, which spans 66,000 square meters of turf, players' technical skills, physical fortitude, and psychological factors are put to the test. Coaches focus on skill training, encourage players to use their weaker foot, and attempt to nail down both tactical training (positional awareness, automatisms etc.) and technical training (juggling, dribbling etc.)
Ever since the 1998 World Cup, which saw the first Clairefontaine product (Henry) included in a Les Bleus squad, Clairefontaine's talent production has been paying dividends.
France won back-to-back Confederations Cups in 2001 and 2003, won the European Championship in 2000 and finished as runners-up in 2016. Before 1998, France had never been to a World Cup Final. Since then, they've been to three and won it twice.
When he signed on as France's manager in 1973, France Football journalists asked Kovács how long it would take to make France into a good team. He replied, "with structures in eight years, ten years, we can make a good national team."
It's been 46 years, but France are on top of the world thanks in no small part to Kovács' vision.
JOIN BET.CO.ZA NOW AND
GET 100% DEPOSIT MATCH UP TO R1000
Open your BET.co.za account here
Deposit using your preferred method
Your bonus gets added immediately!
MORE SOCCER