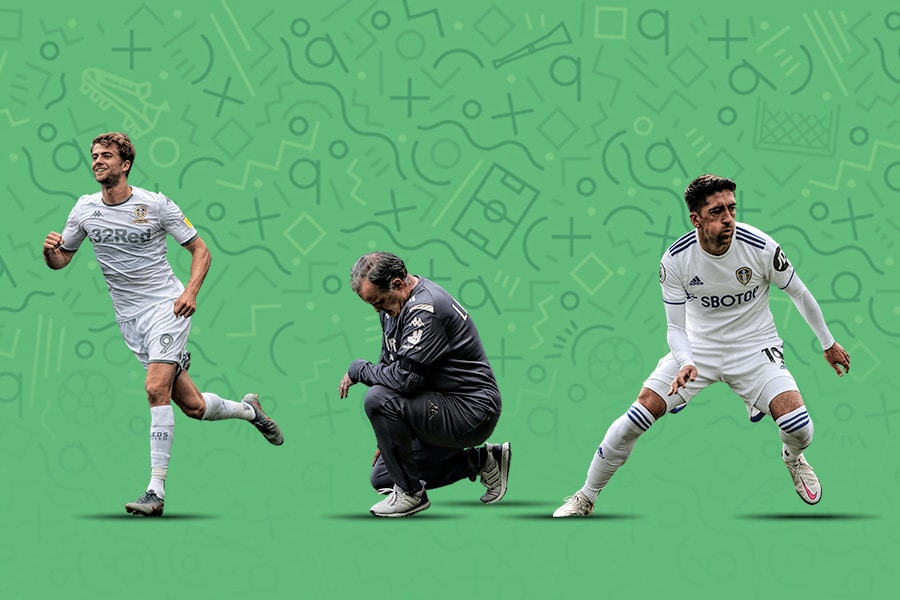 Leeds United are finally back in the English Premier League (EPL) for the first time in 16 years. They face a baptism of fire as they visit last seasons runaway champions, Liverpool, in the league opener at Anfield on Saturday. Fans across the globe will be waiting in anticipation to see how Marcelo "El Loco" Bielsa fares against the Premier League's top dog Jurgen Klopp.
It's common knowledge that Bielsa is admired by manager's around the world, his most high profile fan is Pep Guardiola, who regards Bielsa as a person who influenced his football tactics, analysis, and transactions. The 64-year-old manager is widely eulogised for his workaholic nature and also his detailed but fluid formations.
He arrived at The Whites in 2018 after being convinced by the Andrea Radrizzani project and the future of the club. Radrizzani, an Italian businessman had bought the club in 2017 for £45 million. The mandate was very simple – to get United back to the Premier League. The task wasn't as simple and there were doubts about Bielsa's lack of coaching experience in England and also his communication in English, he does his interviews with a translator by his side (sometimes correcting the translator when he is not satisfied).
Bielsa was actually fourth on Radrizzani's list when it came to the management appointment with Claudio Raineri, Roberto Martinez and Antonio Conte being front runners. But sporting director Victor Orta convinced Radrizzanni to go for Argentine philosopher. A day after being approached by Leeds, he had already watched seven matches of the club. That gave insight into the type of person and worker Bielsa was and the amount of genuine passion he carried for the beautiful game. As such, there was no surprise, he managed to hit the ground running in the first season but his failure to beat Derby County in the playoff was a blow to the gut for the fans after a promising and exhilarating season which ended in the ultimate disappointment.
His first season was not short of drama as the "Spygate" incident nearly tarnished his reputation. Some English media labelled him as a "cheat" after tasking someone to supervise Derby County's training to learn more about their strength and match build up. However, Leeds only had themselves to blame for not qualifying after running out of steam at the back end of the season.
The former Athletic Club manager knew what was at stake for the second season, a club to gain promotion remained a priority for owners and fans. Leeds United is a massive club, in fact, they are the only club in the city of Leeds so for some locals, they are an extension of the city. Bielsa achieved their objective and in some style in his second year and solidifying his cult hero status. Leeds got whooping 93 points in 46 games, 10 points more than to runners up West Bromwich Albion.
The manager has given the fans something to cherish and has got them back in their seats like in the early 2000s. To think, the club once lost in the Uefa Champion League semi-final against Valencia in 2001 and then ended up spending sixteen years in the footballing wilderness. Heading to Anfield, Jurgen Klopp has already warned his troops about the danger that "BielsaBall" could pose for them. On paper, this should be an easy win for Liverpool but Klopp is wary of the newly promoted club, which is indicative of how much he respects Bielsa.
Despite ironing out his contract and that of his backroom staff throughout the offseason (Bielsa negotiates for his team and distributes the money himself and quite generously apparently), Bielsa was always in the control of recruitment. Leeds made some good acquisitions in their quest of maintaining Premier League status with Rodrigo arriving from Valencia for a club-record £26m. The 29-year-old Spaniard would provide the necessary experience and quality to the team. Rodrigo is not a typical number nine, his fluid movement should suit BielsaBall and could see him play alongside striker Patrick Bamford.
The other signing is centre-back, Robert Koch. Leeds were desperate to keep Ben White but Brighton kept hold of him with German international a nicely priced replacement at £13 million (much less than Brighton's valuation of White.) Bielsa will want Koch to do what White did, keeping Leeds' defensive formation and organisation.
But the biggest question remains if how much of the impact will football without fans have on Leeds? For a newly promoted club, a 12th man provides a varying degree of motivation for players, especially the Leeds faithful, but time will tell. There are some reports that fans might be allowed as from October which might be what the club needs especially missing top-flight football for years. Even Gary Neville once revealed that Elland Road's electrifying support makes it a hostile place for any visiting team.