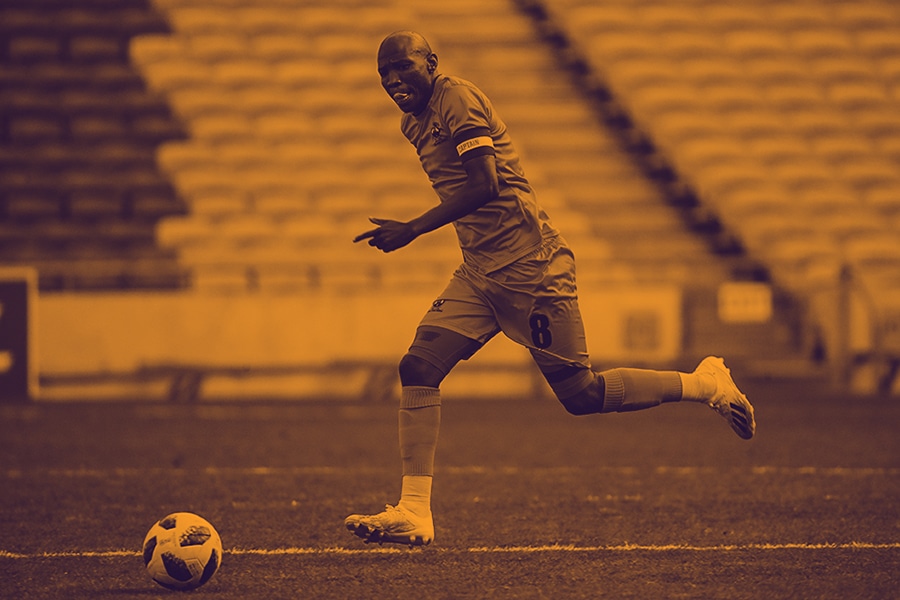 Selecting a national team is never a simple job. There is no way to select a squad that will satisfy everyone.
But there are a few South African players who could feel hard done by having never got opportunities to represent their country. Especially when one considers that you can earn full caps for representing the nation in tournaments like CHAN, or Cosafa, where a full strength squad is seldomly selected.
This is a list of those players, who for whatever reason, have been overlooked time and time again. All the players are experienced campaigners, as I have not looked at younger players, who could still get selected soon. These are journeymen of the football leagues, who are all over the age of 27 and remain uncapped at senior level.
Goalkeepers
Siyabonga Mbatha
It was a decade ago that Mbatha made his debut at Bloemfontein Celtic, but it was at African Warriors, FC Cape Town, Thanda Royal Zulu and his current club Amazulu, that he came into his own. After leaving Celtic he spent five seasons in the National First Division, gaining experience, and since his return to the top flight with Amazulu, he has shown great qualities, though hasn't always been consistent. Despite healthy competition, he has featured in over two-thirds of all games Amazulu has played since his arrival. There have been numerous calls for Mbatha to get international recognition, especially in 2019 when he was in a rich vein of form.
Siyabonga Mpontshane
Having made his name at Platinum Stars, Mpontshane has been called up to the Bafana squad a few times, but he never earned a cap. Now an Orlando Pirates player, he has, unfortunately, found himself not playing regularly enough but considering that other goalkeepers have been capped without playing for their clubs at all, he can count himself unlucky to not have played a game.
Thela Ngobeni
The former Kaizer Chiefs and Mamelodi Sundowns player only got his opportunity to shine when he went on loan to Free State Stars back in 2016. But he had always shown great potential and was spoken of as a future Bafana player. He moved on to Highlands Park and now finds himself at Swallows where he will need to compete for the first-team spot.
16 goalkeepers have been capped in the last decade. Spare a thought for recently retired Shuaib Walters, who would've topped this list if he was a current player. Despite call-ups that spanned over a decade, and being part of the 2010 World Cup squad, Walters never got any playing time.
Defenders
Ebrahim Seedat
Now at TS Galaxy, Seedat only came into his own during his stint at Cape Town City. But he's been around for some time and has had two spells in Europe. He was at Lokeren with Ayanda Patosi but returned to South Africa where he played for Wits in the 2012/13 season. A short spell in Sweden with Degerfors followed that before he returned home again to play for Milano United. The former ASD academy player was one of the first players Cape Town City signed when they were founded in 2016. Considering the lack of left-backs and his consistency at City, he really should've been given a chance.
Luvolwethu Mpeta
There was a time when Mpeta looked like he was a future international. The former Platinum Stars and SuperSport United defender earned a few call ups to squads in that time, but never got onto the pitch. Unfortunately, his career jettisoned a few seasons ago, and after returning to Dikwena, he was one of the players who were relegated with the club. He didn't make the move to Cape Town when the club was rebranded as Cape Umoya United. But he returned to playing football last season when he joined Tuks in the Glad Africa Championship. Not sure where he'll end up this season yet, but fair to say he missed his shot.
Ryan Rae
Rae spent six seasons at Highlands Park, after joining from Mpumalanga Black Aces. Once he became a regular in the first team he was consistent and brought something different with his long throwing ability. I always thought he would get a chance in a CHAN or Cosafa squad. Having moved to Chippa this season, it will be interesting to see how Rae progresses, but I think his international aspirations might be behind him.
Zitha Macheke
Now at Stellenbosch, Macheke has been a consistent performer in the PSL ever since leaving Kaizer Chiefs for Chippa United in 2015. But it was actually whilst on loan at Thanda Royal Zulu that Macheke came into his own. He returned to Chippa and shone for two seasons before joining Wits, where he stood out once again. Even though I expect him to be a key player for Steve Barker's team this season, I think that he's not going to get a chance at international level.
Mathome Mathiane
The Golden Arrows captain has been one of the most reliable defenders in the country for almost a decade. Perhaps had he been at a bigger club, he would have gotten a chance for Bafana, but that opportunity never came around. There aren't many centre backs of Mathiane's generation who didn't get a look in at some point, but unfortunately, he didn't.
Ayanda Nkili
Nkili spent five years in Sweden before he returned to South Africa to play for Stellenbosch in the NFD. He went on to join Polokwane City for 2 seasons and is now at TTM. Nkili is an accomplished defender, and while injuries have hampered his career, he is very unlucky to not have been given a chance with Bafana, especially when he was in Scandinavia.
Alfred Ndengane
Ndengane first came on my radar when he was at FC Cape Town, where he stood out at the now defunct NFD club. That led to a move to Bloem Celtic, where he continued to shine and I thought he might get a chance for one of the 'backup' Bafana squads. When he moved to Pirates, I thought that opportunity would come. But it didn't and the now 33-year-old TTM player will probably never get that chance.
Paulos Masehe
He's played all over the pitch, as a striker, as a midfielder before settling in defence, but he never did it for his country. After 5 seasons at Sundowns and 2 at Pirates, he settled in the Free State with Ea Lla Koto, where he has now been since 2006. He has always been a warrior on the field, giving his all, and probably deserved at least one cap in his almost two decades of football.
Midfielders
Jabu Maluleke
What? No caps? There are more than 200 currently active players who have caps for the national team, and somehow Maluleke isn't one of them (over 40 of those 200 are also currently free agents). In fact, during Maluleke's two decades as a player, there has been around 800 players capped and somehow he's been ignored. It's kind of ridiculous when you see some of the players who did get to wear a Bafana shirt ahead of Maluleke. Yes, selection is subjective, but it's still ridiculous.
Lucky Mohomi
Mohomi came to the fore at Free State Stars, but he had already shown potential at United FC and Ga-rankuwa United. His high profile move to Mamelodi Sundowns scuppered any international aspirations as he fell down the pecking order at the club. While he could still get a chance now that he's moved to Supersport, many other midfielders have emerged and chances are he's missed his window.
Ben Motshwari
It was 7 seasons ago that Motshwari made the jump from third-tier football to top flight. And despite consistently impressing for both Wits and Pirates, who he joined in 2018, he is yet to be capped at national level. The former Trabzon FC player might still get his chance, but at 29 he has probably missed the opportunity to be an international regular.
Surprise Ralani
Yes, he is 33, but Ralani would be one of the first choices for any current Bafana squad if I was a selector. Having spent most of his career ignored in Scandinavia, Ralani returned to South Africa and despite dozens of starring performances for Cape Town City he has been ignored again. For me, Ralani is exactly the type of player I want representing my country – hard-working, skilful, speedy, a game-changer, who despite his age and experience, is as hungry as ever.
Mark Mayambela
If fans selected national teams, Mayambela would probably have dozens of caps. He has a bit of a cult status wherever he goes, and to be fair he's often misunderstood. A natural game-changer, Mayambela has an artist's temperament that seems to polarise coaches. But he has been able
Lebogang Moloto
Who? Most of us in South Africa don't know much about Moloto, but the 27-year-old has been plying his trade in the USA for the past decade. From Des Moines to Pittsburgh to Swope Park to Nashville and now at Tulsa, Moloto has featured in over 200 games and scored almost 50 goals. But despite consistent performances, he has never featured or been part of a Bafana squad.
Keagan Buchanan
Buchanan has been a stand-out player for almost every club he's played at, but injuries have curtailed a promising career. Unfortunately, that has meant not getting a look in at international level. While his chances aren't completely over, he is, unfortunately, competing with some high profile players for positions.
Lantshene Phalane
Phalane burst onto the scenes with Baroka many years ago, when Baroka were in the third tier and shocked all in the Nedbank Cup. It didn't quite work out in his first few years as a pro after joining Platinum Stars. He moved on to Milano, Tuks, and then the old Moroka Swallows. But since being at Bloem Celtic he has shown that he could live up to his potential.
Kurt Lentjies
If you had asked anyone who saw a young Kurt Lentjies whether he was going to play for Bafana, the answer would have almost certainly been yes. It's why Sundowns signed the former Ikapa Sporting player. But it didn't work out at Chloorkop and he moved on to Maritzburg United. After three seasons there, he had brief spells at Bloem Celtic and SuperSport, before returning to Maritzburg for another four seasons, before joining Chippa in 2017. During all that time he's played in over 300 games and been consistently good. But not good enough for Bafana coaches sadly.
Attackers
Rodney Ramagalela
This is another one that amazes me. One of the most consistent strikers in domestic football over the past decade, 'Rama G' should have got a chance years ago. The former Black Leopards, Sundowns, Golden Arrows, Polokwane City and Highlands Park striker had all the qualities to shine at international but somehow ten Bafana coaches ignored him.
Victor Letsoalo
Letsoalo has been a regular goalscorer ever since he first burst onto the scenes in professional football with Baroka. But in the past few months, he has shown a knack for not only scoring goals but important ones as he has helped Bloemfontein Celtic into two consecutive cup finals. Unfortunately despite glimpses of his ability over the past six seasons, Letsoalo hasn't been considered international material. While his chance is certainly not over, he sadly doesn't have the high profile some of his rivals do.
Waseem Isaacs
While Isaacs has seemingly only emerged in the past year or two with Stellenbosch, he has been around for quite some time. He made his debut for FC Cape Town way back in 2009/2010. Two years later he moved to Slovakia and played for Michalovce, but things didn't work out overseas and he returned to play in the NFD with Vasco, Milano, All-Stars, FC Cape Town and Ubuntu before joining Stellenbosch. The powerful and versatile forward has always shown a lot of promise but has somehow never been on the national radar.
Conclusion
The thing is there are actually dozens of unlucky footballers I haven't mentioned who could have been selected for Bafana. Over the past 28 years, many players have had purple patches and not got a chance to build on that momentum and play for their country.
Many have received that chance without showing the required form. Players have been selected based on their potential rather than their current ability, or in many cases because they were the only ones available at the time. Players have been selected because they were a specific coach's favourites, or if you believe the gossip because they were represented by the 'right' agents.
Like I said, selecting a national team is never a simple job.