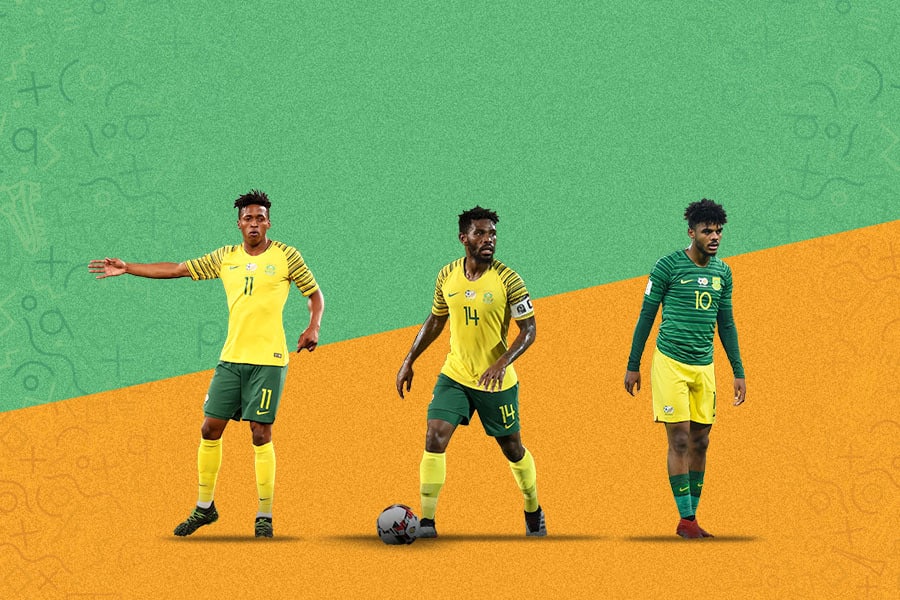 Last week Molefi Ntseki named his Bafana Bafana squad and it is only natural to profile his players. South Africa will play two international friendlies. Fixtures against Namibia and Zambia are scheduled for the 8th and 11th of October respectively. Both games will be played at the Royal Bafokeng Stadium but
It is going to be a rare chance for Ntseki to experiment, as the international calendar over the next year is a congested one. There are also Afcon and World Cup qualifiers to look forward to.
Knowing that, the former Amajimbos Head Coach used this opportunity to call up new faces, with five uncapped players included.
*Sinethemba Sithebe and Lyle Foster were added to the squad, replacing Kurt Abrahams and Sipho Mbule (forced withdrawal). However, I have still included them in the list of players selected. below, we profile very single Bafana Bafana player in the squad.
Goalkeepers Profiles
Darren Keet (Oud-Haverlee Leuven FC, Belgium) – 12 Caps
Born 5: August 1989, Cape Town
While he only has 12 caps, the Belgian-based Keet has been a regular in Bafana squads for years. He had a brief run as first-choice but has mainly played as a back up over the years. This could be his chance to challenge Ronwen Williams for the number one spot. Keet is busy with his second spell in Belgium, having returned to Europe after helping Bidvest Wits win the league four seasons ago. They are competing in a position that is certainly not locked down anymore, Itumeleng Khune ruled the roost for years. Hopefully, that competition makes all the goalkeepers a little hungrier for success.
Ronwen Williams (Supersport United) – 13 Caps
Born 21 January 1992, Port Elizabeth
Williams is arguably South Africa's number one at the moment, but he's still green at international level. He's been part of the setup for over a decade but has just 13 caps. Williams often played second fiddle to keepers like Khune and the late Senzo Meyiwa. The SuperSport United captain was one of the stand-out goalkeepers in the Absa Premiership last season. He will want to take that form and cement his spot as South Africa's first choice.
Ricardo Goss (Mamelodi Sundowns) – Uncapped
Born: 2 April 1994, Durban
Goss joined Sundowns after a good season at the now defunct Bidvest Wits, Goss is no stranger to international football. He was a regular at all junior national levels. The 26-year-old was a teenager when he was promoted to the Golden Arrows first team but only played two matches. When he moved to Real Kings in the second tier, he showed his class, and it came as no surprise when he returned to top-flight football. Goss has shown great skill and he will hope to get his first senior cap in one of the friendlies.
Defender Profiles
Thibang Phete (OS Belenenses SAD, Portugal) – Uncapped
Born: 4 April 1994, Kimberley
'Cafu' Phete is a footballer that many South Africans might not know, but the 26-year-old has been playing in Portugal for some time. The former Vitoria Guimaraes player moved to Portugal seven years ago. He is another graduate from Farouk Khan's Stars of Africa Academy. His only experience back home was in the National First Division, he had a brief spell at Milano United in 2013. While he has been playing in the defence recently, Phete is equally adept as a midfielder. I have only actually ever watched him play as a midfielder. I am looking forward to seeing what he brings to the squad, and to see how much he has improved..
Motjeka Madisha (Mamelodi Sundowns) – 9 Caps, 1 Goal
Born: 12 January 1995, Zebediela
The former Amajita captain came into his own this past season and played a significant role in Sundowns three trophies. Madisha is a smart defender, and while he makes a few errors, it's expected in his position. He also makes a lot of important tackles and is a great competitor. Madisha also pops in with the occasional goal at set-pieces, and at junior international level was a penalty specialist.
Thulani Hlatshwayo (Orlando Pirates) – 46 Caps 3 Goals
Born: 18 December 1989, Soweto
The captain needs no introduction. He is the most experienced player in the squad with his 46 caps and will be key for Ntseki this year. Hlatshwayo is a quality centre back and will be the foundation of the defence. He also joined Orlando Pirates recently.
S'fiso Hlanti (*unattached) – 20 Caps
Born: 1 May 1990, Durban
If Hlanti played to his potential every game, he would have cemented his place at left-back in the national team, but his career has been inconsistent. Perhaps this is the time for Hlanti. While the former Wits player is currently a free agent, he is training with Kaizer Chiefs. If Chiefs can sign players (they are anxiously waiting on the outcome from their CAS appeal to their transfer ban) Hlanti could be an important signing for the Amakhosi. Fair to say Ntseki knows what Hlanti has to offer, but it will now be interesting to see how much he wants to be first-choice for his country.
Innocent Maela (Orlando Pirates) – 5 Caps
Born: 14 August 1992, Witbank
Maela has been Hlanti's biggest challenger for that left-back spot over the past few years. But since his brother, Tsepo Masilela was Bafana's first choice, no one has locked down the position. I have always hoped Maela would be the one, as the football romantic in me likes the idea of brothers passing on the mantle, but the Pirates player hasn't exactly seized his opportunities. He has only played in five official games, and four of those were friendlies, and at 28 he would have hoped for more chances.
Mosa Lebusa (Mamelodi Sundowns) – 3 Caps
Born: 10 October 1992, Welkom
I am quite amazed that Lebusa only has three caps. While some players have not taken their chances, I have to admit that I think the former Ajax Cape Town defender has not got a fair shake at international level. Equally adept at centre back, or left-back, Lebusa, who made his debut in 2015, has only featured in friendlies and has played just 95 minutes of international football. Having seen him grow up and develop at Ajax, I have always thought of him as a mature footballer, who thrives when given responsibility. He is also a decent ballplayer and can be dangerous at set-pieces with his head, making him a good option in any team.
Abubaker Mobara (Cape Town City) – 8 Caps
Born: 18 February 1994, Cape Town
Another former Ajax youngster, Mobara is without a doubt one of the most talented footballers I've ever seen. Ever. But he is also one of the most laid-back. I often think that Mobara has only ever played a handful of games at full pace, and really because, for most of his career, he hasn't had to. We saw how good he was for the national under-23 team against Brazil, where he marked Neymar out of the game, and if he had played every game with that intensity, he would be a superstar today.
But in fairness, he hasn't had to. While I wish he would, the truth is, you are sometimes only as good as your opponent, and in South Africa, Mobara has never had to play above 70%. I wish he would, he'd be a monster. But even saying that I remain a fan of his, and always enjoy watching the young man. He should have a lot more caps in a perfect world, but at 26 he still has a lot of time to add to his eight appearances.
Reeve Frosler (Kaizer Chiefs) – 3 Caps
Born: 11 January 1998, Port Elizabeth
Frosler is a big part of Bafana's future, and what is also quite exciting, is for me, he is also part of the present. In an environment that is always preaching about giving youngsters a chance, with 'vision 2022′ etc, Frosler is the beacon of light. Because, while I am one of the biggest supporters of giving young players opportunities, I also believe that giving them chances at national level, must only come after they've proved themselves at club level. Frosler has done that since his day at Wits, and he was one of Chiefs' best players this past season. The Port Elizabethan continues to impress and has also shown his versatility over the years.
Midfielder Profile
Andile Jali (Mamelodi Sundowns) – 45 Caps, 5 Goals
Born: 10 April 1990, Matatiele
I admit I've always been a member of 'Team Jali'. While the Sundowns midfielder has his detractors, I have always believed in the 30-year-old. Jali brings a lot – experience, personality, fight and grit, but he also brings skill. I think Ntseki has a plan for Jali and sees him as a partner for Teboho Mokoena. This is a great chance to test that theory.
Mothobi Mvala (Mamelodi Sundowns) – 4 Caps
Born: 14 June 1994, Theunissen
Mvala has been the stand-out player for Highlands Park for as long as I can remember. But it looked like he was going to remain at the club forever, and it took the sale of the Lions of the North for him to make a move. A versatile midfielder, he is strong both defensively and offensively and offers a coach many options. He's an ideal substitution for an international coach, as he can be brought on in different roles in different scenarios. But here's a warning to those who might be selected ahead of him at Bafana and at his new clubs, Sundowns – if you don't perform, he will come in and take your spot and make it his own. Has grown in leaps and bounds since the last caps that he earned in 2017.
Themba Zwane (Mamelodi Sundowns) – 21 Caps, 2 Goals
Born: 3 August 1989, Tembisa
Zwane's form has been excellent, and if he can take that form into the national team, Ntseki will be delighted. I had always hoped to see Mshishi do this years ago. Zwane has been around for a decade already, and I have always believed in his talent, but he was very often hot or cold. But it was his consistency this past season that saw him recently named the South African Football Journalists Association's Men's Footballer of the Season.
Thabo Nodada (Cape Town City) – Uncapped
Born: 2 May 1995, Ixopo
Nodada deserves his call up after shining for Cape Town City for the past three seasons, and I hope he gets his chance this time. I've spent a lot of time with Nodada over the years, and have seen the hard work he puts into his game. He is a bright young man, who is constantly analysing his game, and working on his strengths and weaknesses. He has a great passion for the game and is highly motivated to succeed. I also think he's the type of player who would die for his national team, and I'm interested to see how he blends in with the squad.
Teboho Mokoena (Supersport United) – 7 Caps, 1 Goal
Born: 24 January 1997, Bethlehem
While he is just 23 and only has seven caps to his name, I think Mokoena is central for Bafana. Like Frosler, he is not only the future, he is the present. And I think Ntseki knows that. Mokoena hails from Harmony Academy, which was founded by Ntseki. So Ntseki has known about the SuperSport star for many years. There is no bias in his selection, however, because Mokoena is a special talent, and has proved that for his club over the past three seasons. If I was Ntseki, it would be my mission to find the midfielders who combine best with Mokoena, who compliment him, and who he compliments.
Gladwin Shitolo (Orlando Pirates) – Uncapped
Born: 10 August 1989, Giyani
Shitolo, who can also play in defence, was solid for Golden Arrows last season. He is a bit of a surprise selection, considering he is already 31 and has no caps. But Ntseki does know the player, as he once a regular at youth international level and was part of the U20 team at the 2009 World Cup.
Keagan Dolly (Montpellier, France) – 15 Caps, 2 Goals
Born: 22 January 1993, Johannesburg
It's good to see Keagan Dolly back in the fold for Bafana, as he has had an unfortunate run of injuries over the past few years. Despite having made his debut over six years ago, Dolly has just 15 caps. He hasn't played much football this season but seeing him part of Montpellier's recent match squads has been pleasing. I hope the injuries are behind him because they've not only derailed his international career, but also his progress in France.
Percy Tau (RSC Anderlecht, Belgium) – 25 Caps, 9 Goals
Born: 14 May 1994, Witbank
Currently, Tau is the star of the Bafana Bafana team. The former Sundowns ace is playing with Anderlecht in Belgium, though he's technically on the books of English Premiership side Brighton Hove and Albion. This is his third season in Belgium, where he has garnered a bit of a cult status. Percy is also loved by most South Africans. He has an endearing personality, smiles a lot, gives his all, and of course, plays some great football. With nine goals in 25 caps, he also has a good record for his country.
Thabiso Kutumela (Maritzburg United) – 3 caps, 2 Goals
Born: 3 July 1993, Mokopane
Kutumela gets a chance to resurrect a promising international career, as he looks to add to the three caps in 2016. He was a member of the u23 team that went to the Rio Olympics, he earned his three caps when they used the COSAFA Cup as part of the build-up to Rio. On paper, it's pretty impressive, because he has two goals in those caps! Kutumela has been good since joining Maritzburg United and reminded me just how much I rated him when I saw him for Baroka all those years ago.
Sipho Mbule (Supersport United) – 3 Caps
Born: 22 March 1998, Bethlehem
Like Mokoena, Mbule comes from Harmony Academy. But also like Mokoena, that has nothing to do with his call-up. He has been superb for SuperSport this past season, having become a first-team regular. While he has a few caps, having been part of CHAN and COSAFA Cup squads in the past, Mbule will now be challenging for the main team.
Luther Singh (Braga FC, Portugal) 6 Caps 2 Goals
Born: 5 August 1997, Soweto
The former Stars of Africa academy player has already shown that he is potentially a future international star. Having shown a lot of promise for the junior international teams, he has also starred for the senior team at COSAFA Cups in the past. But he hasn't got a lot of chances for the 'full' team yet. He is spending another season on loan away from Braga, this time at Paco Ferreira. It will be his third consecutive season on loan away from the club, as he has battled to be included in the Portuguese club's first team.
Siyethemba Sithebe (Amazulu) – Uncapped
Born: 6 January 1993, Newcastle
A late call-up, Sithebe was one of Amazulu's stand out players this season, despite their struggles. The dreadlocked midfielder, who changed his name from Mnguni to Sithebe a few years back for family reasons, first came to the fore in the NFD for Mbombela United. He then moved to Usuthu three seasons ago. A very good ballplayer, Sithebe is also capable of scoring goals, but it is an area he would like to improve. He is an interesting call-up, and it will be fascinating to see how he does. I thought that one of the bigger clubs would have come for him by now, but considering the ambitions of Amazulu's new owner, Sithebe is the type of player they can't afford to lose.
Striker Profiles
Kermit Erasmus (Mamelodi Sundowns) – 17 Caps, 2 Goals
Born: 8 July 1990, Port Elizabeth
Another recent signing for Sundowns, I believe that in Erasmus, Ntseki sees his main provider of goals. When he announced the squad he made remarks that pleased me, and I'm sure pleased the former Cape Town City striker. Erasmus thrives under the pressure of being the main man upfront, and I feel he is set to play a key role in Ntseki's tenure.
I don't think anyone who has watched Erasmus over the years has ever doubted his talent, but he hasn't necessarily risen to the level that was predicted for him when he was a teen sensation. But this past season at City, he has shown just how good he can be. There was talk that he would head overseas, but Sundowns won the race for his signature, and I am sure that Erasmus would love to join his new team on the back of a starring performance for his country.
Kurt Abrahams (KVC Westerlo, Belgium) – Uncapped
Born: 30 December 1996, Cape Town
Perhaps one of the players I had most looked forward to seeing, but unfortunately, it doesn't look like the former Capetonian will make the trip from Belgium. His entire club is in quarantine after there were Covid-19 cases at the club. The 23-year-old has been in Europe for a few years now, having previously played at St-Truiden. Abrahams was taken to Europe by Colin Gie, having brought him through at his Cape United Academy.
There was no PSL football for the talented youngster, who was reportedly overlooked by bigger clubs because of his size, so he made his
senior debut in Europe and he hasn't looked back. Last season he scored 10 goals, doubling his overall tally, having played just under 80 pro games. I think Ntseki was also looking forward to getting a closer look, and how he would adapt to the squad, but will now probably have to wait for
another chance to see the Lavender Hill footballer.
Lebohang Manyama (Kaizer Chiefs) – 17 Caps, 1 Goal
Born: 13 September 1990, Tembisa
After a personal PSL season, blemished by Chiefs failure to win the league, Manyama wants to make the most of this call-up. Interestingly, Ntseki has selected Lebo as a striker, and it is something I will be watching eagerly. It was in that position that the teenage Manyama made his mark at Alex United. He then moved Ajax Cape Town, where he was played in the midfield ever since. It is an idea I like. While Manyama is influential and I enjoy his midfield contributions, I've always thought he'd excel playing further upfront. He is also a good finisher and at creating space for himself and others.
Lyle Foster (Vitoria Guimaraes, Portugal) – 3 Caps
Born: 3 September 2000, Soweto
Another late addition, Foster is an exciting talent, though hasn't quite set the world alight in senior football. Specifically when it comes to goal-scoring. The former Orlando Pirates youngster made a big move to Monaco a few years ago, but couldn't break into the first team. He was loaned out to Cercle Brugge last season, and while the goals still didn't flow, he showed promise. He recently made a permanent move to Portugal. At just 20, Foster has a lot of time to build on his physical strengths and speed. Foster has scored goals at youth level and was a star for the Amajita side. So it's only a matter of time for him to find his scoring boots at club level.
SIGN UP TO OUR

BET CENTRAL PLAYBOOK
Get weekly emails packed with the best tips and sports content.
Get ahead of the game now - fill in the contact form below.