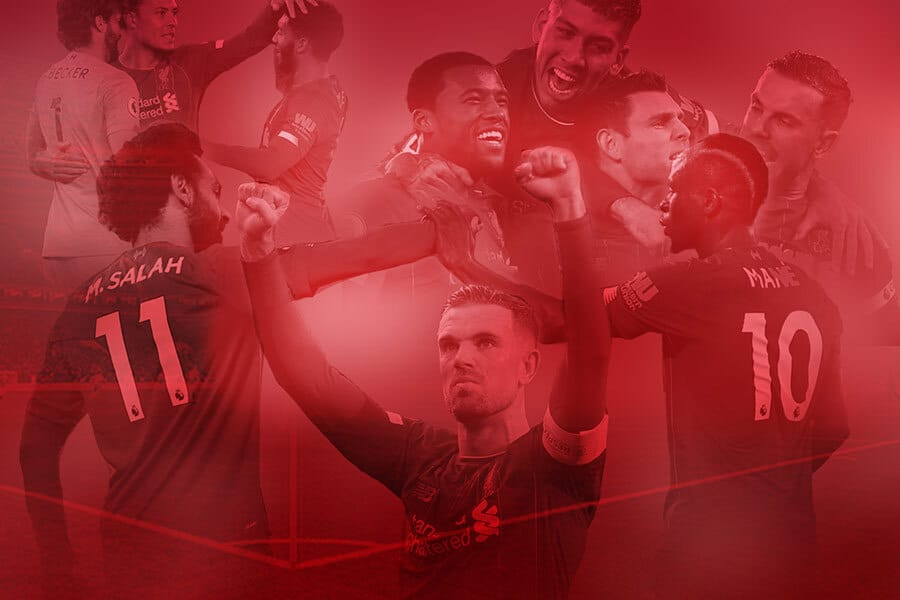 2 July 2020, by Carl Lewis
Reasons Liverpool has been so successful
Liverpool are champions of England once again. It's their first title in the Premier League era and what a performance to reclaim their place amongst England's elite. They have been completely dominant this campaign, between October 2019 and February 2020, the Reds won 18 consecutive league matches, a joint-record by any club in the English top flight. 
This run came after Klopp's men had also embarked upon a 17-match winning streak between March and October 2019, which is also the third-longest such run in the Premier League. Below, we list the most important (not the only) reasons why Liverpool won the league.
Jurgen Klopp
It's hard to look further than the manager as the architect of Liverpool's success. Klopp suffered numerous setbacks (while making progress) in his early years at Anfield but he galvanised every aspect of the club and has been rewarded with success over the past two years. When Klopp was appointed Liverpool manager in October 2015, the side were miles away from challenging for the title but now they are champions of England, Europe and the world.
"This is a big moment, I have no real words. I am completely overwhelmed. I never thought I would feel like this!" ?

An emotional Jurgen Klopp broke down in tears after his #LFC side sealed the Premier League title!pic.twitter.com/Lo9IGceYLU

— Sky Sports News (@SkySportsNews) June 26, 2020
It is hard to find a better fit between club and manager than Liverpool and Jurgen Norbert Klopp. He is also the first manager to win the Premier League and Champions League in his first four years at a Premier League club. FSG president Mike Gordon told owner John Henry, the owner, that Klopp could work as a CEO for any major international company after his interview with the German in 2015.
Klopp has the clout and the know-how to build a dynasty at Liverpool and he can do it while remaining one of the most humble and likeable men in football.
Fenway Sports Group
The Fenway Sports Group took over Liverpool in 2010 after the disastrous ownership of Liverpool's two former American owners Tom Hicks and George Gillett. The takeover occurred after a turbulent few years which ended with bitterly-fought legal action and Liverpool being sold for £300m to New England Sports Ventures (later Fenway Sports Group).
Liverpool are unrecognisable from the club who was in court 10 years ago. Since then they've won titles, become a destination club for players and their finances are in order if you look at their record profits in 2017/2018. 
FSG know what they are doing when it comes to running sports teams, they did something special with another iconic sporting franchise. In 2004, FSG was in charge when the Boston Red Sox famously broke the Curse of the Bambino and won their first World Series for 86 years. They have since gone on to win Major League Baseball's title a further three times under their ownership. 
Michael Edwards
The man behind the scenes, the brains of the transfer operation, Michael Edwards is the sporting director who identified Jurgen Klopp as an ideal manager for Liverpool. He was also responsible for bringing in Mohamed Salah, Roberto Firmino, Sadio Mane, Alisson and Virgil van Dijk. His shrewd work is not only in recruitment, he offloaded a number of squad players for decent sums including Danny Ings, Dominic Solanke and Coutinho.
The 'transfer committee' was a source of humour for others outside of Liverpool but now that 'joke' is one of the reasons for the club's success. Edwards had to help Klopp build a new team after his appointment so the two have built a special relationship with trust not being an issue at all. Klopp is not scared of hearing different opinions and Edwards knows how to work with the German.
"It is a very good relationship. He is a very thoughtful person. We don't always have to have the same opinion from the first second of a conversation, but we finish pretty much all our talks with the same opinion. Or similar opinions," Klopp says.
That Night at Anfield
Liverpool's memorable comeback was the catalyst for their recent success. Ahead of that match, Liverpool trailed Barcelona 3-0 and their league challenge was also faltering. So a season that had so much promise, looked like it could conceivably become an underwhelming one. Instead, what ensued was a memorable European night at Anfield with Liverpool winning 4-0 and the result essentially opening up the pathway for Liverpool's future success.
Bounce back-ability
They lost a Europa League final, a Champions League final and a league title despite setting record points number. This Liverpool absorbed the lessons from their failures and hit back even harder year on year. An indication of their unbelievably strong group mentality and belief in their project.
One Night in Madrid
The day Liverpool captured the Champions League after beating Spurs in the final was the night the complexion of the Klopp and Liverpool changed. Finally, they had climbed the mountain and achieved success after being on the losing side on a few heartbreaking occasions, including the year before in the UCL final.
Jordan Henderson
Written off by many pundits including some Liverpool fans, Henderson was one of FSG's first batch of signings and was close to leaving the club in a swap deal with Clint Dempsey a few years later. But Henderson's ascension to undisputed Liverpool captain and leader has been extraordinary to watch. He might not have the technical ability as others but his performances and dedication made him irreplaceable in the side. So much vitriol came his way but 'Hendo' took it on the chin and worked even harder, he has even managed to get involved in the Player of the Year discussion which is noteworthy.
The Front Three
Roberto Firmino's shift to a false nine was a masterstroke in 2015. The Brazilian gradually developed into an all-round No 9, scoring headers, linking play and running in the channels.
His chemistry with wingers Sadio Mane and Mo Salah thrust them into the spotlight as one of the hottest attacking trios in Europe. Mane and Salah ended as shared golden boot winners last season with their rapid counter-attacking ability became a real feature.
The three will go down as Liverpool heroes at a club that has never been short of attaching legends who can score goals.
Virgil Van Dijk 
Virgil van Dijk's proposed move from Southampton to Liverpool dragged on through multiple transfer windows with Liverpool eventually having to apologize for their pursuit of the Dutchman and declare themselves not interested. However, Liverpool wanted their man and signed him for £75m — then a world record transfer fee for a defender — in the January transfer window as well.
Centre-backs are rarely transformative figures like a striker or high profile midfielder, but his impact was immediate and basically an indication of how important he would be, Van Dijk man scored a headed winner in an FA Cup derby win against Everton. You cannot make a more appropriate statement to the red side of Merseyside.
After his arrival, he elevated centre back partners in Joel Matip and Joe Gomez and the Pool defence became something like a brick wall. After just nine months at the club, Van Dijk wore the captain's armband for the first time. Van Dijk impact was so impressive that there was a credible reason to think he would walk away with Ballon d'Or for 2019, he did come second to Lionel Messi but his status as the worlds best was intact.
Allison Becker
Liverpool had desperately struggled for a top-class goalkeeper throughout the 2010s with the likes of Simon Mignolet and Loris Karius never truly convincing and will be remembered for their howlers, especially Karius in the Champions League final.
They paid world record money for Alisson, and for a good reason as the former Roma shot-stopper was already world-class goalkeeper. Despite a mistake a Leicester where he as caught with the ball at his feet, the Brazilian has oozed class throughout his career on Merseyside evidenced by the number of clean sheets in his time. With the Allison transfer, fans could tangibly see what a big difference a commanding and confident keeper can make to a team.
SIGN UP TO OUR

BET CENTRAL PLAYBOOK
Get weekly emails packed with the best tips and sports content.
Get ahead of the game now - fill in the contact form below.
MORE SOCCER