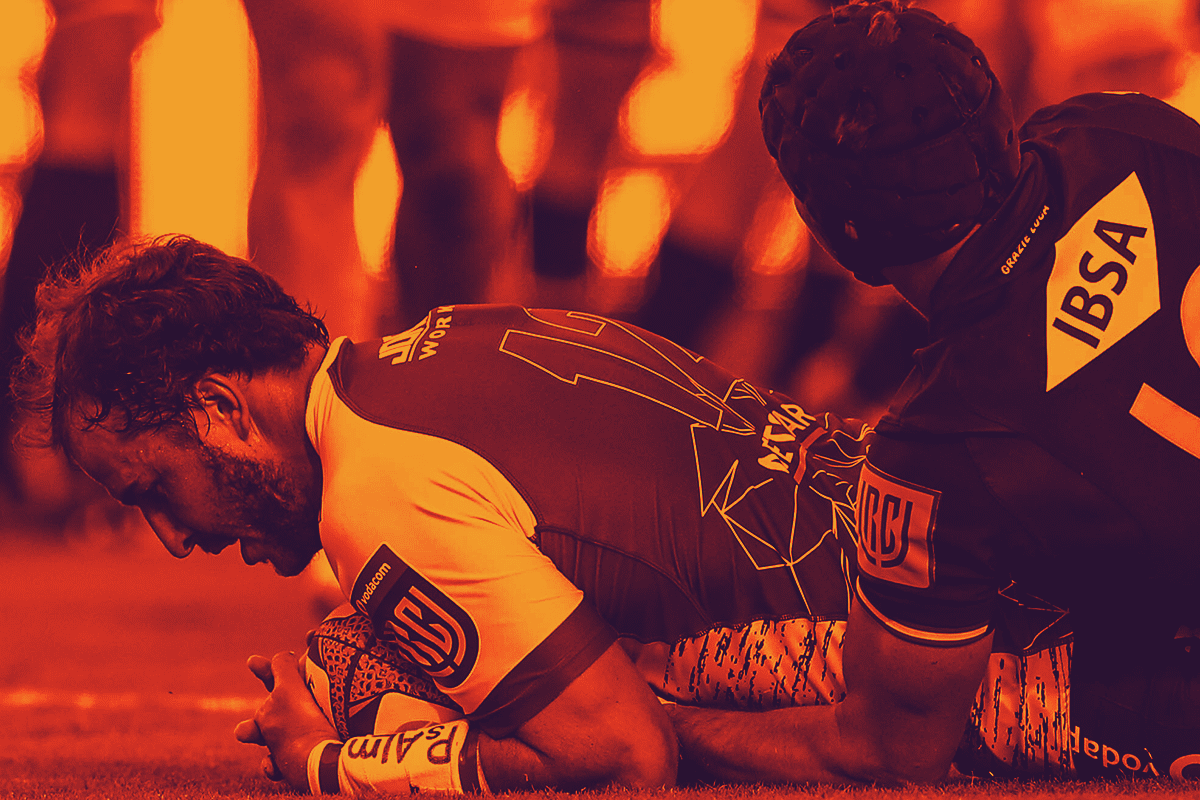 South African sides stole the show in more ways than one in the inaugural season of the United Rugby Championship, writes Quintin van Jaarsveld as he selects the top 30 local tries of the tournament.
More than delivering a classic all-South African final in Cape Town last Saturday, with the Stormers edging the Bulls 18-13, and exposing their new European rivals to a different level of physicality, local players lit up fields and scored stunning tries wherever they went.
The champion Stormers, finalists Bulls, quarter-finalists Sharks, and 12th-placed Lions all produced memorable scores and after plenty of fond viewing and much consideration, I give to you my 30 most breath-taking South African tries of the tournament:
30: What's Old Is New Again
A classic try in every sense of the word. The Bulls, in their brilliant Dublin semi-final siege, caught overwhelming favourites Leinster with the oldest trick in the book – a tap and go switch straight out of primary school rugby with Elrigh Louw delivering the sleight of hand for Man of the Match Johan Grobbelaar to rumble over.
29: Ward's Magic Touch
The Sharks endured a baptism of fire when they faced Munster first up. Coming off the bench, Jeremy Ward provided a welcome highlight for the Durbanites amidst their lashing in Limerick as he freed up Yaw Penxe was an audacious offload, with the winger stepping Mike Haley to score.
28: Lions Sink Teeth Into Zebre
The Lions made an excellent first impression when they mauled Zebre 38-26 in the tournament-opener in Parma. The pick of their five tries was set up by precision passes from Burger Odendaal and Wandisile Simelane, which gave Rabz Maxwane all the space and time he needed to blast and swerve his way over for a silky smooth score.
27: Zig Zag
Hard-running Burger Odendaal used his lesser-seen hot-stepping to open up the Ospreys' defence at Ellis Park, beating two and drawing another, with Morne van den Berg offering textbook support and a quick pass to Rabz Maxwane, who skinned Josh Thomas to score.
26: A Diamond From Dayimani
Hacjivah Dayimani dazzled at his former stomping ground of Ellis Park. Running rampant against his former team, the ultra-athletic Stormers eighthman produced a piece of individual brilliance as he stepped two Lions and outsprinted two more to put the visitors on their way to a bonus-point triumph.
25: Where There's Willemse, There's A Way
Money in a Man of the Match performance that highlighted his dynamic skillset, vision, and versatility, Stormers star Damian Willemse carved out a try for Rikus Pretorius with a ridiculous piece of playmaking against the Glasgow Warriors in Cape Town.
24: Sharks Break Their Duck In Style
A Boeta Chamberlain-inspired Sharks side scored their first win in their third-round encounter against the Ospreys. Aside from slotting three drop goals, the young flyhalf sparked the opening try with a neat grubber that was collected by a galloping Hyron Andrews, who got a great offload away for Jeremy Ward to score.
23: Apex Predators Pounce
The biggest stars of the Lions' 37-19 mauling of the Stormers in Cape Town combined in this set-piece stunner. Skipper Burger Odendaal swerved past three defenders like an air bus before linking up with Man of the Match Vincent Tshituka, who finished off and celebrated in style.
22: Weekend Special
A key offload by Man of the Match Ox Nche allowed Aphelele Fassi to weave his magic against the Stormers. The Sharks fullback stepped Hacjivah Dayimani, quickly summed up the situation, and put a well-weighted grubber into the corner for Makazole Mapimpi, who produced a world-class finish.
21: A Page Out Of Mapoe's Playbook
Bulls veteran Lionel Mapoe rolled back the years with a standout showing against Zebre, which included creating this cracking try for Embrose Papier with a side-stepping break and outstanding offload to Kurt-Lee Arendse, who played the middle man with aplomb.
20: Veteran Smarts
Morne Steyn sparked one of the most memorable tries of the season when he came off the bench to lift a shell-shocked Bulls side out of a hole in Round Eight. The veteran's vision saw him catch the Stormers off-guard as he fired a quick cross-field kick from a penalty to Kurt-Lee Arendse, who fed Embrose Papier for an opportunistic try that put the men from Pretoria in the lead after trailing 18-0 in the first half.
19: Chicken Burger
Burger Odendaal orchestrated a consolation try for the Lions at home against the Stormers by attacking the space between two defenders and flinging a fantastic chicken-wing offload to Stean Pienaar. The speedster streaked ahead with Edwill van der Merwe being the link man as Morne van den Berg banked the five-pointer.
18: Deep Cut
Warrick Gelant was the mastermind as the Stormers punished the Lions from deep at Ellis Park. The playmaker extraordinaire penetrated the line with Damian Willemse gaining further ground and Paul de Wet bouncing back to his feet after being ankle-tapped before sending Sergeal Petersen racing clear.
17: Expect The Unexpected
Magic man Warrick Gelant once again created something out of nothing as he lobbed the ball over the Cardiff defence with his left boot for Manie Libbok to take out of the air and execute a one-two with halfback partner Herschel Jantjies to score under the posts.
16: Chip And Dip
The first of two masterpieces from the mind of Jaden Hendrikse on this list. With vision and the confidence to back his out-of-the-box ideas, the Sharks scrumhalf conjured up a cheeky left-footed chip that caught the Lions off-guard in Durban. On the same wavelength, Marius Louw ran onto it and got an offload away on the ground to put Phepsi Buthelezi in for a try.
15: Seeing And Believing
Vision from Damian Willemse (to change direction) and Warrick Gelant (to fire a long pass out wide) along with confidence and skill from Lionel Zas to pull off a chip-and-re-gather on the very edge of the field allowed a supporting Ruhan Nel to run in this cracker for the Stormers against Cardiff in Cape Town.
14: Catch Me If You Can
Pretoria's resident Mr. Razzle Dazzle Kurt-Lee Arendse left Dragons defenders in bewilderment with this stunning 60-metre solo try at Loftus Versfeld, which he capped off with a unique no-look step and tremendous turn of pace.
13: Dripping With Finesse
Up against it, this moment of magic proved to be the game-changing try for the Sharks in their first-ever home game against European opposition. Jaden Hendrikse caught everyone except Aphelele Fassi by surprise with a mind-blowing no-look grubber. The fullback scooped up the ball and activated his jet shoes to outsprint a pair of Scarlets, with the Durbanites kicking on from there to claim a historic 37-20 win.
12: Dynamite Comes In Small Packages
Lions flyer Edwill van der Merwe may not be the biggest man on the field but that didn't stop him from bulldozing Munster wing Calvin Nash and beating the cover to score a screamer in the corner at Ellis Park after a brilliant offload by Burger Odendaal.
11: Prop Stars
Playing champagne rugby at home against the Ospreys, the Lions' props got in on the act and showed deceptively deft hands. PJ Botha flung a chicken-wing pass to fellow front-rower Ruan Dreyer, who threw an outstanding one-handed offload to Wandisile Simelane, who timed his pass to Morne van den Berg to perfection.
10: Blue Crush
A tsunami of total rugby from the Stormers drowned the Dragons in Cape Town, fluid interplay between forwards and backs and a breakaway by Evan Roos leaving the visitors at sixes and sevens, with Adre Smith working hard off the ball to be in position and then having the wherewithal to pick up and go to cross the whitewash.
9: Vintage Lions
Looking like the Lions of old, the pride of Johannesburg finally broke their 2022 duck when they hosted Cardiff in March. After a good kick return from Quan Horn, Jaco Kriel linked up with fellow flank Vincent Tshituka, who threw an outrageous one-handed offload to Wandisile Simelane, who drifted inside, drew the last man, and put Edwill van der Merwe in for his second on the day.
8: Dragon – Slayer
Werner Kok scorched his way through the Dragons' defence as the Sharks put the Welsh side to the sword in Durban, the golden-locked winger exploding off the line from 55 metres out and leaving several defenders in his wake to score a sensational solo try.
7: Running Of The Bulls
On the rampage straight out of the gate against the Scarlets at Loftus Versfeld, the Bulls scored from everywhere, including this scintillating team try from inside their 22. After Madosh Tambwe bamboozled Ryan Conbeer with fancy footwork, seamless passing between him, Kurt-Lee Arendse and Cornal Hendricks, and a clever crosskick by Chris Smith saw captain Marcell Coetzee hammer down the five-pointer.
6: Sit Down!
Man of the Match Manie Libbok twisted the dagger he'd planted into the Dragons' heart in Cape Town with another lethal line break and link up with halfback partner Paul de Wet. The Stormers worked the ball wide where Hacjivah Dayimani delivered a special ball to Leolin Zas, who rubberstamped a terrific team try by running straight over the last man.
5: Sharks Show Out
The Sharks and Lions kick-started 2022 with an 11-try thriller at Ellis Park, the pick of the bunch belonging to the victorious visitors. Ruben van Heerden created the counterstrike with a turnover where after special touches by Jeandre Labuschagne, Ox Nche and Boeta Chamberlain unleashed Makazole Mapimpi, who effortlessly carved inside Fred Zeilinga to score the second of his three tries on the day.
4: Mind-Blowing 'Bollemakiesie'
Hat-trick hero Seabelo Senatla and the Stormers showed out against Zebre in their first-ever match in Stellenbosch complete with a mind-blowing, one-of-a-kind chip-and-chase try that saw the Blitzbok star grab the ball mid-somersault and stylishly dot down.
3: Murder On The Dance Floor
Turning on the style against Zebre in Parma, Bulls bruiser Elrigh Louw showed sublime agility and ball skills as he spun out of contact and unleashed Kurt-Lee Arendse with a brilliant back flick. With all the room in the world, the electrifying fullback bamboozled Antonio Rizzi with his dancing feet for a dazzling dot down.
2: Am-azing
Lukhanyo Am has a knack for creating awe-inspiring moments and he blew spectators' minds with this extraordinary effort at Loftus Versfeld. The ever-committed Sharks skipper snatched Joaquín Díaz Bonilla's restart out of the sky, somehow managed to stay infield, had the presence of mind to stab a grubber past Arno Botha, and collected to cash in.
1: Pretorian Poetry In Motion
From Chris Smith's pinpoint crosskick to Canan Moodie to the smooth-as-butter handling, explosive surge from Elrigh Roux, and special offload from Gerhard Steenekamp to fellow front-rower Johan Grobbelaar to finish, this was pure perfection from the Bulls against the shell-shocked Scarlets.
SIGN UP TO OUR

BET CENTRAL PLAYBOOK
Get weekly emails packed with the best tips and sports content.
Get ahead of the game now - fill in the contact form below.