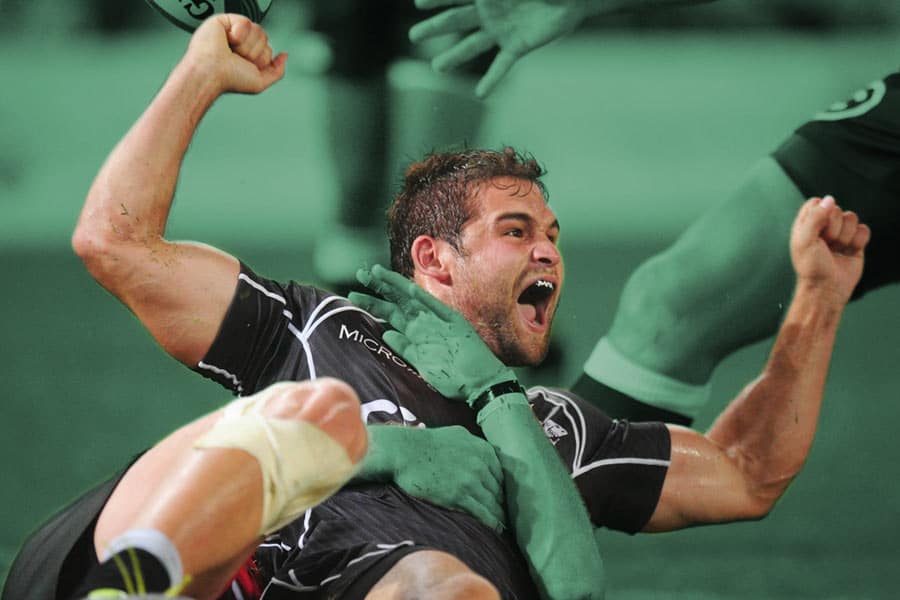 2 May 2019, by: Chad Petterson
SUPER RUGBY: THE SHARKS XV THAT CONQUERED CHRISTCHURCH
In 2014, The Sharks travelled to Christchurch to do the impossible. They'd never beaten the Crusaders in New Zealand while the Crusaders had not lost at home to South African opposition since 2001.
What's more, they had won 50 previous home games against South African and Australain opponents. The bookies priced the Sharks at a long 4/1 on the day. Against all odds, the Sharks team claimed a historic victory.
To ignite some of the nostalgia ahead of tomorrow's renewal, we thought it apt to relook at what was an underrated side at the time. Not that we're expecting anything close to a repeat for the Sharks, who are handicapped a whopping 20 points against a Sader team missing alot of All Blacks.
Jean Deysel's red card (16') and William Alberts yellow card (63') made it a tough day out but the men from Natal, who produced a heroic effort and won by 5 points in a quintessential nail-biter. Tries from Sithole, Reinach (Cries a little inside) and Cooper saw out a 30-25 away win, which at the time was unheard of in Christchurch.
ESPN has a great rugby platform to review past games, and this is no exception. Drool over the stats here. With 70% possession, 62% territory, and the Sharks making 82 tackles to the Saders 50, it blows the mind even further.
Try not shed a tear Sharks fan….
15. SP Marais
14. JP Pietersen
13. Sibusiso Sithole
12. Paul Jordaan – wept a litte when I saw this name
11. Lwazi Mvovo
10. Francois Steyn (2 Conversions: 2 Penalties)
9. Cobus Reinach – bring him back please!
8. Williem Alberts
7. Jean Deysel
6. Lubabalo Mtembu
5. Stephan Lewies
4. Etienne Oosthuizen
3. Jannie Du Plessis
2. Bismark Du Plessis
1. Tendai Mtawarira
Bench: 16. Kyle Cooper (1 Try), 17. Dale Chadwick, 18. Lourens Adriaanse, 19. Ryan Kankowski, 20. Keegan Daniels, 21. Charl McLeod. 22. Tim Swiel, 23. Heimar Williams
We're offering a stellar promotion for this weekend's Super Rugby fixtures. Get all regular 9/10 handicaps stretched to EVEN MONEY!. That's right we're betting to broke. Get stuck in right here: Super Rugby Betting
Open your BET.co.za account today and get a 100% deposit match on your first deposit up to R1000!