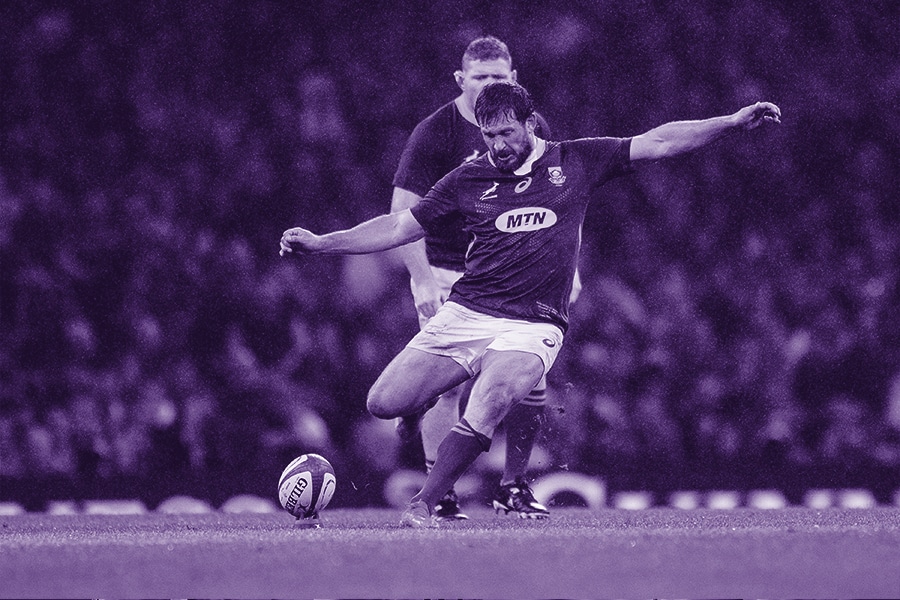 The biggest takeaways from the Springboks' end-of-year tour, according to Quintin van Jaarsveld.
A Special Group
It's a given that any team who reach the zenith of being crowned world champions are special and the squad who soared to the summit in Japan two years ago have largely remained intact. However, the showings they put forth up north reinforced that this isn't your usual Springbok band of brothers.
Siya Kolisi and company were a minute away from becoming the first Springbok team to complete an unbeaten end-of-year tour since 2013, a yellow card and a dooming infringement right in front of the posts allowing Marcus Smith to kick England to a dramatic 27-26 win at Twickenham at the weekend.
Yet, despite the heart-breaking loss, the current class achieved something neither the 1995 nor 2007 world-beaters could by finishing their first season following their Webb Ellis Cup triumph still ranked the number one team in the world.
That they overcame unprecedented challenges of a global pandemic that wiped out their entire 2020 season and were subjected to more stringent protocols than any other team had to endure, with Rassiegate as a huge added hurdle, speak volumes of the character of this group.
Finishing Touches
The biggest facet the men in green and gold failed themselves in was their finishing. The troubling trend hindered them in the Rugby Championship and carried over into the UK tour. The loss to England was a prime example, with the Springboks coughing up four try-scoring opportunities.
Kolisi and Jesse Kriel had their wires crossed after an outstanding break and offload by Damian de Allende, Cobus Reinach's offload to Kwagga Smith didn't go to hand during an attack down the left, Eben Etzebeth's barnstorming break came to naught and Smith was held up over the line after going alone.
You have to take your chances at the highest level, and that England took all three of theirs was a painful reminder of this cliché.
Pivotal Problems
Compounding those woes were two missed penalty goals by Handre Pollard and a missed conversion by Elton Jantjies. This, too, wasn't an isolated collective shortcoming but rather a season-long affliction magnified by the fact that the world champions wound up losing by a single point.
Pollard wasn't his metronomic self all season. His goal-kicking dropped from the international standard of 80% plus to the 70% range, while Jantjies has never been known as a sharpshooter off the tee. Neither is Damian Willemse, who's a utility back rather than a specialist No.10. "Mr. Fix It" Frans Steyn slotted some crucial long-range three-pointers, but as a super-sub, there's only so much he can do.
Pollard's place-kicking problems are understandable. He had precious little game time after returning from a serious knee injury for Montpellier before being thrust into the Springbok side for the British & Irish Lions series. A ruptured ACL is arguably the most challenging injury to recover from, not only physically but mentally as well, especially for a goal-kicker who has to plant on that surgically-repaired leg.
It had an obvious ill effect on his overall game as well and revealed the all-important flyhalf role is the one area the Springboks don't have sufficient depth in. Veteran deadeye Morne Steyn retired from Test rugby after winning the British & Irish Lions series with a last-gasp penalty goal like he did 12 years ago, while Johan Goosen suffered the same dreaded ACL injury as Pollard in October.
The Bulls playmaker was the form flyhalf in the country and on course for a Springbok recall before being struck down and as one of those unfortunate players seemingly cursed by injuries, one wonders if the Bok management team will take a chance on the 29-year-old.
To make matters worse, the leading young pivot prospect Jordan Hendrikse fractured his ankle in the Lions' loss to Scarlets in October, so the Springbok brains trust has plenty to ponder.
Boks Boast Best Pack in the Business
Fortunately, they don't have to fret about the forwards. If the tour solidified anything, it's that the Springboks boast the best pack in world rugby. Their depth and destruction are unrivalled, their slow poison damn-near unstoppable. If anything, they only strengthened their reserves and firepower.
Ox Nche came through magnificently in his maiden full season of Test rugby, helping the double-barrelled shotgun assault of rotating front rows blow away all comers, Smith found his mojo in the injury-enforced absence of Pieter-Steph du Toit and Jasper Wiese continued to gain experience.
Jantjies Squander Starting Opportunities
Unfortunately, neither Elton nor Hershel Jantjies found their footing up north. It was disappointing that the former couldn't kick on from his All Blacks-slaying cameo when he was handed the No.10 jersey against Scotland. However, it was downright tough to watch the latter spiral given how he'd bided his time, the talent he possesses and the potential he has of becoming a big-time player at Test level.
Speaking of potential when it pertains to a player with 20 caps may seem odd, but the timing of his rise is such that the Stormers scrumhalf finds himself in the Faf de Klerk era, which means competing for the back-up berth with Cobus Reinach. Having started just two Tests going into the tour, it was finally time for him to get his shot to show what he could do in the No.9 jersey again, and one could see he was in his head.
He has the skill, even though he's naturally an attacking player, but he just couldn't get going, which is especially important for a rare starter to gain in-game confidence early on. Sadly, things went from bad in Cardiff to worse in Edinburgh, where he was reluctantly plucked at half-time.
His tactical-kicking isn't on par with that of De Klerk or Reinach, but it's far better than what he showed in those nervous outings. The clearest sign of stage fright was how slow the usually nippy nine was to and from the base, often getting sacked before he could get the ball away.
Coach Jacques Nienaber dismissed his mares as growing pains, so his place in the squad is safe for now, but with the likes of Jaden Hendrikse, Grant Willemse and Sanele Nohamba coming up, it'll be imperative for him to seize every opportunity going forward.
End of the Road for Le Roux
Willie le Roux has been a great servant of Springbok rugby for nine years, initially as a playmaker extraordinaire and more recently, as a tenured tactician – an educated eye tasked with reading the game and relaying that information to his teammates.
That said, he's been stuck in a rut for a few years now and that those problems followed him on the season-ending tour should signal the end of his Test career.
The plan was for Willemse to get a run in the No.15 jersey, but that went up in smoke mere minutes into the opening clash in Cardiff, with the versatile Stormers star suffering an injury that kept him sidelined for the rest of the tour.
Despite Steyn coming on and producing a Man of the Match performance in the 23-18 win over Wales, Nienaber reverted to Le Roux, a move that backfired, to put it mildly.
He had an absolute shocker against Scotland and was poor against England as well, dropping more up-and-unders than he caught. It was his 72nd Test and it should be his last. He does brilliant work behind-the-scenes as a mentor for the young fullbacks in the squad, but it's clear he's better suited in that capacity than he is making on-field contributions at this stage of his career.
The clock is ticking to the 2023 World Cup. Opportunities for the next generation of fullbacks at international level will be limited and persisting with Le Roux, who'll be 34 when the Springboks start the defence of their title, would be counterproductive.
Fassi the Unfortunate Tour Travesty
To that end, the unluckiest member of the squad was undoubtedly Aphelele Fassi. On top of ticking every box, the Sharks supernova brings welcome x-factor to the table and followed up a try-scoring debut against Georgia with another fine five-pointer and all-round effort in his only other Test outing against Argentina earlier this year.
Yet, somehow, despite Le Roux's struggles, Willemse going down, the injury-enforced absence of Cheslin Kolbe and the unavailability of Sbu Nkosi for the first two Tests, Fassi went from likely starter to one of a handful of players who didn't get a single minute of game time all tour.
That specialist centre Kriel was given the No.14 jersey instead made it all the more baffling. Kriel was the target of (most) Springbok supporters' frustration and fury over the nonsensical selection, which was unfair. No player turns down an opportunity to represent their country, especially if they lead to a milestone. Should he have played? No, but he did the best he could and made some telling tackles when he brought up his half-century at Murrayfield before his tactical shortcomings were inevitably exposed by England.
The blame lies with Nienaber. Yes, at 23, Fassi has a long international career ahead of him, but there's no legitimate reason why he shouldn't have gotten his first taste of Test rugby in Northern Hemisphere conditions considering he'll probably form part of the squad for the 2023 World Cup in France. It's one negative that could've been avoided.
SIGN UP TO OUR

BET CENTRAL PLAYBOOK
Get weekly emails packed with the best tips and sports content.
Get ahead of the game now - fill in the contact form below.