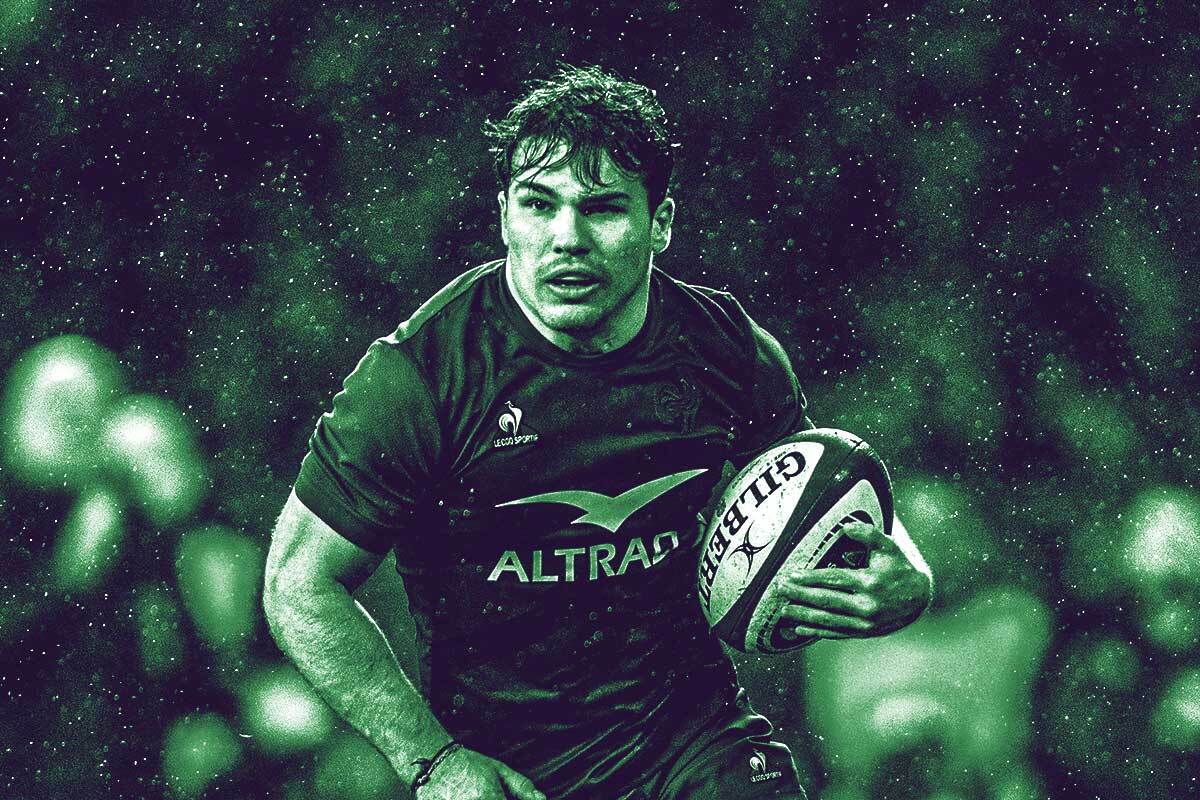 A wave of blue in our Six Nations team of the week after French domination over England, and a sprinkling of green here and there. Bet Central assembles the team of the week.
15. Thomas Ramos (France)
23 of the 53 French points on Saturday belonged to Thomas Ramos, but it wasn't just how he scored points off the tee and his 1 try that made him standout, but it was his composure as the English bombarded him with a number of high balls – he handled all of them with ease as he kept the French safe at the back. His attacking impetus was there for all to see, one of his best Tests yet.
Hugo Keenan was also solid for Ireland, but did not have as many positive contributions as Ramos.
Honourable mention: Hugo Keenan (Ireland)
14. Damian Penaud (France)
You'd be hard-pressed to find a winger that is better than Damian Penaud right now, even when he isn't scoring tries, he comes off his wing to shore up the attack with inside runs that fracture the defensive line. All this was on show as France destroyed England on Saturday to add to his brace of tries. 
Rio Dyer is growing with every outing for Wales and he looked good in their win against Italy.
Honourable mention: Rio Dyer (Wales)
13. Huw Jones (Scotland)
If there is a 13 in today's game who most resembles the game of Brian O'Driscoll, it is the man who faced off against his beloved Ireland on Sunday, Huw Jones. Jones' running lines are brilliant, he is near impossible to stop when he plays as he played on Saturday – he was sensational in a losing effort.
The game intelligence of Gael Fickou is hard to miss, he wasn't as prominent on attack, but he strings things together for France.
Honourable mention: Gael Fickou (France)
12. Jonathan Danty (France)
A welcome return to the French starting lineup, Jonathan Danty picked up where he left as he gave France the hard edge that's been missing in midfield. It wasn't only the bustling runs that helped the French, but also his phenomenal breakdown work. Fabien Galthie will be ecstatic with his return.
Elsewhere on Saturday, Warren Gatland would have been very happy with the performance of his young centre, Joe Hawkins
Honourable mention: Joe Hawkins (Wales)
11. Mack Hansen (Ireland)
Cheat selection alert, the right winger is selected on the left wing to accommodate Penaud on the right, but Mack Hansen was far too good to be left out of the team. The diminutive winger had a colossal impact for the Irish and was at the heart of everything.
His wing partner James Lowe was brilliant and may well have made the side were it not for Hansen's brilliance
Honourable mention: James Lowe
10. Romain Ntamack (France)
Romain Ntamack is still not at his best, but it is abundantly clear he is very important for Fabien Galthie's plan, his understanding with Dupont for 1 is crucial for the French as seen with his hand in Thibaud Flament's try. He was safe and secure on Saturday, he had some deft touches that gave the French an added advantage.
Jonny Sexton could have been in, but Ntamack's midas touch gives him the edge.
09. Antoine Dupont (France) – Player of the Week
There simply aren't enough superlatives that can adequately describe how good a rugby player Antoine Dupont is, on Saturday, he was peerless. Everything he touch turned to gold – a genius by all accounts.
Rhys Webb inspired Wales to their maiden win of the campaign and reminded Warren Gatland that he still has plenty to offer, his performance just came during a week where we saw one of the greatest scrumhalf performances of all time from the French captain.
Honourable mention: Rhys Webb (Wales)
08. Gregory Alldritt (France)
Gregory Alldritt's best game in ages, with Caelan Doris being the standout no.8 of the 6 Nations thus far, the Frenchman reminded everyone that he is just as good at Twickenham. He was a destructive ball carrier, linked up play beautifully and worked his socks off. It was a performance worthy of the leading 8thman in Test rugby over the last couple of years
Doris did not make it past the 1st quarter of their clash against Scotland, Jack Conan's performance off the bench was a timely reminder that all is not lost should Doris be unavailable for the Irish
Honourable mention: Jack Conan (Ireland)
07. Charles Ollivon (France)
Charles Ollivon was yet another Frenchman to score a brace of tries in their obliteration of England, the former French captain had a fine outing in which he underlined his status as one of the best flankers in the world, he gave the English as his defensive effort suffocated Steve Borthwick's side.
Josh van der Flier probably deserves mention not only for his great performance as an openside flanker but his near-flawless lineout throwing which could have easily seen Ireland lose their way after losing both hookers.
Honourable mention: Josh van der Flier (Ireland)
06. Peter O'Mahony (Ireland)
Very few master the dark arts like Peter O'Mahony, part of the reason Josh van der Flier, Jack Conan and Caelan Doris thrive so much is because of the balance O'Mahony provides that team with, it was more of the same against Scotland as he thrived in the tight-loose as he gave Ireland a hard edge in the back row.
Francois Cros was phenomenal alongside Ollivon and Alldritt, he replaced Anthony Jelonch and hardly missed a beat – an important part of the French pack going into the World Cup with Jelonch likely to miss the showpiece.
Honourable mention: Francois Cros (France)
05. James Ryan (Ireland)
It would not be a ridiculous assertion to dub James Ryan as the best no.5 lock in the world, he carries with a steely determination and rules the skies at lineout time. This weekend, however, he was a defensive beast who stopped Scotland in their tracks plenty of times.
Ollie Chessum is perhaps the find of the tournament for England and in light of Saturday's disaster, he was a light in a very dark tunnel again.
Honourable mention: Ollie Chessum (England)
04. Thibaud Flament (France)
Thibaud Flament is the find of the tournament for France and will be hard to unseat now, another Frenchman to score twice on Saturday. He plays like an extra loose forward and his deft handling skills add to his dynamic game. He had a performance that man of the match worthy, he has truly arrived as a Test player.
With Ian Henderson also going off early, youngster Ryan Baird had a good impact and showed promise.
Honourable mention: Ryan Baird (Ireland)
03. Tadgh Furlong (Ireland)
Like he was never missing, Tadgh Furlong came back into the team and fitted seamlessly into the Irish side. Typically strong in the loose and work rate that belies his size, he held off the challenge of Pierre Schoeman and wasn't affected by the hooker crisis.
Zander Fagerson is one of the most underrated tightheads in the world and the Scottish scrum crumbled when he went off, he is an invaluable member of that pack.
Honourable mention: Zander Fagerson (Scotland)
02. Cian Healy (Ireland)
Julien Marchand probably had a better all-round game at hooker, but for a 35-year-old prop to step in at hooker and have that kind of impact in the game says a lot about the enduring qualities of Cian Healy. He played hooker for the 1st since his schoolboy days and didn't miss a beat.
Marchand can count himself unlucky, but when things threatened to fall apart, Healy came in and kept it together.
Honourable mention: Julien Marchand (France)
01. Cyril Baille (France)
Back to his best after looking off the pace in the Autumn Nations Series, his ball skills have always been a huge asset, but he carried with purpose and was a menace at the breakdown. He was strong in the scrums.
Pierre Schoeman is another invaluable part of the Scottish front row.
Honourable mention: Pierre Schoeman (Scotland)
SIGN UP TO OUR

BET CENTRAL PLAYBOOK
Get weekly emails packed with the best tips and sports content.
Get ahead of the game now - fill in the contact form below.