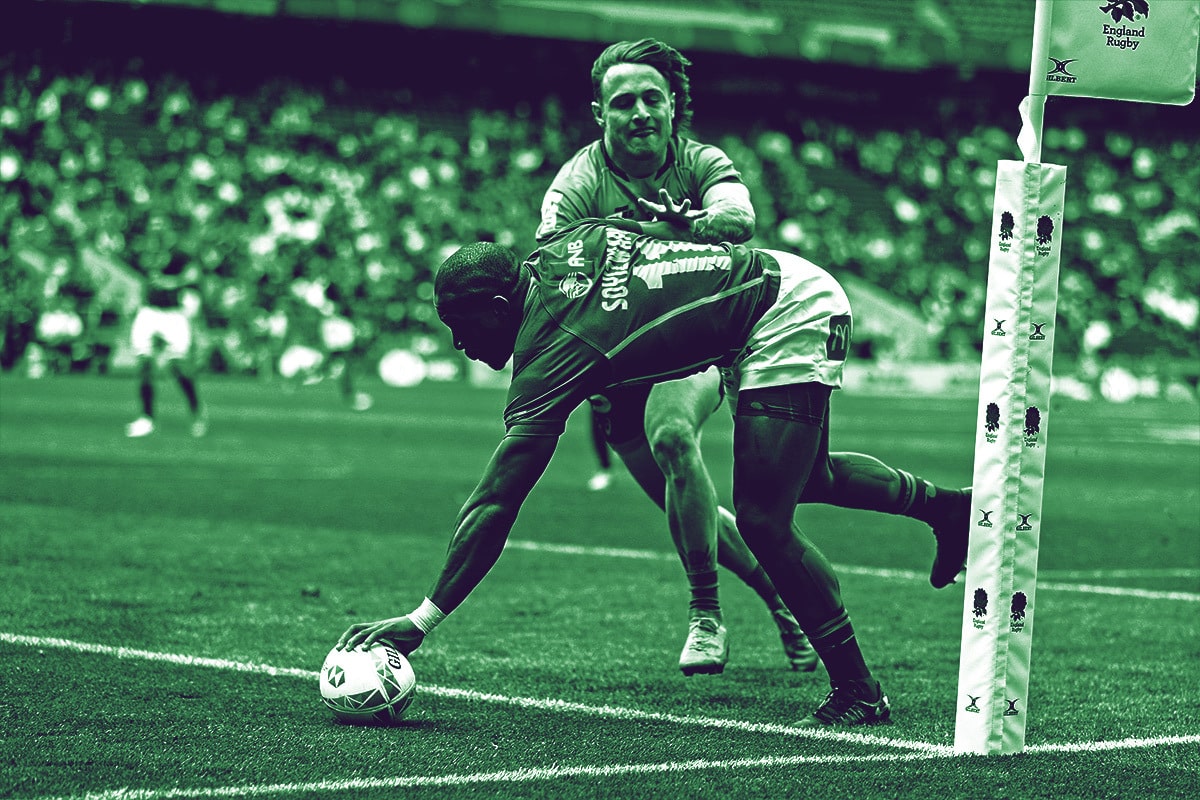 The Blitzboks are chasing history on home soil as they set out to secure their first Rugby World Cup Sevens title when the global showpiece gets underway at Cape Town Stadium on Friday, writes Quintin van Jaarsveld.
They came agonisingly close in 1997 and climbed back into the medals in 2018, but 29 years after the inaugural Rugby World Cup Sevens, the Melrose Cup remains an elusive holy grail for South Africa.
In their swansong tournament under long-serving coach Neil Powell, captain Siviwe Soyizwapi and company are desperate to go all the way over three days of tense competition in which a team must win all of their matches to stand at the top of the mountain.
Days removed from the eighth edition of the tournament, look back at the Blitzboks' history at Sevens' showpiece event…
1993
Held in Scotland, the inaugural Rugby World Cup Sevens saw the spawning of a damning trend in which South Africa start strong and trip up when it matters most.
As was the case until SA Rugby awarded players full-time national Sevens contracts for the first time in the 2008-2009 season, the South African team were made up of players of the 15-man game.
Captained by "The Rolls Royce of Fullbacks" André Joubert, the group of trail-blazers blitzed through the opening pool stage with wins over Japan (28-5), Wales (36-14), Latvia (47-5), Romania (38-0) and Fiji (26-19).
The Melrose Cup quarter-finals weren't knockouts but took the form of another round-robin with the teams split into two groups. Gysie Pienaar's charges featured in the fiercely-contested second group where each of the four teams claimed at least one victory.
South Africa handily defeated New Zealand 31-14 but lost to eventual finalists Australia (7-5) and England (14-7) to finish fifth, with England edging Australia 21-17 to become the first-ever champions.
Position: Fifth.
Squad:
Chris Badenhorst
Jannie Claassens
André Joubert (captain)
Hannes Kriese
Ruben Kruger
Dick Muir
Dion O'Cuinnegain
Jacques Olivier
Joost van der Westhuizen
Chester Williams
Coach: Gysie Pienaar
1997
Teams headed to the spiritual home of Sevens, Hong Kong, for the second tournament. Teams were divided into eight pools of three on day one with South Africa thumping Argentina (45-7) and Ireland (38-5) to top Pool G.
The 24 nations were then redrawn into eight new pools for the ranking round on day two with the winners progressing to the Melrose Cup quarter-finals, the runners-up to the Plate competition and the remaining teams into the Bowl competition.
With a strong team led by World Cup winner Joost van der Westhuizen and featuring the likes of Bobby Skinstad, André Venter, Pieter Rossouw and Breyton Paulse, South Africa continued their dominance with wins over Ireland (34-7) and Hong Kong (29-5).
Come the quarter-finals, they edged France 19-14 and smashed New Zealand 31-7 in the semis to reach their first (and only) final against Fiji. In what's considered one of the greatest games in Sevens history, South Africa led 14-7 at half-time thanks to a quick brace by Venter, with Stephen Brink converting both tries.
The Fijians came out firing in the second half, scoring three quick tries with their unstoppable offloading game, combination of power and pace and lethal counter-attacking to take a 24-14 lead.
With time running out, Rossouw went on a drift and threw a fabulous pass to Brink who sliced through to score and quickly added the conversion to make it a three-point game. It was not to be, though, as Rossouw knocked on after the restart and Fiji hooved the ball into touch from the ensuing scrum to reign supreme.
Position: Second
Squad:
Graeme Bouwer
Stephen Brink
Jacques Olivier
Breyton Paulse
Pieter Rossouw
Bobby Skinstad
André Snyman
Jeffrey Stevens
Joost van der Westhuizen (captain)
André Venter
Coach: Dawie Snyman.
2001
That the competition took place in Argentina proved to be a bad omen for South Africa.
Skinstad and Paulse were back for a second crack at the crown and were joined by the likes of André Pretorius, Ricardo Loubscher, Paul Treu and World Cup winner Chester Williams.
The 24 teams were divided into four pools of six with the top two in each progressing to the Melrose Cup quarter-finals.
South Africa scored 143 points and conceded just 19 on their charge to the quarters, blanking Canada (24-0), the Cook Islands (29-0) and France (19-0) while also thwarting Taiwan (47-7) and Georgia (24-12).
They ran into Argentina in the last eight, with the spirited hosts pulling off a 14-12 win, South Africa finishing fifth for the second time.
New Zealand, with the great Jonah Lomu at his best, romped to a 31-12 win over Australia in the final to capture their first title.
Position: Fifth
Squad:
Chester Williams
Wayne van Heerden
Helgard Brink
Ricardo Loubscher
André Pretorius
Bob Skinstad
Rodger Smith
Paul Treu
Breyton Paulse
Warren Britz
Coach: Norman Mbiko.
2005
After featuring as a player in the previous tournament, this was the first of back-to-back competitions Treu served as coach. It was also the second time Hong Kong hosted the tournament.
Unlike previous campaigns, South Africa got off to the worst possible start against Tunisia, the tournament newcomers stunning the men in green and gold 19-12 courtesy of captain Mohamed Ali Naouali's late try.
Russia felt the wrath of the Blitzboks, who rebounded with a 54-14 rout and added victories over Uruguay (59-0) and Kenya (36-10). Still, their last group game against Argentina was a must-win and they did, 12-5, thanks to Jaco Pretorius' second-half try.
The quarterfinal clash against Australia proved to be a nail-biting affair and ended in heartbreak for South Africa with the Aussies scoring two second-half tries to snatch a 15-14 victory and consign the Blitzboks to another fifth-place finish.
Fiji, meanwhile, became the first nation to win the Melrose Cup twice following their 29-19 win over defending champions New Zealand in the decider.
Position: Fifth
Squad:
Tobela Mdaka
Stefen Basson
Jano Vermaak
Lesley Jackson
Schalk van der Merwe
Danwell Demas
Gareth Krause
Eddie Fredericks
Mzwandile Stick
Fabian Juries
Marius Schoeman
Jaco Pretorius
Coach: Paul Treu.
2009
South Africa's first "real" Sevens team competed in the fifth and most shock-filled tournament in Dubai. The maiden group of contracted Sevens players were headlined by captain Kyle Brown and included the likes of Powell, Philip Snyman and Frankie Horne.
There were surprises aplenty with neither defending champions Fiji, New Zealand nor Australia reaching the Melrose Cup semi-finals. The Blitzboks couldn't sidestep a shock exit either when they took on Argentina in the quarter-finals following wins over Japan (26-5), Canada (15-7) and Scotland (19-14).
In what was a tense contest from the onset, South Africa started strong as Mpho Mbiyozo busted through a double tackle and muscled his way over for a five-pointer, which proved to be the only points of the first half.
Both teams conceded yellow cards but nothing came of it in the arm-wrestle. It was only once the teams were back to full complement that the Blitzboks built on their lead, Robert Ebersohn kicking ahead and showing exceptional speed to beat.
Martin Bustos Moyano to the ball and offload off the ground to Rayno Benjamin to run in. Vuyo Zangka popped over the conversion to put them up 12-0 with four minutes to go.
However, a spirited comeback by the Pumas and meltdown by the Blitzboks saw Moyano score a brace and Martin Rodriguez slot both conversions, the first from the left-hand corner, to stun the South Africans, who had to settle for another fifth-place finish.
Wales, who'd never reached the quarter-finals before, emerged as the Cinderella men of the tournament when they beat Argentina 19-12 in the final.
Position: Fifth
Squad:
Mpho Mbiyozo
Robert Ebersohn
Frankie Horne
Vuyo Zangka
Neil Powell
Kyle Brown (captain)
Renfred Dazel
Rayno Benjamin
Paul Delport
Lionel Mapoe
Philip Snyman
Gio Aplon
Coach: Paul Treu.
2013
Led once again by Brown, the Blitzboks touched down in Russia with a strong squad that included Cheslin Kolbe, Cornal Hendricks, Seabelo Senatla and Cecil Afrika.
In as perfect a run as you can get, the South Africans stormed into the Melrose Cup quarter-finals without conceding a single point, routing Russia (31-0), Japan (33-0) and Scotland (41-0).
However, their challenge came to an abrupt end in the quarters at the hands of Fiji, who edged the encounter 12-10. Fifth-place again for the Blitzboks.
New Zealand were imperious. Gordon Tietjens' men ousted Fiji with a 17-0 win in their semi-final showdown and were even more dominant in the decider, thrashing England 33-0 – a record final scoreline – to capture the crown for the second time.
Position: Fifth
Squad:
Chris Dry
Philip Snyman
Ryno Benjamin
S'bura Sithole
Cornal Hendricks
Kyle Brown (captain)
Branco du Preez
Stephan Dippenaar
Cheslin Kolbe
Cecil Afrika
Seabelo Senatla
Sampie Mastriet
Coach: Paul Treu.
2018
Held in America, this was the first tournament to adopt the single-elimination format and saw the Blitzboks reach the Melrose Cup semi-finals for the first time in 21 years.
Coached by Powell and captained by Snyman, South Africa were the top seeds after successfully defending their World Series title and looked the business as they blew away Ireland (45-7) and Scotland (36-5).
Finally back in the semis, things got off to the perfect start against England with Selvyn Davids drawing first blood. It proved to be the only proverbial punch they landed, though, as a string of errors saw them crash to a 29-7 defeat.
Bouncing back from that disappointment, the Blitzboks finished the tournament on a positive note with a 24-19 victory over Fiji in the bronze medal match.
Back to their best, they raced into a 17-0 lead with Snyman, Zain Davids and Justin Geduld all dotting down, and led 17-7 at half-time. They extended their lead through Siviwe Soyizwapi and held off a fightback from the Fijians to register their second-best finish.
Destiny smiled on New Zealand, who became the first country to clinch three titles and go back-to-back with a 33-12 victory over England in the final.
Position: Third.
Squad:
Ryan Oosthuizen
Philip Snyman (captain)
Dylan Sage
Zain Davids
Werner Kok
Heino Bezuidenhout
Dewald Human
Rosko Specman
Justin Geduld
Selvyn Davids
Siviwe Soyizwapi
Ruhan Nel
Coach: Neil Powell.
SIGN UP TO OUR

BET CENTRAL PLAYBOOK
Get weekly emails packed with the best tips and sports content.
Get ahead of the game now - fill in the contact form below.