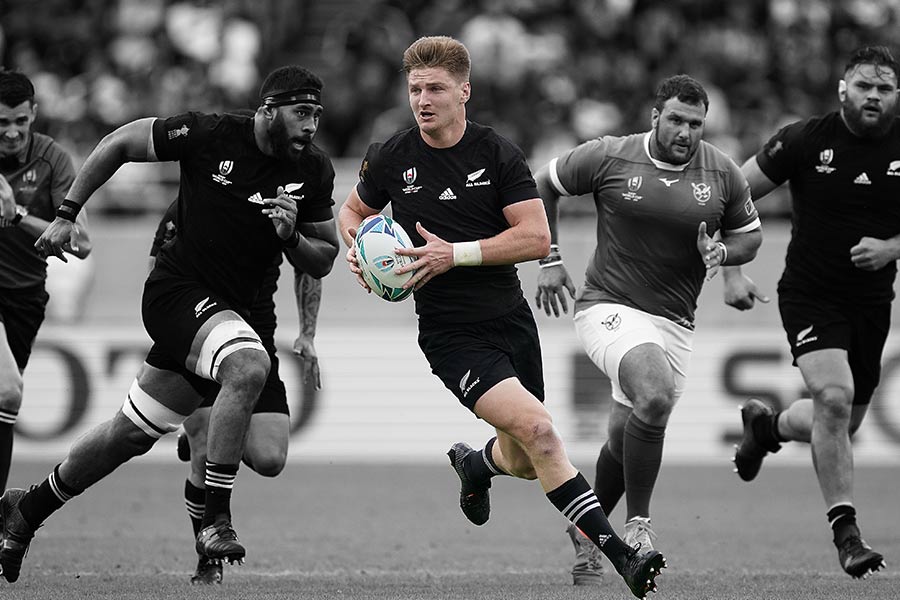 07 October 2019, by: Quintin van Jaarsveld
Rugby World Cup Predictions – Round 4
The world will be watching when the Brave Blossoms take on Scotland in the most important match in Japanese rugby history in Yokohama on Sunday, writes Quintin van Jaarsveld.
With Scotland expected to ease past Russia on Wednesday, Sunday's showdown is set to be a shootout for a place in the quarterfinals. How apropos, that the clash with the highest stakes will close out the pool stage of what's been a riveting Rugby World Cup so far.
With 12 clashes on the cards, it'll be an action-packed week in which every side will have something to play for. For the best of the best set to do battle in the play-offs, it'll be important to continue building momentum, while the rest will want to sign off with a win.
As the official betting partner of Superbru.com, we look at the dozen matches that make up Round Four of the 2019 global showpiece.
GET THE ADVANTAGE

WITH OUR RUGBY BETTING OFFERS
Extensive pre-match and live in-play markets on every game.
Our legendary BET Boosts to give you extra value on every game!
Exclusive to BET.co.za customers.
A fixture the Springboks have to win to cement their place in the quarterfinals, a goal they'll achieve in dominant fashion. Like in the African derby, South Africa won't overlook the outmatched minnows and will stick to their structures to sew up the result before they throw the ball around freely.
It might take the 'B Boks' with their new combinations a bit of time to gel but there'll be no avoiding a walloping for Canada, who have scored just seven points and conceded 111 in the losses to Italy and the All Blacks.
Prediction: South Africa by 55.
Nothing has gone the Pumas' way in Japan. France enjoyed the rub of the green which helped them edge their crucial clash and a red card dashed any hopes of the Argentine upsetting England at the weekend.
The victims of the Pool of Death will be determined to finish their campaign on a high. That spells trouble for USA, who fought gallantly but suffered heavy defeats to the pool pacesetters (45-7 to England and 33-9 to France). It should be a comfortable second win for Argentina (they beat Tonga 28-12) and a third straight loss for the Eagles.
Prediction: Argentina by 25.
After a Jekyll and Hyde start to the tournament, rolling over in the dire 27-3 defeat to Ireland and dominating Samoa 34-0 last time out, this fixture comes at a perfect time for Scotland to build continuity ahead of the do-or-die clash with Japan.
Russia haven't shown much other than guts, their 'best' result being the 20-point loss to the hosts in the tournament opener, so it'll be an easy win for the Scots.
Prediction: Scotland by 36.
Fiji will draw inspiration from the teams' last meeting at the global showpiece back in 2007, when they pulled off a historic 38-34 victory in Nantes – one of the biggest and most thrilling upsets in Rugby World Cup history.
The reality, however, is that the 2019 sides are on different planes. Fiji came good against Georgia, but that did little to erase the shock loss to Uruguay and, while they started well against the Wallabies, they fell off the pace in the second half. Fresh off their vital win over Australia, Wales will march on.
Prediction: Wales by 26.
Even though Georgia are the rising force of European rugby, the hammerings they took against Wales (43-14) and Fiji (45-10) highlighted how far off they still are when it comes to challenging top teams. The 33-7 win over Uruguay will be the Lelos' only Rugby World Cup highlight, with the Wallabies set to have a field day.
Prediction: Australia by 38.
It doesn't get any easier for the Azzurri after their 49-3 thumping by the Springboks. Italy were incredibly negative in their approach to the game against South Africa and one would hope they at the very least clean up their act. I suspect they'll cut out foul play but will still concede a string of penalties under relentless pressure.
Given their opposition, Italy won't be allowed to get away with the spoil tactics they employed against the Boks. They're bound to concede one if not more yellow cards, which will simplify things for the All Blacks.
Prediction: New Zealand by 45.
A big game, with top spot in Pool C on the line, I expect England, in particular, to lift their play significantly. It's been all too easy for Eddie Jones' charges thus far.
After runaway wins over Tonga (35-3) and USA (45-7), the game against Argentina was over as a contest after 17 minutes, when Tomas Lavanini was red-carded for a dangerous hit on Owen Farrell.
England will thus welcome this opportunity to get a proper hit-out before the quarterfinals. France have been underwhelming, to say the least, but can beat any team on their day. Saturday won't be their day, though.
Prediction: England by 14.
A bonus-point win will guarantee Ireland a place in the quarterfinals ahead of the blockbuster Japan-Scotland clash. After the shock loss to the Brave Blossoms, the Irish need a big performance in the worst way and that fire should be exactly what they need to finally ignite their campaign. Samoa were shutout by Scotland (34-0) and swept aside by Japan (38-19) at the weekend, so don't expect much from the struggling Pacific Islanders.
Prediction: Ireland by 30.
It's been a rough ride for the minnows of Pool B, condemned to crushing defeats against the All Blacks, Springboks and Italy. This head-to-head battle is a chance for one of these sides to get reward for their passionate endeavor against the tier-one teams.
If Namibia can replicate the performance they put forth in the 47-22 loss to Italy, they could clinch a first-ever Rugby World Cup win. For my money, though, Canada will have a slight edge and they'll be the ones eking out the victory.
Prediction: Canada by five.
Despite the heavy defeats heading into this clash, USA will fancy their chances of picking up a famous Rugby World Cup win in their final fixture. Gary Gold will surely instruct his charges to target Tonga's struggling set-pieces, which were largely why they failed to trouble England and Argentina.
The Pacific Islanders awoke from their coma at times to push France close at the weekend, and it's based on that improved effort that I'm backing them to snap their losing run.
Prediction: Tonga by 10.
An Uruguay upset, like the one over Fiji, is out of the question, but if Wales are lackadaisical as a result of looking ahead to their quarterfinal showdown, probably against France, it could be a scrappy encounter. At the very least, I expect the Welsh to pour it on in the second half and leave Los Teros for dead.
The Pacific Islanders awoke from their coma at times to push France close at the weekend, and it's based on that improved effort that I'm backing them to snap their losing run.
Prediction: Wales by 40.
The whole of Japan is set to come to a standstill for this monumental match. A win will secure the Brave Blossoms a place in the Rugby World Cup quarterfinals for the first time, however, a losing bonus-point could also be enough for the hosts to make history. The sides will know exactly what's expected of them when they run onto the field.
Japan were simply sensational in all three of their wins, not just the epic upset of Ireland. The groundswell of support they've received has inspired the hosts to take their game to new heights. Scotland hasn't played to their full potential but they should be at their best for this titanic tussle. History knocks and with all of their magical momentum, I believe the Brave Blossoms will answer.
Prediction: Japan by three.
JOIN BET.CO.ZA NOW AND
GET 100% DEPOSIT MATCH UP TO R1000
Open your BET.co.za account here
Deposit using your preferred method
Your bonus gets added immediately!
MORE RUGBY