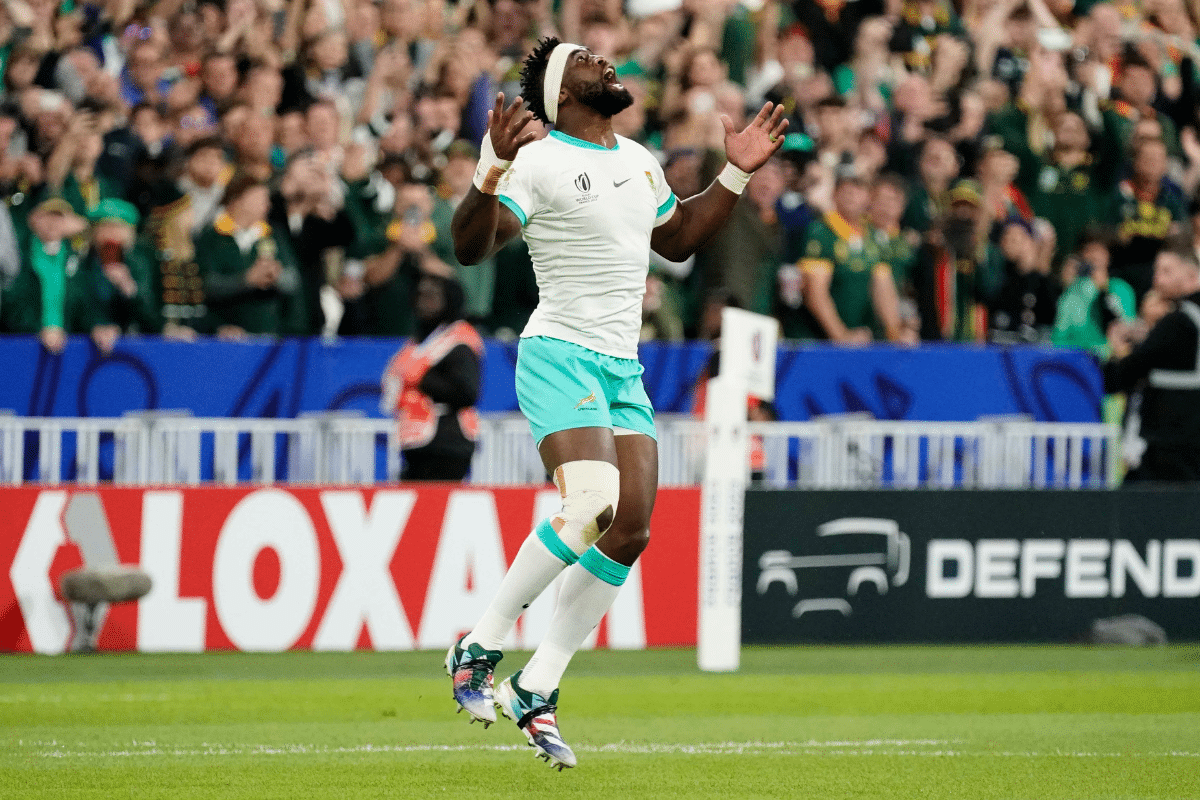 The Springboks are in bounce-back mode as they look to book their place in the Rugby World Cup quarterfinals against Tonga in Marseille on Sunday evening, writes Quintin van Jaarsveld.
The weekend's other key clash is in Lyon, where the All Blacks and Italy do battle on Friday night. Meanwhile, with their eyes firmly set on a last-eight berth, Fiji will be determined not to slip up against Georgia in Bordeaux on Saturday.
New Zealand v Italy
Friday, 29 September – 21:00
All Blacks assistant coach Scott McLeod's admittance that there had been a few "pushes and shoves going on" during training last week shed light on the tension and hunger in the Kiwi camp.
Although they are overwhelming favourites against the Azzurri, who they've never lost against, New Zealand are still irritated after the 27-13 defeat to France in the tournament opener and respectful of what's a sudden death game for both them and Italy.
Focused and fired up, they'll canter past the Italians.
Prediction: New Zealand by 45.
Suggested Bet: New Zealand -27.5 at 1.88.
Argentina v Chile
Saturday, 30 September – 15:00
Having recovered from their 27-10 opening-round loss to 14-man England with a hard-fought 19-10 triumph over Samoa last Sunday, this first-ever encounter against Chile is an opportunity for Los Pumas to let loose.
After decent showings in defeat against Japan (42-12) and Samoa (43-10), Los Cóndores were whitewashed 71-0 by England last Saturday. Outclassed and with little left in the tank, their maiden World Cup campaign will come to a close with a heavy loss against the playoff-pursuing Argentinians.
Suggested Bet: Chile +49.5 at 1.85.
Fiji v Georgia
Saturday, 30 September – 17:45
Second in Pool C thanks to their narrow 32-26 loss to table-topping Wales and famous 22-15 win over the Wallabies, Fiji need just see off Georgia and Portugal to return to the playoffs for the first time since 2007 and send Australia home early.
Georgia needed a late try to force an 18-all draw with Portugal in what was one of the games of the tournament last Saturday, but they're the better team on paper and in terms of their dominance of the Rugby Europe Championship, which they've won for the last six years in a row, so they're a potential banana peel for the Pacific Islanders.
Fiji thrive as underdogs so it'll be interesting to see how they cope with the expectations born out of their excellent start to the tournament. Class-wise, they're a cut above the Lelos, they've never had the type of cohesion as they do now and they have some cool heads to keep the train on the tracks, so there shouldn't be any problems in Bordeaux.
Suggested Bet: Fiji -17 at 1.84.
Scotland v Romania
Saturday, 30 September – 21:00
No team have had a rougher time than unlucky Romania. Their reward for qualifying for the World Cup was being drawn into the pool of death and facing Ireland, South Africa and now Scotland in consecutive matches. 
They've had a week to recover from the 76-0 bashing by the Boks but that'll do little to alter what will be another emphatic defeat to a Scotland team gearing up for a make-or-break battle against the Irish.
Suggested Bet: Scotland -56.5 at 1.84.
Australia v Portugal
Portugal, who were so brave and came so close to a first-ever win at a World Cup in the draw with Georgia, are now set to face the wrath of an embarrassed and embattled Wallabies team out for a measure of redemption after their record 40-6 drubbing by Wales last Sunday, which came on the heels of their shock defeat to Fiji.
These young Wallabies, under an Eddie Jones who's lost the plot, are dog water, but even they won't crash to an unprecedented upset to lowly Portugal. It won't do much to win back the favour of their fed-up fans, but the Australians will score some good tries and win by a mile.
Suggested Bet: Australia -23.5 at 1.84.
South Africa v Tonga
Sunday, 1 October – 21:00
The disappointing 13-8 defeat to world No 1 Ireland last Saturday means there will be no complacency on the part of the Springboks in their final pool game. With topping Pool B now out of the picture, the defending champions will instead look to cement their place in the knockouts in style.
That 'style' doesn't refer to a free-flowing try-scoring spree but rather a clinical battering in which the returning Handre Pollard pulls the strings and gets through unscathed. Indeed, avoiding injuries will be near the top of the Bok coaches' wish list as Tonga are nothing if not physical.
The 'Ikale Tahi gave Scotland a good run for their money for 50 minutes, trailing by just seven, before they fell off the pace and ultimately lost 45-17. They'll struggle to get a foothold in the game due to South Africa's strong set pieces and with the depth at the Boks' disposal, it'll be a long night for the minnows.
Prediction: South Africa by 45.