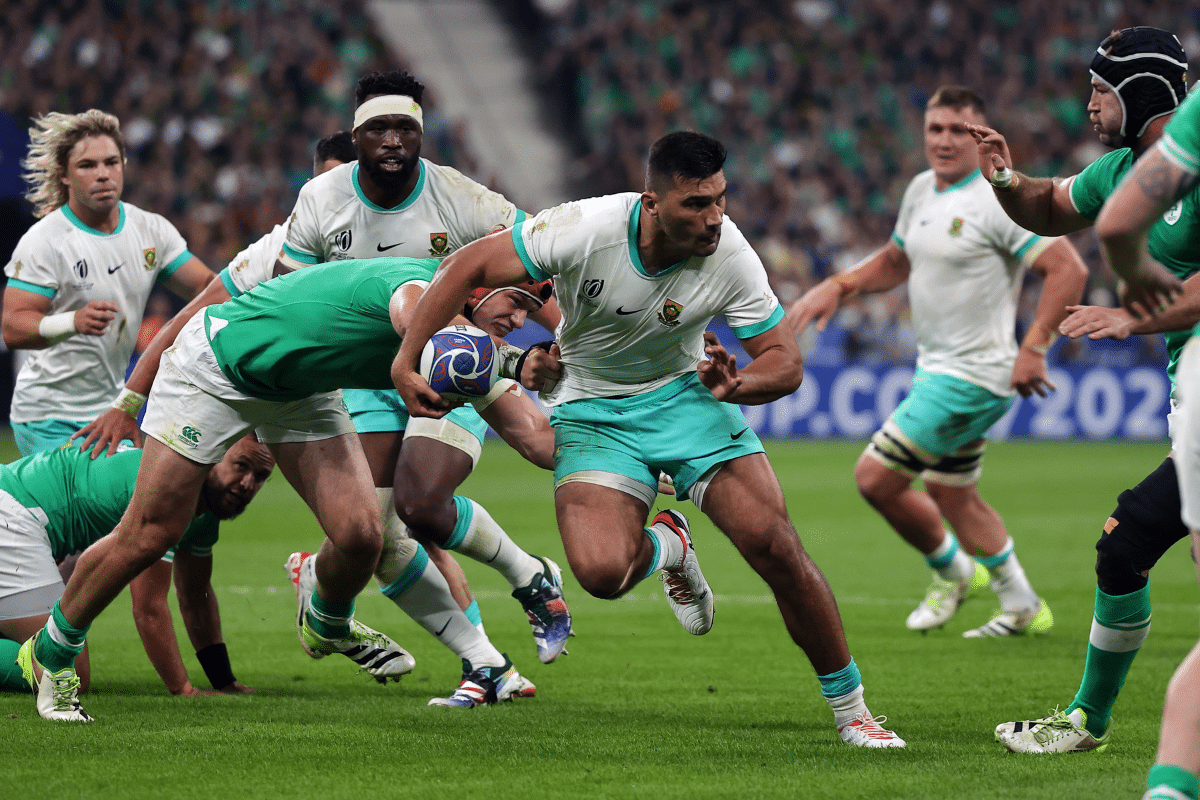 The power of Damian de Allende and the panache of Damian Willemse weren't enough as the Springboks suffered a 13-8 defeat to Ireland in a titanic Rugby World Cup tussle in Saint-Denis on Saturday night, writes Quintin van Jaarsveld.
The battle of the two top-ranked teams in the world delivered in awe-inspiring intensity, explosiveness and drama with each side scoring a try apiece.
However, the defending champions missed 11 points off the tee and squandered a couple of try-scoring opportunities that ultimately cost them victory in the virtual Pool B decider.
Our top three Springbok standouts were:
Damian Willemse
Selected ahead of veteran Willie le Roux at No 15, Willemse had one of his best games for the Springboks and one would think he cemented his starting berth for the likely quarterfinal clash against hosts France following the final pool match against Tonga.
It was an assured performance by the versatile virtuoso. He was tactically sound with his positioning and decision-making, potent on attack and more than dependable on defence. It was a showing that highlighted his maturity into a big-match banker and one that'll see him play a lot more of his Test rugby at fullback.
The 25-year-old was elusive from his first touch of the ball, fielding the kick-off and stepping the first would-be tackler to set the tone for his dazzling display. He went on to bob and weave past a match-high six defenders, including making a brilliant break from a scrum in the first quarter and breaking Garry Ringrose's ankles, and ran for an unrivalled 73 metres.
He kicked when needed and did it well, chipped in a grubber that rolled out five metres from the Irish try line, was good under the high ball and made a couple of clutch tackles.
Damian de Allende
De Allende delivered a colossal effort, almost as if to make a statement, and he did that emphatically as he silenced what had become increasingly louder calls for Andre Esterhuizen to displace him in the run-on side.
The midfield monster was in full beast mode and cleared traffic the only way he knows how, by barrelling straight through whoever was in his way. He rang Ringrose's bell before sitting down Johnny Sexton and coming within a metre of scoring with another super carry that'll feature prominently in his career highlight reel.
He beat four defenders in all and rumbled for 18 metres, however, he wasn't just brawn. He added a chip and most importantly, a perfectly timed and executed swivel ball that enabled Manie Libbok to put Cheslin Kolbe in for the Boks' try.
Strong work on defence, which included a number of dominant hits among his 10 tackles and a turnover, rounded out his outstanding performance. 
Pieter-Steph du Toit
There's a reason why Du Toit was the only Bok forward to play for the full 80 minutes. The 2019 World Player of the Year has proven himself as an iconic ironman over the years and he did so again in the brutal battle at Stade de France.
A tireless worker and durable warrior, Du Toit once again put his body on the line in an all-court performance, to use a basketball phrase. In addition, his value as a hybrid forward came to the fore when he produced a vital lineout steal on his 5m line.
It's no surprise that he led the tackle count with 13, while he also made several strong carries and clattered into countless rucks.