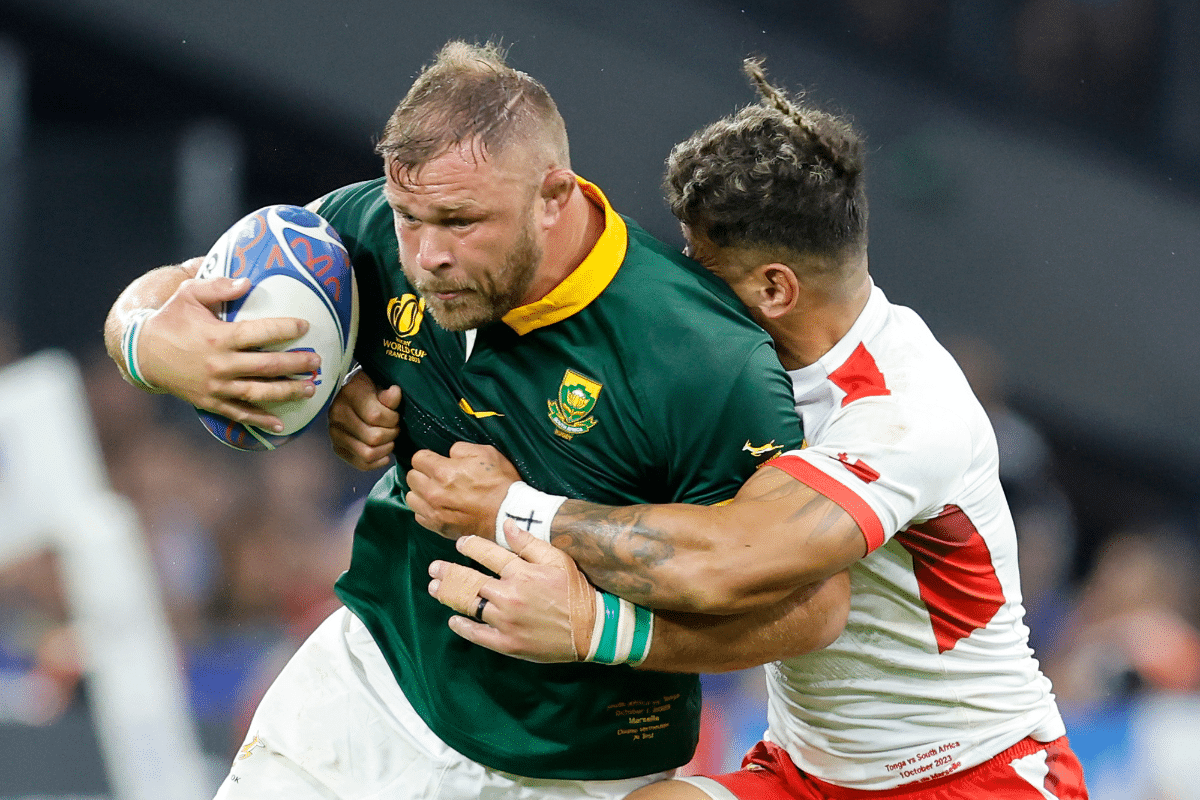 Over more than a decade of destruction in the green and gold, Duane Vermeulen cemented his legacy as the greatest Springbok eighthman of all time, writes Quintin van Jaarsveld.
Vermeulen on Wednesday announced his retirement from Test rugby, bringing the curtain down on a glittering career spanning 76 Tests over 11 seasons.
The 37-year-old started in the No 8 jersey on 68 occasions, featured three times at flank and five times off the bench. He had the honour of captaining his country four times and scored three tries.
Making his Test debut against the Wallabies in Perth in 2012 and concluding his international journey in the recent Rugby World Cup final win over the All Blacks in Paris, the Mbombela-born behemoth was a true tour de force.
His achievements and accolades are iconic. He's a double World Cup winner and a two-time SA Rugby Player of the Year, scooping the award in 2014 and 2020 to join an elite group of players who've won the gong more than once since the advent of professionalism.
Other players who've won SA Rugby's top prize more than once are Schalk Burger (2004 and 2011), Bryan Habana (2005, 2007 and 2012), Fourie du Preez (2006 and 2009), Jean de Villiers (2008 and 2013) and Pieter-Steph du Toit (2016, 2018 and 2019).
Furthermore, Vermeulen's the most capped eighthman in Springbok history and stood tall as the Man of the Match in the Springboks' 2019 World Cup final win over England in Yokohama.
At provincial level, he's one of just two players who've won the Currie Cup with three different unions, lifting the coveted gold trophy with the Cheetahs in 2007, Western Province in 2012 and Bulls in 2020, the only other player to achieve the feat being the late, great Theuns Stofberg.
His remarkable honour roll aside, Vermeulen will be remembered as one of the great hard men of South African rugby. A human wrecking ball, he caused chaos worldwide with his size, strength and feared physicality.
There have been faster, flashier and more athletic men in the role, but none greater suited for it. He's the prototypical Springbok No 8 – 117kg of grade A South African beef in a 1.93m tall package of functional power and ferocious fury.
He was the perfect blend of brains and brawn, a grizzled genius and colossus who was stone-cold in the cauldron. A giant in every sense of the word, Vermeulen's value grew as the stage got bigger.
He was a blue-collar banker made for the biggest moments, a prime example being his classic break from the back of the scrum and outrageous offload to Fourie du Preez to save the day in the 2015 World Cup quarterfinal against Wales at Twickenham.
Affectionately known as Thor, he brought thunder and lightning to fields worldwide. The perfect storm of a career is now over, his legacy as an all-time great secure.