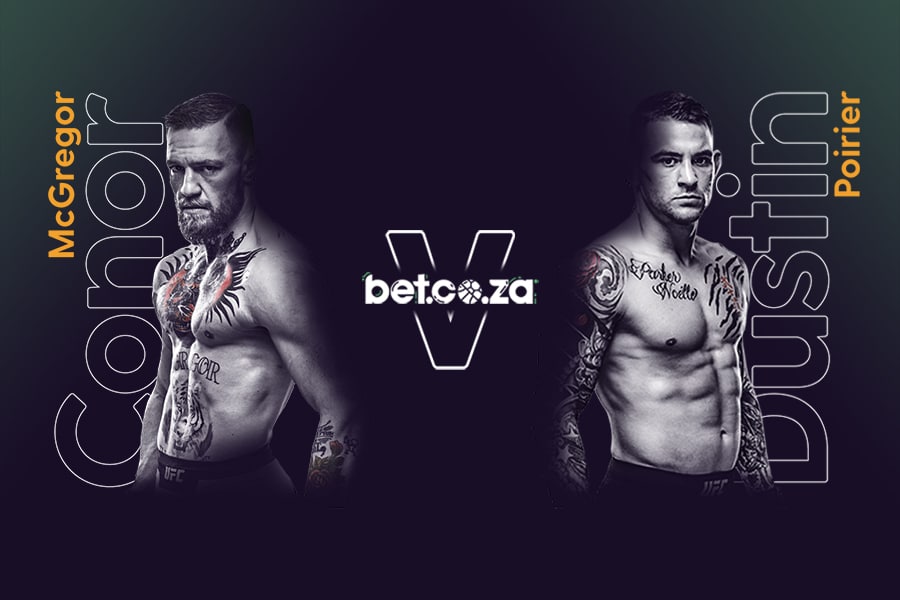 Conor McGregor, the biggest name in combat sports, kick-starts 2021 as he makes his much-anticipated return to do battle with Dustin Poirier in a mega main event showdown at UFC 257 on Fight Island in Abu Dhabi on Saturday night (Sunday morning SA time), writes Quintin van Jaarsveld.
In the co-headliner, former Bellator lightweight king Michael Chandler makes his long-awaited UFC debut against the dangerous Dan Hooker, while in a third lightweight match-up, Matt Frevola faces off with Ottman Azaitar in a battle up-and-coming stars.
Meanwhile, former flyweight title challenger Jessica Eye will look to claw closer to another championship opportunity when she takes on Joanne Calderwood, who's equally determined to advance her title aspirations. Set to start the main card with a bang is the strawweight scrap between Brazilians Marina Rodriguez and Amanda Ribas.
MAIN CARD (from 5.00 Sunday morning SA time):
Dustin Poirier vs. Conor McGregor (Lightweight Bout)
Almost a year to the day of his last appearance in the Octagon, a 40-second destruction of Donald Cerrone, McGregor (22-4) drops from welterweight back down to lightweight to face a familiar foe in Poirier in a clash that'll shape the course of the talent-rich 155-pound (70kg) division.
Both men's future is their past. For either to move one step closer to an opportunity to capture the world championship, or possibly lure Khabib Nurmagomedov – who bowed out with an unbeaten 29-0 record following his title defence against Justin Gaethje last October – out of retirement, they have to wage war again, over six years after their first fight.
Contested at featherweight, an up-and-coming McGregor made quick work of "The Diamond", knocking him out in just one minute and 46 seconds. On that night, at UFC 178 in Las Vegas, a star was born, the stunning stoppage solidifying the brash Irishman as the real deal. It was also the night McGregor coined the "Mystic Mac" moniker, having predicted a first-round knockout leading up to the fight.
It's one of the biggest clichés in the fight business, but in this case, it's true – both men are completely different fighters than they were back in 2014. Their evolution is evident in the legendary blood they've spilt since, "The Notorious" becoming the first-ever two-weight world champion – delivering a flawless display to knockout Eddie Alvarez for the lightweight belt after having starched the great Jose Aldo in just 13 seconds to seize featherweight gold – and becoming the biggest star the sport has ever known with epic rivalries with Nate Diaz and Nurmagomedov.
Poirier returned to lightweight after the loss to McGregor and went on an absolute tear, finishing three former world champions in Anthony Pettis, Gaethje and Alvarez before handing then-featherweight champion Max Holloway his first loss in six years to win the interim lightweight championship at UFC 236 in 2019.
Five months later, he took the fight to Nurmagomedov, but ultimately became the dominant Dagestani star's 28th victim, a devastating loss he bounced back from in typically violent fashion in a five-round war against Hooker. That unanimous decision victory last June was Poirier's latest in the Octagon, leading him to a riveting rematch against McGregor.
This time it's different. The animosity, the smack talk on McGregor's part and hatred on Poirier's part, all of which the latter admits had a profound impact on the eventual outcome, all of it is gone. The rematch is built on mutual respect, so much so that McGregor's pledged to donate $500,000 to Poirier's charity, The Good Fight Foundation. It's purely about competition and putting themselves in prime position for what they envision will be a golden future. That said, it hasn't stopped "Mystic Mac" from predicting another quick knockout.
Tactically, it's a rare battle of southpaws as well as a striking clash of styles. McGregor's a sharpshooter, a lethal one at that. The Irish enigma has a unique, karate-like long stance from where he likes to launch a variety of kicks and dip in and out with piercing punches. His trademark style makes him unpredictable while, at the same, allows him to get a read on his opponent.
He's a master of movement, one of the best ever at controlling distance, cerebrally calculating range to find openings and/or avoid and counter incoming fire. He's the total package as he not only boasts prodigious precision but one-punch knockout power as well.
His left hand is like a shotgun, and it's common knowledge that it's his biggest weapon. It's not his only weapon, though, and he even debuted some new ones in the "Cowboy" fight, bamboozling and busting up Cerrone with the most effective shoulder strikes ever seen in the Octagon before finishing him off with a vicious flurry that included a head kick and a flying knee.
Poirier (26-6-1NC) is a buzzsaw, a blood-thirsty brawler who overwhelms opponents with a barrage of brutal punches (see his sensationally savage stoppages of Alvarez and Gaethje). He's a dog – the underdog, too – but a dog by his very nature. He's technical when he wants to be, well-rounded and savvy, but at his core, he's much more of a fighter than he is a mixed martial artist. "The Diamond" was made for war and shines the brightest when he can go toe-to-toe and blow-for-blow in bloody combat. His epic win over Hooker was the latest war that highlighted the fact that he's more durable at lightweight than he was at 145.
If the action spills to the ground, the American Top Team product should have the advantage. He has a wicked guillotine, which he nearly submitted Nurmagomedov with, and an equally deadly D'Arce, both wonderful weapons considering all four of McGregor's mixed martial arts career losses have come via submission.
The fight should mostly play out on the feet, however, with the two most likely scenarios being either McGregor winning early or Poirier late. The latter's a slowish starter whereas McGregor's at his most dangerous in the opening stages. Add McGregor's technically superior striking and I see "The Notorious" closing the show inside two rounds.
Prediction: McGregor via second-round knockout.
Best Bet: Alternative round: McGregor to win in Rounds 1-2 (@1.86)
Alternative Bet: Round and method: McGregor via KO/TKO in Round 2 (@5.00)
Dan Hooker v Michael Chandler (Lightweight Bout)
Timing is everything. It's how this compelling clash came to be and it'll determine who gets their hand raised. It seemed unthinkable that Chandler (21-5) would ever step inside the Octagon, not because he's not talented enough, but rather, the exact opposite. An exceptionally well-rounded warrior, he became the face of Bellator, building an unrivalled résumé over a decade of destruction. He holds a host of promotional records, including the most title reigns (3) and most stoppage wins (13).
His bloody battles with Alvarez is the stuff of legend and the way he rag-dolled Benson Henderson to spoil the former UFC lightweight champion's Bellator debut in 2016 and knocked him out in the first round in his most recent bout last August reiterated that he was the best fighter in the world not signed to the UFC. The rematch with Henderson was the last on his contract and UFC president Dana White was quick to snap him up.
His debut is the most anticipated since that of Ben Askren against Robbie Lawler in 2019. There are great parallels in their journeys, with Askren also being the gold standard in every promotion he competed in, and both men are stud wrestlers. The key difference is Chandler, an NCAA Division 1 All American, is much more than 'just' a wrestler. He's knockout power rivals, if not eclipses, that of McGregor plus he's a master strategist.
The 34-year-old possesses enough power to knockout Hooker, who was Zombie-Esque against Poirier, but the key to the fight is his wrestling and Hooker's ability to keep it on the feet. This, again, is where timing is key. Sixth-ranked Hooker (20-9), is a straight-up savage and out and out finisher, even stopping Gilbert Burns, who'll be challenging welterweight champion Kamaru Usman next month.
Specific to the clash with Chandler, "The Hangman" has some of the best knees in the business, using his height, reach and lightning-quick reflexes to crush the likes of Jim Miller and Ross Pearson. The lanky New Zealander will have an even greater size advantage than usual; at six-foot, he's four inches taller than his stocky opponent and will also have a four-inch reach advantage. In this delicate, dangerous dance, he needs just one flush knee as Chandler shoots to "break the new toy" as he's vowed to do.
With a world of experience, Chandler knows how to hide his plethora of takedown techniques behind strikes. I believe he'll outwit and outmuscle Hooker to the ground, where he might get a late finish, but a decision victory is more likely, after which he's sure to call out McGregor, Nurmagomedov or Diaz (perhaps all three).
Prediction: Chandler via decision.
Best Bet: Chandler to win at 2.05.
Alternative Bet: Chandler via points at 3.15.
Jessica Eye v Joanne Calderwood (Flyweight Bout)
This is a crucial clash neither fighter can afford to lose. The two top 10 flyweights are both coming off losses and at 34, defeat in Abu Dhabi would drastically diminish their title aspirations. Both are durable, wily veterans. Sixth-ranked Eye's (15-8) only been knocked out once; unfortunately for her, it came in the biggest fight of her life, nearly being decapitated by Valentina Shevchenko, who retained her strap with one of the most brutal head kicks you'll ever see at UFC 238 in 2019.
Seventh-ranked Calderwood (14-4) has never been stopped by strikes. Why the focus on their toughness? Well, it, coupled with the fact that they're skilful but not exactly the hardest-hitting strikers, suggest the fight will go the distance. Eye's last four wins have come via decision, her last stoppage win dating all the way back to 2014 when she almost took Leslie Smith's ear off, while Calderwood's last TKO victory was over Valérie Létourneau in 2016.
Both have extra pressure on their shoulders heading into the must-win match-up. Eye missed weight for her last two fights and if that happens again, and she suffers a second successive loss, she might get the boot, even if she is one of the bigger names in women's mixed martial arts.
Calderwood had punched her ticket to a title tilt against Shevchenko in the latter half of last year but opted not to wait for the injured champion. The gamble backfired spectacularly, with the Scot being submitted by Jennifer Maia in the opening round in August. Drop this one, and "JoJo" will plummet further down the latter.
Eye is the better, faster athlete. I think her footwork will help her rack up points on the feet and she has a superior ground game, so I'm backing "Evil" to get the nod on the judges' scorecards.
Best Bet: Eye via points at 2.65.
Alternative Bet: If you find the under 2.5 rounds (@3.47) and finish odds (@5.50 for both) too appetising to pass on, put your money on Eye securing a submission as three of Calderwood's six losses have come via tapout.
Matt Frevola v Ottman Azaitar (Lightweight Bout)
One of headliner McGregor's most memorable quips came back at the UFC's "Go Big" press conference in 2015. When then-lightweight champion Rafael dos Anjos expressed interest in fighting the Irishman, McGregor responded, "It's red panty night when you sign to fight me, yeah, back at home with your wife. It's a celebration." Well, they may not be fighting McGregor, but being on the superstar's main card is as good as it gets for this pair of lightweight prospects at this stage of their careers.
I'm tipping the undefeated Azaitar (13-0) to seize the moment. The German-Moroccan did just that in his two appearances inside the Octagon so far, coming away with back-to-back knockouts and Performance of the Night bonuses, and I'm expecting him to complete his hat-trick.
Frevola (8-1-1) is no slouch. He showed heart to bounce back from a disastrous debut, which saw him getting knocked out in the first round by Polo Reyes (his first loss), with two consecutive wins, but his chin won't hold up against Azaitar. Known as "The Bulldozer", Azaitar boasts 10 knockouts and two submission wins, while just one of his victims has gone the distance.
Prediction: Azaitar via knockout.
Best Bet: Azaitar to win in rounds 1-3 at 2.25
Marina Rodriguez v Amanda Ribas (Strawweight Bout)
A battle of Brazilians, both ranked in the top 10. I'm very high on Ribas (10-1). The 27-year-old has all the makings of a future world champion and is unbeaten in the UFC. It's not only that she's amassed a four-fight win streak since joining the mixed martial arts mecca that's so impressive, but it's also whose scalps she's claimed.
After a successful debut against Emily Whitmire, she handed fellow potential superstar Mackenzie Dern her first defeat, swept Rando Markos aside and in her most recent bout, she made Paige VanZant look like an amateur, clamping on a fight-finishing armbar in the opening round that shot her up to ninth in the rankings and sent VanZant packing out of the promotion.
Eighth-ranked Rodriguez (12-1-2) has proven she's a tough out for anyone, which is why she was drafted in to take on Ribas after Michelle Waterson pulled out in December due to personal reasons. She's only fought the cream of the crop since joining the UFC in 2018 and has had mixed results, winning two, losing one and drawing two. Her biggest win to date – over Tecia Torres – is also her most recent – back in 2019.
She succumbed to former champion Carla Esparza in her last fight (in July last year) after fighting Cynthia Calvillo to a majority draw, so all the momentum is with her opponent. With six finishes in her 10 fights (split evenly between knockouts and submissions), I'm backing Ribas to beat Rodriquez and the clock.
Prediction: Ribas via submission.
Best Bet: Ribas to win in rounds 1-3 at 3.00
Alternative Bet: Under 2.5 rounds at 2.76 or
Fight to go the distance: No at 2.50).
SIGN UP TO OUR

BET CENTRAL PLAYBOOK
Get weekly emails packed with the best tips and sports content.
Get ahead of the game now - fill in the contact form below.