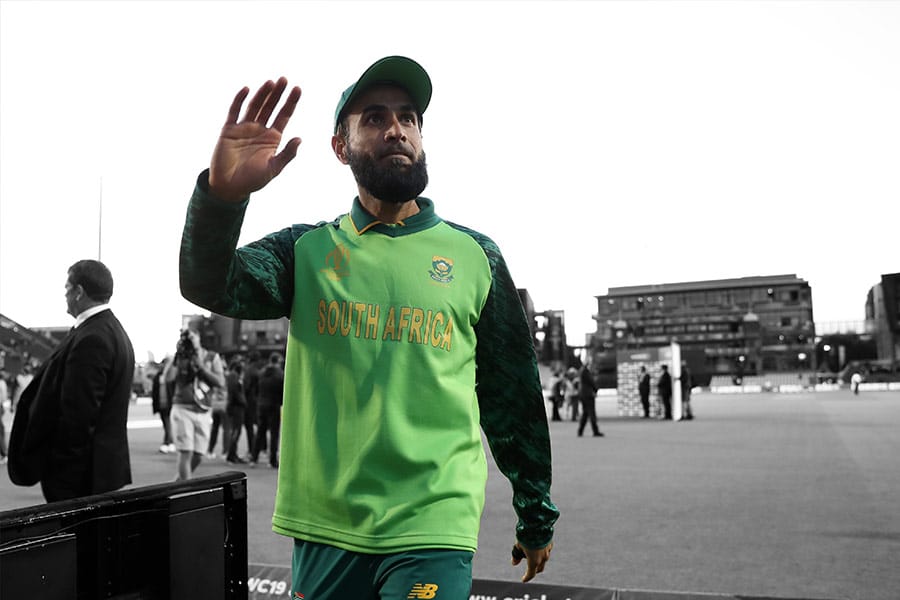 08 July 2019, by: Carl Lewis
PROTEAS AT THE WORLD CUP: SCORECARD
After South Africa's worst showing at any World Cup, we take a look at how each and every squad member scored in terms of performance at the tournament.
The Proteas failed to win any of their big matches when it counted, they did save some face with excellent performances against Sri Lankan and old rivals Australia. However, by that time they had no chances of advancing into the final four.
We score each squad member and touch on their future with the national team.
World Cup Stats:
Innings: 8
Runs: 387
Average: 64.50
Summary
Although he was South Africa's best batsman at the World Cup, his performances included a beautiful ton and three half-centuries, captain du Plessis can't run away from accountability as his side failed to make an impression when it mattered.
Faf scored the only South Africa century at the World Cup. when you compare it to Australia's five centuries you see where the Proteas fell short. He, as well as other top-order batsmen, struggled to take advantage of their starts.
South Africa were never favourites to win the competition but the timid World Cup performance from du Plessis' men has left a bitter taste in fans mouth.
Future
In my opinion, Faf remains the right man to lead South Africa in a new 4-year cycle. He still makes the sides on merit and is the ideal bridge between the old guard and the next generation.
World Cup Stats:
Innings: 7
Runs: 203
Average: 40.60
Summary
Amla did scored two 50's at an average of 40, but it's clear the iconic Protea batsman is not at his best. Pre-tournament he was dealing with family/personal issues as well as his own form. Unfortunately, against the likes of England, India, Windies and Pakistan he did not look like the player who scored his ODI runs at a record pace.
Future
At 36 years old, Amla probably won't see another World Cup and it's time to look to the future. Aiden Markram or someone else will need to partner de Kock at the top of the order. It must be said that Amla's ODI record holds up against some of the greatest in the game.
World Cup Stats:
Innings: 9
Runs: 305
Average: 38.12
Summary
One of the better batsman but the de Kock failed to make any of his starts count. As one of the form players heading into the tournament, a lot of the Proteas success hinged on his form and unfortunately, it was not good enough. The failure to review against Kane Williamson also counts against him.
Future:
A key player for South Africa going forward. Unquestionably world-class.
World Cup Stats:
Innings: 4
Runs: 70
Average: 17.5
Summary
The veteran did not get the opportunities he would have expected. When he did get the chance to bat, he did not make it count. His highest score against Bangladesh, 45, required him to push on and win the match for the Proteas.
Future
Duminy has called time on his international career. The Proteas will be on the lookout for a new middle order/finisher for the future.
World Cup Stats:
Innings: 6
Runs: 140
Average: 23.33
Summary
A very disappointing campaign for the youngster. Although he scores some of the best '30s in world cricket, he failed to register a meaningful score and did not win over those who doubted his selection. His ODI record continues to confuse and this forgettable World Cup has not done his reputation any good.
Future
In my opinion, he remains the most talented young south African batsman and someone worth investing in. He will be a mainstay for the Proteas across all formats.
World Cup Stats:
Innings: 4
Runs: 135
Average: 34
Summary:
Miller did not play in all of the matches but his scores of 38, 31, 36 and 31 are indicative of the Proteas failings. The destructive leftie had decent starts but could not make any of them count.
Future:
Interesting one, at 30 years old Miller still has years left in him. Some would argue that he has been given enough opportunity but has failed to deliver. Critics have a point but I would keep Miller around the team. He still has quality and together with his experience could still prove valuable to the national team.
World Cup Stats:
Matches: 8
Wickets: 13
Strikerate: 29.46
Average: 34
Summary:
Perhaps the Proteas best player at the World Cup. Morris was called up at the 11th hour to replace Dale Steyn. He snatched his opportunity with both hands and was very impressive with the ball. He ended as South Africa's highest wicket-taker with 13 wickets.
Future:
Morris is 32 years old, it's hard to predict how his body will feel in 2023 for the next edition. He clearly has a lot to offer the ODI side and I would keep him in the mix during the transitional phase.
World Cup Stats:
Matches: 4
Wickets: 7
Strikerate: 28.28
Average: 34
Summary:
A hamstring injury derailed Ngidi's campaign forcing him to miss a handful of matches. He took 3 wickets against England and Pakistan but never looked at his best when on the pitch.
Future:
Ngidi will be a big part of the Proteas future going forward. He is an exciting prospect at 23 years old and has the potential to become a world-class quick. South Africa will definitely be keeping him around
World Cup Stats:
Matches: 9
Wickets: 11
Strikerate: 29.46
Summary:
Not the best World Cup for South Africa's premier all-rounder. He showed glimpses of his skills early in the tournament. He had one bad game against New Zealand but was generally solid for the most part. He didn't have a standout match.
Future:
Phehlukwayo is improving at a rapid rate and there is no doubt he will be a fixture in the South African side for a number of years.
World Cup Stats:
Matches: 3
Wickets: 5
Strikerate: 27.40
Summary:
Pretorius only played three games at the World Cup and was solid in all of those. He played the final two matches which South Africa won and he was excellent with the ball with figures of 3/25 (Sri Lanka) and 2/27 (Australia)
Future:
Pretorius is only 30 years old and doesn't deserve the chop from the ODI squad. His performances in the last two matches indicate he is still deserving of a place in the squad.
World Cup Stats:
Matches: 9
Wickets: 11
Economy: 5.10
Summary:
Rabada struggled to bring his IPL form into the World Cup. South Africa's premier quick performed in fits and spurts. It wasn't necessarily a poor World Cup for KG, it just wasn't a great one.
Future:
Still South Africa's undoubted number one fast bowler. There were concerns about KG's workload during the World Cup. It's clear the national team need him to fire if they are to be successful, so the management of his game time becomes important going forward.
World Cup Stats:
Matches: 2
Wickets: 0
Summary:
Only played two matches and failed to register a wicket against India or Australia. With chances so rare, Shamsi could not find his rhythm at the World Cup. Besides, Imran Tahir is the undisputed spin king in the ODI side.
Future:
With Tahir now officially retired from ODI cricket. It's an opportunity for Shamsi to replicate his domestic form on the international stage. He has been terrorising batsmen for years on the local front. He needs t to be backed as South Africa's white-ball spinner. The ability to spin the ball both ways becomes important in the middle overs of a 50-over match.
World Cup Stats:
Matches: 9
Wickets: 11
Strikerate: 4.92
Summary:
Tahir might not have taken as many wickets as he might have wanted to, he did at least break Allan Donald's record and become South Africa's most prolific bowler at the World Cup with 40 wickets. He was economical as usual and needed more support from the Proteas bowling unit.
Future
Tahir has retired from ODI cricket.
World Cup Stats:
Innings: 6
Runs: 310
Average: 62
Summary:
van der Dussen has been sensational since making his ODI debut. One of South Africa's most consistent players at the World Cup – he averaged 62 with the bat and was unlucky not to reach his maiden ODI ton against Australia.
Future:
He will definitely be in the Proteas plans going forward considering that in his 18 ODI matches, he has an average of 73. He has also scored seven 50's in just 14 innings. Impressive.
Open your BET.co.za account today and get a 100% deposit match on your first deposit up to R1000!