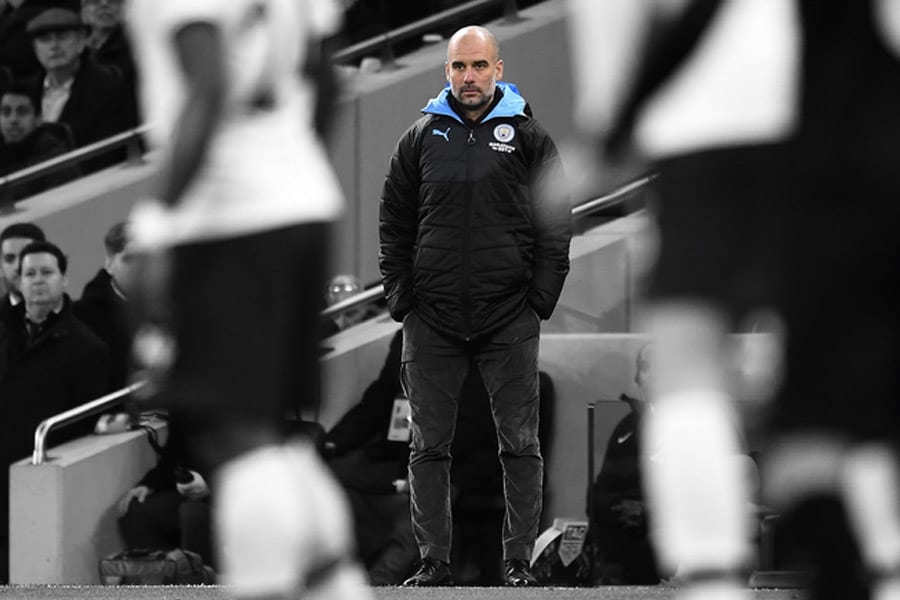 24 February 2019, by: Zach Lowy
Pressure on Pep? Guardiola's journey in the Champions League
In Alfonso Cuáron's 2002 drama Amores Perros, each of the characters is forced to cope with the loss of something that was important to them. A young man loses his friend, a supermodel loses her leg, and an old man loses his daughter. The film fades to black at the end, and reveals a dedication in white text: "A Luciano, porque también somos lo que hemos perdido." This translates as, "To Luciano, because we are also what we have lost."
After two straight seasons of glamorous football and glitzy trophies, the conversation surrounding Manchester City is no longer being shaped by what they have gained, either in silverware, or exciting new signings, or dazzling performances. Instead, this season has been focused on what they have lost, namely three players that played titular roles in City's record-breaking dominance over the past decade.The first, Vincent Kompany, was lost to another club; Anderlecht to be specific. Since arriving in Manchester as a 22-year-old, Kompany watched the club evolve from an underperforming mid-table side to the unstoppable force that won a domestic treble and became the first Premier League team to ever reach 100 points in a single season.
He captained the side to their first league title in 44 years, and although his body had begun to fail him with a slew of hamstring, calf, and groin injuries that began to fester in 2013, he still played through pain to start for City during the run-in to last season's testy title race between the Sky Blues and Jürgen Klopp's Liverpool. It didn't matter that he was 33, it didn't matter that his contract was about to expire, Kompany gritted it out and held strong as City prevailed in a nail-biter that lasted until the final day.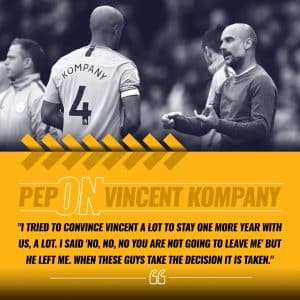 It was Kompany's late winner against Leicester City that sealed the title for Manchester City, and it was Kompany's departure that has wreaked the most havoc, both in the dressing room and on the pitch. Kompany, who joined for £6.45 million just a week before the club was taken over by the Abu Dhabi United Group, had always been the most vocal leader in the dressing room and carried that leadership onto the pitch.
He was quick to stop counter-attacks and recycle possession, calmly poised to usher forwards out of would-be scoring positions, and even when he was expected to fulfil a bench role during his final years, he still got the start during City's most consequential matches, ahead of the likes of John Stones and Nicolás Otamendi.
The second player, Aymeric Laporte, was lost to a knee injury that has kept him out of action since August, although he could make his return on Sunday against West Ham. Without Laporte and Kompany, City's defence has turned into a complete circus.
Stones and Otamendi have been asked to assume responsibilities of which they simply do not have the competence or ability for, and Fernandinho, who has played a vital role in holding midfield since his arrival from Shakhtar in 2013, has been frequently relegated to centre back duties. Without the Brazilian's tenacity to win the ball back, without his positional awareness, stamina, and other qualities better suited to midfield, the defence has been left exposed to more and more opposition attacks.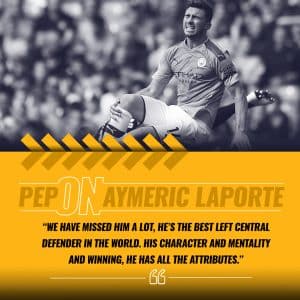 The third player, Leroy Sané, is almost a mixture of the two with regards to the manner of his departure. Sané, who struggled for minutes last season, looked set to leave the club for Bayern Munich during the final days of the transfer window. But despite a deal being more or less finalized, he was named in the starting line-up for the Community Shield against Liverpool. Within 10 minutes, he had torn his ACL, and he still hasn't returned.
It was a loss for all parties. Bayern lost the superstar winger who was going to replace Arjen Robben and Franck Ribéry, both of whom left Bavaria in the summer after a legendary spell which saw them terrorize defences in tandem. City lost their leverage; by the time the summer rolls around, Sané's contract will have just one year remaining, and it'll be no surprise if the winger manages to leave Manchester for a bargain rate. Sané, on the other hand, lost months of vital preparation for the upcoming Euros, and he still might be playing catch-up by the time the tournament rolls around on June 12.All of that pressure and regret comes crashing down at one man's desk: Pep Guardiola. The Catalan manager made the decision to start Sané in the Community Shield despite the paperwork being done for his transfer, although in his defence, he chose not to play Riyad Mahrez out of fear that he would fail a doping test.
Since the first game of this seemingly cursed season, it's been a chaotic obstacle course for the defending English champions. Sané and Laporte dropped like flies, and other key players such as Sergio Agüero and Kevin de Bruyne have missed several matches due to minor injuries. At the moment, it seems as though we've reached rock bottom in the Etihad's Guardiola era.
City find themselves 22 points behind Liverpool, and the Reds could seal their first ever Premier League title as early as next month. For the first time under Guardiola, City failed to score in successive games — a loss to Ole Gunnar Solskjaer's Manchester United in the League Cup, and a loss to José Mourinho's Tottenham Hotspur in the league. Things are looking ominous ahead of a Champions League match-up against the consistently improving Real Madrid, a match-up that will put to the test two commonly asked questions: can Manchester City make it to a Champions League Final for the first time in their history, and can Guardiola make it to a Champions League Final for the first time without Lionel Messi?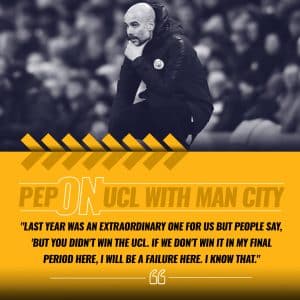 In his three previous tries, Guardiola's teams have not been able to surpass Manuel Pellegrini's 15/16 side, the only City side to ever advance to the Champions League semi-finals. Even though Pellegrini was a lame duck–with Guardiola already announced as the club's new manager in the forthcoming season–he still managed to lead City past Dynamo Kyiv in the Round of 16 and Paris Saint-Germain in the quarterfinals. His team served up a lifeless performance in both semifinal legs against Real Madrid, but they still put in a decent showing overall for a team on its last legs.
With Guardiola joining the Sky Blues in the summer of 2016, the bare minimum expectation was that he'd deliver them to the semifinals. After all, in each of the first seven seasons in his managerial career, the Catalan always reached the semifinals, no matter what.
Manchester City finished second place in their group in 2016, six points behind Guardiola's former side Barcelona, but were drawn against one of the weakest possible options on paper: Monaco. The first leg was a topsy-turvy encounter in which Monaco got off to a 3-1 lead, only to concede four straight goals and relinquish their advantage. The second leg, however, saw Monaco win 3-1 at home and advance on away goals. Pep's management of the game (starting Kolarov at centre back against Kylian Mbappé, leaving Fernandinho exposed with no protection to stop Monaco's counters) and tactics were scrutinized, and the pitchforks came out for him and his team.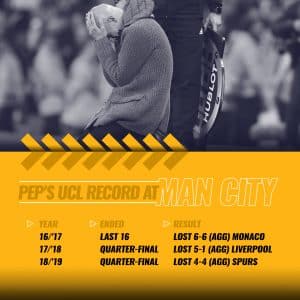 After a disappointing debut season under Guardiola, City reinforced their squad in the summer transfer window, letting go of over-the-hill veterans such as Pablo Zabaleta and Yaya Touré, while also bringing in notable young assets such as Bernardo Silva and Benjamin Mendy, both of whom eliminated his side from Europe as Monaco players, as well as Ederson, Laporte, and Kyle Walker.
It was good enough for domestic dominance; City won the League Cup and the league title at a canter, with a 19-point gap over crosstown rivals Manchester United. But after advancing past the minnows Basel in the Champions League Round of 16, City were drawn against Liverpool in the quarterfinals.
The signs were there from the beginning, in hindsight. Agüero pulled out of the squad due to injury, and Guardiola decided to tinker….a lot. Once again, Pep's tinkering became his undoing.
While Klopp stuck to his guns and blitzed City's midfield with textbook pressing, Guardiola panicked and needlessly overcomplicated things. Traumatized from Liverpool's destruction of his side in Anfield just three months prior, he used a back three, with Aymeric Laporte operating a makeshift role between a left-back and a left centre back.Rather than tucking in as he usually does when playing in the traditional 4-3-3, Kyle Walker was forced to advance high up the pitch to provide width. As a result, Liverpool's left flank turned into rush hour on the Autobahn, and Walker was left stranded.
Guardiola also benched his most effective winger — Raheem Sterling — instead choosing to shoehorn an extra midfielder with İlkay Gündoğan. As a result, the entire balance shifted — De Bruyne playing as a makeshift winger, Sané playing as a makeshift wingback, and Laporte left helpless to deal with the most prolific player in England (at the time) while playing in an unnatural position.
As a result, Liverpool scored three unanswered goals in the opening 31 minutes and advanced to the semifinals on an aggregate score of 5-1.Guardiola is a perfectionist — naturally, he switches up on his original game plan sometimes. But it's gotten to a point where you don't really know if he has a strategy, or if his strategy is to tinker.
A year later, after getting past another gentle opponent in Shakhtar in the Round of 16, City were once again drawn against a domestic rival — this time Mauricio Pochettino's Tottenham. Guardiola didn't bring on Sané or De Bruyne until the 89th minute, and Spurs ended up grinding out a thrilling 1-0 victory at home.
The second leg was even more hectic, with VAR controversy, late goals, and unexpected heroics seeing Tottenham managing to squeak past City into a semifinal match-up with Ajax. Out of all of the semi-final eliminations, this was the cruellest.Yet just as always, Guardiola simply did not help himself by overcomplicating things. It's become a common theme ever since he joined the freshly crowned European champions Bayern Munich, after taking a one-year sabbatical to recover from the pressure of managing Barcelona.
In 2014, he benched his natural defensive midfielder — Javi Martínez — and as a result, Bayern were torn to shreds by Real Madrid's ferocious counterattack. After losing the first leg 0-1, they capitulated in the second leg, losing 0-4.A year later, Guardiola returned to the Camp Nou for the first time since his departure in 2012. He tinkered and went with a back three of Mehdi Benatia, Jerôme Boateng, and Rafinha, before switching back to a back four in an attempt to maintain the high press. Benatia was man-marking Neymar, Boateng was on Luis Suárez, and Rafinha was on Messi, but 16 minutes into the game, Guardiola called an audible to switch to a 4-4-2.
Things were going well, so well that Guardiola didn't make a single change until the 79th minute. It was a desperate, reactive sub to the opening goal. Messi broke the deadlock late on, firing a well-placed shot from outside the box into the net. From then on, Bayern completely capitulated, and Barcelona went on to add two more late goals and win 3-0.The year after that, he lost the first leg of the semifinals in the Vicente Calderón and drew heated criticism after benching Thomas Müller. He said, "Everyone has killed me, but I'm still alive. We've still got another game to go, if I lose, you can kill me."
Spoiler alert: he lost the next game too.
They ended up going out on away goals, but Müller missed a spot kick that would've been the difference between elimination and progression to the Final in Milan.
In the wake of the elimination, Guardiola berated his medical staff, saying " Godín was injured and got back in one week, I don't know why you can't get my players ready!" To which one of the staff replied, "This is unacceptable, you had all of the players ready except for Robben and Badstuber."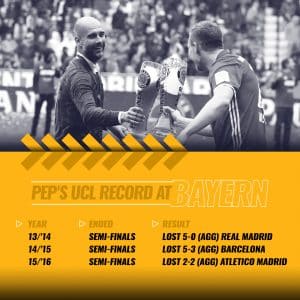 Guardiola also accused the Bayern squad of having a dressing room mole who was leaking sensitive information to the press. From an outsider's perspective, it seemed like an insecure man grasping at straws. Bayern had gotten to three Champions League Finals in the first four years of the decade. They failed to reach a single Final during his three years at the club.
The thing is though, football isn't black and white. As quick as the footballing community has been to scapegoat Guardiola and Ernesto Valverde for their teams' embarrassing exits from Europe, those defeats couldn't have happened without the disappointing performances of certain players. Even if Guardiola's tinkering hasn't helped matters, the players have a duty and obligation to fight to advance no matter what the circumstances.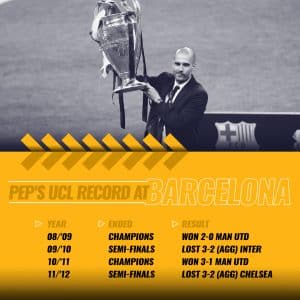 We're midway through Guardiola's fourth season at the club. The league is done and dusted, but in the Champions League, a daunting duel with Zinedine Zidane's Real Madrid awaits. It's unclear whether or not Eden Hazard, who has been out of action since November, will be back by then, but even if he misses it, Los Blancos seem the stronger side. After a slow start to the season, they've gained a new lease on life under Zidane, with a stalwart defence, a deadly midfield that now includes Uruguayan terrier Federico Valverde, and a team that's hungry for more European dominance.
Zidane still hasn't suffered elimination in the Champions League — he's won all three editions he's contested as a manager thus far. The Frenchman is a coach who has defined his legacy on what he won. The Catalan, on the other hand, will go down as one of the winningest coaches of his generation, but he still knows that he's chasing a ghost. He's out to prove to the world that he can lift Ol' Big Ears without Messi by his side.
Because while we can choose to define ourselves by what we've won, we are still judged by what we have lost.
MORE SOCCER