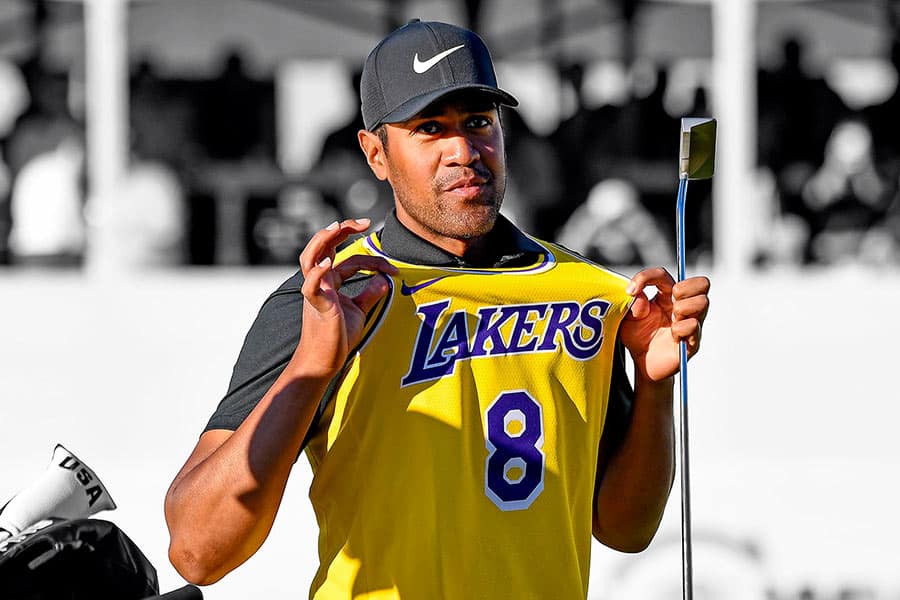 03 February 2020, by: BET Contributor
Kobe Bryant Tributes From Across The Sporting World
In what has been a tragic start to 2020 for the world of sport, it's also shown how united different codes are for legends of their games. Kobe Bryant's passing shocked the world, but in the week that's followed tributes to Mamba have poured in from far and wide. Below are some touching gestures from the PGA Tour to Ligue 1, to the Super Bowl, NBA and more.
The infamous Waste Management Phoenix Open transformed its legendary par 3 16th stadium hole into a weekend long tribute to Kobe. From multiple players donning his iconic jerseys, to 3-point celebrations for draining birdie putts, the crowd and players celebrated his life in fitting style.
Mamba Mentality ?? pic.twitter.com/lAlSGXazVh

— Tony Finau Golf (@tonyfinaugolf) January 31, 2020
Sunday's hole location on No. 16 @WMPhoenixOpen will be 24 paces on and 8 from the left to honor NBA legend Kobe Bryant. pic.twitter.com/Gz199BiCCJ

— PGA TOUR (@PGATOUR) February 2, 2020
For the final round on Sunday, they went so far as to position the pin 8 yards from the left and 24 yards from the front of the 16th green as a final send off for him.
16th hole. @WMPhoenixOpen. Placed at 8:24 a.m. pic.twitter.com/wpdFT9iPyT

— PGA TOUR (@PGATOUR) February 2, 2020
PSG and Real Madrid host league games this weekend, and took the time to pay tribute. With emotional moments of silence to donning his iconic #24, the crossover and love of basketball in Europe was felt.
Neymar came out to PSG warmups wearing Kobe Bryant's No. 24 pic.twitter.com/380upCFYMB

— B/R Football (@brfootball) February 1, 2020
⚫️? A minute of silence for Kobe and Gianna Bryant and all the victims of the helicopter crash.
✨Rest in peace.#RealMadrid pic.twitter.com/3jcWN9gGVo

— Real Madrid C.F. ???? (@realmadriden) February 1, 2020
The tragic timing of the accident being mere days before the Super Bowl made for an sombre atmosphere on game day. Before the match kicked off the 62000 strong crowd, as well the Chiefs and 49ers squads, observed a heartfelt minute of silence with both squads lined up on the 24 yard line in Kobe's honour.
49ers and Chiefs players observed a moment of silence prior to the start of Super Bowl LIV to honor NBA legend Kobe Bryant, his daughter Gianna and the seven others killed in last weekend's helicopter crash. https://t.co/DsnUGMlZSb #SuperBowl pic.twitter.com/UOi8RXcgRr

— ABC News (@ABC) February 2, 2020
Even during the halftime show, Jennifer Lopez and Shakira rearranged their performance to pay tribute.
What a beautiful moment. @JLo shared the stage with her daughter during the #SuperBowl halftime show for a stripped-down version of "Let's Get Loud" as a giant cross lit up with the Laker colors in honor of Kobe Bryant. How it came together: https://t.co/Euj7Tepv4k pic.twitter.com/qu9Ov0uhoR

— The Hollywood Reporter (@THR) February 3, 2020
Nowhere did the news hit harder than within the NBA. With the Lakers taking most of the week off and rescheduling games, they put together a montage to remember one of their legends.
The Lakers' tribute to Kobe Bryant ?? pic.twitter.com/jI0wwlSqhk

— ESPN (@espn) February 1, 2020
Kobe has inspired so many basketball pros that it was no surprise to see some of the game's great showing their support for his family and his honour. Most notably Le Bron James and Anthony Davis chose to ink tributes to Mamba.
New @KingJames tattoo ??? pic.twitter.com/Yf167hSOlx

— Kicks Deals (@KicksDeals) February 1, 2020
Anthony Davis' Kobe tribute tattoo ??

(via @NessAurelia, @AntDavis23) pic.twitter.com/4iKHQit59u

— SportsCenter (@SportsCenter) February 2, 2020
Nelson Mandela famously said, "Sport has the power to change the world. It has the power to inspire. It has the power to unite people in a way that little else does. It speaks to youth in a language they understand. Sport can create hope where once there was only despair. It is more powerful than government in breaking down racial barriers."
Kobe Bryant has certainly proved that.